A small country dotted with spectacular mountains, picturesque villages, spotlessly white beaches, world-class resorts and a cuisine that'll be leaving you yearning for more – that's Greece for you. Home to one of the world's oldest and largest civilizations, Greece has a fascinating history and numerous ancient archaeological sites. Add to that, you have so many scenic islands and beaches to visit, volcanoes to hike up to, and a rich marine life to discover – it'll be hard not to fall for Greece's irresistible charm.
Things to do in Greece
Here's a list of 10 things HolidayMe recommends that you must absolutely do while in Greece:
• Explore the capital city of Athens and its most popular landmark – the ancient Acropolis.
• Witness a mesmerizing sunset over Santorini's glorious landscape.
• Greece is undoubtedly a paradise for history lovers. Apart from Athens' Acropolis, Crete, the largest island in Greece, is home to architectural gems like Koules Fortress, Palace of Knossos, and Palace of Malia, among many others.
• Visit the 4th century Epidaurus Theatre, located in Epidavros, one of world's best preserved ancient theaters.
• With nearly 1000 miles of coastline, Greece offers you some of the best beaches in the world; make sure you indulge in water sports and underwater adventure here.
• Explore some of Greece's most beautiful islands. Mykonos, Santorini, Rhodes and Zakynthos Island are some classic specimens you can start with.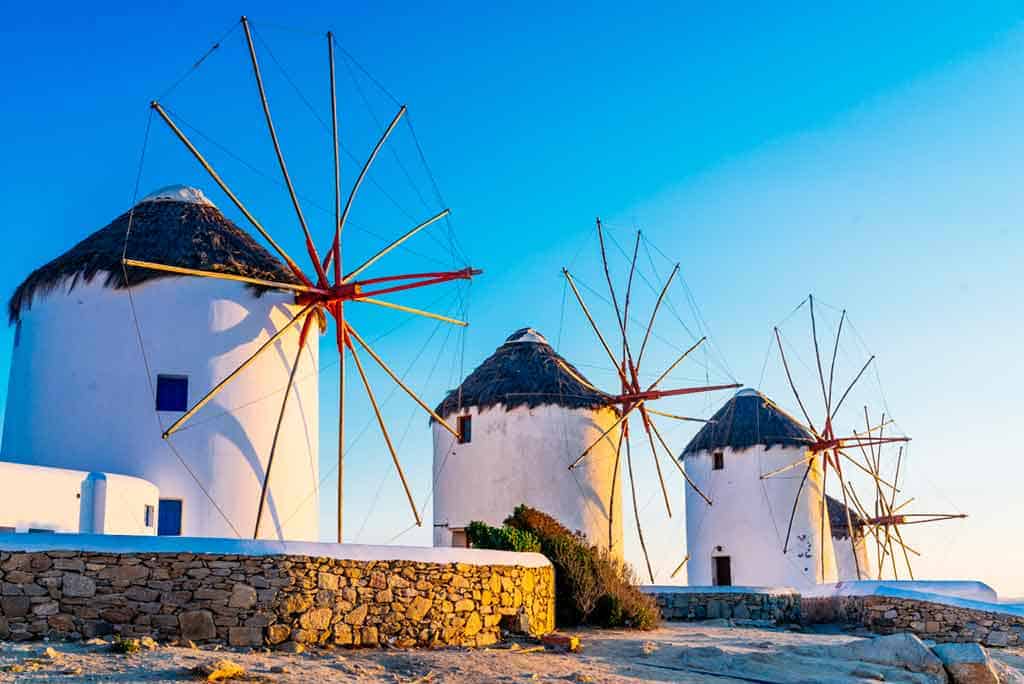 • Go on a walking tour around Delphi, and visit the Temple of Apollo, whose remains date back to 4th century-B.C., and a famous UNESCO World Heritage Site.
• Go on a wine-tasting tour around Greece and learn more about Santorini's ancient wine-making techniques.
• Devour some lip-smacking Greek delicacies like Moussaka, Greek salad, Fasolada and Skordalia. Get a taste of various local cheese, especially feta.
• Mount Athos and Meteora Monasteries – two of the world's most important UNESCO sites, are not only a delight for history-seekers but also places of extraordinary natural beauty.
Climate of Greece
Greece's climate can be best described as Mediterranean: the summers here are hot and dry, while winters are mild and wet. There's sunshine throughout the year, making Greece an ideal destination for adventure activities and water sports.
Best time to visit Greece
Greece is best visited during spring and early summer season (mid-Apr to mid-June), or during autumn (Sept to mid-Oct). August is peak holiday season, and thus, if you want to avoid high hotel prices and overcrowded beaches, should be avoided.
Check my post: When is the best time to visit Greece.
How to reach Greece
Greece is reachable by air, rail, boat and road, the easiest and fastest being via air, of course.
Eleftherios Venizelos International Airport, located in Athens, is Greece's largest and most important airport. It is also the busiest airport in the country, serving around 15 million passengers yearly. Also known as Athens International Airport, Eleftherios Venizelos International Airport acts as a base for the country's largest airline – Aegean Airlines S.A that operates in 145 destinations around the world.
Greece is connected via rail to cities like Istanbul, Budapest, Sofia, Belgrade, Bucharest, Skopje and other international cities. The port city of Thessaloniki is where most international trains will stop.
Greece Visa
Greece is a member of Schengen Agreement and European Union which means citizens of other EU countries as well as countries that have a special treaty with EU, do not require a visa to enter Greece. Schengen members are countries that have a common Schengen Visa that allows free movement of their citizens as well the visa holders within this area as a single country. A Schengen Visa is issued by the authorities to the interested party for traveling to and within the Schengen Area. The Schengen Area is a group of 26 countries who have the same visa rules and a list of nationalities who may enter the territory visa-free.
As of April 2013, the following countries are member states of the Schengen area:
Austria, Belgium, Czech Republic, Denmark, Estonia, Finland, France, Germany, Greece, Hungary, Iceland, Italy, Latvia, Liechtenstein, Lithuania, Luxembourg, Malta, the Netherlands, Norway, Poland, Portugal, Slovakia, Slovenia, Spain, Sweden, and Switzerland.
The citizens of countries which do not fall in the list of Schengen countries, however, have to apply for a visa.
For more detailed information, please visit the Greece Embassy website of your country.
Have you ever been to Greece? What did you like the most?