Traveling with children can sometimes be challenging, it needs planning and research to find the perfect family destination.
With perfect weather, good family hotels and many activities for children, Greece is a great destination for family holidays all year round.
As I don't have children, I asked families with children to tell me why the prefer Greece for their family holidays.
Here I present you five reasons why Greece is the perfect destination for children
5 reasons Greece is the perfect destination for families
The food
The Mediterranean cuisine of Greece with the fresh vegetable, the fruits and the olive oil are perfect for a healthy meal. Also in most tavernas and restaurants in Greece, you will find delicious home -made food ideal for children. The tavernas and restaurants are also child-friendly, many of them offering chairs and special menus for kids.
The beaches
Greece and the Greek Islands are home to some fantastic sandy beaches, safe for children. The beaches are perfect for kids to play in the sand, build castles, explore around and pick shells, while their parents relax. The waters are calm and warm perfect for young swimmers and playing in the water. A wide range of water sports is also available in organised beaches. There is no way your kid will get bored on the beach.
Children friendly activities
There are many activities in Greece that children will find them interesting. Through the many monuments and historical sites that can be found around the country, they can learn history and mythology in a fun way. Your kids will love the stories of the ancient Gods of the Olympus and their magical powers. Other exciting activities include water parks, horseback riding, children museums, the big Aquarium in Crete, the Planetarium and the Attica Zoo in Athens.
Nature is also amazing in Greece with rivers, waterfalls a wide range of flora and fauna perfect for exploring.
Children will also find the village life of Greece interesting with all the farm animals and nature all around them.
Family Friendly Hotels
The are many hotels in Greece that offer facilities perfect for family holidays. Large family rooms, babysitting services, children's pool, playgrounds, entertainment rooms, animation services, private sandy beaches with watersports activities, tennis courts, basketball and other sports facilities ideal for older children. Excellent restaurants with kid menus.
The people
The local people in Greece are very friendly with children. They will make you feel welcome in the restaurants, and they will help you on the road.
Lastly, the weather is Greece is very pleasant with mild winters making it a great destination for families all year round.
If you are considering the Greek Islands for your family holidays here are some suggestions:
Rhodes
The island of Rhodes has mile-long sand beaches and warm shallow waters. Many accommodation options are available including all-inclusive hotels with kids activities, water sports facilities and babysitting services. The medieval town of Rhodes with its great history and the Aquarium along with the Acropolis of Lindos are great ways to spend your time.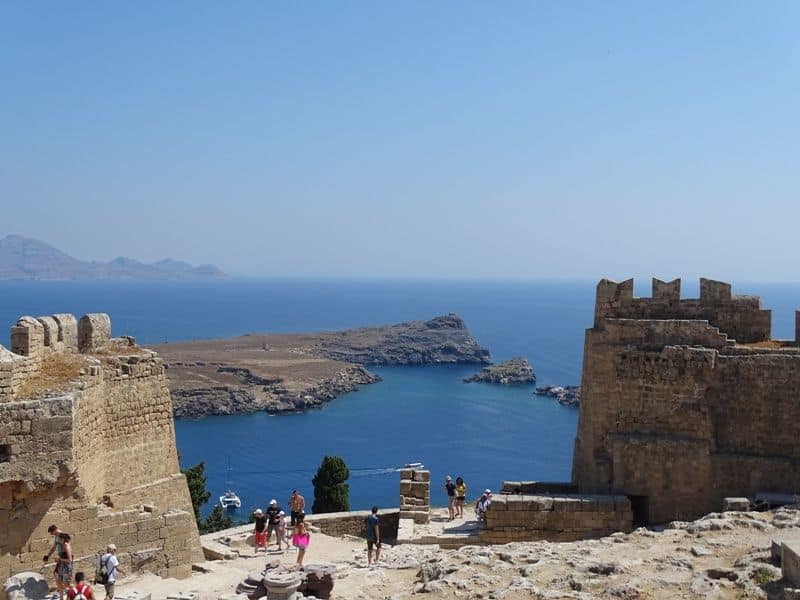 For more inspiration check my posts: Top things to do and see in Rhodes Town and Things to do In Lindos, Rhodes.
Crete
Crete is home to the Minoan civilisation, the oldest in Europe. The archaeological site of Knossos has been partially reconstructed making it a very attractive site for children. Near Heraklion, you will also find the Cretan Aquarium, the biggest in the Mediterranean. Crete also has children friendly beaches and hotels.
For more inspiration check my post: Top things to do in Heraklion, Crete
Naxos
Naxos is the biggest of the Cyclades islands and it offers miles of sandy beaches and calm waters. It was a great range of activities like horseback riding, surfing, hiking trails and incredible food. It is a popular family friendly destination for Greeks as well.
Corfu
Lovely beaches, watersports and the Aqualand Waterpark make the island of Corfu, an attractive destination for families. The picturesque Corfu town is also nice for wandering around. The island offers a broad range of family-friendly hotels and resorts.
Antelope travel offers some amazing family packages in Greece or they can design one according to your needs.
Have you visited Greece with your family? Did you like it?
Thank you, Celeste from Family Experiences Blog and Callie from Anthomeli for your great suggestions.