The unique things to do on Serifos island shows off the authentic side to traveling the Greek islands.
Serifos Island: Full of Character
I've been to Serifos dozens of times, a beautiful island that keeps its authentic character year after year. No cruise ships dock here. No airport even! It has its tourism season and seasonal regulars but it is not touristically developed like neighbouring Mykonos or Santorini and that's okay. It's Serifos. It's proud to be what it is, an island that has kept its beauty untouched and maintained its authentic charm.
Five Unique Things to Do on Serifos Island
For those looking for a little Greek island adventure, Serifos'characteristic Cycladic landscape of rough, rocky landscapes are ideal to roam around. Every Greek island boasts its charms, Serifos certainly has its own.
Here are the top unique things to do on Serifos island.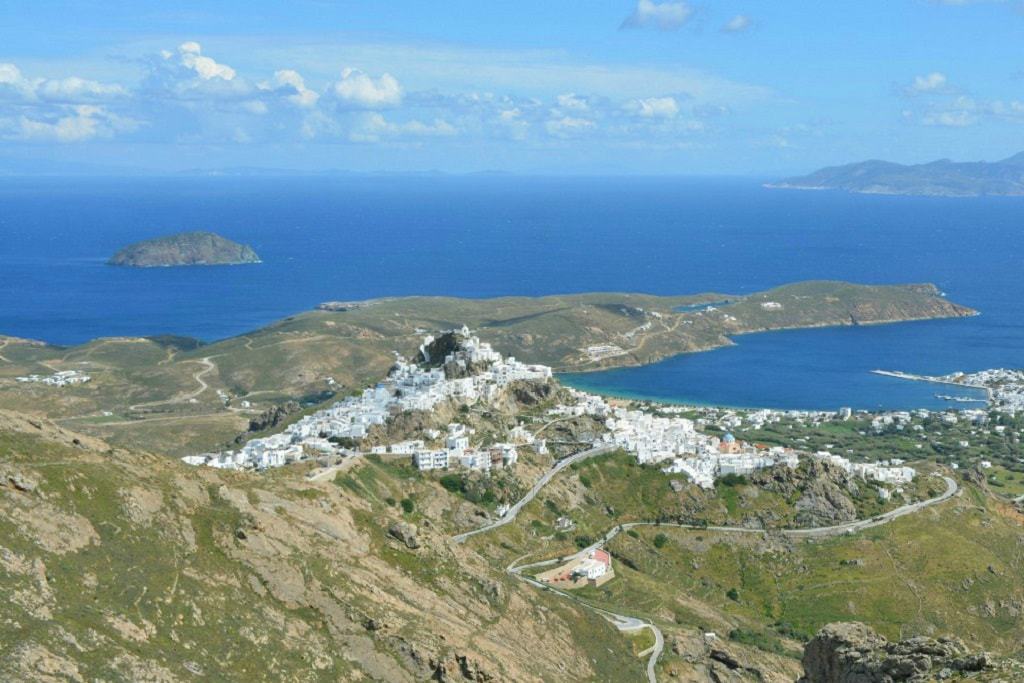 Explore the Hilltop Chora
The Chora (main town) of Serifos is a unique vision to behold for the first time. Unlike other islands, the village's whitewashed cubist buildings and homes tumble down a mountainside centered behind the main harbor.
During Venetian times, the Serifos Chora was hidden behind fortified stone walls to protect residents from pirate attacks.  Today, you can see what remains of those walls up close and take in an incredibly panoramic view from the stone paths, cobbled steps and tiny lanes that wind around the town itself.
The Chora is comprised of a lower and upper part, respectively Kato Chora and PanoChora.  There's no need for a map, just walk up, down and around to poke through tiny shops selling local goods, a traditional bakery, small squares and Greek Orthodox churches. You're bound to bump into locals hanging clothes to dry, kids playing in the lanes or families eating at their outdoor summer dining tables.
Hike the Mining Trail
Another one of the unique things to do on Serifos island is to hike the Serifos mining trail, which sits by the bay called Megalo Livadi. Here, a mining industry once thrived and the remains are literally left out in nature.Seemingly untouched since the industry collapsed in the mid-20th century, a crumbling neoclassical building (once the mining headquarters) overlooks the bay and surrounding areas.Rusted out mining tracks remain pinned to the earth, once utilized to reach deep inside the Serifian caves filled with precious metals. Finally, an imposing but broken down "bridge to nowhere" hangs over the sea, which was once necessary to fill ships with cargo.
Follow the natural seaside trail through Megalo Livadi and walk past these rusted out remnants set on a green fields and sloping hills lush with wildflowers.  At some point, the path will reach the island's actual mining caves as well as warm water springs that run over a colorful calico blend of rocks.
Tips: Don't explore inside of the caves on your own. They are not marked and it is very easy to get lost inside of them.
The Archeological Museum of Serifos is a small museum right in Megalo Livadi displaying some artefacts from Serifos' mining history. Open during July-August.
Sit on the Cyclops Throne
In Greek mythology, Serifos was home to thrilling adventures with Perseus, Medusa (that snake-headed monster lady) and the one-eyed Cyclops. So, while on the island you can visit the Cyclops Cape which has a gorgeous and unique panoramic view of the island. Then, climb to sit on the Cyclops Throne and feel like the king or queen of the Aegean Sea!Called Psaropyrgos by Serifians, it was made by lots of big rocks in the form of a gigantic chair.
Tip: There's no parking spaces around here so you'll have to be creative where you park your car on the little road.
Swim at Serifos Beaches
Serifos island may be small but it boasts a big selection of pristine and idyllic beaches that have been untouched by mass development.  Psilli Ammos is a Blue Flag accredited beach boasting soft powder sand and a shallow turquoise bay. Next door to Psili Ammos is the beautiful AgiosSostis, where a lone whitewashed blue-domed church sits on the rocky landscape of this two-sided beach.  KaloAmbeli, Vagia and Ganema are western beaches with incredibly clear waters and picturesque pebbled and sandy depths.  Near the harbor, Avlomonas and Lividakia beaches are more populated but sheltered on most windy summer days.  The more secluded beaches of Malliadiko, Avessalos and PlatisGialos offer another pretty Serifos beach experience.
Tip: Serifos has great beachside family-run tavernas on Psilli Amos, Megalo Livadi and Platis Gialos.
Calm Island Nightlife
Serifian summer nightlife is not about a big beach party or crazy wild outings. Rather, summer nights on Serifos represent the ideal way many Greeks love to spend a calm island holiday.
Head to the Chora'sPanoPiatsa square to sit and enjoy the energy of the warm summer night under a starry sky. Head out around 10 p.m. to secure a table and share a small bottle of rakomelo (cinnamon and honey infused spirit) with friends at Stratos, Barbarossa or PanoPiatsa bar. Afterwards, head to the rooftop bars in the Chora likeAerino.  If you are truly feeling Greek, save up your energy for dancing at Batraxos club around 2 a.m. or if you are looking to listen to traditional Greek music – live – head to Vasilikos in the lower square of the Upper Chora.
Another option for a night out on Serifos is to head to Livadi (harbor). Groups of people will be eating late at the numerous restaurants lining the main street.  Walk up and down the marina and take in the calm nighttime view.  After midnight, the Yacht Club is the main destination to squeeze between the crowds and dance to rock and funk. Down the way, Shark heats up with dance and pop.
If you want to simply get away from it all you can go for a romantic drink at Calma Beach Bar on Avlomonas beach and have your feet in the sand with a moonlit cocktail in hand.  A beautiful calm view awaits at Rizes Hotel where there's a lovely pool- side bar. On the western side of the island, head to Coco-Mat Eco-Residences' restaurant café-bar. Built on a Vagia beach hillside, the venue is another scenic option for an out-of-the-way cocktail.
How to Get to Serifos:
There are ferries that leave from the Athens port of Piraeus. Travel time ranges from 2 hours to 5 hours long depending on which boat you choose. There are more ferries during the summer season.
BIO
Native New Yorker Marissa Tejada is an author, travel writer and freelance journalist living in Athens, Greece and publishes her own travel blog called Travel Greece, Travel Europe.  Expat life also inspired her acclaimed romantic comedy novel Chasing Athens which is available on Amazon.  Her favorite Cycladic island happens to be Serifos, but she's still in love with every Greek island beach. You can find her on Pinterest and, Twitter .
Did you like this post? Pin it>>>>>>>>>>>