There are many ways to celebrate your wedding anniversary, however choosing the right present for your partner can be a challenge. A memorable and enduring token of your love is essential, such as a beautiful gold-dipped or glazed rose from Eternity Rose that speaks volumes about the depth of your feelings for your one and only. What could be better than presenting that special someone with this gorgeous gift on their big day? Well, of course, the answer to that is presenting your anniversary gift to your loved one in the unforgettable surroundings of one of the loveliest Greek islands – Crete.
Why Choose Crete for a Romantic Break?
Your wedding anniversary is one of the most romantic dates in the calendar, and what better way to celebrate with the love of your life than by arranging a trip to the beautiful Greek island of Crete? There are few destinations as romantic as Crete, with its fascinating history, spectacular scenery and stunning beaches, making it the ideal place to commemorate the moment that you both said, "I do". Whether you are celebrating a milestone occasion, or simply another year of wedded bliss, the largest of the Greek islands is the perfect place to enjoy some time alone together, enjoying each other's company. This idyllic location in the Mediterranean Sea has been one of Europe's most popular tourist spots for over 30 years, and it is easy to see why. The friendliness of the locals, the delicious cuisine and the pleasant climate has ensured this 250 km long island has firmly found a spot in the heart of its many visitors, thanks to its diverse landscapes that range from golden sands to steep gorges, fertile valleys and rugged mountainscapes.
Where to Stay During Your Romantic Anniversary Break?
When you are planning an anniversary trip to the Greek island of Crete, it can be difficult to know where to stay and which resort is the best choice. If you love the excitement of a vibrant nightlife, the bustling beach resorts of Malia and Hersonissos are perfect for you, however, if you like a more laid-back lifestyle, the South of the island, with its peaceful villages like Agios Pavlos is a great choice. If you want to be in the heart of the action, the capital, Heraklion, has plenty of excellent accommodation as well as all of the restaurants, shops and bars you could possibly want, while those who want a taste of the authentic Cretan pace of life should stay in Chania, with its narrow cobbled streets, traditional Greek shops and Venetian port.
What Kind of Accommodation to Choose?
Crete has no shortage of fantastic accommodation that is perfect for a romantic anniversary stay. There is no more luxurious way to celebrate than by staying in one of the island's 5-star hotels with world-class facilities, outstanding service and beautifully appointed rooms. However, if you would like to experience something a little more rustic and traditional, staying in a rural B&B will allow you sample the genuine local way of life. Alternatively, if you value your independence and the freedom to come and go as you please, renting a villa or house on the island is a fantastic way to immerse yourself in the local culture.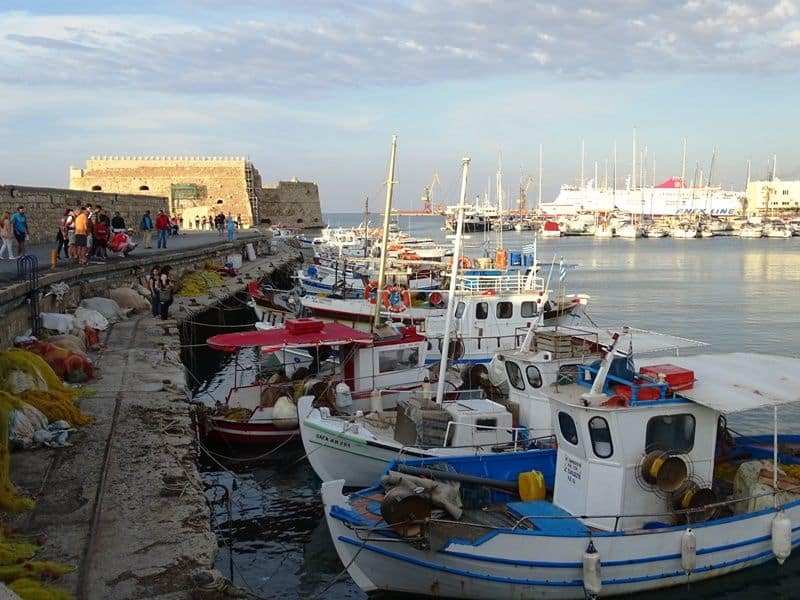 Where and What to Eat
Mediterranean food has long been a favourite, with Greek dishes like moussaka and stuffed vine leaves having become mainstream fare over recent years. However Cretan cuisine brings a subtle twist to the Greek tradition, with staples like Dakos salad (which is made from barley rusks, tomato, goat's milk cheese and olive oil), Kaltsounia (Cretan cheese pies) and snails fried with wine and olive oil featuring prominently on local menus. Of course, no Cretan meal would be complete without a taste of the local spirit, Raki, to round off the night. If you like the idea of trying some genuine Cretan specialities, you are likely to find authentic restaurants in the mountainous region of the island, or in the more rural districts where tourists rarely venture. On the other hand, if you love fresh seafood, the many coastal resorts boast countless fish restaurants that specialise in serving up the latest catch. Of course, if you prefer more exotic international options, there is no shortage of selection around the main resorts, with Indian, Chinese, Mexican and Italian establishments that serve up favourite dishes that are certain to please. Whichever you choose, you can be certain that there is sure to be a perfect restaurant to celebrate your special anniversary meal.
What to See and Do in Crete
While you may want to simply lie back on a beach and relax during your romantic anniversary break in Crete, there is so much to see and do on this lovely island that it would be a shame not to see some of its sights before you go home. One must-see attraction is the archaeological site of Knossos, believed to be the oldest city in Europe and home of the ancient Minoan civilisation. Alternatively, take a boat trip to the island of Spinalonga, which was one a leper colony, or take a hike in the Samaria Gorge with its raw natural beauty, scenic flowers and wild goats. What could be more romantic?
Have you been to Crete?