When people think of Athens they usually envision a hot summer day spent basking near the warm, sparkling waters of the city's numerous beaches. Surprisingly though, Athens is also quite charming during the winter. As the capital of Greece (and as one of the oldest capitals in Europe), Athens is filled with plenty of things to do and sites to see. Check out my 3-day Athens itinerary here. or a 2-day Athens itinerary here. You'll find everything from archeological excavations to modern art museums that you enjoy.
Why You Should Visit Athens in the Winter
It's Cheaper
Because the winter is the off-season in Athens, prices around the city are significantly cheaper. Museum tickets, hotel rooms, and even restaurants have much lower prices. These lower prices also mean you can visit more places around the city as you'll have more to spend.
It's Less Crowded
Forget having to navigate your way through crowded streets and beaches. Athens in the winter is perfect for those looking to walk freely through the city without meeting major crowds. It also means shorter wait times for popular sites.
Comfortable Weather
If you're not much into walking around in sweltering weather, winter in Athens is ideal for you. While winter, it's not that cold and it tends to stay pretty sunny here. The lowest it tends to get is about 45o F. So, you'll be able to walk around and see all the terrific archeological sites without sweating excessively.
There are Plenty of Archaeological Sites to Visit
There are some seasonal spots in Athens that are only open during the summer, but some of the main highlights of this city, its archaeological sites, are open throughout the winter. However, they do have a different opening schedule during this season so you'll want to make sure to research that before visiting them.
You Can Freely Explore the Outdoors
Because there aren't many people visiting and the weather tends to be much cooler, exploring the outdoors in Athens during the winter is perfect. You can walk along the beaches, hike up mountains, or go cycling through the city without coming across large crowds. The winter allows you to enjoy the natural beauty of Athens much more.
Things to Do in Athens on a Rainy Day
While there are plenty of places and things to do on a sunny day, what happens if it's a rainy or stormy one?
If one of your vacation days ends up having foul weather, don't fear! There is still plenty to do in the capital of Greece during days like this.
Visit the Museums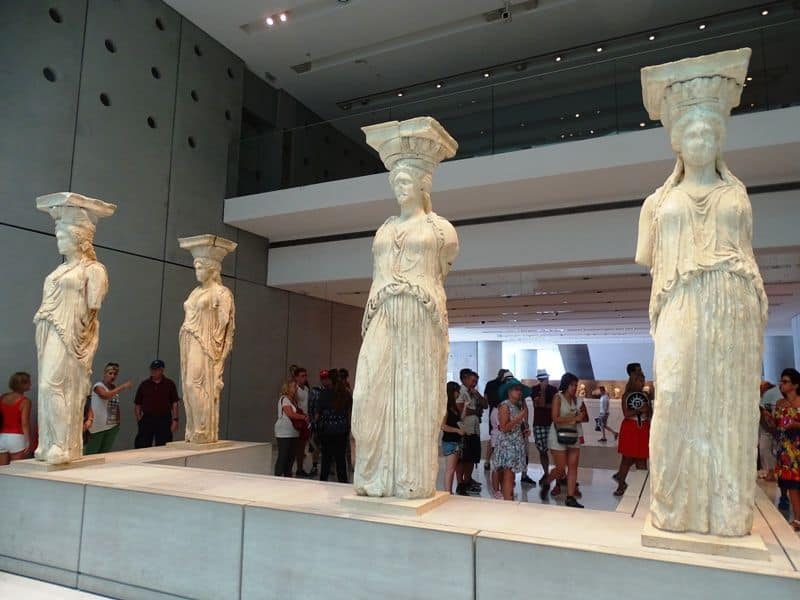 Athens is filled with incredible and diverse museums you can explore when the weather's not that great. You can visit the Acropolis Museum and the National Archeological Museum which are quite popular. There's plenty of other history and art museums you can browse through as well, like the National Gallery of Art and the Museum of Greek Folk Musical Instruments. No matter where you visit, you'll definitely be able to learn more about the history of Greece and the Greek culture with all the museums available.
Go Shopping in the Malls
Instead of spending a rainy day trapped inside your hotel room, you can go shopping in one of the many malls Athens offers. One popular mall is The Mall Athens which is one of the largest malls in Europe. Here you can visit many different types of shops like clothing ones and bookstores. There are even spas and a movie theater here you can enjoy.
Enjoy Some Coffee
A rainy winter day calls for a warm cup of coffee. There are plenty of coffee shops you can visit and lounge in while looking out at the historic sites and listening to the rain patter on the roof. One café you can visit is Noel which is an atmospheric cafe-restaurant with an all year round Christmas decor. Great for brunch or just a coffe or drinks.
Address: Kolokotroni 59B, Athens
Another unique place you can enjoy a coffee is Little Kook. A themed coffee shop your kids will love. The theme changes all the time depending on the season. It serves coffees and fairytale inspired desserts.
Address: Karaiskaki 17, Athens
Things to Do in Athens in December
If you plan to visit Athens during the holiday season, there are many events you can enjoy and places you can visit.
See the Christmas Decorations
Athens really decks itself out for the Christmas season and its decorations are some of the most beautiful in the world. The city is filled with colorful lights, fresh wreaths, and Christmas trees you can gaze at. Many areas in the city offer creative light fixtures that are in the shape of large boats, trees, and stars.
Go to the Ice Rinks Around the City
The ice rinks around Athens are a great way to celebrate the Christmas holiday and New Year. Some of these rinks are located in an indoor facility while others are open ones and located in the middle of squares near historic landmarks. Some ice rinks are decorated with Christmas trees and other decorations you can skate around.
Eat Traditional Christmas Greek Desserts
If you want to experience a truly authentic part of Greek Christmas traditions, what's a better way to do so then by trying some traditional Christmas desserts! One popular pastry you can try is melomakarona. This egg-shaped cookie is made with a unique blend of olive oil, honey, and spices and is often topped with walnuts. Another great traditional treat you can enjoy is kourabiedes. This rich shortbread cookie will melt in your mouth and is usually coated with sugar.
Athens is a phenomenal place to visit not only in the summer, but during the winter as well. It's less crowded and hascooler weather which can make a visit during this season even more enjoyable. Besides this, winter also means Christmas in Athens. You'll find many unique events and sights you can visit during this time and tasty seasonal treats you can munch on. Visiting Athens in the winter will allow you to experience this city to the fullest extent possible and in a way that you couldn't if you visited during the summer.