Athens is not only a city full of history, it is also a city with a vibrant night scene. Regarding nightlife, the city has a lot to offer from wine bars, beer gardens, bars and clubs to venues with live music. There is something for everyone.  One of my favourite places to go out in Athens at night are the rooftop bars where you can have a drink while admiring the city's landmarks.
Here is a list of my favourite rooftop bars in Athens:
Galaxy restaurant and bar at Hilton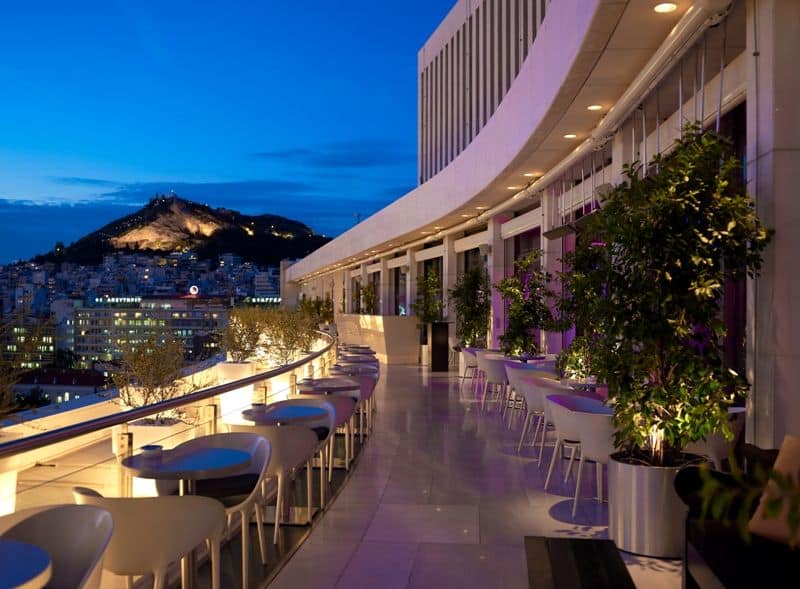 Located on the top floor of Hilton hotel, Galaxy bar and restaurant enjoys spectacular views of the city of Athens including the Acropolis and Lycabettus Hill. At the restaurant with the open kitchen, you can enjoy traditional cuisine with a modern flair while at the bar you can unwind with a wide range of creative cocktails, drinks, finger food and sushi. Galaxy bar was ranked among the best rooftop bars in the world.
You can find it at Hilton Hotel Leof. Vasilissis Sofias 46
Skyfall restaurant and bar
Next to Kallimarmaro stadium, Skyfall restaurant and bar has a big rooftop veranda offering magnificent views to the Acropolis and the historical centre of Athens. Skyfall is divided into two levels; the restaurant that serves quality dishes and the bar with its signature cocktails and delicious tapas and finger food.
You can find it at Markou Mousourou
Couleur Locale
Hidden in a street near Monastiraki station Couleur Locale is a popular rooftop bar where you can admire the view of the Acropolis Hill and Plaka.  At the terrace, you can enjoy your coffee, delicious cocktails and creative snacks. Couleur Locale has a welcoming atmosphere and is particularly popular with young people.
You can find it at Normanou 3
BIOS
Located in popular Gazi neighbourhood the BIOS rooftop bar has great views of the Acropolis and relaxing atmosphere. It serves great cocktails and drinks. Apart from the great views, it is famous for its Papoto which is a frozen alcoholic drink with fresh fruits served on a stick like an ice cream.
You can find it at  Pireos 84
Of course, Athens is a big city and has many more rooftop bars. I have chosen the above as my favourite not only for the great views but also for the quality and professional service they provide.
Visiting a rooftop bar is an experience you shouldn't miss while in Athens. It gives you a different perspective of the city.
A good way to save money and time on your visit to Athens is to buy the Athens City Pass
For more information:Athens City Pass
Need more information about Athens? Check my posts:
Have you ever been to a rooftop bar in Athens? What was your favourite?
Disclaimer: This post contains an affiliate link. This means that should you click on certain links, and then subsequently purchase a product, I will receive a small commission. It costs nothing extra to you but helps keep my site running. Thank you for supporting me in this way.