If you've read my previous post about Mykonos you'll know that I absolutely love Mykonos. But I am aware that it does have the reputation for being a playground for the rich and famous – it's certainly possible to go there and spend a lot of money, but you don't have to.
In this post, I want to suggest ways in which you can enjoy this amazing island on a budget. The best way to start is to consider traveling out of season when you can pick up some great flight and hotel deals.
Disclaimer: This post contains affiliate links. This means that should you click on certain links, and then subsequently purchase a product, I will receive a small commission.
A Guide to the Best of Mykonos on a Budget
Best time to visit Mykonos on a budget
Although most people visit Mykonos during the peak Summer tourist season which runs between mid-June and August, to save money you should actually avoid this time as accommodation prices are at their highest. If you're visiting Mykonos on a budget the best time to visit, if you're not into beach parties, is May, or September-October, September being the better month for swimming in the sea. If however, you're visiting Mykonos because you want to experience the famous cosmopolitan party vibe, visit in the first 15 days of June.
How to get to Mykonos on a budget
Getting to Mykonos on a plane
There are direct flights during the Summer months on Europe's budget airlines including Ryanair, Easyjet, and Wizz Air from London Gatwick, Berlin, Budapest, Paris, Katowice, and many other European city airports. Flights can be as little as €20.00 one way if you book early. Likewise, if you can get to Athens cheaply, Aegean also has great deals for making the short hop over to Mykonos if you book early enough.
Getting to Mykonos by ferry
You can also book the ferry from Piraeus or Rafina on the mainland or, if you're already mid island-hop, from the Cycladic islands of Santorini, Ios, Naxos, and Paros though it's cheaper to start from the mainland and then work your way down the islands in order.
Greek ferry prices are usually based on the length of the journey – fast boats cost more e.g. €59.00 with a journey time of 2.5 hours from Athens, slow boats cost less e.g. €29.00 with a 4.5 hour journey time. Journey times can exceed 5 hours and quickly become tedious but if you time it right, you'll be able to save on a night's accommodation by sleeping on the ferry.
Ferryhopper is a great site to check the ferry schedule and book your tickets.
How to get around Mykonos on a budget
If you just stay in Chora, you'll be able to get around on foot (actually, it's your only option within the heart of the old town) but for exploring other villages and the beaches you'll need to either rent a scooter (from €17 per day) or get the bus. The bus service is good with 2 terminals which connect the main village of Chora with most (but not all!) of the beaches a few times a day for the price of €1.60 – €3.00 per person each way.
Free Things To Do In Mykonos
Here is a list of my top things to do in Mykonos when you're on a budget:
Check out the Windmills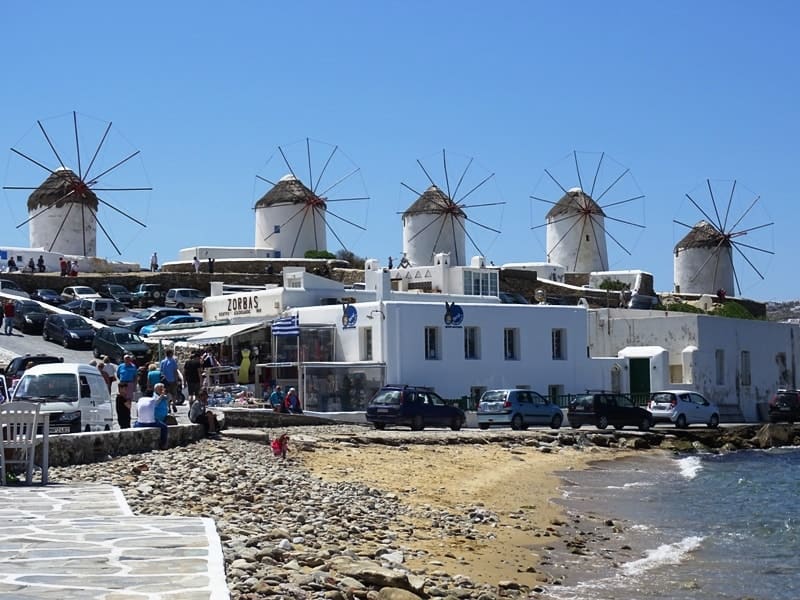 16 windmills survive on the island with the most iconic windmills being the group of 5 in Chora known as "Kato Myloi" meaning lower windmills from where you can get great sunset views. Though not working today, they were once the main source of income for the island, producing mostly wheat. Today you can see inside the Bonis Windmill which houses an Agricultural museum explaining the history of the Mykonos Windmills.
See the Sunset in Little Venice
One of Mykonos' most romantic locations, 'Little Venice' is the seafront area with colourful Venetian-style facades with wooden balconies that you see on all the postcards. One of the best spots to watch sunset, it is lined with bars and tavernas but you can save money by grabbing drinks from the mini-market and simply sitting down with your legs hanging over the water to soak up the view and the vibrant atmosphere.
Hike to Armenistis Lighthouse
Offering breathtaking views from its hilltop location, especially at sunset, hike to the iconic lighthouse which was built in 1891. It's 6.5km from the Old Port in Chora in the area of Fanari which is about a 1 hour 20minute walk without stops to take photos!
Check Out the Beautiful Churches
There are 60 chapels and churches in Mykonos Town alone, some with the typical Greek island blue dome, others having a red dome but all of them with charming architecture and a great view! If you only visit 1 church make it Paraportiani Church (the most famous one on Mykonos) as this is actually a 5-in-1 church complex with 4 chapels on the ground and 1 on the roof of the other 4 churches, the oldest dating back the 14th century.
Get Lost in the Alleyways
Veer off of the main tourist trail and enjoy the seclusion in the back alleys where you'll find sleeping cats, old people chatting on their doorsteps, and picturesque scenes made up of white-washed buildings, blue shutters, and brilliant magenta bougainvillea plants – there's a picturesque surprise around every corner so don't worry about not knowing where you are!
Visit the Beaches
Umbrellas and sunbeds are extremely expensive to rent by the day on Mykonos so plan ahead and buy your own sun umbrella from one of the mini-markets or beach shops. You can also save money on snacks and drinks by buying them from the mini-markets rather than the bars.
Some of the best off-the-beaten-track beaches to visit in Mykonos include Agios Sostis Beach, this is the most secluded beach you'll find on the island but you'll need a hire car to reach it. Wild and rugged Fokos Beach is a nudist-friendly beach whilst Agios Stefanos Beach provides small shady coves to lay down your beach towel.
Check out the best beaches on Mykonos.
Where to Stay in Mykonos on a budget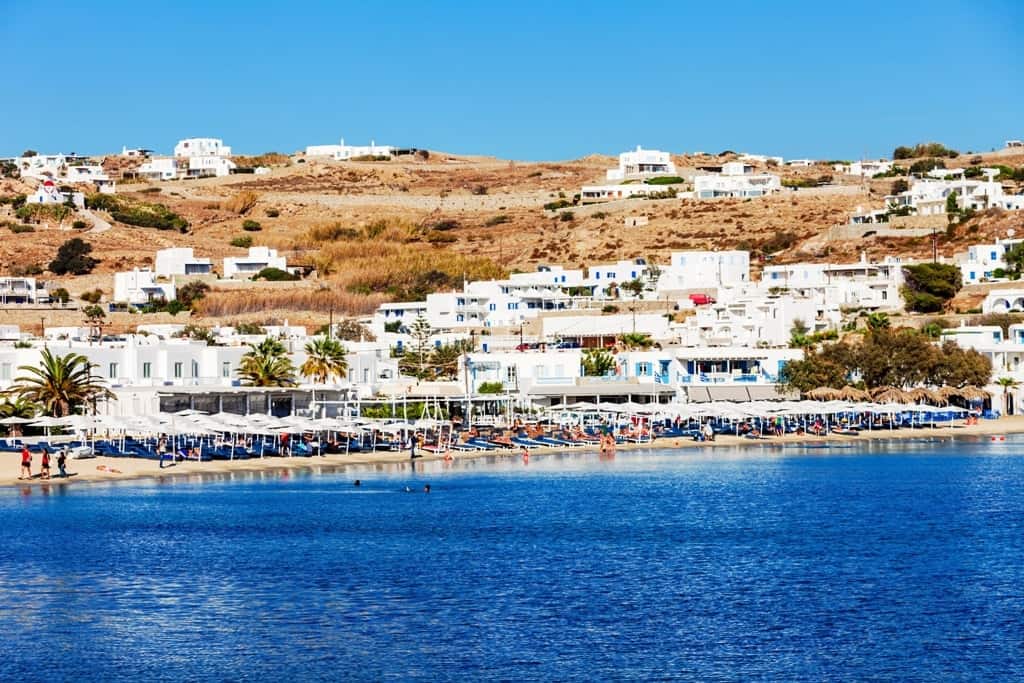 Whilst the island is brimming with stylish boutique hotels, particularly dotted along the coastline, there are budget-friendly alternatives. Off-season camping on the beach will cost you a few euros a night or you can check into one of the island's budget hotels. Expect to pay 25 to 30 euros p.p.
You might also like my post: The best airbnbs in Mykonos.
Here are some suggestions:
Check out my post: Where to stay in Mykonos.
Where to Eat and Drink
It's common sense really, but if the view is stunning and the location is quaint, then you are going to be paying way over the odds for your food. That means you really need to avoid eating anywhere in Little Venice, try Jimmy's instead, where you can get a meal for two for around five euros. If you are self-catering, then it pays to compare prices – some of the smaller mini-marts can be very expensive so try and shop in the larger supermarkets.
Drinking alcohol in bars is obviously a way to run through a lot of money, so buy your beverages at supermarkets and give Mex Cocktail Bar a visit, they're known to have the most reasonably priced drinks on the island.
Do you have any more budget tips to add to the list?