If you've read my previous post about Mykonos you'll know that I absolutely love Mykonos. But I am aware that that it does have the reputation for being a playground of the rich and famous – it's certainly possible to go there and spend a lot of money, but you don't have to.  In this post, I want to suggest ways in which you can enjoy this amazing island without spending a huge amount of money.  The best way to start is to consider traveling out of season when you can pick up some great flight and hotel deals.
Things to do in Mykonos on a budget

Here is a list of my top things to do in Mykonos when you're on a budget:
Beaches
Mykonos has a range of stunning beaches to choose from but it is possible to spend a lot of money on sun loungers and snacks.  If you visit the island in Autumn, the temperatures will be around twenty-five degrees so that expensive sun loungers and parasols won't be so important.  The great thing is that after a summer of sun, the water will be deliciously warm.  Take a picnic and a towel and you're all set to spend a day at the beach without spending.
Exploring the Churches and Windmills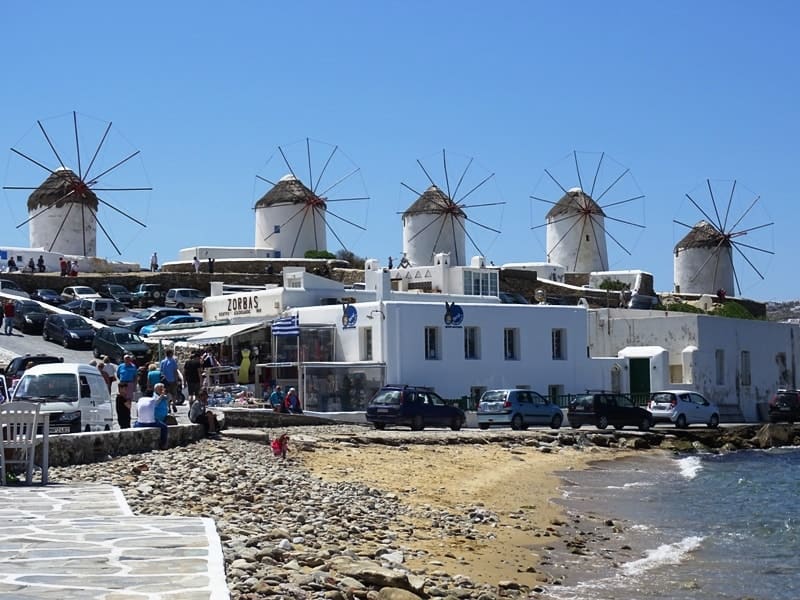 The charm of the island can be experienced simply by wandering the streets of Mykonos old town.  The windmills in Chora andthe Instagram-friendly Church of Paraportianican be enjoyed for free.  There are also many other beautiful Greek churches on the island, nobody is quite sure how many there are but some say there's at least one church for each day of the year.
Hike to the Lighthouse
You don't have to go shopping to enjoy the experience of the old town and if you carry a bottle of water and a snack you can avoid those expensive café stops.  A six-kilometre hike from Mykonos town will get you to the stunning Armenistis Lighthouse with its panoramic views across the strait which separates Mykonos from Tinos.
Folklore Museum
Located in Kastro and housing a collection of furniture and handmade ceramics,the Folklore Museum puts you in touch with the cultural identity of the island and its entirely free.
Where to Stay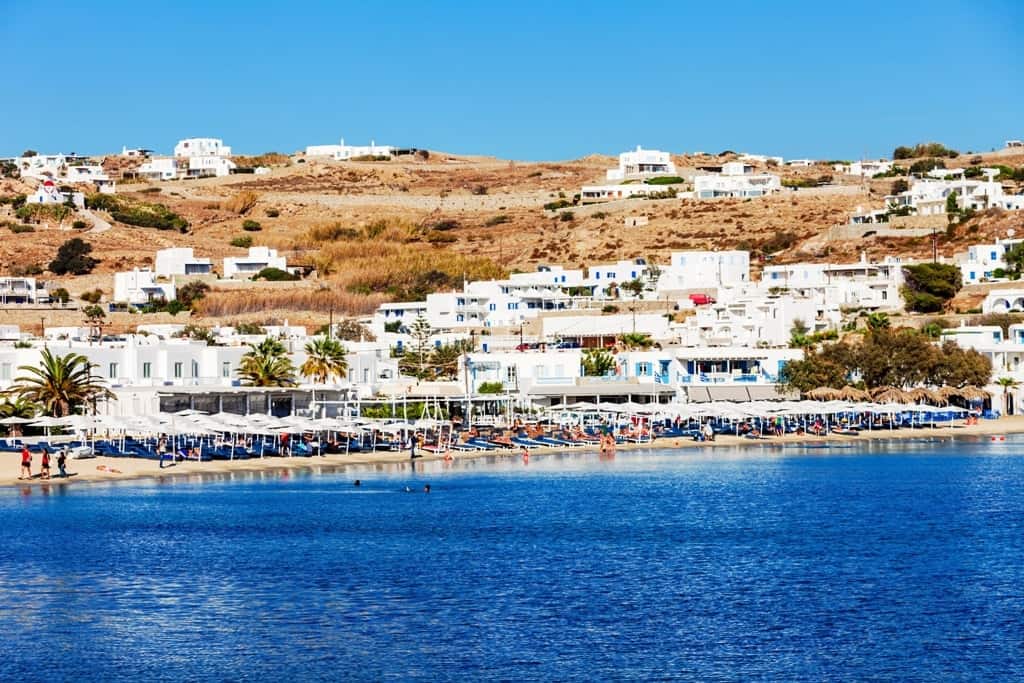 Whilst the island is brimming with stylish boutique hotels, particularly dotted along the coastline, there are budget friendly alternatives. Many locals offer their private homes for rent for as little as £25 per night for a whole house.  Off season camping on the beach will cost you a mere five euros a night or you can check into one of the island's hostels.
Check out my post: Where to stay in Mykonos.
Where to Eat and Drink
It's common sense really, but if the view is stunning and the location is quaint, then you are going to be paying way over the odds for your food.  That means you really need to avoid eating anywhere in Little Venice, try Jimmy's instead, where you can get a meal for two for around five euros.  If you are self-catering, then it pays to compare prices – some of the smaller mini-marts can be very expensive so try and shop in the larger supermarkets.  Drinking alcohol in bars is obviously a way to run through a lot of money, so buy your beverages at supermarkets and give Mex Cocktail Bar a visit, they're known to have the most reasonably priced drinks on the island.
How to get to Mykonos
By air: There are many flights from Athens and Thessaloniki to Mykonos.  The flight trip from Athens to Mykonos is about 30 minutes. During the summer months, many airlines have direct flights to Mykonos from many European cities.
By boat: You can take the boat to Mykonos from Athens's two major ports Piraeus and Rafina. There are daily ferries going to the island and the trip lasts about 3 hours if you take the high-speed ferry and 5 hours if you take regular one. Mykonos is also connected by ferry to other Cycladic islands like Tinos, Andros, Paros, Naxos, Syros and Santorini to name a few. During the tourist season, you might find connections to other islands.
Click here for the ferry schedule and to book your ferry tickets.
Do you have any more budget tips to add to the list?