This post is also available in: French
Are you coming to Greece for your holidays? If you would like to buy a memento from your holidays in Greece or even a gift for your family and friends here you will find a comprehensive list of Greek souvenirs. From traditional Greek souvenirs to other smart ideas of things to buy.
What to buy in Greece – Best souvenirs
Gold Jewelry
In Greece, you can find many interesting handmade pieces of gold jewelry. And a bunch of interesting designs alongside them. Some feature designs originated during ancient Greece. Others boast recognizable medieval and Byzantine designs. And much more. Jewelry stores are omnipresent in Athens, Thessaloniki, other cities and resort areas.
Greek spices and herbs
You like to cook and are a fan of spicy food? Welcome to paradise. Just like jewelry shops, stores selling spices are many and almost everywhere. In Athens, for example, pay a visit to Sofokleous and Athinas streets. In the downtown, Bahar is the store you are looking for. There, you can find a wide variety of high-quality spices. Thyme, oregano, safran and many other specially-selected spices await you at Bahar.
Aside from individual spices, combinations suitable for certain specialties are available, too. A mix for baked potato, stewed fish and else are sure to catch your eye. And the top-quality sea salt, of course.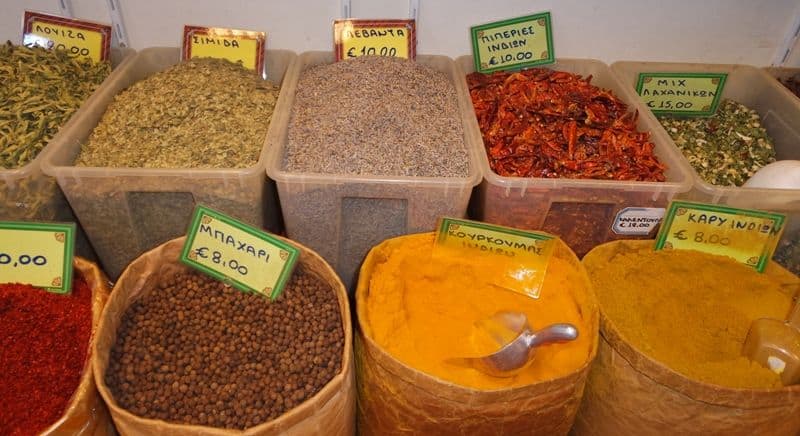 Traditional products of Greece
Traditional products of Greece are popular throughout the world. Think of flavorsome olives, cold-extracted olive oil, sesame bars, Feta cheese, honey, etc. Stores selling these and other products are present everywhere. If you come to Athens, visit them in the city core.
Kumquat is a sweet liquor made of the namesake fruit. Limoncello is a similar drink, made of lemon. Delicacies such as Kataifi and Loukomades will delight you. As well as halvas with or without almonds.
Greeks are also proud of honey they produce. Honey made of pine is among the most common and nutritious. Also check out orange and thyme honey. If you come by it, buy sousoura honey, made of an endemic plant of Halkidiki.
Korres natural products
Korres is a reputable Greek company selling cosmetics. It has branches throughout the world. Some products Korres has on offer are sunscreen, makeup, perfumes, hair care and skin care. What's more, all health care and beauty products are made of natural ingredients. Besides for ladies, they have a wide range of products for gentlemen.
There are several Korres stores available in Greece. Besides at Athens Airport, you may find them on Ermou Street and at The Mall in Athens. There is one more store located at the Mediterranean Cosmos shopping mall, near Thessaloniki.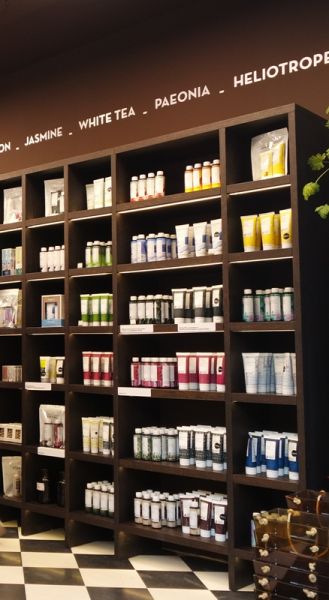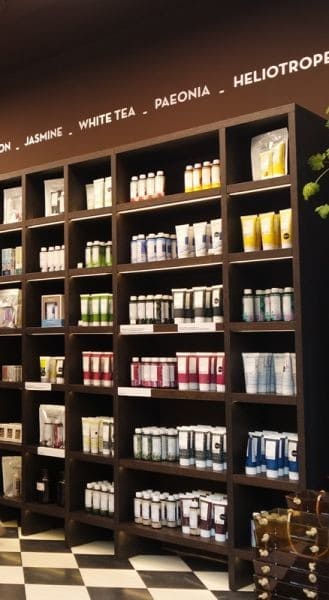 Apivita natural cosmetics
Apivita is another producer of cosmetics you should pay attention to. The company is one of the pioneers in producing health and beauty care products in Greece. They have around 300 products based on honey, propolis and plants indigenous to Greece.
The products of Apivita are available in many pharmacies, beauty shops and department stores. But, if you are in Athens, head to Kolonaki. There, examine a wide range of commodities at the Apivita Experience Store.
Leather sandals
Leather sandals are other signature products of Greece. And many of them have designs that haven't changed since ancient times. They may come decorated with laces or pieces of metal. Anyhow, you'll find them very comfortable, practical and trendy.
Willing to follow the footsteps of celebrities? You can do so by purchasing leather sandals at 2 AghiasTheklas Street in Athens. Nicknamed as the Poet Sandal Maker, Melissinos used to make sandals for famous people. The musicians of the Beatles band and Barbara Streisand were some of the patrons of the shop.
Bronze sculptures and works of art
While browsing souvenir shops, many bronze sculptures won't miss your eye. They vary in size to a great extent, from the size of chess pieces, even smaller, to imposing proportions. You will note that most of them are inspired by Greek mythology. Thus, you can take Zeus, Poseidon, Athena or some other Greek deity home. Furthermore, you can bring Achilles, Leonidas or some other legendary hero to make them company.
If the idea appeals to you, take a walk in the Monastiraki area of Athens. Even better, pay a visit to the shops at museums you will inevitably visit. If your holiday in Greece takes you elsewhere like in Santorini or other popular islands, no problem. Themed souvenir shops are available almost everywhere.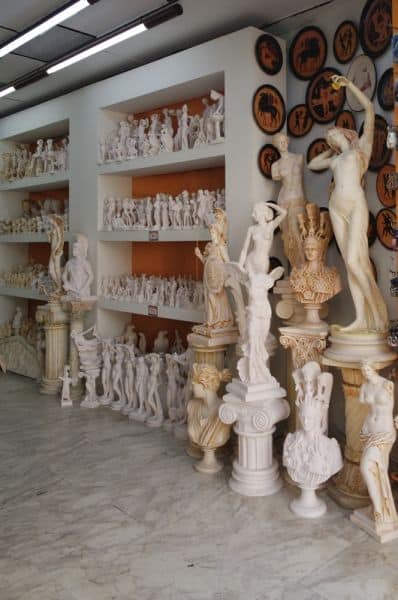 Classical Souvenirs
Aside from works of art, there are many souvenirs you will take interest in. Magnets, repellents of evil (recognizable evil eye), olive oil soaps and sponges are some of them. Items made of olive wood, such as kitchen accessories, are sure to find a good use back home. As well as rugs, napkins, T-shirts and much else.
Souvenirs for kids
Aside from classical souvenirs, there are many of those that would entice your kids to think and be creative. Drawing books are sure to entertain them along the way. For these and some other appropriate souvenirs, visit shops at the Acropolis Museum in Athens.
Moustakas Play Store in Monastiraki is another child-friendly shop. There, you will find a wide range of items for both boys and girls. Playmobil is among the most popular toys for boys. As for girls, let them don a hair wreath and become a Greek goddess.
Wine and Ouzo
Did you know that Greece is one of the oldest producers of wine in the world? And although Greece isn't a synonym of modern wines today, it has many exceptional varieties. And these offer a great pleasure and value for money. Wines from the volcanic island of Santorini, Crete and Samos are among the finest. Of course, don't overlook those from mainland Greece. Peloponnese, Halkidiki and Epirus are some leading wine-producing regions.
But, if you are after something really special, take note of Ouzo. This refreshing traditional beverage of Greece is a popular appetizer. It has a sweet aroma and is popular among people that don't like alcoholic drinks.
Mastiha Products
Sooner or later, you will come byMastiha products. Mastiha is a unique spice and an exclusive component of trees on Chios Island. It relates to many health benefits and comes in many forms. For example, you may find Mastiha in chewing gums, candies, liqueurs and cosmetics. To buy products made of such a unique component in Athens, visit the store at 6 Panepistimiou Street. It is near Syntagma, the main square of the Greek capital. Also, there is a Mastiha shop at Athens Airport.
Fur and leather goods
Although not associated with fur, Greece has a developed fur industry. And some of its finest pieces come from Kastoria, a city in Macedonia. The knowledge of fur production has passed from one generation to another since the medieval times there. Some commodities they produce are coats, hats and handbags.
Furthermore, fans of leather would be glad to visit Greece. There are many stores selling leather items available countrywide. Belts, suitcases and above-mentioned sandals are some popular leather goods for buying.
In Athens, Monastiraki abounds with shops selling fur and leather products.
leather goods
Greek bouzouki
Whether you are a music lover and would love to learn how to play a new instrument or you just want an item to decorate your house and be reminded of your holidays to Greece , a Greek bouzouki is the ideal thing to buy.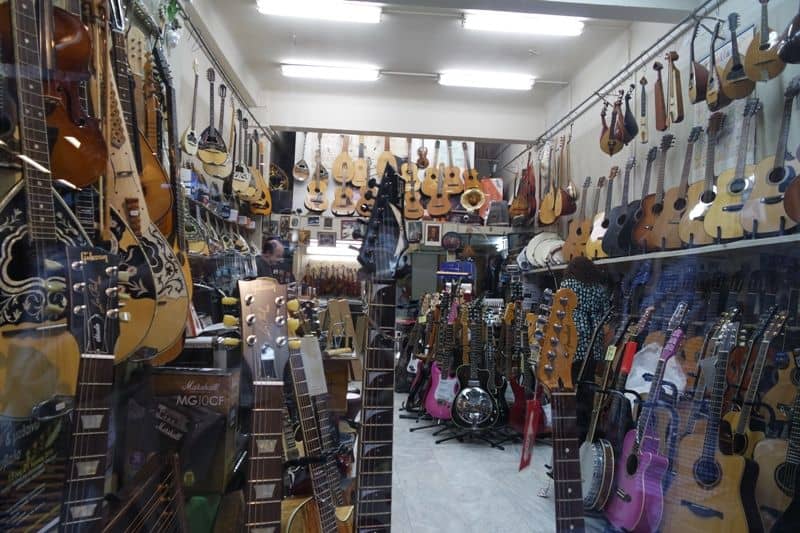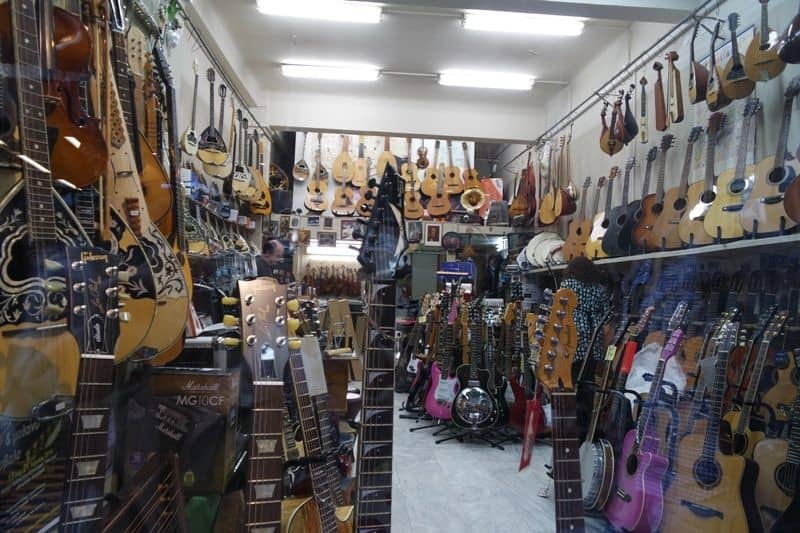 Handmade Backgammon set
Backgammon is a very popular game that people play in Greece. Especially old people in Kafenio (traditional coffee shop). It can be a very entertaining gift and a great decorative item.
I hope you found my list of things to buy in Greece helpful.
What did you bring home from your holiday in Greece?