Prague, Vienna, and Budapest are cities with a rich history, fantastic art, and great architecture. This 10-day itinerary starts in Prague, the historical capital of Bohemia then continues to Vienna a city famous for its Imperial Palaces before heading to the capital of Slovakia Bratislava. This wonderful journey finishes in Budapest, another rich source of history. You will see a great deal in these 10 days and there is enough time to absorb their highlights and imagine bygone days at the same time.
Disclaimer: This post contains affiliate links. This means that should you click on certain links, and then subsequently purchase a product, I will receive a small commission.
Central Europe Itinerary: Prague -Vienna – Bratislava – Budapest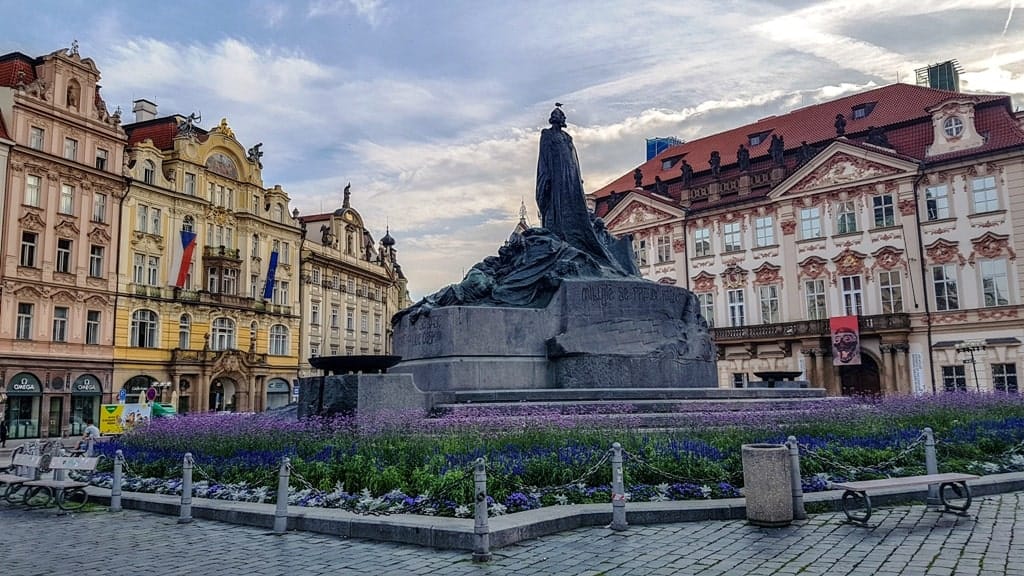 Day 1 – Arrive in Prague
There are excellent connections by road and rail with all the neighboring countries but this itinerary assumes arrival by air. Visitors coming by other means can join in from the point of booking into their hotels. Settle into your hotel and perhaps have a stroll around then retire to be ready for a busy day tomorrow.
Prague's International Airport, Vaclav Pavel has three terminals and is located around 20 kilometers to the northwest of the City.
How to get to and from the airport:
Airport Express Bus: Czech Rail runs the best service, an express bus which runs directly to and from the main train station in Prague every 10 minutes between 5.30 am and 9.00 pm costing just 2 euros.

Taxis: Authorized taxis are available at the airport and passengers get a 20% Discount Voucher for use if they need a return trip. Prices start at 16 euros.

Private Transfers: Private transfers can be booked in advance and provide a door-to-door service. A private driver will meet you in the arrivals terminal with your name and a bottle of water. Welcome Pickups is a well-known, popular company with local, knowledgeable English-speaking drivers, who go through specific training in order to drive. We used Welcome Pickups during our three days in Prague and were quite happy with the service.

Click here for more information and to book your private transfer.

Public Transport: You can catch buses which link to metro stations from where you can travel to the City. The journey normally takes about 45 minutes. You can buy tickets from kiosks within the terminals. Credit cards other than American Express can be used for payment but the cost is only around 2 euros.
Where to stay in Prague
Klarov Hotel: A boutique four-star hotel in Mala Strana, housed in a former Baroque mansion. It is central to all of the city's major attractions yet on a small street that doesn't feel crowded or overwhelming. With just 25 bedrooms, the Baroque hotel is exclusive, yet welcoming and warm. Rooms are modern and luxurious, offering guests plenty of space and great views of the city or castle. Breakfast is included and is served in either the restaurant or garden terrace. Click here for more information and the latest prices.

Prague Marriott Hotel: In the center of the Old Town close to Old Town Square, the Marriott is ideally located for you to enjoy the best of Prague while offering the quality amenities as you would expect. Click here for more information and the latest prices.
Old Town Hall Tower & the Astronomical Clock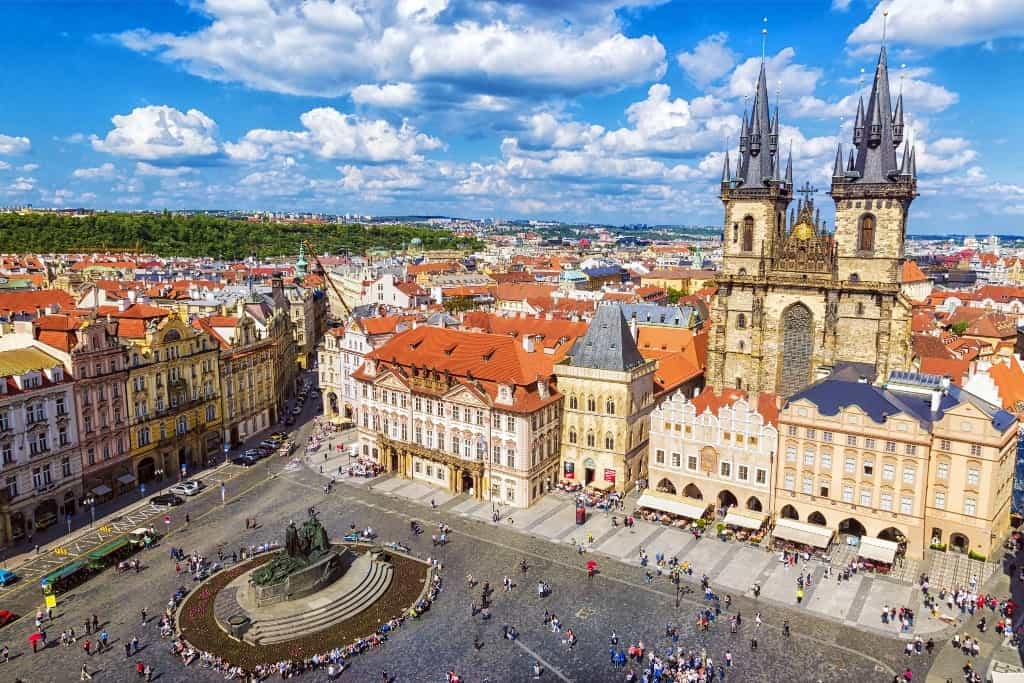 Prague has the nickname ''The City of 1,000 Spires'' and if you climb to the top of the Old Town Hall Tower, you will see why. The Tower is also home to the Astronomical Clock where the 12 Apostles appear over the dial on the hour, every hour. Within the Tower, there is a 14th Century chapel, a former prison, and some fine art.
The Jewish Quarter
Joselov has been transformed from a slum to a district of real interest. The Cemetery is small with stones stacked on top of each other while the Museum and Synagogue are both worthy of a visit. Art Nouveau apartments now make this a popular residential area.
Day 2 – Explore Prague
Charles Bridge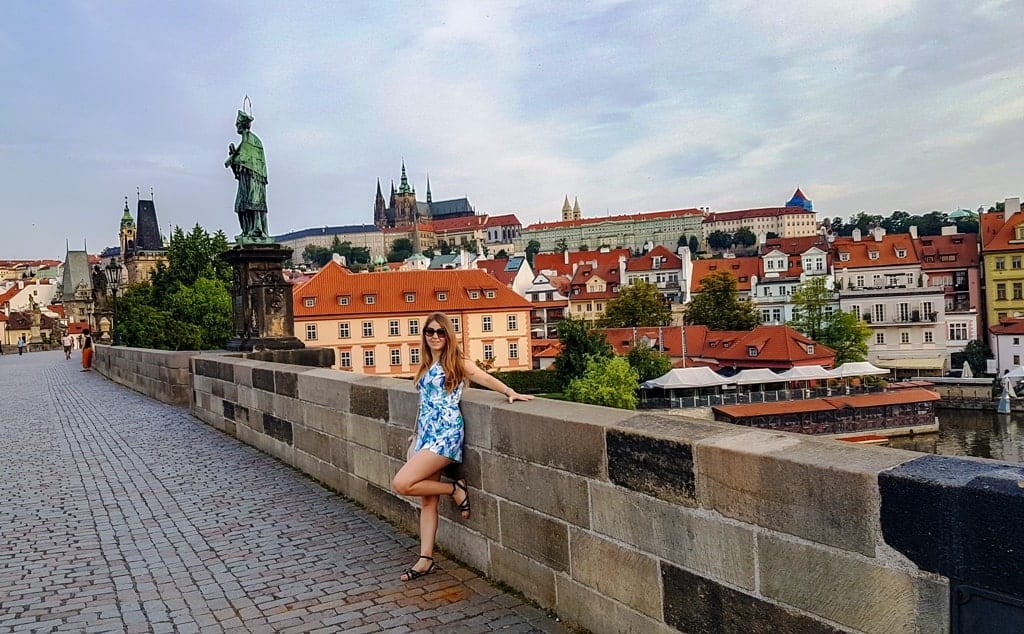 Charles Bridge is an attraction in itself. It connects the Old Town with the stunning Prague Castle on high. It is 520 meters long with plenty of statues and pieces of history as you cross the River. It took half a century, the second half of the 14th, to complete.
Prague Castle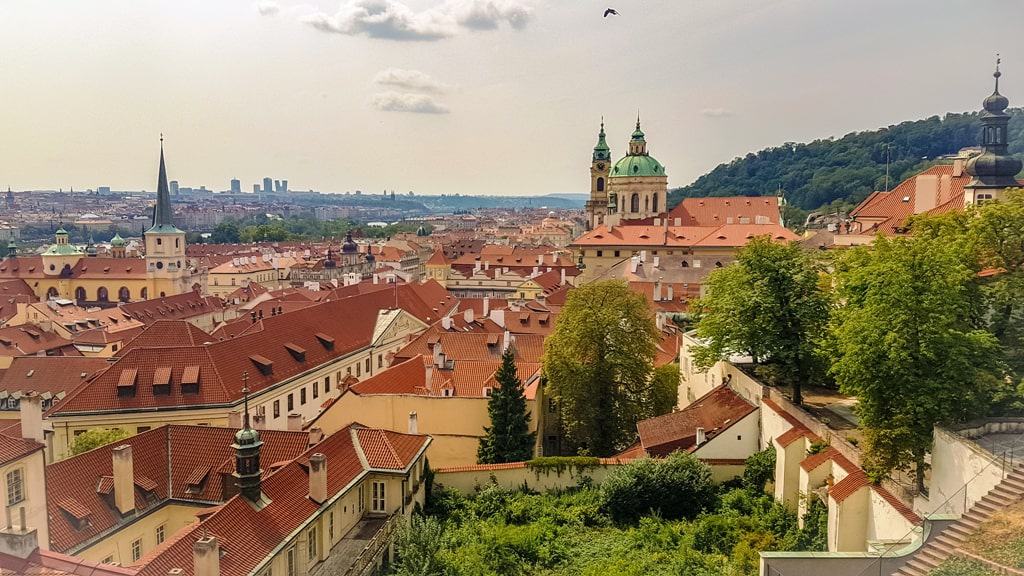 This was home to the Bohemian Kings and today, the President of the Republic. It dominates the skyline with great views from there back across the Charles Bridge. Guinness records it as the oldest castle in the world, dated 970. You should try to see the Vladislav Hall and the Lion's Court as a minimum. It is lit up by night and looks spectacular from anywhere in the City.
Click here to book a guided tour to Prague Castle including admission tickets.
St. Vitus Cathedral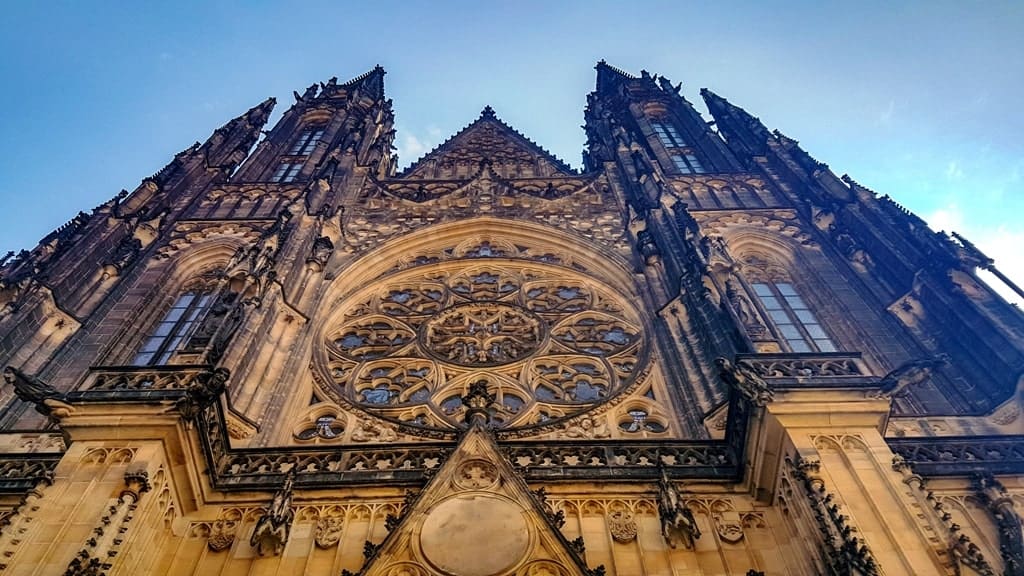 St. Vitus is found in the Palace Grounds on the site of a Rotunda from the early 10th Century. There is a mix of styles in a cathedral begun in the middle of the 14th Century and completed centuries later. The stained-glass windows are an extremely impressive feature while the altar in the small chapel has 1,300 precious stones.
Wenceslas Square
This Square is the focal point of the new Prague. A statue of King Wenceslas, the Patron Saint of Bohemia has been standing on the same spot since the 14th Century, which is now the Square's center. There is a host of bars and restaurants in the Square.
The National Museum
The National Museum looks down from the top of the Square. It opened in 1891 and with limited time, perhaps you should head for the Roman artifacts from the early centuries AD, as well as exhibits from the Bronze and Early Stone Age?
Day 3 – Prague to Vienna
The high-speed train for the 250 km trip to Vienna takes around 4 hours with prices varying between 68 and 85 euros. Services run throughout the day.
If you hired a car and driver to take you to Vienna, you can expect the total cost to be around 300 euros. It is still expensive if split 3 ways with no obvious advantages.
A ticket on Flixbus from Prague to Vienna takes just over 4 hours. It means an early start to have some time to see some of Vienna that day but early departures cost around 40 euros. Later in the day, that comes down to 16 euros. However, with time quite tight, the extra 24 euros is probably worth it. That would allow you to have a few hours of daylight in Vienna.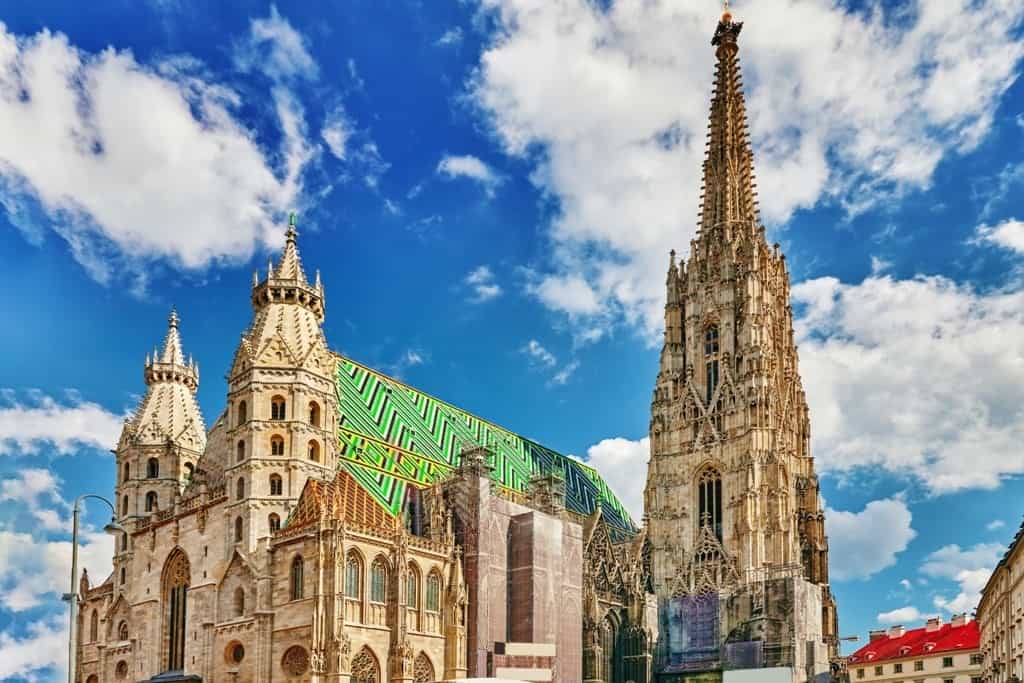 Where to stay in Vienna
Hotel Sacher Wien: This 5-star hotel opposite the Opera House was the place that inspired Graham Greene to write the film ''The Third Man.'' Its classic interior dates back to its opening in 1876 yet it guarantees comfort at every turn. The location for seeing Vienna's highlights cannot be beaten. Click here for more information and the latest prices.

Steigenberger Hotel Herrenhof: Perfectly located in the center of Vienna's 1st District–a UNESCO World Heritage Site–many historic sites are within walking distance and friendly staff makes it a top choice. Click here for more information and the latest prices.
Day 4 – Explore Vienna
The Vienna Pass and a Hop-On, Hop-Off bus (free with the Vienna Pass) service makes seeing Vienna a relatively simple exercise. The question is what to include.
Click here for more information and to book the Vienna Pass.
St. Stephens Cathedral
This cathedral built in the early 16th Century sits on a site where a church has been since the 12th. Entry is free but you have to pay to go upstairs to the Treasury. You can pay more to climb the 343 stairs to the top of the south tower or take a lift to the top of the south one. From either, you will get a closer look at the wonderfully colored cathedral roof.
Museums
Vienna has a wide range of museums; there is actually a museum quarter. The ones you decide to see will depend on your personal interests.
Albertina – free with Vienna Pass: This museum/palace has a great collection of paintings including work from Picasso and Monet. It owns over 100,000 photographs which it displays in a rotation. You can enjoy the whole breadth of art from graphics to architectural, contemporary to modern. Click here to book your e-ticket.
Natural History Museum & Kunsthistorische Museum: These two museums are close together beside the Hofburg Palace complex. The former opened in 1889 and contains everything from prehistoric exhibits to meteorites. The Museum of Art History, the latter opened a few years earlier. It contains many exhibits from the Hapsburgs including antiquities, sculptures, and paintings. free with Vienna Pass
Military History Museum – free with Vienna Pass Austria's military history is represented here, covering a period from the 16th Century.
While you are in the area, you should see this UNESCO World Heritage site that dates back to the late 17th/early 18th Century. The two buildings in the complex were built by Prince Eugene. The gardens and the Baroque-style palaces with a good art collection are well worth your time.
Click here for more information and to buy your tickets to the Belvedere Museum

free with Vienna Pass
Day 5 – Explore Vienna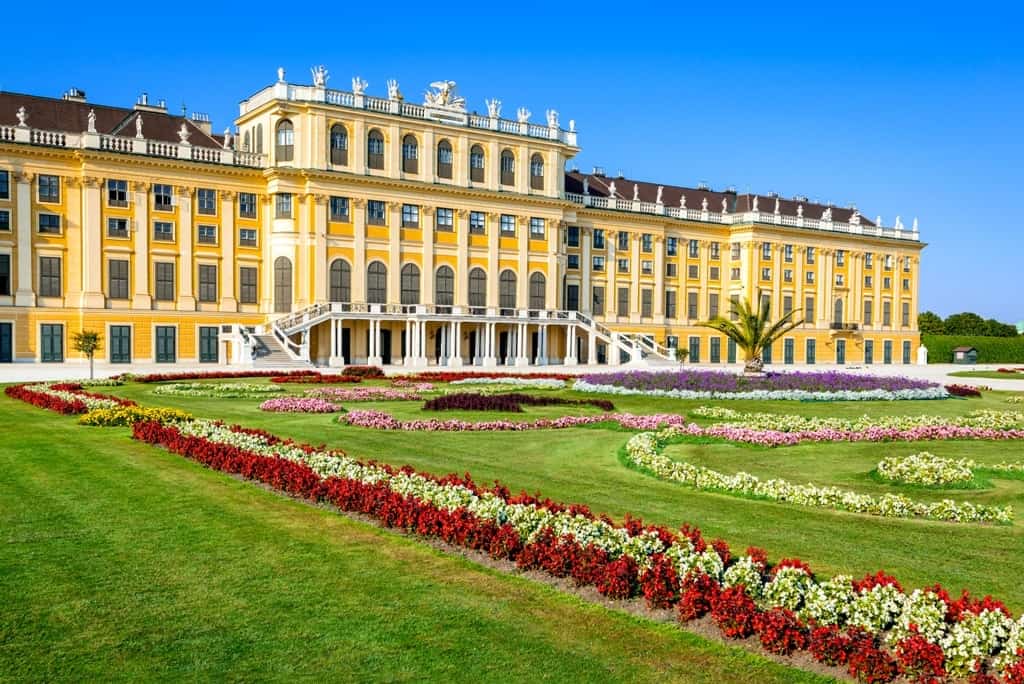 You should make an early start on your other full day to get out of Vienna's center to see this UNESCO World Heritage site. It merits a day but with limited time, perhaps a half-day will do? This Baroque-style palace was the 18th Century Viennese Court, a place where Mozart played his first concert as a 6-year-old. There are 1.400 rooms and several hundred acres of grounds. The Carriage House, the Labyrinth, and the Palmhaus are just three of the highlights.
Click here for more information and to book your skip-the-line guided tour.

free with Vienna Pass
Hofburg Palace houses the Sisi Museum that holds a wonderful collection of the Austrian empress's belongings throughout her life. The Imperial Apartments are lavishly decorated and they give an idea of the luxury that the family indulged in, as does the impressive silver collection on display.
Click here to buy your tickets for the Imperial Treasury in the Hofburg Palace.

free with Vienna Pass
City River Cruise
The Danube and its canal flow close to the Old Town. There are a variety of tours of varying durations and you should look at the time available to make your choice. The 75-minute tour can be fitted in during this second afternoon.
The Giant Ferris Wheel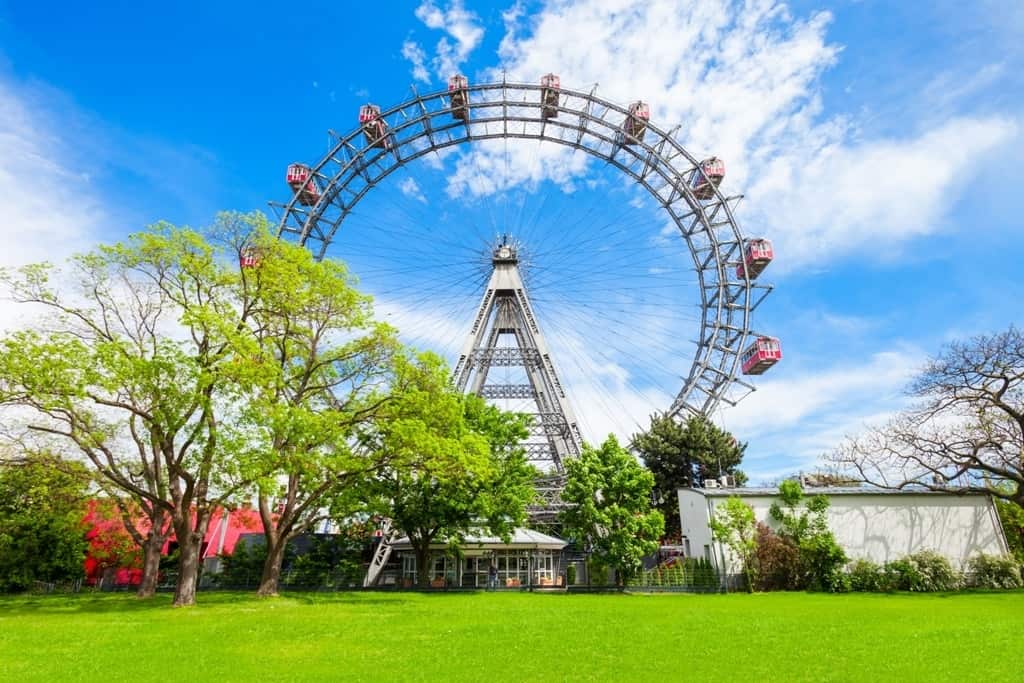 An excellent way to get a good view of the City is to take the Ferris Wheel which was constructed in 1897 although it required extensive repairs after World War II. If you take a ride just before sunset, better still. It is in Prater Amusement Park two metro stops from the cruise terminal.
Day 6 – Vienna to Bratislava
With Bratislava on the route down towards Budapest, it would be a shame not to stop and see some of its main sights even if time is limited. Bratislava is just one hour away from Vienna.
There is a regular train running at least every hour from Vienna to Bratislava. The journey takes only an hour.
There is also a good bus connection between the two capitals. The journey again is about an hour.
Where to stay in Bratislava
Mercure Bratislava Centrum: I stayed at the Mercure Bratislava Centrum Hotel an exquisite building located near many of the town's main attractions, next to Bratislava's train station. The hotel is designed with a contemporary flair which adds a unique contrast to the historic city it's situated in. This luxurious hotel offers many helpful amenities like a restaurant that serves traditional Slovakian food. It also has a bar that serves a variety of interesting cocktails as well as an extensive wine list. Besides this, you'll also find a library inside as well as free Wi-Fi access. Click here for more information and the latest prices.

Falkensteiner Hotel Bratislava: This 160 room 4-star hotel is located near Bratislava Castle. Facilities include a fitness center, underground parking, bar, and restaurant. There is a range of rooms up to 75 square meters senior suites. Click here for more information and the latest prices.
The Old Town is the main attraction of Bratislava. How much you can see during the rest of the day will dictate the time of your departure to Budapest. It can be covered in just a few hours and you should start here:
Church of St. Elizabeth
This art nouveau church finished in 1913 has been described as a marshmallow-like structure and although it has an impressive tower, it is its external appearance that makes it worth a visit.
Čumil
A man peeping out a manhole, Cumil is a statue done 20 years ago to liven up the Old Town. The sculptor Jurai Melis has other work on display in the Old Town; Napoleon's soldier is an example while you should look out for the Paparazzi by Radko Macuha.
The Main Square
This plaza is where you will find the Old Town Hall, a clock tower, and a Renaissance-style fountain. There are several interesting buildings including the Palugyay Palace and the French Embassy. Cafes are a place to watch life go by and at certain times of the year, there are special events and markets.
Michael's Gate
Michael's Gate is the last part of the medieval fortifications that used to surround Bratislava. It dates back to the 15th Century and from there you get great views of the Old Town. Although Baroque in design these days, that was not its origins. There is a tower and a small museum within.
Clarissine Church
This Gothic Church was built in 1297 for the Order of Poor Clares, a very strict nun's order. When it disbanded in 1782, it became a legal academy. Today, it hosts concerts and exhibitions.
Bratislava Castle
The 9th Century Bratislava Castle is on a hill above the Danube River is a rectangular building with towers in each corner. It underwent renovation after World War II and today holds exhibitions.
St. Martin's Cathedral
Another Gothic Church which was built in 13th Century, pilgrims are regular visitors to this cultural monument. There are catacombs and underground passageways because the site is a former cemetery.
Day 7 – Bratislava toBudapest
Bratislava is 200 km from Budapest, mostly heading east.
Trains run between these two capitals throughout the day. The quickest train takes 2.5 hours with prices starting at 28 euros.
If you travel by car, it will take a similar time, but if you hire a car with a driver that can be seriously expensive.
Bratislava to Budapest is a 3-hour trip on Flixbus for 10 euros.
Where to stay in Budapest
Hotel Kempinski Corvinus: I had the pleasure of staying at this stylish hotel. It is in a great location; only a minute's walk from the station. Within the hotel are restaurants and bars as well as a spa, an indoor pool, and a gym. Click here for more information and the latest prices.

Hilton Budapest: Formerly an old 13th-century monastery, this hotel is located opposite The Fisherman's Bastion and provides full amenities including a restaurant, bar, gym, and sauna.
Click here for more information and the latest prices.

Promenade City Hotel: I stayed here on my first visit to Budapest. Located in a shopping street, this modern hotel offers Wi-Fi, a minibar, flat-screen TVs, and a complimentary breakfast. Click here for more information and the latest prices.
Visit the thermal baths
You have arrived at the final city of your Prague, Vienna, Budapest itinerary and it is time for a bit of relaxation. After settling in at your hotel I suggest a visit to one of the city's famous natural thermal baths. There are many options to choose from. The beautiful Gellert Baths with stunning architecture can be found inside the Gellert hotel. The Széchenyi Baths are the most well-known and hold the title of the largest medicinal bath in Europe. Finally, if you are looking for the most traditional baths where locals go, I suggest the Kiraly Baths.
Day 8 – Explore Budapest
There are so many things to do in Budapest, which was formerly two cities, Buda on high and looking down on Pest across the Danube.
Buda Castle & Castle Hill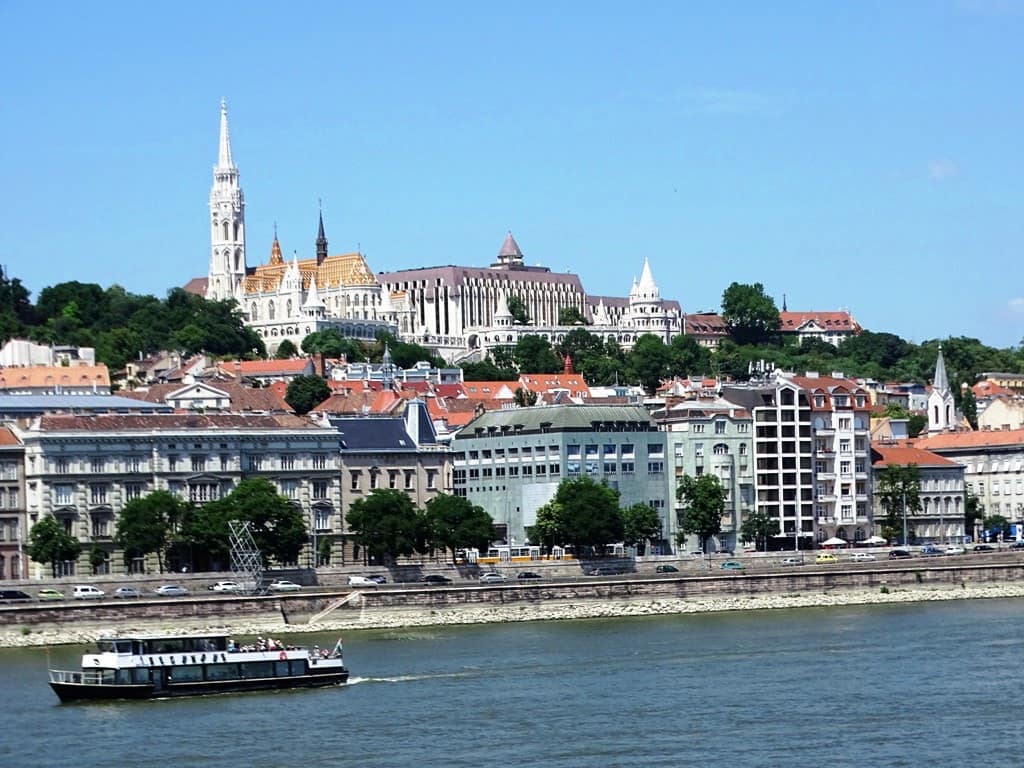 Buda has needed good defenses over the centuries; Castle Hill is naturally good to defense. A funicular takes visitors up to visit several major attractions including the Castle, a 200-room palace that replaced the original 13th Century castle in the 18th Century. World War II damage has been repaired and visitors can now go in to see the National Gallery and the History Museum. The whole hill is a UNESCO World Heritage site
Fisherman's Bastion
Defensive walls were built by the Guild of Fishermen many centuries ago. Today's structures and walls come from the end of the 19th Century. The Statue of St. Stephen, the first King of Hungary, and reliefs recording events from his life are just two examples of interesting things to examine.
Mattias Church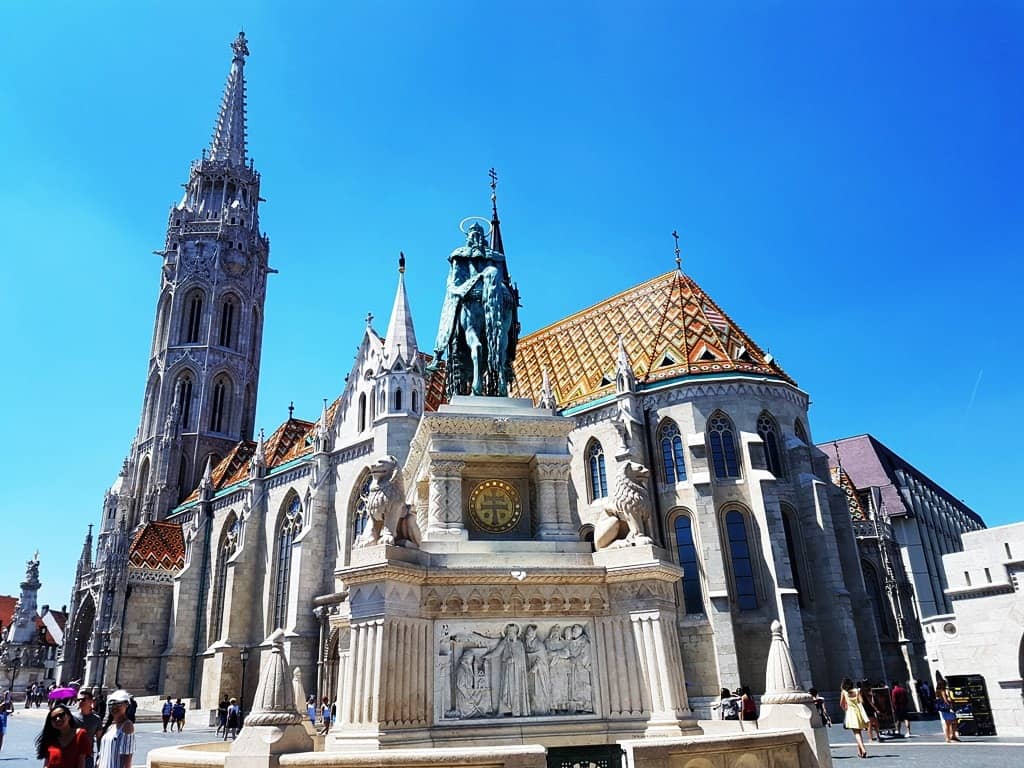 Mattias Church opened in 1269 with the representation of her death added in the 14th Century. When the Ottomans took the region, the church became a mosque and remained one until they withdrew. The earliest major event at Mattias was the coronation of Charles I in 1309.
Great Synagogue & Jewish Museum
Once you leave Castle Hill, you should cross the Chain Bridge into Pest. There was once a major Jewish population in Budapest and its people suffered at different times. You can learn more about that in the Museum close to the Great Synagogue, the largest in the world outside New York.
New York Café
Few who have visited this impressive café argue with the claim that it is the most beautiful café in the world. You can have everything from breakfast to dinner though to eat after sunset, you may have to book. Get there before traditional dinner hours and enjoy the impressive menu and the small classical orchestra entertaining customers.
Day 9 – Explore Budapest
Parliament
The Parliament buildings on the Danube are among the largest in the world. There are 20 kilometers of corridors and 700 rooms. Tours last around 90 minutes and you will see the Crown Jewels. There is good access but some areas are limited when parliament is in session.
Click here for more information and to book a guided tour to the Parliament.
Shoes on the Danube
Back out on the banks of the Danube, there is a wonderful memorial to those Jews shot on the banks and allowed to drift away down the River. That horror took place towards the end of World War II and the 60 pairs of steel boots and shoes bring home to visitors the horror of those times. Far more than 60 suffered that fate but the 2005 sculpture ensures the events will never be forgotten.
St. Stephen's Basilica
The cathedral in Pest was begun in 1851 and consecrated half a century later. There was damage during the Second World War but that was repaired. The views from the top of the Tower are outstanding; there is a lift if you need it. The mosaics and the mummified hand of St. Stephen are among the things to see inside.
Central Market Hall
Locals shop at this huge market but it is also very much a tourist attraction. There is no doubt it is the best place in Budapest with fresh produce, meats, etc., over three floors.
Danube Cruise
You have already cruised on the Danube earlier on the trip but you should take to the water again in Budapest, day or night. You get great views of both banks of the river and cruise past many of the City's highlights. With limited time, St. Margaret's Island probably isn't an option, nor is the lovely Calvinist Church on the opposite bank.
Click here for more information and to book a Danube Cruise.
Day 10 Flight home
You have packed in quite a lot into your journey through Central Europe's finest cities Prague, Vienna, Budapest, and of course Bratislava. It may give you an appetite to see other parts of Central Europe and the Balkans. Talking of appetite, you should eat a good breakfast before heading from the City Centre out to Ferenc Liszt Airport 15 km away. Taxis are readily available and probably the most convenient way to get there.