One of the most popular attractions of Athens is the Acropolis Museum that houses the findings of the archaeological site of the Acropolis of Athens.  What is not so widely known is that the museum provides a restaurant as well.
Last weekend I decided to visit the restaurant with my husband, so I called and made a reservation just in case it was full. If you only want to visit the restaurant and not the museum you have to get a free admission ticket from the tickets desk on the ground floor. The restaurant is located on the second floor of the museum and enjoys incredible views of the Acropolis. The menu is based on traditional recipes made with seasonal local ingredients.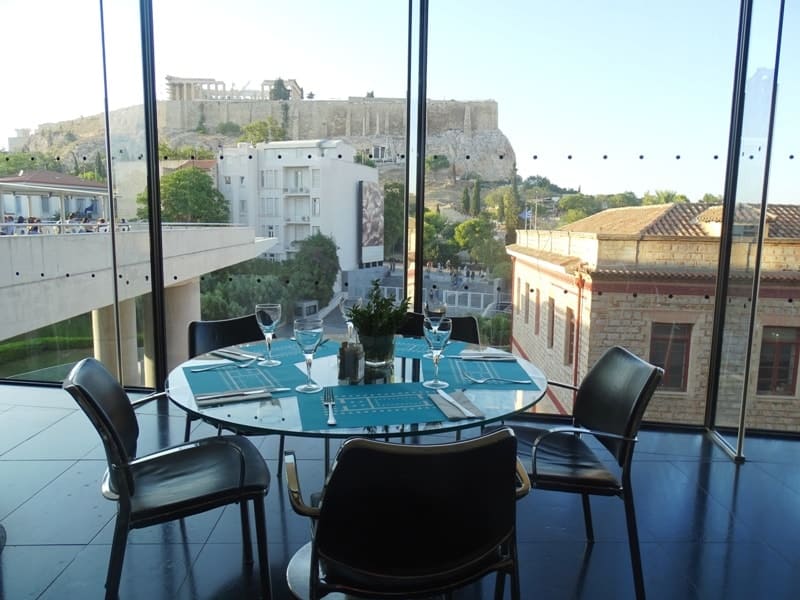 We were sited on a table by the window with the Acropolis just a breath away. To start with, we ordered a multicoloured salad with aromatic herbs, prosciutto from Thrace, fyllo pastry crusts and rosemary sauce. It was a very special salad, and the prosciutto was delicious. We also had an amazing baked feta cheese from the area of Dodona wrapped in fyllo pastry from Zagori, sesame, and yellow pumpkin sweet preserve.
For the main course, I had grilled burgers with homemade fries and tzatziki sauce. The burgers were very tasty and one of the best I have had outside my house. My husband had chicken fillet with smoked cheese from Vermio, sun dried tomatoes and wholemeal trachanas from Epirus, which he found excellent. The servings were generous and the quality splendid.
We were told that the signature dishes of the restaurant are the fresh kingfish fillet with groats and the young aged lamp from Epirus accompanied with Hylopita (pasta).
We accompanied our food with house wine which was excellent. The restaurant serves a variety of Greek wines and beers.
For dessert, we chose a lemon tart and Chios mastic cream with white chocolate on a base of kantaifi fyllo. Both desserts were very delicious.
Although during my last visit service was excellent, it can vary from day to day but the location and food were so good that it's worth it.
I highly recommend the restaurant of the Acropolis museum for the great views and tasty food based on traditional Greek recipes.
The restaurant operates:
Monday                            8:00 a.m. – 4:00 p.m.
Tuesday – Thursday       8:00 a.m. – 8:00 p.m.
Friday                               8:00 a.m. – 12 midnight
Saturday – Sunday         8:00 a.m. – 8:00 p.m.
Breakfast is served daily until 12.
Hot dishes are served daily from 12 noon.
There is also a kids menu available.
Have you visited the restaurant of the Acropolis Museum? Did you like it?
Acropolis Museum Restaurant
Acropolis Museum,
15 Dionysiou Areopagitou Street,
Athens 11742
Tel: +30 210 9000915