The cosmopolitan Greek island of Mykonos is a beautiful place to visit. While many people come here to soak in the sun's rays on its gorgeous beaches, the island offers so many things to do. If you plan on visiting this island soon, then consider these Mykonos tours to make the most of your time on this island. There are many fun tours to choose from in Mykonos; from walking tours to boat trips, day trips and cooking classes.
The best tours in Mykonos Island
Guided Tour Of Archaeological Site of Delos
Mythology lovers will want to go on a Mykonos tour to see the birthplace of Apollo and Artemis located on the island of Delos. After you step off the boat at Sacred Harbor, pay attention to the three highly visible conical mounds as they are believed to be birthplaces of goddesses. See the excavation work being performed under the auspices of the French School at Athens. This tiny island once contained the first multicultural civilization in the world starting in about 2500 BC. As you wander around the island accompanied by your Mykonos tour guide who speaks Spanish, English, French, German and Italian, see the ancient marketplace, theater and ancient living quarters. Spend time investigating many of the archeological finds including funerary statues and grave stelae at the Archaeological Museum of Delos. While this tour leaving from the Old Port in Mykonos is slated to last five hours, participants have the opportunity to take the last boat from the island allowing them to extend their visit so that they have time to explore on their own.
Find more information about the Delos Guided Tour here.
Yacht Cruise to Rhenia Island and Guided Tour of Delos
Leave on a yacht from the New Port with an English-speaking tour guide to explore the sights at Delos before embarking on to Rhenia where you can enjoy solitary beaches. Exploring Rhenia is a chance to see what the three-sister islands looked like before tourism invaded them. It is a great place to dine on the small pasta lunch provided by the tour company. Make sure to climb the hill so that you can enjoy the scenic view of Delos and Mykonos in the distance. Pass by sheep grazing in the lush pastures and see the stables and cells where other animals are housed. Enjoy a quiet ending to this eight-hour tour by snorkeling and swimming in the crystal-clear water.
Find more information about this Mykonos boat tour to Rhenia & Delos here.
Full-Day South Coast Cruise
Consider a full day of sailing along Mykonos' south coast with an English and French speaking tour guide. If the weather cooperates, stop on uninhabited Dragonissi Island. See the yellow sea anemone in the sea caves that live nowhere else on earth. Try locally-produced ouzo or sip on a fabulous Greek wine as you sail around the protected bay of Frangias. The next stop on this eight-hour Mykonos tour is the lovely Kalafatis Beach where you can enjoy lunch at a traditional taverna where the freshly caught fish is superb. After lunch, board the sailboat again for your journey to Super Paradise Beach which is one of the most beautiful beaches in Greece. End the day as you sail back to Ornos Beach at sunset.
Find more information about the Full Day Mykonos Boat Trip here.
Cooking Class in Mykonos, Greece
Immerge yourself in Mykonos' culture during a Mykonos cooking tour held in a traditional spiti where you will be warmly greeted by a traditional Greek grandmother named Teta who will serve you:
dakos (soaked bread seasoned with Kopanisti cheese and tomato)
louza (sun dried pork fillets)
Greek wine
Cretan raki (distilled coffee)
After hearing Teta tell family stories, be ushered into the family's garden to learn about organic farming. Prepare stuffed peppers, beef with orzo and spinach pie. Indulge in eating the feast that you helped prepare during this six-hour tour. Most participants choose to extend their visit by viewing the family farm and vineyard before taking a quick swim in the nearby waters.
Find here more information on this Mykonos Cooking Class.
Walking Tour of Chora, Mykonos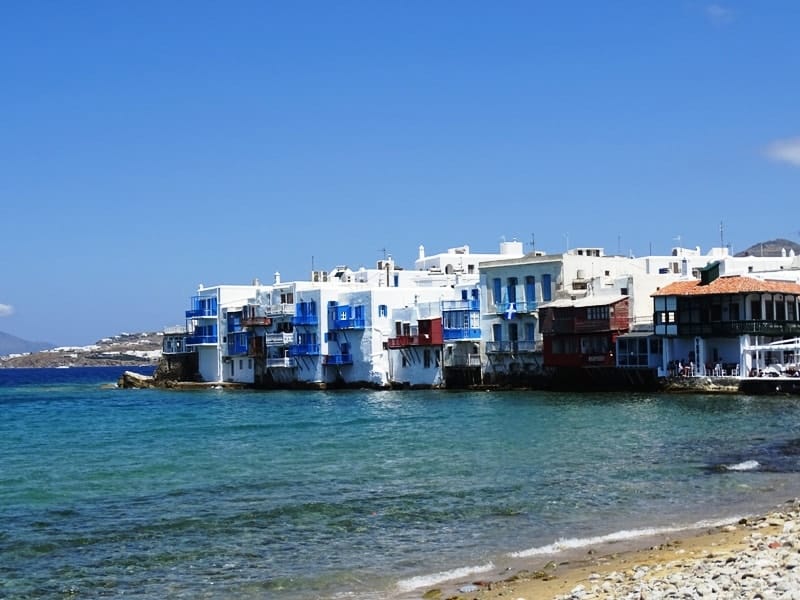 Accompany an English-speaking tour guide to visit the most famous sites in Mykonos. Start your three-hour walking tour along the coastal road until you reach Manto Square. After viewing the statue of Greek war heroine, Manto Mavrogenous continue to the Matogianni district where you can window shop for clothes, accessories, and jewels from the world's top designers. Continue walking past the Mavrogenous house to reach the Maritime Museum and Three Wells Monument. Pause for a traditional Greek pastry at the bakery before embarking on seeing and learning about the fabulous architecture of the 13th century Castle of Chora, the houses of Little Venice, Panagia Paraportiani Church and Agios Nikolaos Church from your English-speaking tour guide.
Find more information on The Walking Tour of Mykonos Chora here.
Mykonos Sunset Party Cruise
One of the best ways to explore the magic of Mykonos is on a sunset cruise. After following Mykonos' coastline arrive at Little Venice as the sun sets. Enjoy unlimited white wine and fresh fruits. Watch the Aegean Sea turn many different amazing colors as the sun sets in the sky. You will definitely want to bring along your camera allowing you to capture the immense beauty of this time of day on this 4-hour sunset cruise.
Find here more information about this Mykonos Sunset Boat Tour.
With so many wonderful Mykonos tours to explore, you will want to return to this island very often. Consider starting with the one that meets your interests the best. This cosmopolitan island is a great place for a holiday.
You might also be interested in: What to do in Mykonos, the best beaches in Mykonos, Where to stay in Mykonos and the best day trips from Mykonos.
Did you like this post? Pin it!
Disclaimer: This post contains an affiliate link. This means that should you click on certain links, and then subsequently purchase a product, I will receive a small commission. It costs nothing extra to you but helps keep my site running. Thank you for supporting me in this way.