Santorini is the largest island of the remains of a volcanic caldera and is one of the most romantic places to visit in Greece. Picturesque villages of blue and white buildings, fantastic food and unique beaches make it one of Greece's top destinations for holidaymakers. The island's volcanic past is what gives beaches their unique look with red and black sandy beaches and impressive cliffs of different colours. Let's take a look at the best beaches on Santorini.
You might be interested in: The best things to do in Santorini.
The beaches in Santorini
Kamari Beach
Located 10k from Fira is Kamari beach, easy to reach and popular with tourists for its black sand, blue water, and the impressive peak of Mesa Vouno mountain at one end. It's family friendly and organised with sunbeds, umbrellas and many restaurants, cafes and bars nearby. There is also diving and watersports available. Kamari beach is an attractive area with traditional houses behind the beach and it's a good for exploring and enjoying the beautiful views.
Perissa Beach
Located on the other side of Mesa Vouno, Perissa beach can be easily reached by bus. It's organised with sunbeds and umbrellas, restaurants, taverns and bars, and watersports and diving are also available. The beach is pebbly and covered with black sand and the remains of Ancient Thera are not far away in case you want to take a break from sunbathing. There is a footpath across the mountain which can be taken on foot or by donkey. Perissa is a beautiful place to visit, although it can get very crowded during the summer.
Perivolos Beach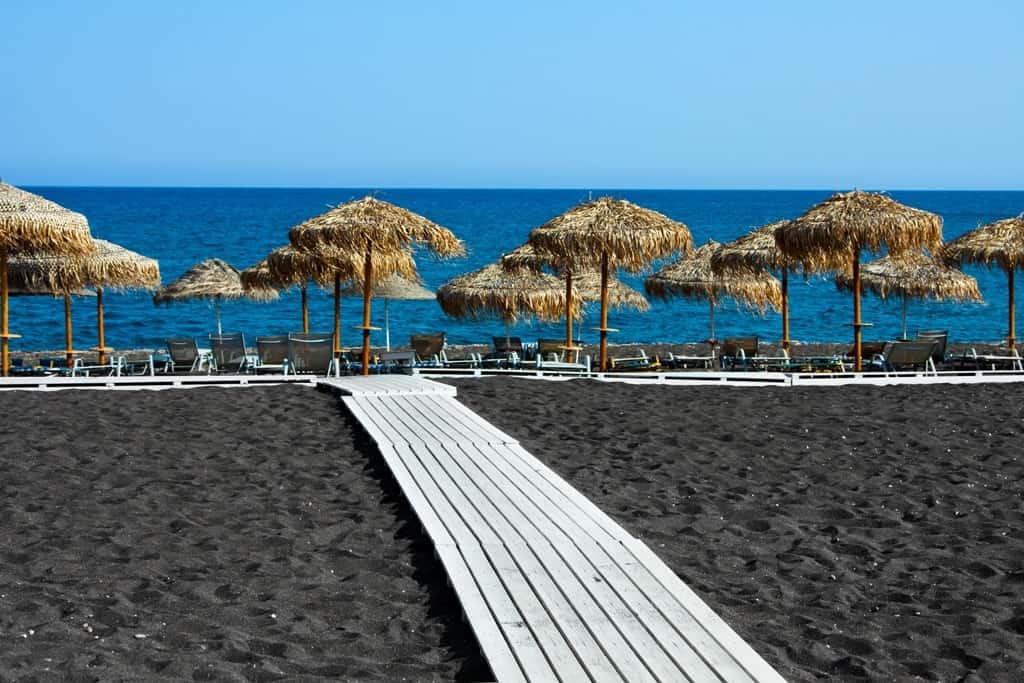 Just 3km from Perissa, Perivolos is easily reached by bus or cab. It's the longest beach on the island, with azure water, a tranquil atmosphere, and partly organised with sunbeds, umbrellas, restaurants and taverns selling delicious fresh fish and local food. There is plenty to keep you occupied with diving, jet skis, and it's a good place for windsurfing. The gorgeous countryside surrounding Perivolos is popular with walkers, but the black sandy and pebbly beach is just as inviting if you simply want to relax.
Red Beach
Red beach is 12 km from Fira, so it's easy to reach. You can also take the boat from Akrotiri which is a great way to get there for views of the spectacular rugged, red cliffs that provide the backdrop to this beautiful, albeit small and potentially crowded, beach on Santorini. It's organised with sunbeds and umbrellas and the crystal clear water is perfect for snorkelling. The sand is black and red and the water is hot. The ruins at Akrotiri are a walk away, although the footpath to and from the beach is challenging, but the views from the headland are stunning.
Monolithos Beach
Monolithos beach is popular with families and it's easy to reach by bus from Fira. There is plenty to do like beach volleyball, basketball and football, and there is a playground area for kids. It's partly organised with sunbeds, umbrellas and restaurants and cafes close by. The beach has black sand, and shallow, crystal clear, blue water which is good for swimming. It's also secluded, with trees to provide some shade, and less crowded than some of the other beaches, which makes it popular for nudist sunbathers.
Amoudi Bay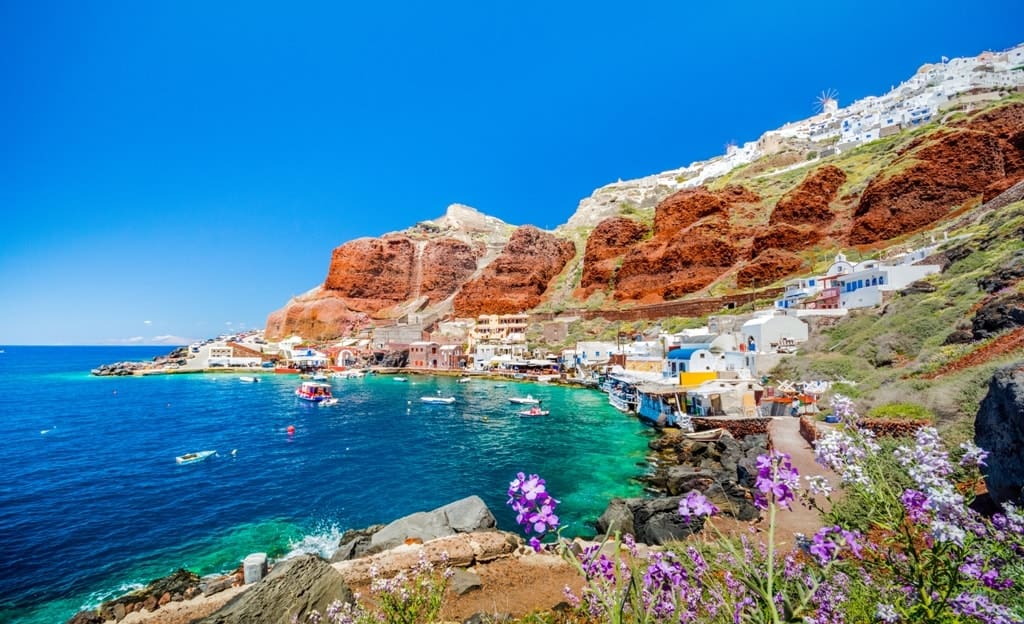 The gorgeous Amoudi Bay has no beach, but the sparkling, blue water is fantastic for swimming and snorkelling. Located in Oia, access is by 300 steps that lead down to the bay, but, don't forget, you'll have to walk back up at the end of the day. There are donkeys to give you a ride, but, spare a thought for them, as they have been out in the heat all day. It tends to get very crowded, but there are restaurants on the way which serve delicious Greek food, and you can sit and enjoy the breathtaking views. Many people try cliff jumping, but if that's not your thing, just watch them from afar, and take joy in the beautiful walk there and the amazing sunset.
Vlychada Beach
Vlychada beach is partly organised with sunbeds and umbrellas, but arrive early because there aren't as many as other beaches. It's only 10 km from Fira, so it's easy to reach by bus. The sand is black with pebbles and a lovely way to pass some time is to walk to the picturesque port with fishing boats and yachts moored up. Behind the beach are white cliffs, with magnificent rock formations, eroded by the wind over the years. It's less crowded, so there is plenty of space to find your own space to spend a few hours and it's popular with nudists.
Mesa Pigadia Beach
Mesa Pigadia beach is located in Akrotiri and surrounded by impressive cliffs. You can get there by boat, from Akrotiri, or if you plan to drive or take a cab, access is along a dirt track. The cliffs protect the beach from winds, so it's a great spot for snorkelling or kayaking. There are sunbeds and umbrellas, and a few restaurants and taverns and the beach is a combination of sand and pebbles. It's a charming beach to visit and a tranquil and relaxing place to spend the day.
Selected Tours in Santorini
If you are looking for more information regarding your trip to Santorini here are some resources to help you out:
– How to get from Athens to Santorini by ferry and plane.
– Check out the best tours to do in Santorini.
– If you are looking for a special place to stay have a look at the best hotels in Santorini with private pools.
– For more things to do check out my post What to do in Santorini.
– Read why you should consider visiting Santorini in Autumn.
-Check out my post: Santorini in Winter, a complete guide.
-You might also like: Things to do in Oia, Santorini and Things to do in Fira Santorini.
– If you are looking for a photo tour of Santorini read about my experience here.
– Lastly check my packing list for Greece.
Santorini has plenty of beaches to choose from, each one stunning in their own right, so whether you're looking for an active way to spend your time or you simply want to relax and take in the wonderful scenery, you're in the right place.
Disclaimer: This post contains an affiliate link. This means that should you click on certain links, and then subsequently purchase a product, I will receive a small commission. It costs nothing extra to you but helps keep my site running. Thank you for supporting me in this way.