This post is also available in: French
Of the many natural therapeutic springs that bless Greece, the mud baths of Krinides are truly special. This unusual and effective therapy is a unique and delightful experience.
The Krinides Mud Baths are less than a half an hour by car from Kavala, a gem of a city on the shores of northern Greece. The baths themselves are very close to the Archaeological site of Ancient Philippi, and these two excursions are easy to enjoy in one day.
The Krinides Baths are unique in that they provide two natural therapies. There is a pool of therapeutic clay, and also a natural therapeutic spring. The spring can be enjoyed on its own. But the clay therapy also requires therapeutic water – it's compatible with the properties of the clay, and is the only way to wash the clay off of your skin (using conventional tap water to remove the clay will redden the skin.)
The Krinides baths are in a pleasantly landscaped park. All the buildings have traditional stone architecture. In addition to the baths, there is a restaurant and a cafe, a post-byzantine bathhouse, rooms for massage therapy, and a church. There are also caravans and camping facilities, and a communal kitchen and bath facilities.
You might also like: Things to do in Kavala.
Enjoying the Krinides Mud Baths – What Are the Benefits of Clay Therapy?
This marvellous healing clay is indicated in the treatment of many disorders. Rheumatologic disorders such as inflammatory arthritis, gynaecological disorders, and diseases of the nervous system. Notably, clay therapy is also indicated for some cardiovascular diseases such as phlebitis. Many natural healing springs, due to their temperature, are contraindicated in the case of phlebitis. The therapeutic clay at Krinides maintains an extremely comfortable natural temperature of 27 degrees. It's enjoyable even on a hot day.
Clay therapy is also very helpful as a part of a post-traumatic treatment- for healing sprains, etc. It's also useful for skin diseases such as eczema and psoriasis.
Even if you suffer from no particular disorders, the clay therapy will provide relaxation – it's a delightful and interesting experience. And your skin will be smooth and absolutely lovely after a session in the therapeutic clay.
What Are the Properties of the Therapeutic Clay?
The clay contains sodium oxide (Na2O), potassium oxide (K2O), calcium oxide (CaO), magnesium oxide (MgO), aluminium oxide (Al2O3), iron oxide (Fe2O), and silicone dioxide (SiO2). The clay has a pH of 7.3.
How Does Clay Therapy Work?
The clay works both topically – on the surface of the skin – and internally, as some beneficial properties are absorbed through the skin and work throughout the body.
The thickness of the clay itself also provides great benefits. The thickness exerts something called up-thrust, counteracting the effects of gravity. It supports the body for an almost weightless sensation which is not only beneficial in terms of pain reduction but incredibly relaxing.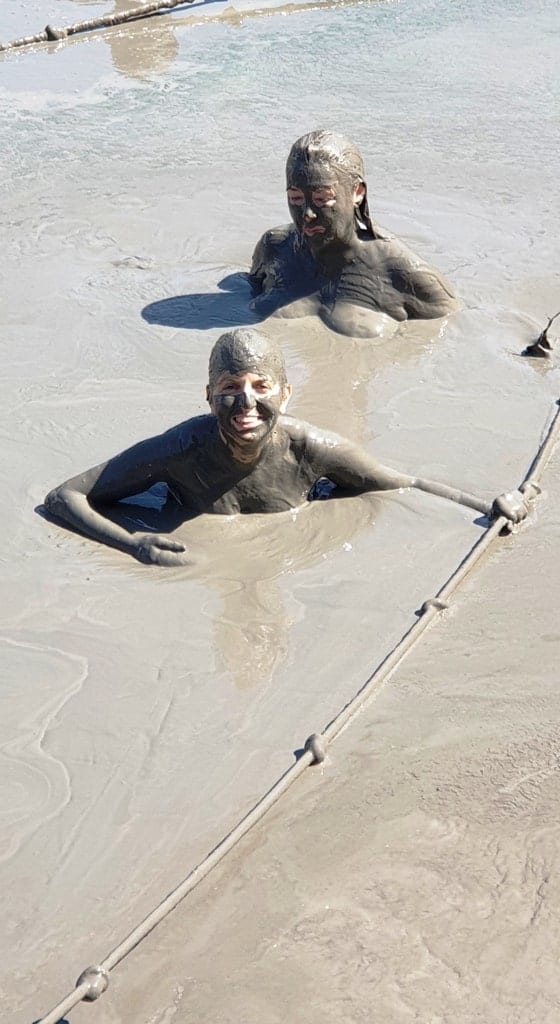 What is the Procedure for Having Clay Therapy?
Your visit to the Krinides baths will begin with a consultation with a physician.
Men and women enjoy clay therapy in separate areas, separated by a high wall.
You may wear what you like, but most people wear only the provided undergarment so as to get the full enjoyment and benefit of the clay directly on their skin.
First, you prepare your skin by taking a shower with therapeutic water. There are various pressures, some forceful like a pleasant massage.
Then, you walk down metal stairs into the pool of clay. If you have never done this, you may find it tricky. The Clay is so thick it is difficult to move through at first, You will notice some ropes on the surface of the clay bath. They have knots at regular intervals.
You grasp the ropes and pull yourself through the clay. As you press your legs downward, you will see that the clay is ever thicker – it is not possible to sink. In fact, you may find yourself floating pleasantly close to the surface.
For those who are mobility impaired, there is a chair that is lowered into the clay by an assistant, who then will help remove the clay after the therapy.
You will want to cover your upper body with clay to make sure you receive the full benefits. Most people also put the clay in their hair – it's beneficial for the scalp as well.
The recommended time in the clay is 20 to 25 minutes. After this, you remove most of the clay by using a rope provided for this purpose. Then, you let a thinner layer of the clay dry on the skin under the sun. You will notice it is drying because it becomes much lighter in colour, and you feel a pleasant tightness on your skin
Now you go to the therapeutic showers again. One area is for washing off the clay, and the other is for enjoying a shower massage on your clean skin. The high pressure of some of the showers – you have your choice – is excellent for removing the clay from your hair.
Hydrotherapy
At the Krinides Baths, there is also a therapeutic spring, which you can enjoy in a historic post-Byzantine bath – a wonderful experience in itself.
The thermal waters are indicated for the treatment of rheumatoid arthritis, rheumatism, lumbar spine problems. Osteoarthritis of the knee and hip, fibromyalgia, strokes, multiple sclerosis, and other ailments.
The water is 35 degrees with a pH of 7.5. It contains calcium (Ca), magnesium (Ma), and bicarbonate (HCO3), as well as radioactive elements.
Massage Therapy
There are two skilled therapists giving massages and reflexology on site. You can even enjoy a massage outdoors under a tree – a very relaxing experience.
Dining at Krinides
There is an excellent restaurant on-site, overseen by Ms Mpoumpou who makes homestyle specialities with fresh local ingredients.
Staying at Krinides
There are caravans for rent right at the baths, and communal bath and kitchen facilities. Sheets and towels are provided- you only need to bring your own cooking equipment. You can also camp in your own tent.
Hotels Near the Krinides Mud Baths
The Hotel Yiannis is located directly next to the Krinides Mud Baths. There are also other hotels located close by.
How to Get to the Krinides Baths
The Krinides baths are a 25-minute drive from Kavala along a scenic and well-paved country road. If you are visiting the Archaeological Site of Ancient Philippi, the baths are less than five minutes away by car.
The KTEL public bus service also has a route directly from Kavala to the baths. For more information, please see here.
Extra Information
To enjoy the Krinides Mud baths, you don't need to bring anything with you at all. You can wear your own bathing suit or undergarments if you wish, but it is not recommended. They can easily be lost in the thick clay. A specially designed one-use garment is provided for you to use. They also have towels available.
The price for clay therapy including the therapeutic shower is 6€/person. The price of the therapeutic shower alone is 3€/person.
A 20-minute hydrotherapy session can be enjoyed individually with others who are also using the bath at the time – it holds a maximum of four. The bath can also be reserved for a private group of up to four.
The price for hydrotherapy is 5€/person individually, or 20€ for a private group session.
A 30-minute massage or reflexology session costs 20€.
For a more detailed price list, please check here.
The Krinides Mud Baths operate from June 1st to October 15th, from 8:00 – 17:00 daily.
Krinides Clay Treatment and Hydrotherapy Center: (+30) 2510 516 162
I was a guest of Discover Greece but as always opinions are my own.