This post is also available in: French
Antiparos is a pretty small island but that doesn't mean there aren't some great things to do. I mean, it's a beautiful Greek island so of course there are stunning beaches, rugged hiking trails and traditional tavernas serving up tasty local cuisine.
While Antiparos is ideal for those who like to kick back and relax in off-the-beaten-track destinations, those who prefer to keep themselves entertained with day trips will be covered too. Read on to discover the top things to do in and around Antiparos Island so you can plan your perfect trip.
Disclaimer: This post contains affiliate links. This means that should you click on certain links, and then subsequently purchase a product, I will receive a small commission.
A Guide to Antiparos Island Greece
Where is Antiparos
Antiparos is nestled in the Aegean Sea between the islands of Paros and Sifnos. Located just 15 minutes by boat to the west of Paros, Antiparos is a traditional Cycladic island, with warm, mid-Aegean weather. As Antiparos is situated close to Paros, Naxos, Ios and Mykonos, it can make a great addition to a Cyclades island-hopping trip.
How to get to Antiparos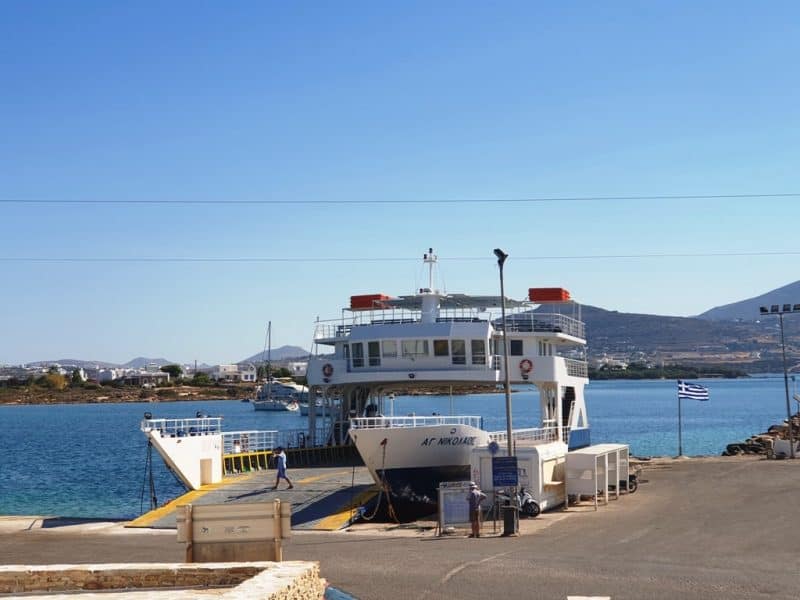 The only way to get to Antiparos is by ferry from the nearby larger island of Paros. Thankfully, boats are pretty regular throughout the summer and with the journey only taking 10-15 minutes it really couldn't be easier. Travel to Paros by plane or ferry and then transfer to Pounda port to catch the boat over to the little island of Antiparos. From the port of Pounda you can also take your car on the ferry.
Alternatively, if you don't travel by car you can also take the ferry to Antiparos from Parikia Port in Paros.
You could also opt to take a day trip, catching a ferry from Paros in the morning and returning again in the early evening.
Check here for more information on the ferry timetable and to book your ferry tickets.
The best time to visit Antiparos
As Antiparos is located in the heart of the Aegean, the best time to visit is between May and October. These shoulder months have mild temperatures and sunny days, with daily averages of around 20-21C, while the peak summer months of June to September will boast even warmer days and next to no rainfall.
Antiparos is connected to Paros by daily ferry services, but please be aware these will only run when the weather allows.
Things to do in Antiparos
Explore the beaches
The first thing that springs to mind when you think about what to do in Antiparos is, of course, the beaches. Antiparos has a wonderful collection of beaches including the port beaches of Kaloudia, First Psaralyki and Second Psaraliki Beach. These beaches are close to the main tourist amenities and offer soft sand, warm shallow waters and a number of bars, restaurants and shops nearby.
On the other side of the island lies Sifneikos Beach, looking out to the west of the island towards Sifnos. This is a little more rugged but equally beautiful. Further south still lie the beaches of Glyfa, Panagia and Livadia and some of the more remote beaches include Garbis and Faneromeni located on the southern tip of the island. These are perfect for those who want to get off the beaten track and are favoured by hikers and naturists.
You might be interested in: The best beaches in Antiparos.
Check out Antiparos Cave
One of the other famous things to do on the island is to explore the Cave of Antiparos, a spectacular natural wonder brimming with stalactites and stalagmites. Situated in the south-eastern part of the island, the cave is a fascinating part of Antiparos' history, with stories of the space being used by everyone from Macedonian generals during the 4th century to settlers during the Stone Age!
The cave features a huge stalagmite known as the Central Column that is thought to date back 45 million years (the oldest known stalagmite in Europe!).
It is truly incredible to witness this impressive structure and to marvel at the power of nature.
Make a day trip to Paros
Some choose to visit Antiparos as a day trip from Paros but if you prefer to stay on smaller, quieter islands you may want to do it the other way around. As the ferries between the two islands take just 15 minutes, you can easily hop on a boat and spend the day exploring the other. Paros features pristine fishing villages, chic beach bars, boutique shopping and stunning beaches, so there's plenty do see and do while visiting for a day.
If you're visiting Paros for a day, you'll probably want to hire a car or moped so that you have full freedom and flexibility to get around.
Check here the best things to do in Paros.
Get lost in the alleyways of Chora and explore the Kastro
The winding streets of Antiparos' main town of Chora are filled with photo opportunities, boutique shops, cafes and tavernas so you could easily spend hours meandering the alleyways and enjoying light refreshments. When you want to walk off the food and drink, head up to the Kastro towards the top of the town.
Unlike some grand Greek castles that still stand proud on hillsides around the country, the Antiparos Kastro is an old Venetian Castle that is nestled in and around local houses. While much of it is in ruins or is simply part of the infrastructure of the town, the circular tower is still standing and travellers can visit this and the nearby churches while exploring.
Take a day trip to Despotiko Island
If you're staying in Antiparos for a while and want to do something other than lounging around on the beautiful beaches, you might want to visit the nearby islet of Despotiko to discover the archaeological site from the archaic period.
The island features excavations of a Doric temple, ruins of at least 12 buildings, precious stones and figurines and inscriptions that date back to the time of Apollo. The findings have been well-preserved and documented and as such Despotiko is a fascinating site for those interested in Greek history.
Enjoy the nightlife
Despite being much smaller than neighbouring Paros and Naxos, Antiparos has some surprisingly good nightlife. Most of the nightlife spots are located in the main town with everything from late-night cafes and restaurants to traditional ouzerias and nightclubs. Boogaloo, Loco and Veranda are all fun spots and the Dancing Club Mill is a cool novel alternative.
Go shopping in Chora
Whether you're a shopaholic or are just looking for some sweet souvenirs, Chora has you covered with a great selection of boutique shops selling everything from handmade jewellery and unique clothing to traditional spirits and spices to take home as gifts.
Watch the sunset
Each evening the sunsets off the west of Antiparos island and the best spot to see the golden glow is from Sifneiko Beach. This beautiful beach gives you the chance to watch the sunlight dip into the sea on the horizon while looking out at the neighbouring island of Sifnos.
How to get around Antiparos
The easiest way to get around Antiparos island is to have your own method of transport, be that a car or moped or perhaps even a bicycle. Hiring a car or moped gives you full flexibility, allowing you to reach the off-track beaches and remote monasteries and churches that this island is known for.
There are a number of rental services in the main town and a couple of different petrol stations on the island, so getting around couldn't be easier.
Alternatively, there are taxis and some public buses available with routes between Chora and Panagia, Apantima, Soros and Agios Georgios and the Antiparos Cave.
Where to eat in Antiparos
Captain Pipinos: If you want to dine on seafood and traditional Greek dishes, head to Captain Pipinos right on the south coast of Antiparos. This seafood taverna serves up fresh cuisine and delicious drinks and the friendly staff and excellent views help to create the perfect atmosphere.
Where to stay in Antiparos
Kouros Village is an exceptional property located in the heart of Antiparos town with gorgeous modern rooms, a stunning sun terrace, an outdoor pool and an on-site restaurant and bar. Its locale couldn't be better for exploring Chora and is close to all the amenities you'll need. Check here for more information and to book your stay.
If you'd rather stay on the sunset side of the island, why not opt for Sunset Studios & Rooms, a simple, traditional offering close to the beach. The hotel offers a shuttle service, free WiFi and a 24-hour front desk for added convenience. Click here for more information and to check the latest prices.
So, there you have it, some of the best things to do on Antiparos and the easiest ways to get there and get around. Antiparos really is the perfect island for those looking for quiet beaches, boutique shops, bars and restaurants and a historic natural wonder like no other!