This post is also available in: French
Nestled in the Cyclades islands of Greece, Ios is a stunning island that has become more and more popular in recent years not least thanks to its beautiful beaches, intriguing archaeological sites, gorgeous sunsets and, of course, the island's buzzing nightlife. Whether you want to party until the sun comes up or explore hidden coves and churches, there's sure to be something on Ios to take your fancy. Read on to find out the best things to do on Ios island as well as information about how to get there and when to go.
A Guide to Ios Island, Greece
Where Is Ios?
Ios island is a located in the heart of the Cyclades chain of islands, about halfway between Naxos (the chain's largest island) and Santorini (the chain's busiest island). This location makes Ios ideal for island hopping as well as a great option for a single-island getaway.
Situated in the Aegean Sea, Ios is a classic Cycladic island with white-washed houses, blue-domed churches and rich azure water in every direction.
How to get to Ios?
Ios itself doesn't have an airport, so the easiest way to get to the island by plane is to fly to Santorini, the next closest island with an airport. From Santorini you can easily take a ferry to Ios when you arrive or after a few days exploring the island.
During the peak summer months of June to September, there are around 5-6 daily ferries leaving from Santorini to Ios, with journeys taking between 40 minutes and 1 hour 45 minutes depending on the service. In the off-season the ferry schedule changes to around once a day 4-5 times a week so you'll need to plan a bit further in advance if you plan on travelling during the autumn/winter months.
Similarly, you can get to Ios by ferry from other nearby islands throughout the summer such as Naxos and Sikinos or on a direct ferry from Piraeus, Athens.
Check here for the ferry timetable and to book your ferry tickets.
When Is The Best Time To Visit Ios?
Like most Greek islands, the best time to visit Ios is during the summer with May to October being the peak travel season. These months boast the best temperatures, minimal rainfall and all of the hotels, restaurants and amenities are open in full.
Average daytime temperatures in May are a mild 20°C, rising to 24°C in June, 26°C in July and August and then starting to drop back down to 25°C in September and 22°C in October. These temperatures along with a gentle sea breeze make Ios perfect for relaxing on the beach, sight-seeing and soaking up the sunshine.
20 Fun Things to do in Ios
1. Explore the many beaches
There are many spectacular beaches on the island of Ios so you'll want to ensure you leave plenty of time to explore. Some of the beaches can be reached on foot from local accommodation/towns whereas others are more remote and can only be accessed by boat or dirt road
Manganari Beach is often considered to be one of the best beaches on Ios, with the prestigious Blue Flag status showing that it is clean, safe and environmentally-friendly. Visitors can choose to stay near Manganari Beach or drive or take the bus from Chora which is just over 20km away.
Other great beaches include Mylopotas beach (just 2km from Chora), Gialos, Loretzena Beach and Kalamos Beach.
Check here: The best beaches on Ios Island.
2. Visit Homer's Tomb
Author of the Odyssey and the Iliad, Homer is one of the most famous poets in the world and it is fascinating to visit the place where this epic writer is said to be buried. As Homer's mother was from Ios he spent a lot of time on the island and is said to have spent many of his last days here
The tomb is located on a clifftop in the northeast of the island (close to Plakato) with the rocks and a marble headstone proudly overlooking the Aegean. The inscription on the headstone reads "Here is covered in the ground the holy head of the maker of heroes divine Homer." along with an image of Homer himself.
Visitors will need their own transport to reach Homer's tomb, but it is free to access when you get there.
3. Admire the view from Odysseas Elytis Theatre
Another epic site overlooking the Aegean is the Odysseas Elytis Amphitheatre. While this is a relatively new structure, it is still made from Greek marble (as the ancient theatres were) and is still extremely impressive. During the summer concerts and shows are put on at the Odysseas Elytis Theatre including the annual Homeria festival as a celebration of the famous poet's work.
Not only is the architecture of the theatre impressive but the view is pretty breath-taking too!
4. Visit the archaeological site of Skarkos
The archaeological site of Skarkos is an early Bronze Age settlement that is regarded as one of the most important prehistoric sites in the region. Thanks to Ios' central location, the island was a maritime hub and crossroad and thus the settlement was a significant site of Keros-Syros culture.
Despite only being discovered and excavated in the 80s and 90s, there is a good amount to see at the Skarkos site, with well-preserved buildings, walls, courtyards and more. The site allows visitors to learn about what life would have been like for societies living in the Cyclades during the 3rd millennium BC and is interesting to visit before going to the Archaeological Museum of Chora where you can see more findings.
5. Check out the windmills
The Cyclades islands are known for their stunning windmills and Ios is no different. Leading up the hillside away from the main town of Chora lie 12 windmills in various states of disrepair.
These windmills were once used for energy and milling grains and flour and while they are no longer used, they're still a great site to explore. The windmills make for a beautiful foreground in sunset photography with Chora in the background bathed in golden light.
6. Hike to Ios lighthouse
Perched on the end of the western tip of the Ios port bay lies the 18th century Ios lighthouse. This offers spectacular views of the ocean and the town behind you, as well as Agia Irini church across the bay. The walk to the lighthouse takes around 30 minutes and is best to visit at the beginning or end of the day.
7. Cheese tasting at Diaseli Cheesery
If you're looking for something a little different to do while on the island of Ios, you might want to consider visiting the Diaseli Cheese Factory where you can learn how the local cheese is made as well as enjoy some tastings.
Cheese has been made here for generations with traditional methods being passed down and modernised along the way. The guided tours give you loads of information about life and agriculture on Ios and your visit will end with a range of tastings of products made on-site by the family.
8. Watch the sunset from Panagia Gremniotissa Church in Chora
Greek sunsets are always amazing but if you want to find an excellent spot to watch the sun go down then you'll want to head to Panagia Gremniotissa Church. This church stands above the main town of Chora so is easily reached on foot for those staying in town.
You can watch the town turn golden below you before heading portside for dinner and drinks. Near the Panagia Gremniotissa Church, you will also find some very cute chapels standing on top of the hill. The view from up there is breathtaking.
9. Visit the Byzantine Castle of Paleokastro
Located in the east of Ios island, the Byzantine Paleokastro is a castle built by Marco Crispi in 1397 to protect the island from pirates. The castle, built on a highpoint looking out towards Iraklia and Naxos is a stunning viewpoint, with the quaint, white-washed Panagia Paliokastritissa church within the grounds too.
Visitors can follow signs for Paleokastro on the road between Agia Theodoti and Psathi, before walking path up the hillside towards the castle (approx. 15-20 minutes).
10. Head to Mylopotas beach for water sports and the beach bars
If you're looking for top beach amenities, water sports and bars, you'll want to head to Mylopotas Beach. This beach is situated close to Chora and offers visitors bars, tavernas, guest houses and a whole host of different water sports to try. It is also the home of Far Out Camping and bar, a lively backpacker/traveller spot.
11. Explore the beaches by boat
If remote beaches are more your thing then you'd probably rather take a boat to some of the more off-the-beaten-track coves. You can either hire a boat yourself (if you have the relevant license) or opt to take a boat tour to explore the spectacular coastline and bays that Ios has to offer. A morning boat tour with lunch and the opportunity for snorkelling is just €45 so is an excellent choice for those wanting to discover some more rural destinations.
12. Visit the Archaeological Museum in Chora
After discovering some of the impressive archaeological sites around the island of Ios, you may be wanting to learn more about the island's history and see some artefacts that were found here during the years of excavations. If so, head down to the Archaeological Museum of Ios in Chora, a museum featuring inscribed marble stones, clay statuettes, prehistoric tools and much more.
13. Get lost in the winding streets in Chora
While you're in Chora, you'll want to take some time for simply meandering through the streets, photographing the white-washed buildings, exploring the boutiques, bars, cafes and churches and getting wonderfully lost!
While it's not a huge town, the winding streets are full of character and charm and there are plenty of places to stop and relax for dinner and drinks.
14. Discover the 365 churches on the island
As with many Greek islands, Ios is awash with quaint churches and monasteries many of which are open and free to explore. These are perched on hilltops, cliffsides, beaches and more and feature candles, iconography and other intricate details.
There are thought to be 365 churches on the island in total meaning you could discover a different one every day for a year!
15. Visit the Monastery of Agios Ioannis of Kalamos
One of the more impressive churches on the island is the Monastery of Agios Ioannis of Kalamos. This white-washed monastic community is a haven in the harsh arid landscape of Ios.
Each year the monastery hosts two main celebrations, one on May 24th the "small festival" and a big festival on August 29th.
16. Enjoy the nightlife in Ios
Ios is known for having some of the biggest and best nightlife on all of the Greek islands with beach bars and clubs allowing revellers to dance until dawn. Ios tends to attract a young crowd who want to combine bar crawls and partying until the early hours with stunning beaches on which to while away the day. Some of the best nightlife spots include Disco 69, Far Out Beach Club, Scorpion Club and The Bank
17 Party at Pathos Club and restaurant
One of the highlights for drinking and dancing in Ios is Pathos Lounge in Koumbara. This is an epic cocktail bar, swimming pool and sushi restaurant that features awesome events throughout the year. This is the place to see and be seen, with stylish partygoers coming to enjoy the delicious drinks and gorgeous views.
18. Make a day trip to nearby Sikinos Island
If you have a decent amount of time to spend on Ios island, you may want to make time to take a day trip to the nearby island of Sikinos. Sikinos is an even smaller Greek island with sweet villages, pristine monasteries and traditional cafes and tavernas. While there, visitors can explore the temple of Episkopi and visit the Manali Winery where you can try local wines alongside breath-taking ocean views.
19. Do a kayak Safari
Outdoor enthusiasts may want to enjoy a half-day kayak safari around Mylopotas bay, paddling out to nearby coves, snorkelling and swimming and sharing a BBQ lunch together before heading back to the main beach. This tour is available during the summer months (June – September) and costs €33.
20. Go Scuba Diving
The Ios dive centre offers scuba diving for everyone from beginners to advanced divers allowing you to get out there into the Big Blue, taking in the sights of the underwater world. There are fish, shipwrecks and the Koumbara underwater mountain to discover meaning there are loads of exciting sights to see.
How to get around Ios
While there is easily enough to do in and around the main town of Chora in Ios if you want to travel further afield while on the island, you may want to hire a car or moped or take advantage of the public bus service. The bus goes from the port to Chora, Mylopotas and Koumbara beach.
Alternatively, there are day trip options taking you to Magganari Beach as well as other sites and nearby islands.
Where to stay in Ios
Ios Resort: A modern, stylish hotel in Ios town with an on-site swimming pool, bar and free WiFi throughout. The hotel is ideally located for those wishing to enjoy the amenities, restaurants and clubs nearby while also having a comfortable, contemporary hotel room. – Click here for more information and to check the latest prices.
Liostasi Hotel: Another chic option in Ios is the Liostasi Hotel with an incredible swimming pool and terrace looking over the Chora and the Aegean Sea. The rooms are bright, spacious and stylish throughout and an amazing Greek breakfast is served daily. – Click here for more information and to check the latest prices.
Levantes Ios Boutique Hotel: Close to Mylopotas Beach, the Levantes Ios Boutique Hotel is an elegant property that is a favourite among the Instagram set. The swimming pool boasts comfortable beach beds, there is a cocktail bar on-site, massages are available upon request and some suites even boast their own private pools! – Click here for more information and to check the latest prices.
Where to eat in Ios
The Octopus Tree: A traditional, family-run taverna in the port of Ios serving up coffee and snacks during the day as well as salads, mezze dishes and fresh seafood for lunch and dinner.
Sainis restaurant: Another traditional Greek taverna that is known for seafood rice and pasta dishes as well as tasty mezze platters. You're nearly always offered some delicious rakomelo too which is a lovely added treat!
Katogi Taverna: One of the best places on the island to try a range of traditional dishes from spicy feta dips and tasty tzatziki to sautéed octopus and yummy meatballs. The staff and friendly and welcoming and the atmosphere is always abuzz.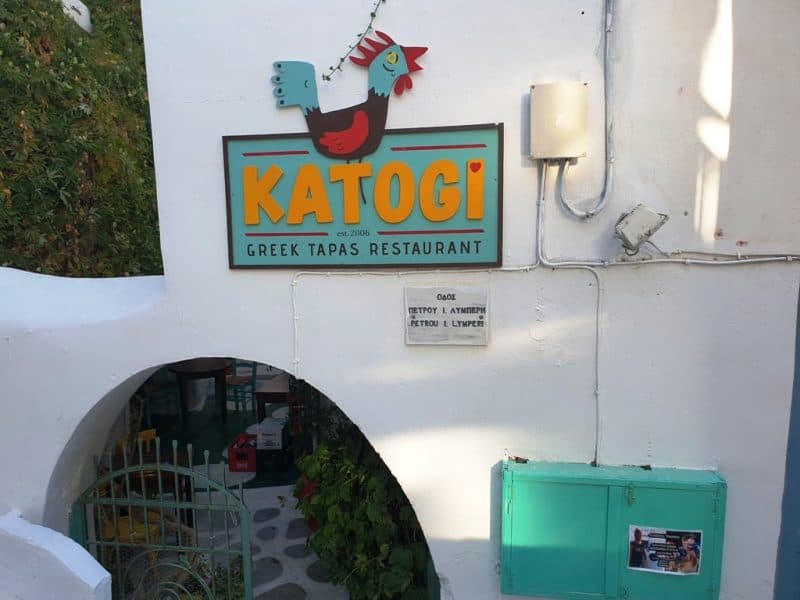 Lord Byron: Another place with a lively atmosphere as delicious cuisine is the Lord Byron Restaurant. Portion sizes are large so you may want to choose a couple of dishes and share between a group but it offers great value with good quality ingredients!
The Mills Restaurant: Named after the famous Ios windmills, The Mills is known for its excellent moussaka as well as its succulent grilled calamari and fresh Greek salads.
Peri Anemon: One of the best restaurants on Ios for carnivores with juicy souvlaki, gyros and meatballs with a range of salads on the side. You can't miss it as it's a busy, bustling grill house in the heart of town.
So, there you have it, a whole host of things to see and do on the gorgeous island of Ios! Let me know in the comments below what you're most excited about visiting when you get the chance to go.