This post is also available in: French
Famous for its pristine beaches and great nightlife Mykonos is among the most popular Greek islands. Mykonos is not only for the party goers; it's an island that offers gourmet food, cultural activities, and romantic holidays. It's a great destination for solo travelers, gay travelers, couples, and families with many things to do.
Wondering what to do in Mykonos? I have been there five times over the last 17 years so I got you covered. I have been to the island of the winds as it is called as a student, with my girlfriends and with my husband and every time we had a blast.
You might also like my 10-day Greece itinerary that includes Athens, Mykonos and Santorini.
Things to do in Mykonos
Here is my list of top things to do in Mykonos island:
#1 Discover the Windmills in Chora
The windmills are among the most recognized landmarks of the island and one of the most famous Mykonos attractions along with Little Venice. For many centuries the mills used to refine grain with the help of the high winds that blow on the island.
With the progress of technology, the use of the mills declined, and now the ones that survived are used as private homes or museums. The most famous ones are the Kato Myloi ( Lower Windmills) that stand on a hill facing the sea.
Only seven of them have been preserved. I highly recommend that you walk up the hill in Chora and visit the windmill of Boni that is now a museum. The view from up there is incredible, and it's also one of the best places to watch the sunset.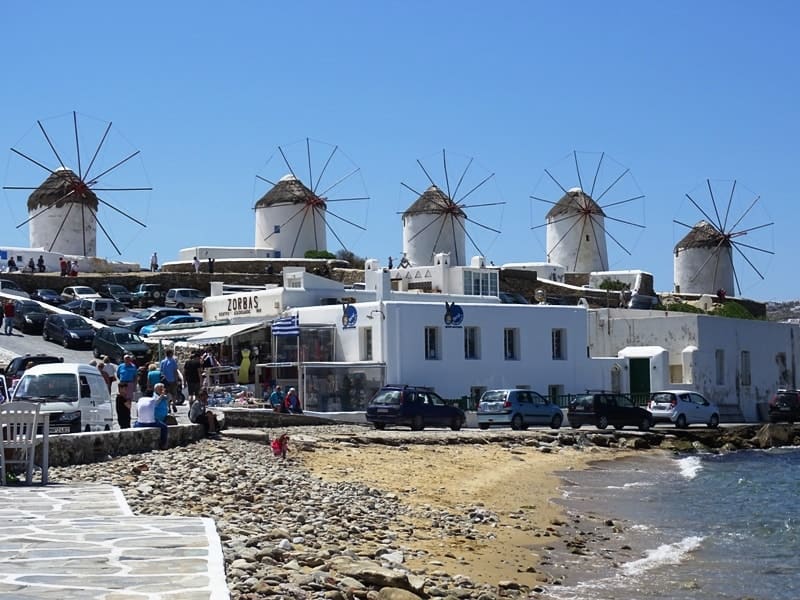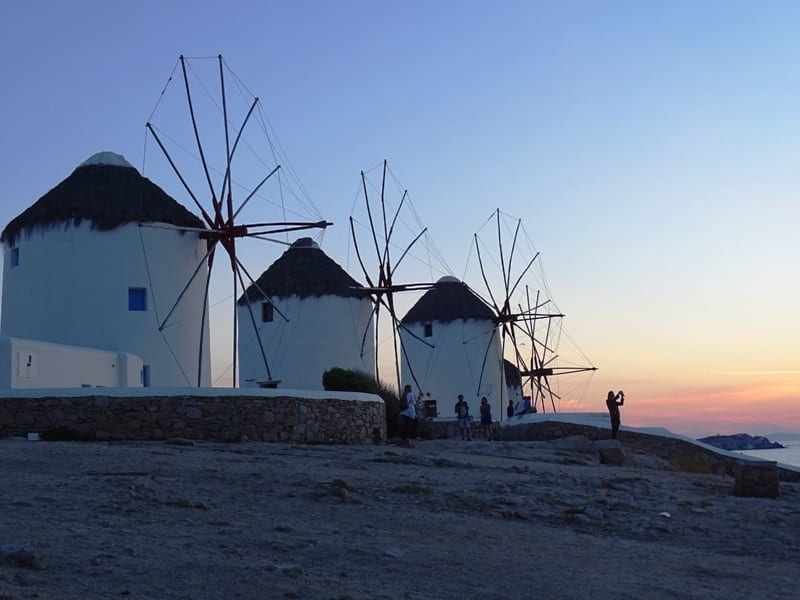 #2 Have a drink in little Venice
Little Venice is a neighbourhood with colourful houses built on the edge of the sea. It took its name due to its resemblance with Venice. Nowadays the houses have been turned into elegant bars and restaurants and are among the best places in town to watch the sunset while sipping a cocktail.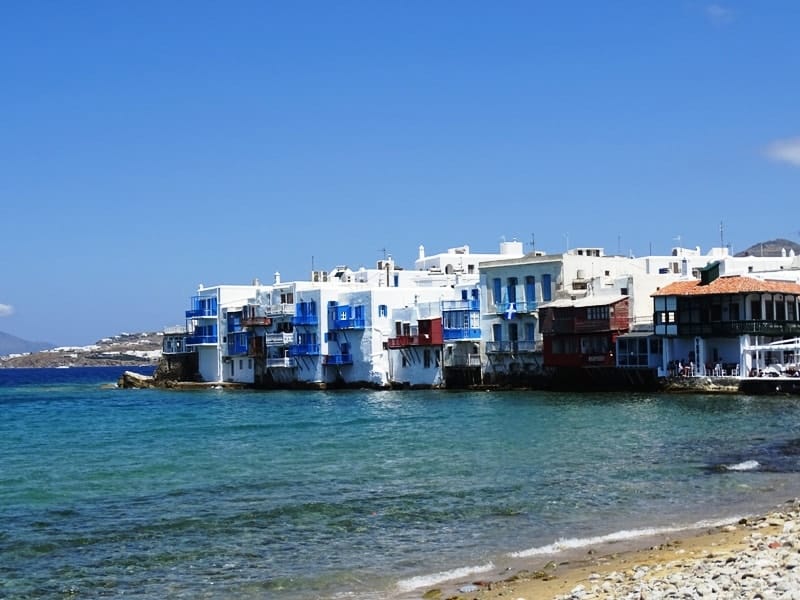 #3 Stroll around Mykonos town
Lose yourself in the winding alleys of Mykonos town with the white houses, blue doors and windows and colourful bougainvilleas is a must do in Mykonos. Head to the area of Matogiania with the chic shops and trendy bars. The place to be in the centre of the town.
A great way to explore Mykonos town and all the highlights is a Mykonos Walking Tour.
#4 Shop till you drop in Mykonos town
Mykonos has one of the best shopping scenes in Greece. In the alleyways of the town, you can find the most famous designer labels, jewellery shops, leather goods and art shops along with very attractive shops selling traditional products and souvenirs. If you have money, the possibilities are endless.
The island od Delos is a UNESCO World Heritage Site and is considered one of the most important Archaeological Sites in Greece. According to Mythology, it was the birthplace of Apollo and Artemis. The island is now uninhabited, but you can visit it by taking one of the many ships that depart daily from Mykonos old harbour (except Mondays that theArchaeological site is closed).
The return ticket to Delos cost 20 € for adults and 10 € for children (6-12 years old). Tickets to the Archaeological site of Delos cost: Full 12€, Reduced 6€. I highly recommend that you do a guided tour in Delos. A visit to the island of Delos is among the best things to do in Mykonos. Book your trip to Delos here.
#6 Walk around the old port
The picturesque old harbour of Mykonos is a great area to walk around especially at night. There are many cafes and restaurants in the area overlooking the sea. From there you can also catch the ferry to Delos island. The old port is also home to the famous Pelekan of Mykonos.
The last time I was there I spotted him in the backstreets of the town instead of the harbour. The Pelekan is a must see in Mykonos.
#7 Discover the churches in Mykonos
One of the main characteristics of Mykonos is the abundance of churches that can be found scattered around the island. Some say that the number of churches and chapels are almost 800 and about 60 of them can be spotted in Mykonos town (Chora).
Some of the most famous are Panagia Paraportiani and Agios Nikolaos in Chora and the Monastery of Panagia Tourliani in Ano Mera. During my walk in Mykonos town, I spotted a couple of them. I believe I lost count.
For more fun things to do in Mykonos read my post: The best Mykonos tours
#8 Do a Bicycle Tour
If you want to discover Mykonos off the beaten track and do something fun at the same time then you should do a bike tour with Yummy Pedals. We decided to do the Fokos Tour which is great for average riders like me. We met our guide Dimitra on a beautiful morning.
After collecting our bikes and going through some safety measures we embarked on our 10 km ride across the islands beautiful countryside. On our way we stopped at a traditional private church where Dimitra explained the religious traditions of Mykonos.
Our final destination was the beautiful Fokos beach where we enjoyed homemade muffins and lemonade. During the summer months you can enjoy a swim on the beach as well. More advanced riders can continue their way to the neighboring Myrsini beach. Yummy Pedals offers many bicycle tours around the island.
Click here for more information.
#9 Wine tasting at Mykonos Vioma Organic Farm
After our bike tour we stayed at the Mykonos Vioma Organic Farm for a wine tasting accompanied by traditional Mykonian products, cheeses (kopanisti, ladotyro), rusks, hams (loutza) and the Greek salad. The farm produces its own organic wine and honey and it is set in a quiet area in Mykonos countryside surrounded by vineyards, and farm animals.
Click here for more information.
#10 Do a day cruise around Delos and Rhenia islands
Very close to Mykonos there are two unihabited islands; Delos with the famous archaeological site and Rhenia with its azure waters. On my recent visit to Mykonos we booked a cruise with Mykonos Onboard. Our cruise started from the quiet bay of Agios Ioannis.
We first sailed around Delos and had a view of the archaeological site from the boat. We then continued towards Rhenia island where we stopped for a swim and snorkeling in its pristine waters. On our next stop, our captain Artemis prepared for us a fantastic meal with grilled chicken and vegetables, Greek salad and more. In the afternoon we returned to the harbour after enjoying a great day sailing in crystal clear waters.
Click here for more information.
#11 Enjoy the nightlife
Mykonos is a party island and has the best nightlife in Greece. You can start your evening by watching the sunset and sipping a cocktail in Little Venice and as the night progresses you can visit the legendary Scandinavian bar, the gay-friendly Jackie O, Cavo Paradiso or you can head in one of the famous beach bars like Nammos, Scorpios and Jackie O on the beach. The options are endless.
#12 Explore the island's pristine beaches
The beaches of Mykonos are famous for their golden sand and crystal clear waters. There is a beach for every taste. If you want to party, then Paradise beach and Super Paradise beach is for you. If you want a family-friendly beach, you can head to Kalo Livadi, Elia, Ornos, and Lia.
If you are looking for a secluded beach, then you can go to Kapari or Agios Sostis. The beach of Kapari is one of my favorite places to visit in Mykonos. Now if you are looking for a trendy beach, where all the celebrities go you should go to Psarou. There you will find one of the best beach bars worldwide, Nammos.
Beware though it is expensive. If you are looking for a trendy place, then you should go to Paraga beach with the famous beach bar Scorpios or Ftelia beach with the Alemagou beach bar. A great way to explore the best beaches in Mykonos and swim to crystal clear waters is this Full Day South Coast Tour that includes lunch.
Check also my post: The best beaches in Mykonos

How to stay connected in Greece
If you're looking for a mobile hotspot to use while travelling in the EU, look no further than Rent n Connect. Their high-speed mobile hotspots allow you to connect your laptop, phone and other devices to the internet wherever you are in the EU, using 4G connectivity.
The hotspot is small enough for you to carry with you throughout your travels and allows you to enjoy and safe and secure connection without worries. From just €8.40 per day you can have your hotspot delivered to your door and have the convenience of surfing the web, sending emails and even watching movies with an unlimited data plan.
The Rent n Connect device works in all countries throughout the EU, so no more worrying about whether your phone data works in a specific country or having to seek out a free, communal WiFi connection!
Click here for more information and don't forget to use the code TRAVELPASSIONATE_EU for 10% discount.
Where to stay in Mykonos
Budget Hotels:

It is difficult to find budget accommodation in Mykonos especially during the high season (July and August). Book as early as possible and try to avoid these months.
Galini Hotel is located in Mykonos Town, 150m away from the beach. It offers basic accommodation with air-conditioning, fringe, and free Wi-Fi.
Check out the latest prices and more details at Hotels.com or Booking.com

Manolia View Mykonos is located is located 2 km away from Mykonos New Port. It offers self-catering accommodation with great views of the Aegean Sea. It offers spacious rooms with a pario or private terrace, free Wi-Fi, air-conditioning and kitchenette. Other hotel amenities include a swimming pool and a sun patio.
Check out the latest prices and more details at Hotels.com or Booking.com
Mid-Range Hotels:
Milena Hotel is located 500 meters away from Mykonos Town and close to the airport. A bus stop is next to the hotel. It offers clean rooms with air-conditioning and Wi-Fi access.
Check out the latest prices and more details at Hotels.com or Booking.com
With Inn is located on the sandy beach of Tourlos, 1 km away from Mykonos port. It offers spacious rooms with sea view, air conditioning, free wi-fi and mini fridge.
Check out the latest prices and more details at Hotels.com or Booking.com

Luxury Hotels:
Kouros Hotel & Suites
Kouros Hotel & Suites is perfectly located 10 minutes on foot from Mykonos Town this luxurious hotel offers spacious rooms with private terraces overlooking the sea and the town. Hotel amenities include a swimming pool, amazing breakfast, free Wi-Fi, free airport shuttle and parking.
Check out the latest prices and more details at Hotels.com or Booking.com/ Read my review.
Myconian Ambassador Relais & Chateaux Hotel
Overlooking the popular Platis Gialos beach Myconian Ambassador Relais & Chateaux Hotel offers stylish rooms, an outdoor swimming pool, excellent spa services, and a gourmet restaurant.
Check out the latest prices and more details at Hotels.com or Booking.com
Bill & Coo Suites & Lounge is a 5-star hotel that offers luxurious sea view suites, an infinity pool, a gourmet restaurant and spa treatments. It is conveniently located in Megali Ammos beach and a 10- minutes walk from Mykonos Town.
Check out the latest prices and more details at Hotels.com or Booking.com
For more details on the best area to stay in Mykonos you can read: Where to stay in Mykonos.
Where to eat in Mykonos
Mykonos has a plethora of places to eat from gourmet restaurants to tavernas and souvlaki. Food like most things in Mykonos is expensive. If you are looking for friendly prices and excellent food I recommend the followings:
Paraportiani Taverna
A family run restaurant located in Mykonos town near Paraportiani church. The staff is very friendly and polite, and the service is very quick. They serve traditional Greek food and fresh fish and seafood. I have eaten in this taverna three times so far. Twice on my last visit in May and once about ten years ago. The taverna has a friendly atmosphere as it overlooks a small square. The prices are very friendly at about 20 – 25 € per person.
Captain's
It's located on the seafront of the old harbour, and it's an all-day restaurant that serves breakfast, snacks, and lovely Greek food. Excellent service and friendly prices. I totally recommend it.
How to get to Mykonos
By air: There are many flights from Athens and Thessaloniki to Mykonos. The flight trip from Athens to Mykonos is about 30 minutes. During the summer months, many airlines have direct flights to Mykonos from many European cities.
By boat: You can take the boat to Mykonos from Athens's two major ports Piraeus and Rafina. There are daily ferries going to the island and the trip lasts about 3 hours if you take the high-speed ferry and 5 hours if you take regular one. Mykonos is also connected by ferry to other Cycladic islands like Tinos, Andros, Paros, Naxos, Syros and Santorini to name a few. During the tourist season, you might find connections to other islands.
Click here for the ferry schedule and to book your ferry tickets.
For our transfers around the island we used Golden Transfers, a luxury transportation company.
When to visit Mykonos
For me, the best time to visit the island is during May and the first half of June and then in September. That way you will avoid the big crowds and enjoy the island more. Moreover, flights and accommodation cost less during these periods. If you want to swim, you might find the sea a little bit chilly in May. Read my post: Why you should visit Mykonos and Santorini in Autumn.
Are you still wondering what to see in Mykonos? If you have any questions about what to do on Mykonos island leave a comment below!
Tip: Traveling to Greece? Don't forget to buy a travel insurance. Get a quote here.
Did you like the post? Pin it >>>>>>>>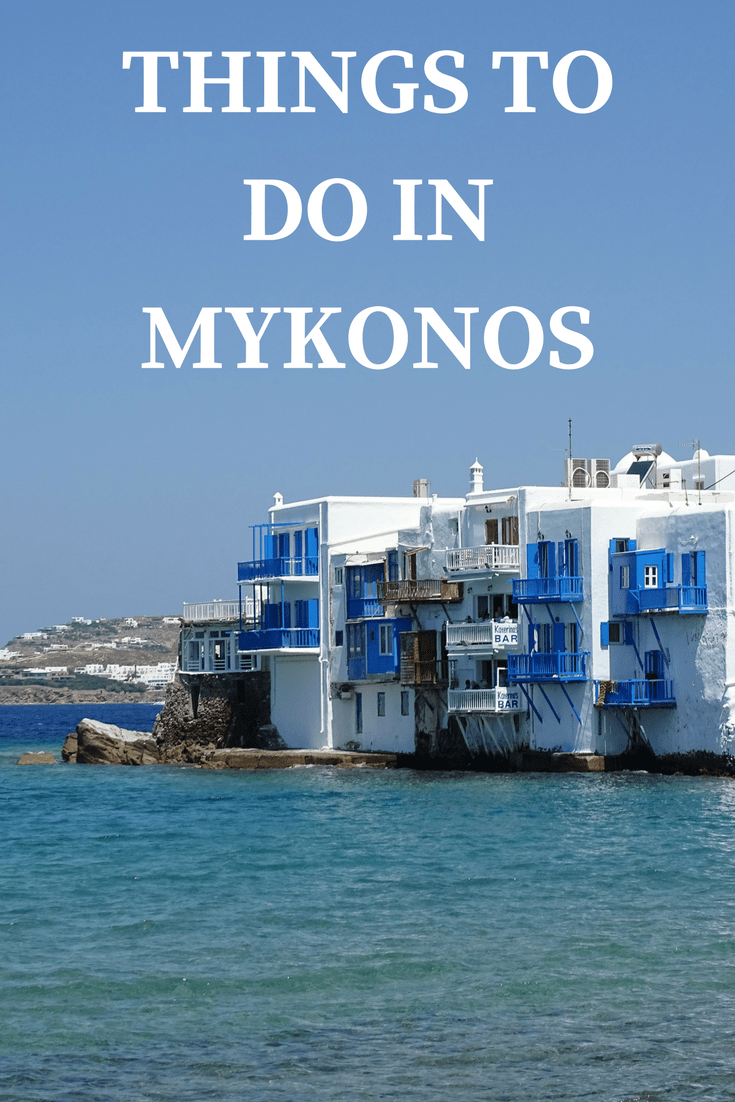 Have you been to Mykonos? Did you enjoy it?
Disclaimer: This post contains an affiliate link. This means that should you click on certain links, and then subsequently purchase a product, I will receive a small commission.
Travel Passionate is a participant in the Amazon Services LLC Associates Program, an affiliate advertising program designed to provide a means for sites to earn advertising fees by advertising and linking to amazon.com, amazon.co.uk, amazon.ca. Amazon and the Amazon logo are trademarks of Amazon.com, Inc. or its affiliates.