This post is also available in: French
The small Greek island of Patmos is situated in the Aegean sea and is most renowned for being where Saint John's  vision and writing of the Bible's Book of Revelations took place. For this reason, it is an important and ancient pilgrimage site for Christians. Visitors can see the Cave of the Apocalypse where the book was written as well as monasteries dedicated to the saint, which were declared World Heritage Sites by UNESCO along with the capital and historical city of Chora. Today, along with its intense spiritual significance, the island boasts a unique beauty with its sheer cliffs and volcanic soil which draws people from all over the world to its shores.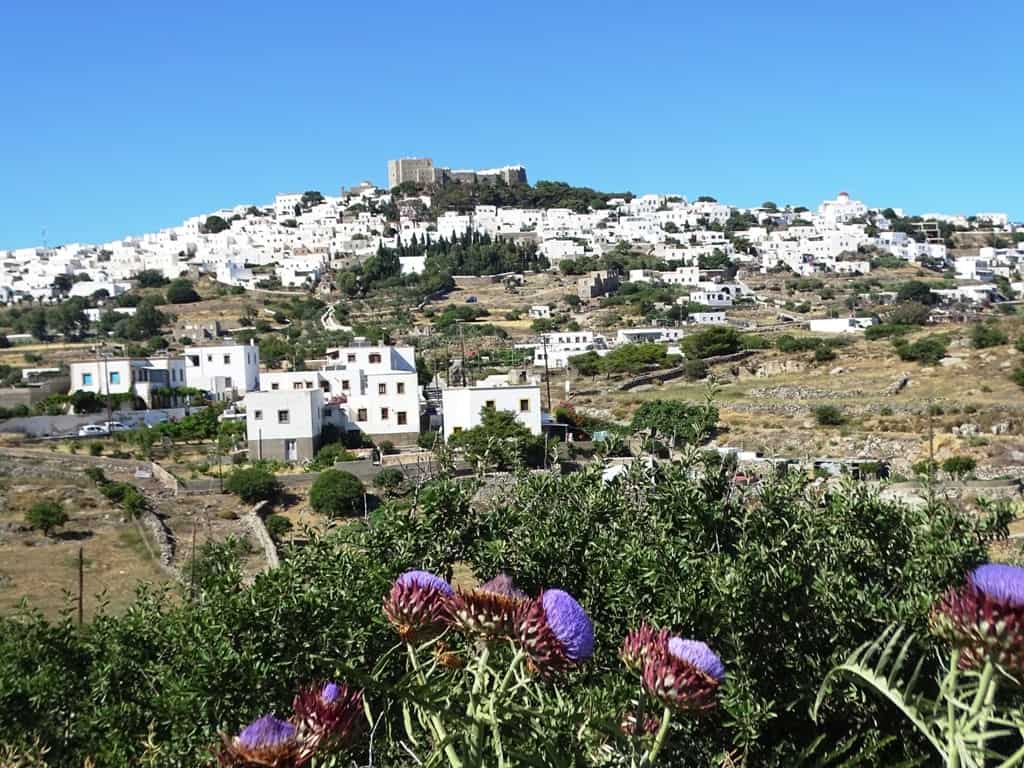 Things to do in Patmos, Greece
Visit Chora
Lying in the southern central part of the island, Chora is the capital of Patmos and is built around the towering Monastery of Saint John. The city ripples with whitewashed houses, beautiful mansions and courtyards flourishing with flowers, some of which date back to the 15th century. Visitors can revel in the numerous charming restaurants, cafes and shops within the capital. Its narrow alleyways were originally built to avoid pirates and Turks, but a night walkthrough them is recommended for its romantic feel.
Visit the Monastery of Saint John
Sitting like a regal castle overlooking Chora, the Monastery of Saint John is the most important religious center of the island and its presence can be seen from everywhere. It was founded in 1088 by Ossios Christodoulos and was built with Byzantine architecture in mind, as seen in its thick walls, towers and ramparts. Within the monastery are exquisite chapels, an impressive museum, precious relics, vestments and garments and an extensive library with over 2,000 volumes, 13,000 historic documents and 900 manuscripts. We were very fortunate not only to visit the library that is open only to scholars but to have lunch at the monastery.
Visit the Cave of Apocalypse
Located halfway up the mountain of the Monastery of Saint John, the Holy Grotto holds significant religious value as the place where Saint John recorded the visions he received in the Book of Revelations. In the cave, you can see mosaics portraying the visions, Saint John's resting place where he used a rock as a pillow and the fissures where he heard the voice of God. It is a stunning example of a pilgrimage site and was declared a World Heritage Site in 2006. Please not that photography is not allowed inside the Cave, we had to take special permition.
Visit the Windmills of Chora
Sitting on top of a hill overlooking the Aegean sea, the three windmills of Chora were originally built for grinding cereals in the production of flour during the time of the Renaissance. Two of the windmills date back to 1588, and the third was built in 1863. As the manufacturing of flour moved to larger factories, the windmills fell into disuse and derelict. In 2009, however, the windmills were restored and today is a cultural, educational and conservational attraction. We were very to see the windmills with one of the people that helped during the restoration Mr Georgios Kamitsis.
Head to the Beaches
Agriolivado beach. Situated 8km from Chora and 3km from the port of Skala, this small and secluded beach is made up of both sand and white pebbles. Its waters are calm and crystal-clear. Lush greenery surrounds the beach and sunbeds and umbrellas are available for visitors.
Kambos beach. This well-organized shingle beach is a couple of kilometers long and is located 9km from Chora. It is shady with clean, shallow waters and offers visitors plenty of water activities such as windsurfing, canoeing and paragliding. Hotels and taverns serving delicious seafood are also nearby. It is one of the most popular beaches on the island.
Meloi Beach. Because this beach is located only 2km from Skala, it is a popular place for locals and tourists. It is a sandy beach shaded by tamarisk trees with a dock for shallow mooring. Surrounding the area is a tavern, restaurant, mini market and camping site only20 meters away from the beach.
Vagia beach. Quiet and peaceful, this beach is situated 11km from Skala and has pebbles, shady trees and is said to have the coldest waters on the island. On the way down to the beach, visitors can find Vagia Café (+30 22470 31658) which is well-known for its hearty breakfasts, homemade pies and handmade desserts, as well as stunning views of the Aegean Sea.
Lambi beach. Famous for its multicolored pebbles, Lambi is long beach with crystal waters and tamarisk trees for shade. It is 14km from Chora, reachable by boat from Skala and by car or foot from Kambos. There is a tavern on the beach serving local dishes, and nearby are the 16th century remains of Platis Gialos and the Church of Transfiguration.
Psili Ammos. Translated to 'Fine Sand' in English, this picturesque cove is located 10km from Chora and can be reached by a 15 minute hike or by boat from Skala. It is considered one of the best beaches on Patmos, with golden sands, expansive dunes, crystal-clear azure waters and tamarisk trees. There is also a taverna on the beach.
Livadi Geranou. This sandy beach boasts clear waters, shady areas and is reachable by all means of transport being located in the northeast coast of the island. There is a tavern close by for refreshments and local cuisine, and the meadow at the back of the beach flourishes with orchids during the Spring.
Liginou beach. These twin crescent beaches lie next to each other and are pebbled with crystal-clear blue waters. Tamarisk trees provide shade, but otherwise there are no facilities there. It is reachable by boat or by car and is becoming increasingly popular as roads improve from Kambos via Vagia.
Visit the Village of Skala
Skala is the main port, the largest settlement of the island and is located right at the center of Patmos. As well as being the trade and commercial hub, it is filled with lovely sites to see, including the 17th century Church of Agia Paraskevi of Cavos where you can admire the magnificent view, an ancient ruin of an acropolis, the Monastery of Zoodochos Pigi and the church of Panagia Koumana. Visitors can also browse the picturesque taverns, restaurants, bars and shops filled with tasteful souvenirs and beautiful summer clothes.
Make a day trip to the islands of Arki, Marathi and Lipsi
During the day, visitors can travel to the islets of Arki, Marathi and Lipsi through boat excursions that run daily from the northwest end of Skala quay. Lipsi been spruced up due to tourism and thus has more to see and do, while Arki and Marathi are less populated and offers long, sandy beaches. Departures to Lips run from 8.30–10am and returns back at 3–4pm on the Patmos Star; departures to Arki are on board the Nisos Kalymnos and departs from 9.20am on Tuesday and Friday or 11.20am on Sunday, returning at 5.45–6.30pm; and departures to Marathi run from 9am, arrive after 10am and return at about 4pm.
Where to Stay in Patmos
Porto Skoutari Hotel. Located only 1km north from Skala, this luxurious hotel boasts sweeping rooms decked out in antique furniture, lush gardens and beautiful see views. I had the pleasure of staying there and found the owner and staff to be of attentive and excellent service. Amenities include a spa center, a gym, a Greek buffet breakfast, high-speed Wi-Fi and free hotel transfers.
Patmos Akti. This chic and sophisticated 5-star hotel is located 4km from the Skala ferry terminal. The rooms are designed to be minimal but stylish, with Wi-Fi, flat-screen TVs and balcony pool views. Amenities include a complimentary breakfast buffet, a spa, two pools and a chauffeur service and a private boat trip available for a fee.
Click here for the latest prices and to book a room.
Hotel Romeos. Built on a hill and housing 60 bungalow-style rooms, this hotel is furnished with a light and modern design. It is located only 500 meters from the port of Skala. Each room has its own bathroom with toiletries, a refrigerator and a television. Ammenities include free Wi-Fi and parking and a complimentary breakfast buffet.
Eirini Luxury Hotel Villas. Built above Loukakia Beach, this stone-built hotel houses beautiful rustic-style villas. Each room is tastefully decorated with beamed ceilings and dark wood floors and offers a furnished living room, a fireplace and a balcony overlooking the Aegean Sea. Amenities include a pool, a bar and the elegant Pleiades Restaurant, where the chef was awarded a Michelin Star.
Click here for the latest prices and to book a room.
More photos from Chora….
Where to Eat in Patmos

Christodoulos

Pastry Shop: Located in the center of Skala behind the police station, this quaint shop is a pastry and ice-cream shop in one. They specialize in handmade pastries formed from years of tradition. Visitors can try their delicious traditional cheese pies  and taste their handmade ice-cream which is made from scratch and is perfect for hot days in Patmos.
Cafe Vagia. With stunning views of the sea, Café Vagia is situated above Vagia beach and is known for its baked goods, excellent coffee and delicious breakfasts and desserts. Made with local recipes and ingredients, it is popular with tourists and locals alike and is the perfect café to unwind in after a long day at the nearby beaches.
Plefsis restaurant. Part of the Patmos Aktis Hotel, this restaurant and tavern is located right on Grikos Bay and enjoys peaceful views of the sea. It offers local cuisines and delicious seafood made with authentic flavors, all in a charming setting that makes you feel like you are in an old Greek movie. It is open seasonally from May until October.
Ktima Petra Restaurant. Located within an estate near the beach of Petra, Ktima Petra offers visitors unique dishes derived from homegrown products. They use their wood-burning oven to prepare their traditional Greek cuisine, and also offers light refreshments like coffee, pastries and ice-cream.
Nautilus. Situated in a quiet and peaceful corner of Patmos, Nautilus provides traditional, fresh and modern Greek dishes as well as pastries, coffees and cocktails. It has fantastic views of the Aegean sea and prides itself on its excellent service and rustic décor.
Tarsanas Marine Club. Overlooking the Aegean Sea, this café and restaurant it is uniquely located in a shipyard. A real-lifeboat is anchored on land and visitors can see how they repair the ships. Their aromatic gourmet dishes are handmade, produced with fresh products and based on Greek recipes.
Ostria Restaurant. Located by the waterfront in Skala, this tavern and restaurant specializes in fresh and delicious seafood as well as Greek cuisine. There are also many options available for vegetarians. It offers customers a energetic atmosphere with live musicians, a friendly service, and an almost year-round operation.
Patmos Pleiades. Operated by a family in Patmos, this restaurant prides itself on bringing customers tasteful and authentic Greek dishes. It can be found sitting on Sapsila hill, 3km away from Skala,where diners can enjoy a breathtaking panoramic view of the Aegean Sea next to the pool. The man behind the dishes, Ettore Botrini, is an inspired and famous Michelin-awarded chef.
How to get to Patmos
Patmos is connected to Athens by ferry and the crossing takes approximately 8 hours. We traveled to Patmos by Superfast Ferries and we had a very enjoyable journey.
Click here for the ferry schedule and to book the ferry tickets.
Other ways to get to Patmos is go by plane to the nearby islands of Leros, Kos, Samos or even Rhodes and take a boat from there. The best option is Samos as the airpost is really close to the port.
While in Patmos it is recommended that you hire a car in order to explore the island. We used the reliable service of Patmos Rent a Car.
The best time to visit Patmos is in June and September while the weather is warm and all the businesses are open. During July and August the island is packed with visitors.
Not only is Patmos a place heavy with religious and cultural importance and a revered site of pilgrimage for Christians, it is endlessly charming for its lovely villages and towns, beautifully pristine beaches and excellent cafes and restaurants. It is ideal for nature lovers and offers visitors a peaceful getaway where they can also connect with Patmos' intense and intriguing past. While there is much to see, do and learn on this island, don't forget to enjoy the tranquility it is so ripe with by taking the time to breathe and soak in the palpable spiritual atmosphere.
Did you like the post? Pin it….
Have you been to Patmos? If you have any questions dosn't hesitate to get in touch.
I was a guest of Patmos island, but as always opinions are my own.
Disclaimer: This post contains affiliate links. This means that should you click on certain links, and then subsequently purchase a product, I will receive a small commission. It costs nothing extra to you but helps keep my site running. Thank you for supporting me in this way.