This post is also available in: French
Sifnos is a traditional Cycladic island famed for its white-washed houses, quaint Greek chapels, pristine beaches, and friendly locals, but what you might not know is that it is also thought to have the best culinary scene in the region too!
This small island in the west of the Cyclades has a real love of all things gastronomy with farm-to-table fare, cooking classes, fine dining, and a history of making pottery on the island that it then used to serve up hearty, home-cooked stews that are full of flavor!
Whether you come here to get away from it all, to get in touch with nature, to dine on delicious Greek dishes, or to visit the Archaeological Site of Agios Andreas, you're sure to have a trip to remember.
Disclaimer: This post contains affiliate links. This means that should you click on certain links, and then subsequently purchase a product, I will receive a small commission.
Where is Sifnos
Sifnos is located in the west of the Cyclades chain of islands, around 200km south of Athens. This pristine Greek island is nestled in between Serifos, Kimolos, Milos and Antiparos, with Paros, Nacos and Syros not far away.
The best time to visit Sifnos
The best time to visit Sifnos is between May and October as these months offer the best weather, the warmest seas, and the most atmosphere in terms of local attractions and nightlife. Ferry services between the island start to pick up towards the end of May and continue regularly throughout the season until the end of September, so these summer months are the best for island hopping.
How to get to Sifnos
As Sifnos is one of the smaller Cyclades islands, the only way to get there is by boat. Ferries leave from Athens to Sifnos almost daily (especially throughout the summer) with the journey taking between four and eight hours depending on the service you choose.
There are also ferries between Sifnos and the neighboring islands of Serifos, Kimolos, Milos, and Folegandros so it's an ideal stop-off during a summer of Greek island-hopping.
Click here for the ferry schedule and to book your ferry tickets
How to get around Sifnos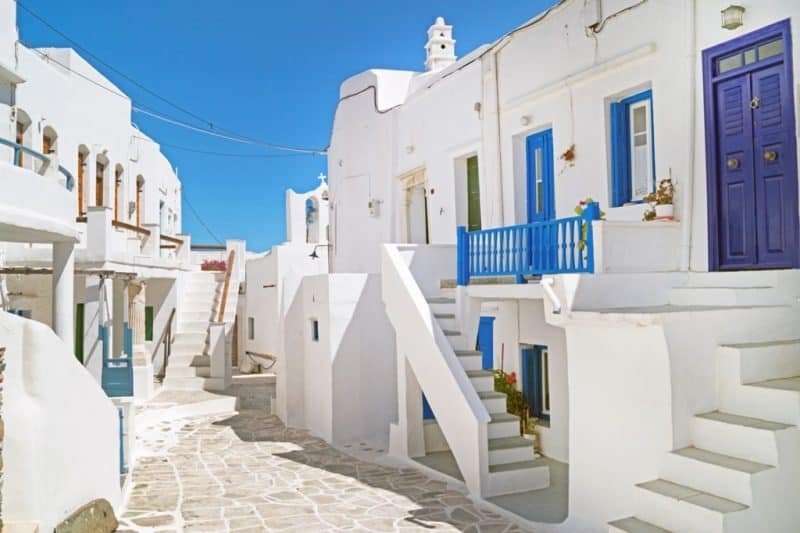 As with most Greek islands, the best way to get around Sifnos is to hire a car or moped as this gives you the best opportunity to explore at your own pace and reach some more off-the-beaten-track destinations. There are several rental companies on the island so you'll easily be able to rent a vehicle for a day or two or for your whole trip.
Alternatively, there are taxis that can transport you from the port to your accommodation or around the island, as well as a public bus service that travels between the main towns and attractions. During the summer this bus is more frequent and stops off at more tourist-friendly destinations, whereas the winter service is more catered towards locals.
Things to do in Sifnos
Kastro Village
Kastro village has an excellent panoramic view of the Aegean Sea. The name Kastro is derived from the castle that was established in the 15th and 16th centuries during the period of the Frankish domination of the Island.
On visiting Kastro village you not only get to enjoy seeing this castle but also the village has features that make the place unique and worth paying a visit. The village is characterized by narrow streets, small courtyards, superb old mansions and you will also get to see ancient churches build in the 16th century.
Apollonia Village
Deriving its name from the famous ancient god Apollon who was one of the 12 Greek gods of Olympus, Apollonia is the capital of Sifnos. This village is built on three smoothly shaped neighboring hills. Your visit to Sifnos wouldn't be complete if you don't get to see the traditional Cycladic houses decorated with ancient flowers.
Also, if you are a great fan of nightlife, this is the right place to be at night, there are numerous bars and restaurants to ensure that all your cravings are well catered for. You can also get to buy souvenirs as you walk on the narrow streets of this village.
Sifnos churches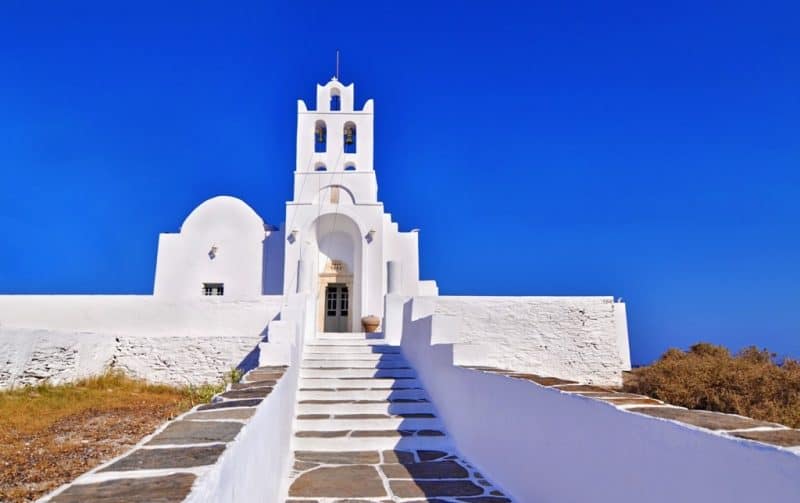 Basically, there is nothing entertaining in visiting a place to see churches, right? Sifnos, Greece will have you redefine your view of churches. To begin with there are numerous churches in this Island. In fact, you can barely walk more than 100 meters without seeing a church.
Monastery of Panagia Chrissopigi is a church build on a top rock and over the years is believed to have mythical miracle powers.
It was built in the ancient 16th century and given all the history and myths associated with this church, this is one destination you don't want to miss on your visit to Sifnos.
Beaches
Sifnos, Greece has some of the best beaches in the world. The following are some of the famous beaches in Sifnos:
This is a well-organized beach with an amazing view of the sunset. There are numerous hotels, and tavernas to ensure you don't starve while having fun. The locals are friendly you also get to have a great view of the ocean.
Not one of the largest beaches in Sifnos but one among the most attractive. Vathi beach is an exotic sandy beach that you shouldn't miss out on if you like private moments as you enjoy the breeze.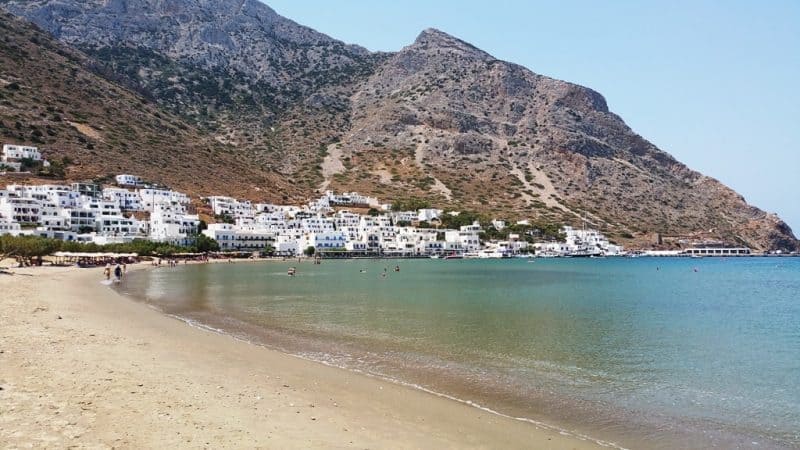 Kamares beach is the beach to pay a visit with your family. There is a gig for everyone including children.
This is a calm exotic beach to spend romantic moments with your spouse. There are various sports you can participate in and the foods are amazing.
Check out the museums
If you're interested in Greek history then you'll love the collection of museums dotted around the island of Sifnos. These museums cover everything from Folklore and archaeology to ecclesiatical history and are houses in castles and churches to make them all the more intriguing!
Discover the ancient towers of Sifnos
The Ancient Towers of Sifnos – a collection of stone watchtowers – are another intriguing attraction on the island with the complex network having been set up here on the island during the 6th Century BC! It is thought the islanders of Sifnos created this system of watchtowers after the island was ravaged by the Samians in order to protect themselves from futher attacks.
Today visitors can see the ruins of these large, round watchtowers and imagine the signals that would have been lit up between them to highlight an attack.
Check out the archaeological sites
The main archaeological site that is open to the public on the island of Sifnos is the Acropolis of Agios Andreas a 13th century Mycenaean settlement comprising houses, roads, temples and irrigation systems. Other smaller archaeological sites include the Ancient fort and temple on the hill of Agios Nikita dating from the 6th century, the ancient temple on the hill of Profitis Elias of Troulaki, the Ancient tomb of Soroudi and the sanctuary of the Nymphs in Korakies.
Pigeon Houses/Dovecotes of Sifnos
Scattered around the island of Sifnos are intricately designed dovecotes that almost look like small houses. These pigeon houses can be seen while driving and walking across the island, with triangular designs nestled into the sides of the white-washed walls. These dovecotes were traditionally both a status symbol and a way of using pigeons and doves for meat and fertiliser and you can still often see birds coming and going throughout the day.
Windmills of Sifnnos
Like most Greek islands, Sifnos is home to some classic Greek windmills that stand proud upon the rural, rugged landscape. Some of these have been left in their traditional form while others have been transformed into luxury hotels and apartments. These include Windmill Bella Vista, Windmill Villas Sifnos, and Arades Windmill Suites.
Pottery in Sifnos
If you are a fan of pottery then the place to visit is Sifnos. Ranging back from the ancient times, Sifnos has famously been recognized for producing some of the best pottery arts in the world. There are readily available raw materials: the high-quality clay soil and to top that the skilled and creative artisans.
Local gastronomy
As I mentioned above, the island of Sifnos is known for its gastronomic scene thanks to famous chefs like Nikolaos Tselementes who helped put the island on the map. Tselementes combined traditional Greek cooking with skills learned in Vienna, France, and America to elevate the dishes to new levels. As such, the island is famed for revythada, manoura, and mizithra cheese, mastelo, lamb cooked in a clay pot, and thyme honey as well as fresh fish, dried figs, local herbs, and some divine traditional sweets.
Go Hiking
Exploring the island of Sifnos on foot is one of the best things to do, and as it's quite a small island you can discover quite a lot of it by making the most of the hiking trails. Walking here allows you to stumble upon some hidden treasures otherwise missed and to take in the stunning views at a slower pace. Loads of walking routes can be found at sifnostrails.com so you'll never be lost for inspiration!
Take a boat trip to nearby islands
When you've had enough of discovering new locations on land, you may want to opt for a local boat tour to explore some nearby islands, remote coves or new expanses of azure Aegean waters. Take a cruise to Poliegos island, hop on a boat for sunset or charter a trip with friends to create an epic day to remember.
Take a day trip to Milos
If you don't want to take an organized day trip, you could hop on a boat to the nearby island of Milos instead. The journey to Milos takes between 35 minutes to two hours, depending on the service, and when you get there, there are loads of exciting things to see and do. From the lunar-like landscape of Kléftiko and the cave of Papáfragkas to the towns of Pláka, Adámantas, and Emporiós you won't be disappointed that you made the journey.
Click here to check the ferry schedule and to book your ferry tickets.
Where to stay in Sifnos
Verina Astra: The gorgeous Verina Astra is a boutique hotel located in Artemonas Village with chic interiors, stunning balconies, and an incredible infinity pool that overlooks the bay. Click here for more information and to check the latest prices.
Elies Resorts: The five-star Elies Resorts is a larger property but one that still boasts a friendly, welcoming atmosphere and stylish designs throughout. The rooms, suites, and villas each have a wonderful garden or sea views and there is an on-site pool, spa, tennis court, and art shop to keep you entertained. Click here for more information and to check the latest prices.
Niriedes Hotel: Located just 100 yards from Platis Gialos beach, Niriedes Hotel is both classy and comfortable with contemporary rooms, great amenities, an outdoor pool and on-site gym, and even a small art gallery too. Click here for more information and to check the latest prices.
You are guaranteed of having fun on your visit to this amazing island since there is always "something" for everyone. Visit these places and get to know the beauty of this mysterious island.
Have you been to Sifnos?