Greece has perennially been considered a Summer classic, what with all its islands and massive coastline. However, Summer in Greece doesn't end with August. The fantastic Mediterranean climate allows for Summer to effortlessly roll over to Autumn, extending the season well into October. In general, this means less crowds and less buzz.
Autumn is perfect for those who seek the more meaningful side of holidaying as everything begins to slow down, and you can better observe a destination for what it truly is. For the top 5 Greek destinations for Autumn, guaranteeing plenty of sunshine, you can your pick between islands or the mainland.
Whether you are a couple seeking a romantic escape, a family wanting to spend the half-term somewhere warm or you are drawn to adventure amidst incredible nature, read on as there is something for everyone in these top 5 Greek destinations for Autumn.
The iconic Santorini island for endless romance
Ask anyone who knows Greece and they will tell you that the most romantic, top Greek destination for Autumn (and a few more seasons too) is definitely Santorini. A jet-set destination, Santorini attracts enamoured couples from all over the world, many of which even choose to have their nuptials there, and justifiably so. Santorini's backdrop landscapes are almost otherworldly, created as if by divine intervention.
Couples can retreat to the privacy of a hideaway spot in Akrotiri, at one of the best hotels in Santorini, for being tucked away from prying eyes. Most will associate Santorini with the Caldera views from the towns of Fira or Oia, and few will know that Akrotiri boasts even better views perhaps, being situated in the southernmost tip of the island's crescent shape.
From there you can gaze upon the Aegean, the volcano, and the layers of volcanic strata from the sea, all the way up to the aforementioned settlements with their white cubist houses. From there you have easy access to the colourful beaches, the Red, Black and Vlychada beaches while although the White beach is also close, while it is only accessible by boat or footpath from the Red Beach.
You might also like: What to do in Santorini and how to spend 3 days in Santorini.
Monemvasia for entering a fairytale
For a totally dreamy destination that has something entirely different to show than the aforementioned Santorini, consider Monemvasia in the Peloponnese. Effortlessly captivating, Monemvasia is a historical region of Greece with a fortified old town set on a rocky peninsula connected to the mainland by a narrow causeway.
The fortress part of Monemvasia would appear like scenery from an Epoque movie and includes impressive ramparts, gates and many quaint Byzantine churches. Staying in a historic mansion hotel in Monemvasia will allow your holiday to borrow some of the region's fascination, coupled with impeccable services and unique experiences that will ease you into the local way of life.
Especially if you visit Monemvasia during Autumn, you will get to be a part of grape picking and pressing at one of the private vineyards owned by the estate which you can later taste. More culinary surprises await as the majority of dishes are created from locally grown and reared ingredients. The freshly baked bread that is prepared for guests daily is just one small but meaningful gesture of the love that goes into food there.
The resort town of Porto Heli is perfect for families
An all-time favourite for Athenian families, Porto Heli has been their frequent go-to place to escape the hype of the city. Families usually prefer travelling by car, since there are many things to be carried around when making a journey with children. Porto Heli is a 2 ½ hour drive from Athens and this is primarily why Porto Heli has been a popular place for families to visit.
And you know what they say; when visiting a place, do as the locals do! It is relatively close and easily accessible, as well as exuding a tranquil ambience that much resembles island vibes. When travelling with the family, choosing suitable accommodation among the Porto Heli hotels in the area will make all the difference in the world too. Parents need to be able to relax during their holiday while kids need to be engaged in activities in order for everyone to have a great time. What's more is that while in Porto Heli, a day excursion to the neighbouring island of Spetses is just one of the experiences your entire family can enjoy.
Try Thassos island for leaving the world behind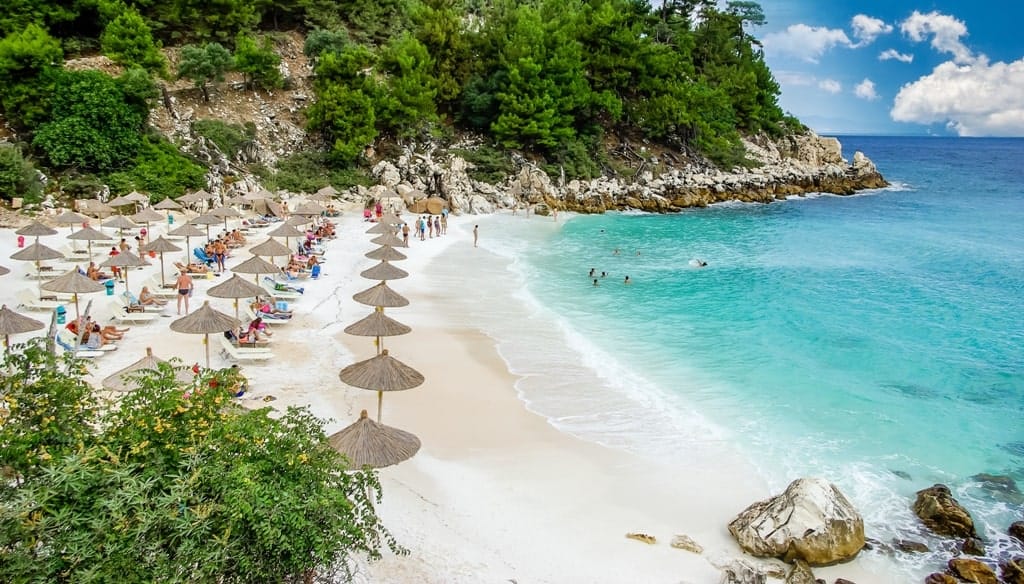 The next destination of this list for the top Greek destinations for Autumn is the off-the-beaten-track island of Thassos. Demure, unpretentious and welcoming, Thassos remains largely unspoiled by mass tourism. Its lack of popularity is based on the fact that it is located in a faraway corner of the North Aegean, however, this 'shortcoming' is actually part of its laid-back and bonafide charm.
Often referred to as the emerald island, Thassos is the perfect Greek destination for Autumn that combines wonderful scenery, the potential for exploration amidst its nature as well as a place to fully unwind and recharge. The island's remoteness is alluring for those who seek to find a place that is secluded and tranquil. If Thassos is relatively quiet in general, during Autumn it is simply serene.
Temperatures are mellowing down, the crowds are even less and the island's beauties are at your disposal to explore at your own leisurely pace or by an organised excursion if you prefer. Expect lower rates in general but exceptional food everywhere, as everything on the island is authentic and genuine. In the comfort of cute, studio apartments in Thassos, you can leave the world behind, change your routine behaviour and set new goals during your holiday.
You might also like: Things to do in Thassos, Greece.
Enchanting Pelion for a nature adventure
For adventurers and nature lovers, who want more out of their holiday than just amazing views and top-notch facilities, Pelion may just be the perfect match. A mountainous region on the eastern part of mainland Greece, Pelion has the added particularity of being a peninsula too. What this means is that visitors of Pelion have the double advantage of enjoying both the Pelion activities of land and sea.
A place of natural abundance, legend has it that the forests of Pelion were where the Olympian Gods resided during the summer, enjoying a clandestine atmosphere under the thick foliage of the local woodland. There is so much energy in the bosom of Pelion's nature, it is almost palpable. There are plenty of activities that will reveal Pelion's undeniable allure, such as hiking, trekking, walking trails, mountain biking, horse riding and wild foraging for apples, almonds, mushrooms and chestnuts in Autumn.
Check out: The Pelion villages of Portaria and Makrinitsa.
As for less demanding activities with a more leisurely feel to them, especially during Autumn, the traditional villages of Pelion are really something to experience. Beautiful little paved squares and picturesque houses with their characteristic grey stone roofs, and local shops and stores that are so unmodern and retro that they are bound to instil a sense of wonderment.
This is a sponsored post, all opinions are my own.