Mykonos is one of the most popular islands in Greece. It is sometimes called the Greek Saint Tropez and is famed for its amazing beaches, stylish beach clubs and luxury accommodation. The rich and famous admire Mykonos' top notch nightlife, boutiques and gourmet restaurants. Mykonos town or Chora is a beautiful town in the west of the island. It is one of the most photographed towns in Greece. Everyone has seen the five traditional Mykonian windmills and the colorful houses above the water with waves splashing against them. Here, cocktail hour and sunsets are the best in Greece. The beaches of Mykonos are on the list of the most beautiful in Europe, white and golden sand, turquoise waters, here you feel that you are in paradise. It is very special that a mountainous island like Mykonos has so many breathtaking beaches.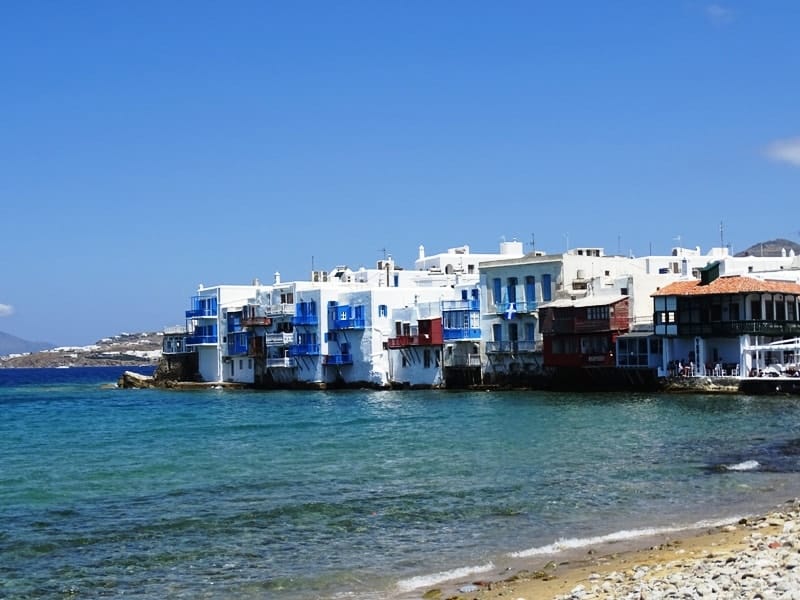 There are many luxury hotels and villas in Mykonos. If you want to rent a villa in Mykonos, have a look at the following suggestions.
Villa Melina
Villa Melina is located inside Mykonos town. It is a dazzling white comfortable villa with an aristocratic vibe to it. The white design and the pavement and stairs made of carved stone, makes this place look authentic and artistic. Villa Melina accommodates ten guests and there are five bedrooms in Villa Melina, three of them have en-suite bathrooms. The villa is divided in three sections: an attic suite, the entrance level and independent guest houses. The romantic and private attic suite is great for couples. On the entrance level are two bedrooms, a living area and a fully equipped kitchen. There is plenty of privacy for everyone. The guest houses have two levels with bedrooms, living rooms and and kitchen and they offer a stunning sea view. A swimming pool and garden complete the royal experience.
Villa Infinity
The exotic Villa Infinity is located in Tourlos, this is one of the most exclusive areas on the island near Mykonos town. Besides amazing architecture, this villa is one of the most sought after villas in Mykonos because of the convenience of travelling to the town. The villa offers a complete view over the Aegean Sea but is protected from the typical Cycladic wind. The poolside is great for private sunbathing and outdoor dining and relaxing. The villa offers eight individually decorated bedrooms. There is an open plan kitchen, a large living area, private parking for six cars and a home cinema. You have the option of staying home or finding entertainment in Mykonos town.
Villa Maristella
If you want to rent a villa in Mykonos and enjoy it with a large group of friends or family, then Villa Maristella is a very good choice. The villa is surrounded by an enormous 500 square meter pool. It makes guests experience as if they are on their own island of pleasure! There is an outdoor bar with even a club sound stage complete with instruments. This villa hosts a large gym of 300m2, the largest on the island. The villa is located in the area of Choulakia and offers total privacy. Villa Maristella has 11 bedroom suites each designed around a separate color theme. The 175 m2 Royal Suite is one of the best in luxury of all villas in Mykonos. Great for planning a party!
Villa Alpha
Villa Alpha is one of the most exclusive villa rentals in Mykonos. It is located on an elevated spot and secluded from the rest of the world, yet it is located in close proximity to the main town of Mykonos and other attractions. Distinguished by its unique architecture, it is one of the most sought-after properties on the island as it offers breathtaking panoramic view of the Aegean Sea. There is a large outdoor area with an infinity pool that seems to fall directly into the sea below it. The pool area has sunbeds and loungers and is spacious enough to accommodate a party or other entertainment. The private pergolas offer romantic corners with cozy couches and chairs. The villa has white plastered walls and a stony exterior. Another significant feature of Villa Alpha is its open plan living room with fireplace, very suitable for families wanting to spent quality time.
Villa Imogen
If you are looking for a more secluded area to rent a villa in Mykonos, Villa Imogen is the place. The villa hosts five en suite bedrooms for a total of 10 guests. There are three levels in Villa Imogen. The large living room expands to indoor/outdoor living with French doors onto the terrace. Each of the four bedrooms in the main villa offers privacy with private sea view courtyards. There is also a studio guest house with a separate entrance from the terrace. And a detached guest house with a spacious double bedroom and a kitchenette. The 13 meter pool and pool terrace with expansive views of the ocean and the nearby islands is a great place for romantic sunsets with relaxing cocktails and entertainment in the covered outdoor dining area. Villa Imogen is ne of the most traditional build of all villas in Mykonos, it offers a real Greek island experience.
Mykonos is a true gem in the Aegean. For travellers looking for exclusivity, privacy and over the top luxury, there is no other place in Greece. Mykonos is a romantic island too and great for couples who are looking for privacy. If you are interested in luxury accommodation, Mykonos has much to choose from. Not only can you entertain your friends or family with the comforts of your own home. Many of the luxury villas also offer yacht chartering, chauffeur- and concierge services. You can opt for dining in with your private chef, have a poolside barbeque or visit one of many great restaurants on the island in Mykonos town. Romantic cocktails at your private pool or parties for friends, it is all possible. Families with children will enjoy too and have quality time together. The nannies from the nanny services will keep the children entertained when parents need to relax. You will not regret renting a villa in Mykonos.
This is a sponsored post.