This post is also available in: French
Athens the capital of Greece is a city with many points of interest; a rich history, good shopping, tasty food, and amazing nightlife. So if you are visiting Athens and you are wondering what to see and do I have made this comprehensive list of the best 44 things to do and see in Athens Greece. I hope you find them interesting and helpful.
Disclaimer: This post contains an affiliate link. This means that should you click on certain links, and then subsequently purchase a product, I will receive a small commission.
What to do in Athens – Greece:
Best thing to do and see in Athens 1: Visit the Acropolis
You can buy a combined ticket for 30 € that entitles you with entrance to the following archaeological sites: Acropolis of Athens, Ancient Agora of Athens, Archaeological Museum of Kerameikos, Hadrian's Library, Kerameikos, Museum of the Ancient Agora, North slope of Acropolis, Olympieio, Roman Agora of Athens, South Slope of Acropolis. With just one ticket you will see the most important points of interest in Athens.
If you just want to visit the Acropolis tickets cost 20€ from April 1st to October 30th and 10€ from November 1st to March 31st and you can buy them online at the official e-ticketing service of the Hellenic Ministry of Culture and Sports.
The crowds are huge between April and October at the Acropolis. If you want to beat them I recommend that you visit the Acropolis at the opening time (8:00 am). If you are interested in a guided tour I recommend this No-Crowds Acropolis Tour & Skip the Line Acropolis Museum Tour by the company Take Walks that gets you in the Acropolis for the first viewing of the day. This way not only you beat the crowds but the heat as well. It also includes a skip the line tour to the Acropolis museum.
Another great option is the Best of Athens tour that takes you in the Acropolis for the first viewing without any crowds and also in the Ancient Agora and a walk around Plaka. This way you can see the best of Athens in 4 hours. Plus with combo pass that you get, you have access to five more top Athens attractions for the next five days.
Finally, If you are interested in a guided tour of both the Acropolis Museum and the Acropolis, I recommend the Athens, Acropolis and Acropolis Museum Including Entry Fees. This 5-hour guided tour includes skipping the line entrance tickets to both sites and a guided tour as well. It also includes a visit to the Panathenaic Stadium and the Royal Gardens.
2: Acropolis Museum
Acropolis Museum is considered one of the most important museums in Greece. It houses more than 3.000 artifacts from the Acropolis. After your visit, you can grab lunch or coffee at the museum's restaurant with breathtaking views of the Acropolis.
A good way to save money and time on your visit to Athens is to buy the Athens City Pass. I recommend the Classic or Complete Athens City Pass. For more information: Athens City Pass.
3: National Archaeological Museum
It is the largest museum in Greece with more than 20.000 exhibits covering a vast period of history from the beginnings of Prehistory to Late Antiquity.
You can book a private tour here.
4: Watch the Change of the Guards
In front of the Parliament at Syntagma square lies the Monument of the Unknown Soldier. It is guarded around the clock by two men wearing a traditional uniform called Evzones. Every hour takes place the ceremony of the Changing of the Guards.
5: Have a picnic at the National Gardens
The National Gardens are located behind the Parliament. It is an area with lush greenery, offering an oasis in the centre of Athens. It is an ideal place to relax and have a snack and one of the best things to do to unwind in the city.
6: Visit the Panathenaic Stadium
If you are a sports history buff then one of the things to do in Athens is to visit the Panathenaic Stadium. The first Modern Olympic Games were held there making the stadium a monument of significant importance. It is the only stadium in the world made from white marble and has a capacity of 60.000 spectators.
7: Buy souvenirs from Monastiraki
Head to Monastiraki district just under the Acropolis. Wander around the flea market and buy souvenirs and gifts for your friends.
8: Climb the Philopappou Hill
Philopappou hill is a beautiful park with great views of the Acropolis. There you can discover the Philopappou Monument, handmade cobbled roads and the church of Ayios Demetrios Loumbardiaris, the 16th-century basilica with great murals. The area of Philopappou Hill has been designated a Scheduled and Protected Monument of the Global Cultural Heritage.
9: See a performance at Dora's Stratou theatre
The group of Dora's Stratou theatre consists of 75 dancers, musicians, and singers. The dancers wear traditional Greek costumes of various regions of the country and perform songs and dances from all the periods of Greek history. The show lasts 90 minutes and tickets cost 15 euros for adults.
Top thing to do and see in Athens 10: Stroll the paved streets of Plaka
Located at the foot of Acropolis, it's the oldest neighborhood in Athens. Plaka is a picturesque neighborhood with the narrow streets, neoclassical houses, shops, restaurants and ruins from the Roman era.
11: Visit Anafiotika, an island in the center of Athens.
Anafiotika is located in the upper area of Plaka, just under the Acropolis. It is a beautiful area constructed by builders from the Aegean island of Anafi.
12: Walk along Panepistimiou Avenue from Syntagma to Omonia square.
Along Panepistimiou Street you will find a number of the most important public buildings of the city. Some of these buildings include the Athens Academy, the University, the National Library, the Arsakeion Mansion and many more.
13: Visit the Ottoman monuments
There are a lot of buildings that were preserved from the time that Athens was conquered by the Ottomans (1456 – March 1833). Some of them are the Mosques located in Monastiraki Square, the Hamam (Turkish Baths) which is now home to a museum and many cultural events.
14: Visit Varvakeios Central Market.
In a rectangular building in the heart of Athens, you will find the city's central market with many food stalls selling meat, fish, vegetables, and groceries.
15: Climb the Lycabettus hill
Lycabettus hill can be reached either by car, simply follow the only road. On foot through the many footpaths and by the funicular. At the top, there is an open-air theatre that hosts a lot of cultural events in the summer. If you find yourself in Athens at this time of year watching a performance from up there is a unique experience.
You can also visit the church of Ayios Georgios enjoy your coffee in the café or have dinner in Orizodes restaurant. Most importantly enjoy the incredible view of the city.
16: See a performance at Odeion of Herodes Atticus
The 5.000 seat theatre is a venue for concerts at the Athens Festival during the summer months.
17: Take the train and visit Piraeus, Athens major port.
You can take the train from Monastiraki or Omonia station and head to Piraeus. Near to the port you can walk along marina Zeas where the cruise ships stop and have lunch or coffee in one of the waterfront restaurants and cafes. You can also visit Microlimano popular for its nightlife and Kastella, an elegant neighborhood with incredible views to the surrounding areas.
18: Try an escape game
There are a lot of escape rooms around Athens at the moment. You and your friends can book one of the many and spend an hour solving riddles and finally escaping the room. There is also a Greek-related room in Athens Clue called the Lost Statues of Knossos which is currently my favorite one.
19: Stavros Niarchos Foundation
The Stavros Niarchos Foundation is a fascinating cultural center that holds exhibitions and festivals throughout the year. The complex features the National Library of Greece and the Greek National Opera among other galleries and theatres that celebrate Greek culture.
The development is an architectural work of art and is a great space for both indoor and outdoor events. With an ice-skating rink in winter and summer sailing when the weather's bright, there are loads of fun-filled activities for both adults and kids alike.
Top thing to do and see in Athens 20: Outlet shopping in Spata
In the Spata area close to the airport and the zoological park there the Mc Arthur Glenn Athens designer outlet. It is a big mall with many shops, restaurants, cafes, playgrounds, and a cinema. The easiest way to get there is by public transport. The closest metro station is Doukissis Plakedias. From there you can either take the bus 319 or take the free shuttle.
21: Go shopping in downtown Athens
The major shopping areas in downtown Athens are Ermou Street opposite Syntagma square and Kolonaki a 10-minute walk from Syntagma. In Ermou street one can find a great variety of shops selling from women's clothing to accessorize and homeware. Kolonaki, on the other hand, is considered a posh neighborhood with designer boutiques and expensive jewelry shops.
Sounio is located just 1 hour away from the city of Athens. Apart from the lovely beaches in the area where you can have a swim in the summer, it is famous for its archaeological site. At Sounio you can visit the temple of Poseidon the god of the sea, from where you can admire one of the most beautiful sunsets. Sounio is a very popular day trip from Athens.
Check here my day trip to Sounio.
If you are looking for guided tours. I suggest the following:
From the port of Piraeus, you can catch one of the many ships that make daily excursions to 3 islands of the Saronic Gulf. The beautiful islands of Hydra, Poros, and Aegina. While onboard you will have the chance to enjoy a beautiful buffet and live entertainment.
Read my experience on the one -day cruise to 3 islands.
Find more information and book this cruise
24: Swim at Lake Vouliagmeni
If you are keen on cooling down and being in nature then one of the top things to do in Athens is to swim at Lake Vouliagmeni. The lake is located in the suburb of Athens called Vouliagmeni just 25 km from the center of Athens. It is famous for its therapeutic waters that maintain a 24 degrees Celsius temperature year-round. Apart from swimming you, there is a café on site along with a playground for the children.
25: Relax in a Hammam
After all that walk you have done in order to discover the city, the best thing to do is find a place to relax and pamper yourself. Hammam is the perfect place to do it. It is located in the center of Athens and offers services like hammam baths, massage and beauty treatments.
Read about my experience here.
26: Taste local products and wine in a Wine bar
The best way to taste the real Greece is through one of the many wine bars. There you will have the chance to meet locals and taste traditional products and wine from around Greece.
27: Try Street Food
Trying one of the many street food available in Athens is something you shouldn't miss. There is a big variety from the traditional Greek souvlaki and the koulouri to oriental choices like Indian souvlaki and falafels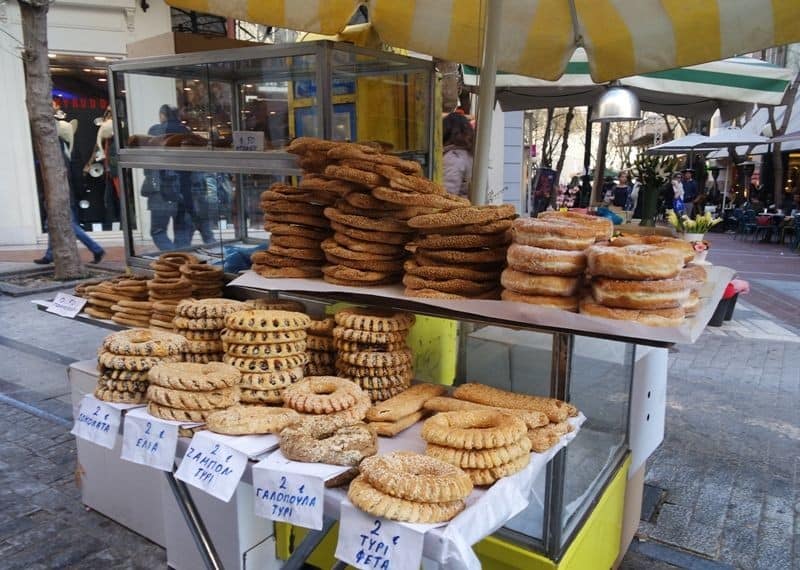 28: Enjoy your coffee or drink with a view
There are many rooftop bars and cafes in the city offering panoramic views of the Acropolis and the city of Athens. You could try the café at the Acropolis museum or the rooftop of A for Athens hotel in Monastiraki square.
Tip: A good way to save money and time on your visit to Athens is to buy the Athens City Pass I recommend the Classic or Complete Athens Pass. For more information: Athens City Pass
29: Watch a movie in an open-air cinema
There are a couple of open-air cinemas that operate during the summer months in the center of Athens some of them offering incredible views of the city and the Acropolis like Cine Thisio.
Top thing to do and see in Athens 30: Admire the Street Art
In the last couple of years, Athens has been filled with remarkable Street Art. You can discover it either by yourselves in the streets around Monastiraki and Psiri area or by a guided tour.
Find more information and book your street art tour here.
For those that love the myth and magic of Greek history, this Athens Mythology Highlights Tour gives you an awesome insight into the country's culture. Your visit to the Acropolis with a licensed guide allows you to delve deeper into the myths behind the famous site and discover more about Ancient Greek society.
You'll feel as though you've traveled back in time when you explore the ancient sites such as the Parthenon, the Temple of Olympian Zeus and imagine the daily lives that this civilization lived so many years ago!
Click here for more information and to book a mythological tour of Athens.
32: Learn how to cook Greek food
Mediterranean cuisine is probably one of the best in the world, with fresh produce, great flavors and relaxed dining at its heart. This four-hour cooking course allows you to learn the ropes at making traditional Greek food from scratch.
Discover market-fresh ingredients and aromatic herbs and spices that make up the basis for delicious Greek cuisine. You'll enjoy an aperitif and mezze nibbles during your class before sitting down with a glass of wine to enjoy a heart Greek Sunday lunch – yum!
Your teacher will send you off with recipe cards for the dishes you've made so you can impress your friends and family back home with your new-found skills.
Click here for more information and to book the cooking lesson.
The Original Gourmet Food Tour of Athens is a four-hour food fiesta that gives you the chance to delve into the markets, cafés, bars, and delis of Athens to try the city's best cuisine.
From classic Greek coffee brewed in a traditional style to quintessentially Greek olives, mezze, oil, and vinegar, this is a whistle-stop tour of the top titbits. The Greeks are also known for their sweet treats so no food tour would be complete without Greek yogurt and honey, loukoumades (Greek donuts) and custard-filled filo pies.
Click here for more information and to book a food tour.
34: Temple of Olympian Zeus
The Temple of Olympian Zeus is one of the most impressive sights in Athens with the huge temple columns standing in the view of the looming Acropolis. The building of this site began in the 6th Century but was not completed until almost 700 years later in 131AD!
While only around 15 columns remain today (of the original 100+), you can still imagine the splendor of the site as it would have been. This was once considered to be the largest temple in Greece so it is of great importance for those interested in Greek history.
Tickets: Included in the special ticket package of 30 €
35: Arch of Hadrian
Hadrian's Gate or the Arch of Hadrian is a stunning monument in the heart of Athens. This gateway is located between the Acropolis and the Temple of Zeus so is an easy site to add to your Greek sightseeing trip.
The large marble gate was a boundary between ancient Athens and Hadrian's new city which can be seen by the inscriptions on each side of the arch. Visiting this stunning symmetrical site is a must during any trip to the Greek capital.
36: Visit the Benaki Museum
The Benaki Museum is one of the most interesting museums in the capital and has been open to the public since 1930. This historical and cultural museum shows the development of Greece through the ages.
The collections include a plethora of exhibits that highlight the variety of cultures that have had a profound impact on the country. From Roman rule to Greek independence, the Benaki Museum gives you a great insight into Greek life and history.
37: Ancient Agora
The site of the Ancient Agora is one of the largest historical sites in Athens and is a must for all travelers and culture vultures! The sprawling market site features a range of buildings and ruins that take you back to social life in ancient Greece.
This marketplace would have been one of the main meeting spots for all citizens, with philosophical talks, healing baths, religious meetings and trades all taking place.
Tickets: Included in the special ticket package of 30 €
38: Go on a land rover Safari
Once you've seen the main sights of Syntagma Square, Plaka, and the ancient sites, you may want to get out of the city center to explore a little more of mainland Greece.
This eight-hour Land Rover Safari is a fun way to get a glimpse of nature, with a route around Lake Marathonas, the National Park of Mount Parnitha and some stunning local vineyards.
The tour allows you to take in epic views of mountains, lakes and more with plenty of refreshment stops and photo ops en route!
Book a land rover safari here.
39: Explore the Beaches of Athens
While there is a lot to see in the city, your heart may be yearning for soft sand and the smell of sea air when visiting Greece. If so, you're in luck as there are plenty of beaches to explore not far out of Athens.
From the luxurious beach bars and sunbeds of Astir Vouliagmeni or the popular spot of Edem, you will be sure to find a spot that suits your style. Some beaches are easily accessible by taxi or public transport, but if you want to find something a little quieter, you'd be better hiring a car so you can venture further afield.
Top thing to do and see in Athens 40: Visit Athens Central Market
Athens Central Market has been in operation from well over 100 years and is a hub of fresh produce and traditional delicacies that will make you hungry in an instant! The sights and smells you will encounter here will have you longing to try new things and dine out Greek style.
Favorites include cured meats, fresh fish, delicious deserts and herbs and spices. The market is open every day apart from Sunday, so there's really no excuse not to go for a wander.
41: Watch an Ancient Drama
If you want a slice of Ancient Greek culture in a modern-day style, why not watch a drama at the Fimonoi Theater in the heart of Athens? With contemporary performances of classic Greek romance and tragedy stories, the actors at the Fimonoi Theater really draw you into life in Ancient Greece.
This experience is totally unique to Athens and is the perfect activity for those who love theatre, drama, classics and the arts. Held in the Athinais Cultural Center, Fimonoi Theater productions allow you to enjoy Ancient Dramas with English and French overtitles.
Oedipus Rex is running Every Thursday From 30 May – 26 September 2019. Click here for more information.
42: Hiking in Parnitha National Park
For those who want to get back in touch with nature, there's no better place than the National Park of Mount Parnitha located around 40km from Athens City Centre. This is the closest national park to any European capital and is the perfect spot to connect with nature. Your half-day hike will take you from the Bafi Refuge to the plateau of Mola and back, stopping off at various viewpoints and springs along the way. If you're lucky, you may even have the chance to witness some red deer pass by as you stop to enjoy a hearty Mediterranean lunch in the forest.
Click here for more information and to book this tour.
43. Sailing along the coast
People are often surprised that the coast is so close to Athens and this sailing day trip really highlights how easily you can get away from it all and enjoy the ocean. Your sailing experience will allow you to board a stylish, modern yacht to seek out some of the best locations on the sea, stopping off for refreshing dips along the way. Your time exploring the Athenian coast will also include a light Mezze-style lunch and a glass of local wine so you can really unwind and soak up the atmosphere!
Click here for more information and to book this tour.
44. Explore the Athenian Riviera
If you want to be like a true Athenian then you'll want to make sure you take a little time out of the city center to enjoy the chic Athenian Riviera. This coastal region is filled with pristine beaches, stylish bars and tavernas, boutique hotels and a laid-back lifestyle that will make you feel as though you are a million miles from the capital! The Riviera stretches from Faliro to Cape Sounion so you can explore each of the different seaside towns, stopping at whichever takes your fancy.
The best time to visit Athens
The great thing about Athens is that it really is a year-round destination thanks to its range of sights and attractions that allow you to explore come rain or shine. However, it is worth noting that Athens does get extremely hot in summer and is probably best avoided in August (and perhaps July) when temperatures soar and hordes of tourists descend on the city. The shoulder seasons of April-June and September-November are arguably the best time to visit as you can easily walk around the city sights without being too hot or cold. Unlike many of the Greek islands, Athens stays open all year round, with restaurants, hotels, museums, and attractions being open for business as usual.
Of course, if you want to visit both Athens and the coast, you'll want to choose one of the months closer to July/August so that you can enjoy the heat while outside the city but not be too sweltering when walking around the Acropolis and Ancient Agora!
How to get from and to Athens airport
There are quite a few options for getting from Athens airport to downtown, and it all depends on your personal preference! It's also worth asking if your hotel offers any transfers from the airport to there!
Metro
You can take the metro, and choose Line 3 which will take you from Athens airport straight to the city center. It runs every 30 minutes, all week long, from 6:30 am to 11:30 pm. The entire trip will last you about 40 minutes, and you will be dropped off at Syntagma square. The ticket costs 10 euros.
The metro is a great option since it's clean, new, all stops are clearly identified, and you get to avoid traffic.
Time: 40 minutes
Cost: 10 EUR
Proastiakos – Suburban Railway
You can also try taking the Suburban railway, which is an electric train that takes you from the airport to the central railway stations in Athens, and the entire trip lasts 40 minutes as well. After arriving to the central railway station, you can switch and continue to the city center using the same ticket you purchased.
You'll find that those trains depart from the same platform as the metros.
Time: 40 minutes
Cost: 10 EUR
Bus
You have the option of taking a bus from the express bus station, and you can choose from five different lines. The trip takes from 35 to 60 minutes depending on your destination.
X95 is the one you should take to reach the city center. It will drop you off right at Syntagma
square.
Time: 30 – 60 minutes
Cost: 6 EUR.
Shuttle Bus
If you want to avoid waiting at a bus stop and want to be taken or picked up from the hotel, a shuttle bus is a great option.
Time: under 60 minutes
Cost: 20 EUR p.p
For more information and to book your shuttle bus check here.
Taxis
Taxis are a convenient option, specifically if you have a lot of luggage and you're not tight on
budget. You'll find dozens of taxis standing at the designated Taxi waiting area, right after you get out of Exit 3 of Arrivals Level.
There is a flat rate of 38 EUR from the airport to the city center, and if you arrive from midnight until 5 am that increases sharply to 54 EUR.
Private Airport Transfer with Welcome Taxi

You can pre-book a car online before your arrival, and find your driver waiting for you at the arrivals with a welcome name sign and a bag with a bottle of water and map of the city, thus saving you all the hassle of having to find a taxi/bus/metro.
There is a flat rate of 38 EUR from the airport to the city center, and if you arrive from midnight until 5 am that increases sharply to 54 EUR.
The trip takes approximately 35 minutes.
For more information and to book your private transfer click here.
Where to stay in Athens, Greece
Here are my picks for the best accommodations in Athens, Greece:
Athens is usually fully booked from April to November so book early for the best hotels and prices.
Budget Hotels in Athens
Here are my suggestions on budget accommodation in Athens (please avoid staying in areas like Metaxourgio, Omonia, Patission, Larissis Train Station and Vathis Square although they are cheaper).
Attalos Hotel offers simple air-conditioned rooms with free wi-fi just 100m away from Monastiraki square.
Evripides Hotel is located near Monastiraki square, close to all the city's attractions. It offers simple air-conditioned rooms with free wi-fi.
Adam's Hotel is centrally located in the Plaka district just 400m from the Acropolis. It offers old fashioned rooms with air-conditioning, TV, free Wi-Fi and a fridge.
Arethusa Hotel is centrally located next to Plaka and 50 m away from Syntagma square with direct connections by the metro to the airport. It offers simple, old fashioned rooms with air-conditioning, TV, free Wi-Fi, and a fridge.
Mid-Range Hotels in Athens
Titania Hotel is centrally located 5 minutes on foot from Syntagma Hotel. It offers renovated air-conditioned room with free wi-fi and great views of the Acropolis from its rooftop terrace.
Best Western Amazon Hotel is centrally located between Syntagma square and Plaka. It offers air-conditioned rooms and free wi-fi.
360 degrees is located in Monastiraki square at the heart of the historic district. It offers modern rooms with all the amenities; air-condition, TV, free wifi and buffet breakfast with vegan options. Other hotel amenities include a rooftop bar-restaurant with breathtaking views of the Acropolis.
Boutique Hotels in Athens
Acropolis Museum Boutique Hotel is located in a restored neoclassical building close to the Acropolis Museum. It offers charming rooms with free Wi-Fi and eco-friendly mattresses.
Fresh Hotel offers stylish rooms with free Wi-Fi access at the heart of Athens. The rooftop bar offers amazing views of the Acropolis.
Herodion Hotel offers elegant rooms next to the Acropolis and the Acropolis museum. Its rooms offer all the modern amenities you would expect from a 4-star hotel. There is also an on-site restaurant and bar that offers panoramic views of the Acropolis.
5 Star Hotels in Athens
Hilton Athens offers luxurious rooms and suites, the biggest swimming in Athens and a great rooftop bar with Acropolis views.
St George Lycabettus Hotel is located in upmarket Kolonaki square and offers spacious rooms with breathtaking views of the Acropolis. It is also a very family-friendly hotel.
You can also check my complete guide on where to stay in Athens.
You can also check my post on Free things to do in Athens.
You can easily realize after reading this list that Greece's capital Athens, has many points of interest. Have you visited Athens Greece? Have you done any of the above? What was your favorite attraction in Athens? Do you have something else to propose? I am more than happy to listen to your reviews and ideas.
Tip: Never travel to Greece without travel insurance. Get a free quote today.
Travel Passionate is a participant in the Amazon Services LLC Associates Program, an affiliate advertising program designed to provide a means for sites to earn advertising fees by advertising and linking to amazon.com, amazon.co.uk, amazon.ca. Amazon and the Amazon logo are trademarks of Amazon.com, Inc. or its affiliates.
PIN IT!