Athens the capital of Greece is a city with many points of interest; rich history, good shopping, tasty food and an amazing nightlife. So if you are visiting Athens and you are wondering what to see and do I have made this comprehensive list of the top 30 things to do and see in Athens Greece. I hope you find them interesting and helpful.
What to see in Athens – Greece:
Top thing to do and see in Athens 1: Visit Parthenon and the Ancient Sites
You can buy a combined ticket for 30 € that entitles you with entrance to the following archaeological sites: Acropolis of Athens, Ancient Agora of Athens, Archaeological Museum of Kerameikos, Hadrian's Library, Kerameikos, Museum of the Ancient Agora, North slope of Acropolis, Olympieio, Roman Agora of Athens, South Slope of Acropolis. With just one ticket you will see most important points of interest of Athens.
Top thing to do and see in Athens 2: Acropolis Museum
Acropolis museum is considered one of the most important museums in Greece. It houses more than 3.000 artifacts from the Acropolis. After your visit, you can grab a lunch or coffee at the museum's restaurant with breathtaking views of the Acropolis.
Top thing to do and see in Athens 3: National Archaeological Museum
It is the largest museum in Greece with more than 20.000 exhibits covering a vast period of history from the beginnings of Prehistory to Late Antiquity.
A good way to save money and time on your visit to Athens is to buy the Athens City Pass
  For more information: Athens City Pass
Top thing to do and see in Athens 4: Watch the Change of the Guards
In front of the Parliament at Syntagma square lies the Monument of the Unknown Soldier. It is guarded around the clock by two men wearing traditional uniform called Evzones. Every hour takes place the ceremony of the Changing of the Guards.
Top thing to do and see in Athens 5: Have a picnic at the National Gardens
The National Gardens are located behind the Parliament. It is an area with lush greenery, offering an oasis in the centre of Athens. It is an ideal place to relax and have a snack.
Top thing to do and see in Athens 6: Visit the Panathenaic Stadium
The first Modern Olympic Games were held there making the stadium a monument of significant importance. It is the only stadium in the world made from white marble and has a capacity of 60.000 spectators.
Top thing to do and see in Athens 7: Buy souvenirs from Monastiraki
Head to Monastiraki district just under the Acropolis. Wander around the flea market and buy souvenirs and gifts for your friends.
Top thing to do and see in Athens 8: Climb the Philopappou Hill
Philopappou hill is a beautiful park with great views of the Acropolis. There you can discover the Philopappou monument, handmade cobbled roads and the church of Ayios Demetrios Loumbardiaris, a 16th-century basilica with great murals. The area of Philopappou Hill has been designated a Scheduled and Protected Monument of the Global Cultural Heritage.
Top thing to do and see in Athens 9: See a performance at Dora's Stratou theatre
The group of Dora's Stratou theatre consists of 75 dancers, musicians and singers. The dancers wear traditional Greek costumes of various regions of the country and perform songs and dances from all the periods of the Greek history. The show lasts 90 minutes and tickets cost 15 euros for adults.
Top thing to do and see in Athens 10: Stroll the paved streets of Plaka
Located at the foot of Acropolis, it's the oldest neighbourhood of Athens. Plaka is a picturesque neighbourhood with the narrow streets, neoclassical houses, shops, restaurants and ruins from the Roman era.
Top thing to do and see in Athens 11: Visit Anafiotika, an island in the centre of Athens.
Anafiotika is located in the upper area of Plaka, just under the Acropolis. It is a beautiful area constructed by builders from the Aegean island of Anafi.
For more information check my post about Anafiotika.
Top thing to do in Athens 12: Walk along Panepistimiou Avenue from Syntagma to Omonia square.
Along Panepistimiou Street you will find a number of the most important public buildings of the city. Some of these buildings include the Athens Academy, the University, the National Library, the Arsakeion Mansion and many more.
For more information, you can check my post here.
Top thing to do and see in Athens 13: Visit the Ottoman monuments
There are a lot of buildings that were preserved from the time that Athens was conquered by the Ottomans (1456 – March 1833). Some of them are the Mosques located in Monastiraki Square, the Hamam (Turkish Baths) which is now home to a museum and many cultural events.
Top thing to do and see in Athens 14: Visit Varvakeios Central Market.
In a rectangular building in the heart of Athens, you will find the city's central market with many food stalls selling meat, fish, vegetables and groceries.
Top thing to do and see in Athens 15: Climb the Lycabettus hill
Lycabettus hill can be reached either by car, simply follow the only road. On foot through the many footpaths and by the funicular. At the top there is an open air theatre that hosts a lot of cultural events in the summer. If you find yourself in Athens at this time of year watching a performance from up there is a unique experience. You can also visit the church of Ayios Georgios enjoy your coffee in the café or have dinner in Orizodes restaurant. Most importantly enjoy the incredible view of the city.
Top thing to do and see in Athens 16: See a performance at Odeion of Herodes Atticus
The 5.000 seat theatre is a venue for concerts of the Athens Festival during the summer months. For more information and performances visit www.greekfestival.gr.
Top thing to do and see in Athens 17: Take the train and visit Piraeus, Athens major port.
You can take the train from Monastiraki or Omonia station and head to Piraeus. Near to the port you can walk along marina Zeas where the cruise ships stop and have lunch or coffee in one of the waterfront restaurants and cafes. You can also visit Microlimano popular for its nightlife and Kastella, an elegant neighbourhood with incredible views to the surrounding areas.
Top thing to do and see in Athens 18: Try an escape game
There are a lot of escape rooms around Athens at the moment. You and your friends can book one of the many and spend an hour solving riddles and finally escaping the room. There is also a Greek-related room in Athens Clue called the Lost Statues of Knossos which is currently my favorite one.
Top thing to do and see in Athens 19: Visit the Attica Zoological Park
With or without kids the Attica Zoological Park located near Athens airport deserves your visit. In a vast area of 200 acres the park accommodates more than 2000 animals and 300 species. Don't miss the educational programme with the dolphins.
Top thing to do and see in Athens 20: Outlet shopping in Spata
In Spata area close to the airport and the zoological park there the Mc Arthur Glenn Athens designer outlet. It is a big mall with many shops, restaurants, cafes, playgrounds and cinema. The easiest way to get there is by public transport. The closest metro station is Doukissis Plakedias. From there you can either take the bus 319 or take the free shuttle.
Top thing to do and see in Athens 21: Go shopping in downtown Athens
The major shopping areas in downtown Athens are Ermou Street opposite Syntagma square and Kolonaki a 10-minute walk from Syntagma. In Ermou street one can find a great variety of shops selling from women's clothing to accessorize and home ware. Kolonaki on the other hand, is considered a posh neighbourhood with designer boutiques and expensive jewellery shops.
Top thing to do and see in Athens 22: Make a day trip to Sounio
Sounio is located just 1 hour away from the city of Athens. Apart from the lovely beaches in the area where you can have a swim in the summer, it is famous for its archaeological site. At Sounio you can visit the temple of Poseidon the god of the sea, from where you can admire one of the most beautiful sunsets. Sounio is a very popular day trip from Athens.
Check here my day trip in Sounio.
Top thing to do and see in Athens 23: Cruise to 3 nearby islands
From the port of Piraeus you can catch one of the many ships that make daily excursions to 3 islands of the Saronic Gulf. The beautiful islands of Hydra, Poros and Aegina. While on board you will have the chance to enjoy a beautiful buffet and live entertainment.
Read my experience on the one -day cruise to 3 islands
Top thing to do and see in Athens 24: Swim at Lake Vouliagmeni
The lake is located in the suburb of Athens called Vouliagmeni just 25 km from the centre of Athens. It is famous for its therapeutic waters that maintain a 24 degrees Celsius temperature year round. Apart from swimming you there is a café on site along with a playground for the children.
Top thing to do and see in Athens 25: Relax in a Hammam
After all that walk you have done in order to discover the city, the best thing to do is find a place to relax and pamper yourself. Hammam is the perfect place to do it. It is located in the centre of Athens and offers services like hammam baths, massage and beauty treatments.
Top thing to do and see in Athens 26: Taste local products and wine in a Wine bar
The best way to taste the real Greece is through one of the many wine bars. There you will have the chance to meet locals and taste traditional products and wine from around Greece.
Top thing to do and see in Athens 27: Try Street Food
Trying one of the many street food available in Athens is something you shouldn't miss. There is a big variety from the traditional Greek souvlaki and the koulouri to oriental choices like Indian souvlaki and falafels
Read here about my experience on Street Food in Athens.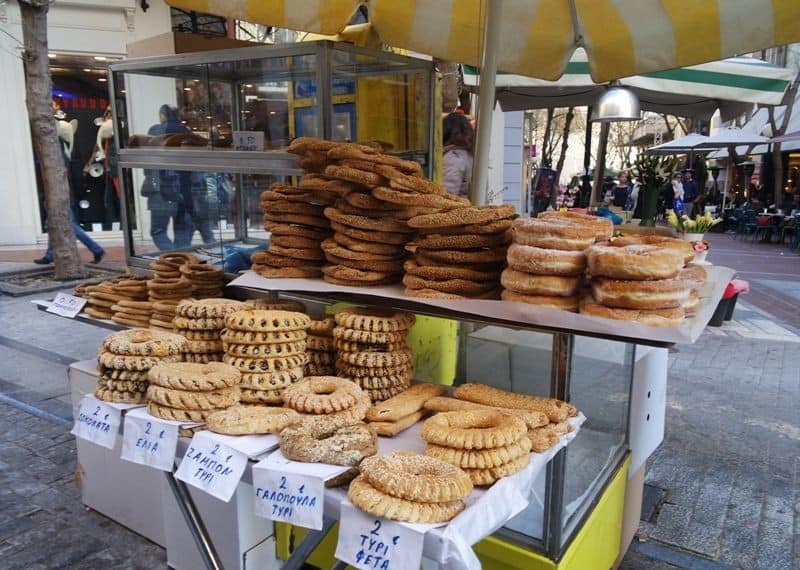 Top thing to do and see in Athens 28: Enjoy your coffee or drink with a view
There are many rooftop bars and cafes in the city offering panoramic views of the Acropolis and the city of Athens. You could try the café at the Acropolis museum or the rooftop of A for Athens hotel in Monastiraki square.
Read here the best places to enjoy your drink with a view.
Top thing to do and see in Athens 29: Watch a movie in an open-air cinema
There are a couple of open-air cinemas that operate during the summer months in the centre of Athens some of them offering incredible views of the city and the Acropolis like Cine Thisio.
Top thing to do and see in Athens 30: Admire Street Art
In the last couple of years Athens has been filled with remarkable Street Art. You can discover it either by yourselves in the streets around Monastiraki and Psiri area or by a guided tour.
Where to stay in Athens, Greece
HotelsCombined is a great website to check out to find the most cost-effective accommodation option for you in Athens. It will tell you which hotel booking site has the best price. Here are my picks for the best accommodations in Athens, Greece:
Budget Hotels in Athens
Here are my suggestions on budget accommodation in Athens (please avoid staying in areas like Metaxourgio, Omonia, Patission, Larissis Train Station and Vathis Square although they are cheaper).
Mid-Range Hotels in Athens
Boutique Hotels in Athens
5 Star Hotels in Athens
You can also check my post on Free things to do in Athens
You can easily realise after reading this list that Greece's capital Athens, has many points of interest. Have you visited Athens Greece? Have you done any of the above? What was your favourite attraction in Athens? Do you have something else to propose? I am more than happy to listen to your reviews and ideas.
Disclaimer: This post contains an affiliate link. This means that should you click on certain links, and then subsequently purchase a product, I will receive a small commission. It costs nothing extra to you but helps keep my site running. Thank you for supporting me in this way.