Mykonos island lies between Tinos, Syros, Paros and Naxos and covers an area of 85.5km2. Mykonos is considered the jet set island of Greece. A humble and hospitable Saint Tropez-like place in the Cyclades island group. Mykonos is famed for its open mindedness, its party- and nightlife and its cosmopolitan character. But Mykonos is not just for party animals. It is an island with great restaurants, many cultural activities and beautiful beaches. It is an island for friends, solo travellers, couples, families and nature lovers. Mykonos is a small island and it is easy to visit most of its attractions in a short time. For a small trip, the below itinerary is advised. Here is what to do in Mykonos in 3 days.
Things to do in Mykonos in 3 days
3 Days in Mykonos: Day 1 – History and Culture
Explore the ancient heritage of Mykonos by visiting the Archeological Museum of Mykonos and the archaeological sites of the island.
Delos is a UNESCO World Heritage Site and is considered one of the most important Archaeological Sites in Greece. According to mythology, Delos was the birthplace of Apollo and Artemis. The island is uninhabited nowadays, but you can visit it by taking one of the many boat excursions that depart daily from Mykonos old harbour (except on Mondays when the archaeological site is closed).
A return ticket to Delos cost 20€ for adults and 10€ for children (6-12 years old). Tickets to the Archaeological site of Delos cost: Full 12€, Reduced 6€. You can spend a half day in Delos therefore a morning start is recommended because the archaeological grounds close at 3PM when the last boat departs. Take a guided tour on Delos island and don't miss a detail.
Check here for more information and to book a guided tour to Delos.
Archaeological Museum of Mykonos
Plan a visit to the Archaeological Museum of Mykonos in the Old Town in the afternoon of your first day as the museum is open until 10pm in the summer months. In the museum you will find a large number of vases, ranging from the prehistoric to the late Hellenistic period, grave statues, stelae and funerary urns and finds from Mykonos. End this cultural first day in Mykonos by relaxing in Little Venice.
Little Venice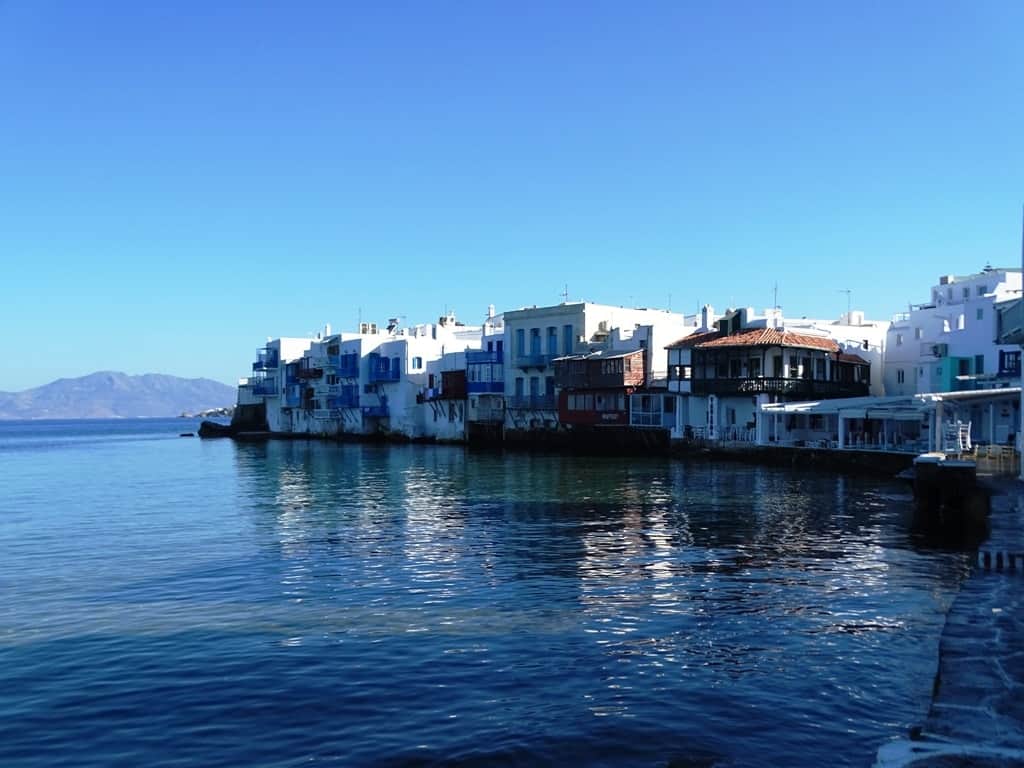 Little Venice – where the most western part of Mykonos town meets the sea – is the most romantic and artistic part of Mykonos. Here the buildings have been constructed right on the sea's edge with their balconies overhanging the water. A great place to enjoy a cocktail and watching the sunset.
Selected Tours in Mykonos
3 Days in Mykonos: Day 2 -Relaxation and Party
What else is there to do in Mykonos in 3 days? The famed parties of Mykonos cannot be missed. So my suggestion is to take hit the beaches for a relaxed day and explore Mykonos' nightlife later on.
Beaches of Mykonos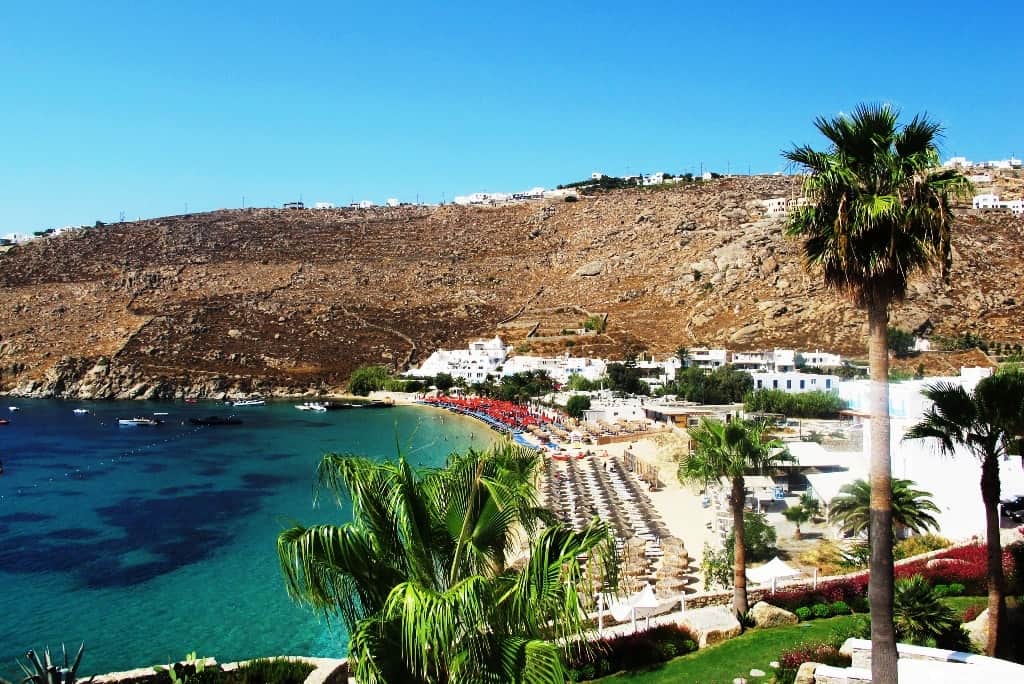 The beaches of Mykonos are famous for their golden sand and crystal clear waters. There are so many different kind of beaches that every traveller will find his perfect place. If you want to party, then Paradise beach and Super Paradise beach is for you. If you want a more relaxing beach, you can head to Kalo Livadi, Elia, Ornos, and Lia. If you are looking for privacy, you can go to Kapari or Agios Sostis. For a trendy beach with celebrities, go to Psarou beach. There you will find one of the best beach bars worldwide called Nammos. If you are looking for a trendy place, you can go to Paraga beach with the famous beach bar Scorpios or Ftelia beach with the Alemagou beach bar.
Check out my post about the best beaches in Mykonos.
or
Discover the hidden beaches of Mykonos on this traditional Kaiki boat tour.
Nightlife
Mykonos is the party island of the Cyclades and has the best nightlife in Greece. You can start your evening by watching the sunset at Little Venice. The picturesque old harbour of Mykonos is also a great area to walk around at night. There are many cafes and restaurants in the area overlooking the sea. As the evening progresses you can visit the legendary Scandinavian bar, the gay-friendly Jackie O, Cavo Paradiso or you can head in one of the famous beach bars like Nammos, Scorpios and Jackie O on the beach. The options are endless.
3 Days in Mykonos: Day 3 Churches, Windmills and souvenirs
What to do in Mykonos in the last part of your 3 days?
Churches
After your night out, my suggestion is to take it slow and explore some quiet corners of the town. One of the main characteristics of Mykonos is the abundance of churches that can be found scattered around the island. Some say that the number of churches and chapels are almost 800 and about 60 of them can be spotted in Mykonos town (Chora). Some of the most famous are Panagia Paraportiani and Agios Nikolaos.
Windmills
Strolling around the town today, the iconic Mykonos windmills cannot be missed. They can be seen from every point of the town and are the first thing seen when coming into the port as they stand on a hill overlooking the area.
Shopping
Get lost in the winding alleys of Mykonos town with the whitewashed houses with blue doors and windows and enjoy the abundant bougainvilleas on the characteristic balconies. End your stroll over town with collecting some memories of your trip at the stores. Mykonos has one of the best shopping scenes in Greece. Inside Mykonos town you will find designer labels, jewelry shops, leather goods and art galleries along with traditional shops selling Greek products and souvenirs.
You can also join a walking tour around Chora.
You might be also be interested in: Things to do in Mykonos
Where to stay in Mykonos
Budget Hotels:

It is difficult to find budget accommodation in Mykonos especially during the high season (July and August). Book as early as possible and try to avoid these months.
Galini Hotel is located in Mykonos Town, 150m away from the beach. It offers basic accommodation with air-conditioning, fringe, and free Wi-Fi.
Check out the latest prices and more details at Hotels.com or Booking.com

Manolia View Mykonos is located is located 2 km away from Mykonos New Port. It offers self-catering accommodation with great views of the Aegean Sea. It offers spacious rooms with a pario or private terrace, free Wi-Fi, air-conditioning and kitchenette. Other hotel amenities include a swimming pool and a sun patio.
Check out the latest prices and more details at Hotels.com or Booking.com
Mid-Range Hotels:
Milena Hotel is located 500 meters away from Mykonos Town and close to the airport. A bus stop is next to the hotel. It offers clean rooms with air-conditioning and Wi-Fi access.
Check out the latest prices and more details at Hotels.com or Booking.com
With Inn is located on the sandy beach of Tourlos, 1 km away from Mykonos port. It offers spacious rooms with sea view, air conditioning, free wi-fi and mini fridge.
Check out the latest prices and more details at Hotels.com or Booking.com

Luxury Hotels:
Kouros Hotel & Suites is perfectly located 10 minutes on foot from Mykonos Town this luxurious hotel offers spacious rooms with private terraces overlooking the sea and the town. Hotel amenities include a swimming pool, amazing breakfast, free Wi-Fi, free airport shuttle and parking.
Check out the latest prices and more details at Hotels.com or Booking.com/ Read my review.
Overlooking the popular Platis Gialos beach Myconian Ambassador Relais & Chateaux Hotel offers stylish rooms, an outdoor swimming pool, excellent spa services, and a gourmet restaurant.
Check out the latest prices and more details at Hotels.com or Booking.com
Bill & Coo Suites & Lounge is a 5-star hotel that offers luxurious sea view suites, an infinity pool, a gourmet restaurant and spa treatments. It is conveniently located in Megali Ammos beach and a 10- minutes walk from Mykonos Town.
Check out the latest prices and more details at Hotels.com or Booking.com
You might also like my detailed post on where to stay in Mykonos.
How to get to Mykonos
By air: There are many flights from Athens and Thessaloniki to Mykonos. The flight trip from Athens to Mykonos is about 30 minutes. During the summer months, many airlines have direct flights to Mykonos from many European cities.
By boat: You can take the boat to Mykonos from Athens's two major ports Piraeus and Rafina. There are daily ferries going to the island and the trip lasts about 3 hours if you take the high-speed ferry and 5 hours if you take regular one. Mykonos is also connected by ferry to other Cycladic islands like Tinos, Andros, Paros, Naxos, Syros and Santorini to name a few. During the tourist season, you might find connections to other islands.
Click here for more information on the ferry schedule and to book your ferry tickets.
Three days in Mykonos is enough time to visit the most important sights and to relax as well. This beautiful island in the Cyclades is one of Greece's top visitor attractions and once you are there, you will not want to leave. This list of what to do in Mykonos in 3 days will give you plenty of ideas. I wish you a wonderful time!
More posts to read:
Disclaimer: This post contains affiliate links. This means that should you click on certain links, and then subsequently purchase a product, I will receive a small commission. It costs nothing extra to you but helps keep my site running. Thank you for supporting me in this way.