This post is also available in: French
At the heart of the Mediterranean, lies Athens, one of the longest inhabited cities dating back 3000 years, the historical gem of Europe, home to some of the most important cultural and historical attractions and the essence of all of Greece.
Every step you take and every street you go to leads to a fascinating monument, or a reminder of the grandeur of its ancient heritage and the transformations the city has gone through.
It is the cradle of Western civilisation and the beacon of the ancient world, a pleasant tourist attraction where philosophy, democracy and theatre were born.
Being in Athens is being on the same streets Sophocles used to walk in, and being in the same place Socrates used to teach – it's the perfect city for every history buff, and for every traveler ready to be mesmerised by the history they'll be surrounded with.
The appeal of Athens goes way beyond its historical ruins and ancient sites, it's the juxtaposition of tradition and modernity that will draw you in; how the Acropolis towers over the concrete jungle, how an ancient temple is right next to a clubbing zone and how a ruin could be right next to a modern café.
In the three days you'll spend in Athens, you'll be able not only to enjoy this amount of history and culture, but you'll also enjoy this sprawling city with its cafes, restaurants, its food, its quirky neighborhoods, its street art, its bars, theaters, museums and much much more…
Staying three days in Athens can be a bit challenging as you might not know where to begin so here's our recommendation on more things to do in Athens!
You might be interested in this 10-day Greece itinerary.
Disclaimer: This post contains affiliate links. This means that should you click on certain links, and then subsequently purchase a product, I will receive a small commission.
How to get from and to Athens airport
There are quite a few options for getting from Athens airport to downtown, and it all depends on your personal preference! It's also worth asking if your hotel offers any transfers from the airport to there!
Metro
You can take the metro, and choose Line 3 which will take you from Athens airport straight to the city center. It runs every 30 minutes, all week long, from 6:30 am to 11:30 pm. The entire trip will last you about 40 minutes, and you will be dropped off at Syntagma square. The ticket costs 10 euros.
The metro is a great option since it's clean, new, all stops are clearly identified, and you get to avoid traffic.
Time: 40 minutes
Cost: 10 EUR
Proastiakos – Suburban Railway
You can also try taking the Suburban railway, which is an electric train that takes you from the airport to the central railway stations in Athens, and the entire trip lasts 40 minutes as well. After arriving to the central railway station, you can switch and continue to the city center using the same ticket you purchased.
You'll find that those trains depart from the same platform as the metros.
Time: 40 minutes
Cost: 10 EUR
Bus
You have the option of taking a bus from the express bus station, and you can choose from five different lines. The trip takes from 35 to 60 minutes depending on your destination.
X95 is the one you should take to reach the city center. It will drop you off right at Syntagma square.
Time: 30 – 60 minutes
Cost: 6 EUR.
Taxis
Taxis are a convenient option, specifically if you have a lot of luggage and you're not tight on budget. You'll find dozens of taxis standing at the designated Taxi waiting area, right after you get out of Exit 3 of Arrivals Level.
There is a flat rate of 38 EUR from the airport to the city center, and if you arrive from midnight until 5 am that increases sharply to 54 EUR.
Private Airport Transfer with Welcome Taxi

You can pre-book a car online before your arrival, and find your driver waiting for you at the arrivals with a welcome name sign and a bag with a bottle of water and map of the city, thus saving you all the hassle of having to find a taxi/bus/metro.
There is a flat rate of 38 EUR from the airport to the city center, and if you arrive from midnight until 5 am that increases sharply to 54 EUR.
The trip takes approximately 35 minutes.
For more information and to book your private transfer check here.
Three days in Athens, a great itinerary
3 Days in Athens: Day One
The Acropolis
The Acropolis is one of the most important ancient Greek monuments, and one of the most important monuments in the world. It towers over the rest of the city and reflects its splendour and grandeur. The Acropolis means upper city, and this is where people lived as early as 5000 B.C and used as natural defence to avoid enemies due to its sheer size. The Acropolis is the birthplace of democracy, and one of the main influencers of modern civilizations and has been an attraction in Athens for thousands of years. You'll enter through Beule Gate and then pass through the Propylaia entrance. There you can check out the Temple of Athena Nike!
Parthenon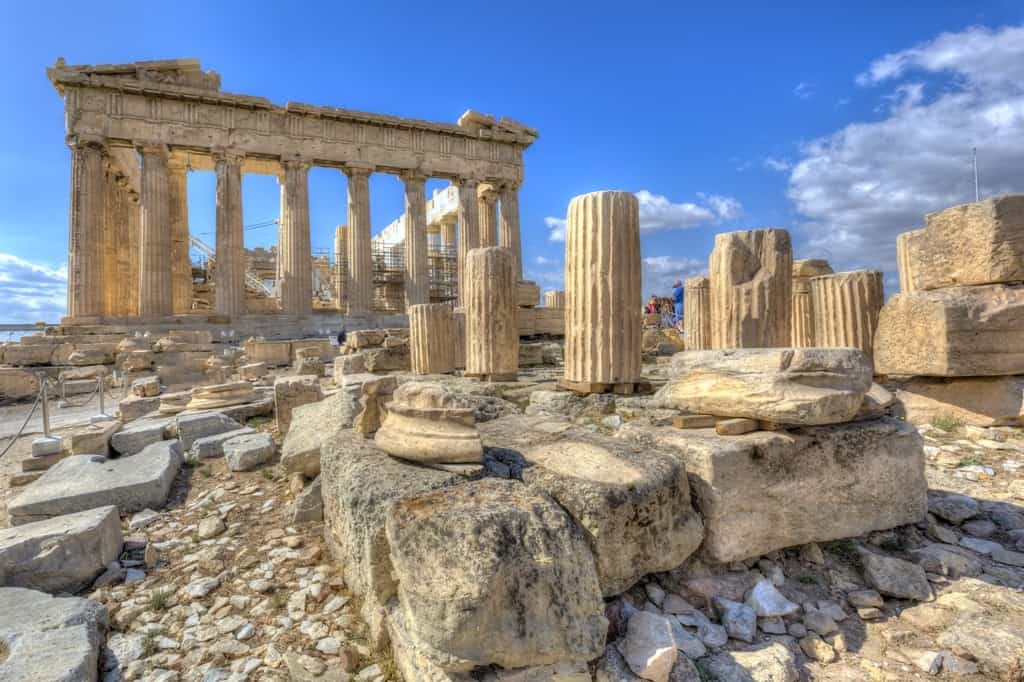 This was built during the height of Athenian democracy and is a magnificent temple reflecting the ancient world and was built to honour the cult of Athena the virgin.
You can walk around the exterior and admire every angle of the structure and check out the beautiful details of craftsmanship that are on display everywhere and that remain timeless and beautiful.
The Parthenon is definitely the most photographed building on the Acropolis, the most popular and one that reflects the magnificence of the Acropolis, Athens and Greece.
Did you know? The Parthenon means "the apartment of the Virgin and was built for the goddess Athena Parthenos who gave the city all of its wealth.
Theater of Dionysus
This theatre built in the 4th century B.C is the oldest of the three architectural temples in the Acropolis. This open-air theatre the birthplace of European theatre and is one of the earliest preserved in Athens. It was used for performances back then, and it's considered the birthplace of theatre where great Greek tragedies of Sophocles and Euripides were performed. The theatre could accommodate 17,000 spectators and back then it was not only used for performances but also for festivals that honour god Dionysus.
Odeon of Herodus Atticus
Imagine being able to attend a live classical theatre performance in a theatre that has been functioning for over 2000 years! Today you will be sitting in the midst of ancient history as you enjoy performances, bands, plays and the best talent in the region in an ancient theatre built in the Roman times.
It was actually built by Herodes Atticus, the Roman philosopher, and teacher in memory of his wife, and you can still visit this beautifully made theatre and attend the Athens Arts Festival, concerts, and the classical tragedies with a marvelous acoustic experience.
Tip: Try to visit the archaeological site of the Acropolis as early as possible to avoid the crowds and the heat especially during the summer months.
Tickets: There is a special ticket package for visiting most of ancient Athens monuments costing 30 € full and 15 € reduced which is valid for Acropolis of Athens, Ancient Agora of Athens, Archaeological Museum of Kerameikos, Hadrian's Library, Kerameikos, Museum of the Ancient Agora, North slope of Acropolis, Olympieio, Roman Agora of Athens, South Slope of Acropolis. The ticket is valid for 5 days.
If you just want to visit the Acropolis tickets cost 20€ from April 1st to October 30th and 10€ from November 1st to March 31st and you can buy them online at the official e-ticketing service of the Hellenic Ministry of Culture and Sports.
The crowds are huge between April and October at the Acropolis. If you want to beat them I recommend that you visit the Acropolis at the opening time (8:00 am). If you are interested in a guided tour I recommend this No-Crowds Acropolis Tour & Skip the Line Acropolis Museum Tour by the company Take Walks that gets you in the Acropolis for the first viewing of the day. This way not only you beat the crowds but the heat as well. It also includes a skip the line tour to the Acropolis museum.
Another great option is the Best of Athens tour that takes you in the Acropolis for the first viewing without any crowds and also in the Ancient Agora and a walk around Plaka. This way you can see the best of Athens in 4 hours. Plus with combo pass that you get, you have access to five more top Athens attractions for the next five days.
Finally, If you are interested in a guided tour of both the Acropolis Museum and the Acropolis, I recommend the Athens, Acropolis and Acropolis Museum Including Entry Fees. This 5-hour guided tour includes skipping the line entrance tickets to both sites and a guided tour as well. It also includes a visit to the Panathenaic Stadium and the Royal Gardens.
This is one of the museums that has always been constantly rated as one of the top in the world, with its huge glass walkways, its high ceilings and incredible panoramic views.
You not only get to learn about Athens, the Parthenon (which it is devoted to) and all the surrounding temples, but you also get to marvel at the beauty of the museum itself.
You will be met with large glass panes that allow light to get in and illuminate the entire museum, and also allow for wonderful views of the ancient and modern parts of Athens giving you an overall great experience.
What to see:
Ground floor – The Acropolis Slopes which feature all ancient artifacts that were found in and around the Acropolis, and a highlight of that collection could be the theatrical masks and vases from the sanctuary of Nymphe.
Top floor – The Parthenon Gallery and incredible panoramic views from the glass panels as you can easily glance over the ancient city of the Acropolis with the Parthenon being only 300 meters away. You can also watch a fifteen-minute video that talks about the Parthenon sculpture
First floor – The Moschophoros – a painted marble statue of young man carrying a sacrificial calf. It is one of the first examples of incorporating marble into Greek architecture.
A good way to save money and time on your visit to Athens is to buy the Athens City Pass. I reccommend the Classic or Complete Athens City Pass. For more information: Athens City Pass.
Temple of Zeus
This is an impressive ruined temple right in central Athens also known as the Olympeion. It was built back then to honour Zeus, the father of all of the Olympian gods and was massive to the extent that it took over 700 years to build. It was supported by 105 Corinthian columns but only 15 columns, each 17 meters tall, remain standing.
You can check out the remains of Roman houses, the city walls, a Roman bath, and the giant ivory and gold statue of Zeus.
Tickets: Included in the special ticket package of 30 €
Arch of Hadrian
This triumphal arch was built to honour the arrival of the Roman Emperor Hadrian and thank him for his benefactions for the city. It was made of fine Pentelic marble, and the design is actually fully symmetrical, and it's crowned by Corinthian columns and pilasters giving it a distinct type of grace and beauty.
The arch served as one of the seven gates that were used in the defensive wall built by the Turks when there were several different attacks like the attacks by the Albanian raiders, and it was also used as a connection between the ancient street of old Athens, to the new, more Roman Athens. You will be able to see its effect by checking out the inscriptions caved on the architrave where one reads "This is Athens, the ancient city of Theseus" while the second reads "This is the city of Hadrian and not of Theseus."
Plaka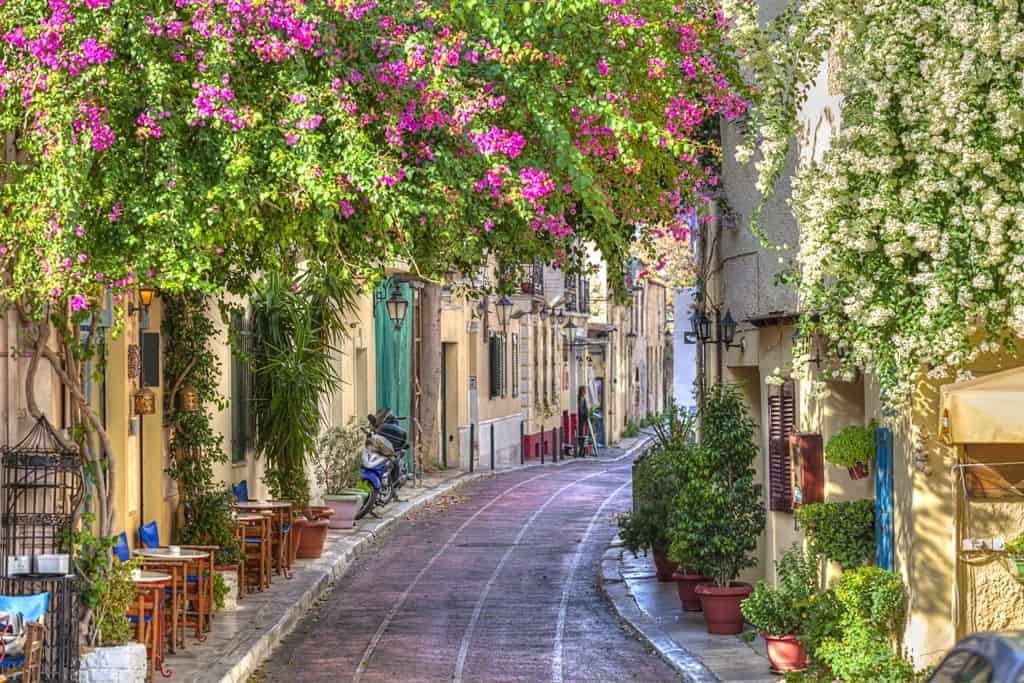 You can end your day by walking around and having dinner at one of the oldest neighbourhoods in Athens, where most of the streets are closed to just pedestrians.
You will be walking around neoclassical houses, pedestrian streets, beautiful views in one of the oldest districts in Athens. Today it has become an area full of restaurants, little taverns, jewellery stores and cafes and you can find all types of diverse shops from normal ones to traditional ones, to more touristy ones. Lastly, you can check out the Museum of Greek Folk Art.
If you find it hard to visit all of the ancient monuments on your own, or need someone to guide you through them and explain their history to you, then you can take a 4 hour guided tour from 9 am everyday in either English or French where you will be able to visit the most important monuments the Acropolis, the Zeus Temple, the Ancient Agora, and much more. Not only will you be visiting all of the monuments in a systematic tour, but you'll also learn about the Gods and their history, and the city's ancient history, the society and how it worked and how people lived back then.
Read about my experience of the Mythology Highlights Tour.
Find here more information about the Mythology Highlights Tour.
3 days in Athens: Day Two
Ancient Agora
Slightly less busy than the Acropolis but just as majestic, strolling around Agora is a journey through history and time. You can wander aimlessly around greenery and ancient ruins that were once a part of Ancient Athens' essence. It was the commercial hub, the marketplace, the focal point of all social, economic, political and intellectual activities and it was the pulsing heart of Athens back then.
The Agora, translating to "a place of gathering", was once dotted with statues, shops, markets, schools and it was the place Socrates used to lecture young students there at the Stoa f Attalos II.
Lastly, you can also check out Temple of Hephaistos, which is the best-preserved temple of antiquity.
Tickets: Included in the special ticket package of 30 €
A 14 minute walk to…
Syntagma Square
As you move from Agora to Syntagma, it will be like moving through a time machine where you go from the ancient pulsating heart of the city to the new one. This square is what keeps the city going; it is its beating centre and its main transport hub. This is where people meet to have a drink, have a meal, meet with friends, relax after work, go shopping or people-watch.
Things to check out:
War Memorial of the Unknown Soldier – Dedicated to all of the unknown soldiers who died during the wars
National Garden
The Parliament Building – You can walk through the national garden to the parliament building where the Changing of the Guard Ceremony takes place. Every hour exactly, the changing of the guard takes place where the presidential guards dress in their traditional uniform to pay tribute to all of the war victims. You are not allowed to touch them, however.
A 14 minute walk to…
Panathenaic Stadium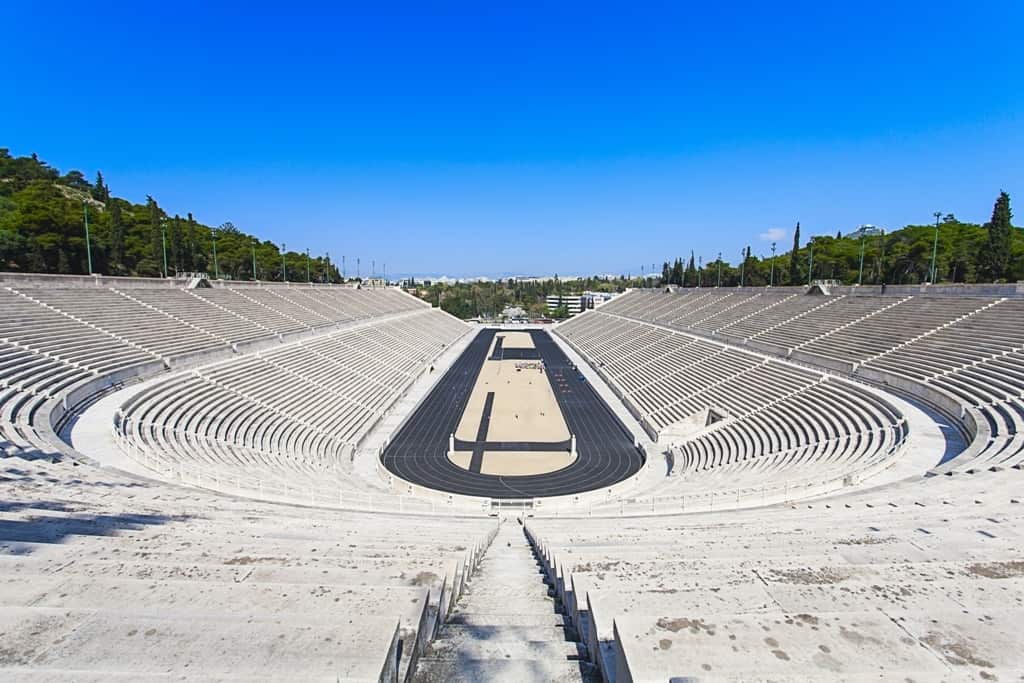 This is where the Olympic Games were born in 1896! The stadium was actually constructed in the 4th century B.C, and the main purpose for it back then was to host events and competitions were male athletes competed, and now it's one of the most important stadiums in the world. It is also the only stadium in the world that is made entirely of marble and can hold up to 60,000 spectators until today!
Usually, when we think of Athens, images of completely ancient monuments come up to mind, right?
However, the streets of Athens are filled with incredible pieces of graffiti making it a very colourful town with all sorts of art and graffiti, from posters to murals, on the walls.
If you are interested in Street Art you can book a tour here.
The Psiri neighborhood
This area has been turned from one of the most dangerous in Athens to one of its quirkiest, trendiest, edgiest and most fashionable neighbourhoods.
As you wander around, you will be able to see not only wonderfully authentic craftsmen's store, but also a lot of street art that evolved due to the economic crisis, and art galleries like Sarilla 12 and AD gallery. You have to look out for Alexandros Vasmoulakis and Vangelis Hoursoglou who brought public art into the streets for the first time.
Monastiraki Square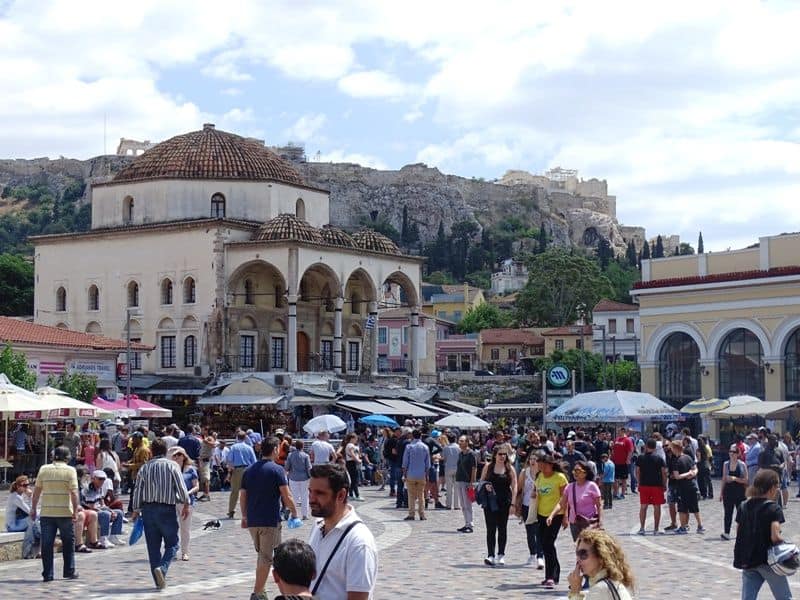 A lively square, a flea market, and a neighbourhood that is so colourful with colours and murals. There are all types of graffiti there – from quirky and funny, to completely unprofessional, to very political ones!
A good way to save money and time on your visit to Athens is to buy the Athens City Pass. I reccommend the Classic or Complete Athens City Pass. For more information: Athens City Pass.
Monastiraki Market
Head to the Monastiraki market after wandering around Monastiraki and checking out its art and graffiti. The market there (which turns into a flea market on Sundays) is one of the most diverse markets you will encounter. You will find all different types of shops offering interesting merchandise from ancient vinyl, handcrafted artefacts, jewellery, trinkets to mass-produced quirky t-shirts and souvenirs.
You'll find rare books, leather goods, traditional products, musical instruments and so much more…
After you're done, you can go to the square and have a coffee at one of the many cafes that dot the streets.
A 9-minute walk to…
Athens Central Market
If you want to get a taste (pun intended!) of what true Athenian life is like, this is where you have to go. You can let go of who you are and live like a true local for an hour or two as you enter the glass-roofed building called the Varvakeios Agora. You will be met with the best representation of the Athenian food scene as the market is divided into two parts – one for meat and one for seafood.
You will be a direct part of the chaos in the markets as you walk around locals rushing to get their hands on the freshest produce and vendors shouting out the prices of their products.
What a better way to discover a country than by exploring its gastronomy? In this tour, you will see Athens in a different light than you have in the past day as you will embark on a journey of discovering the best Greek pastries, wine, cheese and salamis. You'll be going on a guided culinary tour of Athens, have an authentic Greek breakfast at a café that is a century old, purchase your choice of cheese and meat from a market, sample different types of food, try some Athenian coffee, and purchase souvenirs to take home.
Find here more information about this Athens Food Tour.
3 days in Athens: Day Three
Two days is enough to see all of the main attractions in Athens, and now it's time to get out of Athens and discover its neighboring cities.
After you're done with the hustle and bustle of the city of Athens, it's now time for relaxation as you have a full-day tour of the islands of Hydra, Poros and Aegina. The boat itself is huge, fitting up to 600 people with spacious lounges, bars, audiovisual systems, a modern kitchen and a VIP cabin.
When you reach Hydra, you will realise how beautiful it is with its stone mansions, its beautiful alleys, the surrounding crystal clear waters, the picturesque settlements and the scenic pathways. You can also take an optional walking tour.
You will then cruise to Poros, the leafy island, full of green pine forests and scented lemon groves. The island is known for its tranquillity, its peace and its calm that will incite a sense of peace in your heart.
After you're done with Poros, you will be heading to Aegina which is famous for its pistachio grove and beautiful beaches. From there you have the option to take a bus to check out the Temple of Aphea and the Byzantine monastery of Agios Nektarios.
You will also be served a buffet style lunch of Greek and Mediterranean cuisine.
Read here my experience about the 1-day cruise.
Find here more information about the day cruise to three islands.
The half-day tour lasts only about 4 hours and moves from Athens. A minivan will be picking you up for a 50 minute scenic ride along the coastal roads and villages, and then you will arrive at the Temple where the host will explain the history and the mythology and then you'll get an opportunity to relax and enjoy the views over the Aegen sea.
Click here for more information and to book this tour
Check my post if you want to read more about Cape Sounio and the temple of Poseidon.
For more day trips from Athens check here.
Where to stay in Athens, Greece
Here are my picks for the best accommodations in Athens, Greece:
Athens is usually fully booked from April to November so book early for the best hotels and prices.
Budget Hotels in Athens
Here are my suggestions on budget accommodation in Athens (please avoid staying in areas like Metaxourgio, Omonia, Patission, Larissis Train Station and Vathis Square although they are cheaper).
Attalos Hotel offers simple air-conditioned rooms with free wi-fi just 100m away from Monastiraki square.
Evripides Hotel is located near Monastiraki square, close to all the city's attractions. It offers simple air-conditioned rooms with free wi-fi.
Adam's Hotel is centrally located in the Plaka district just 400m from the Acropolis. It offers old fashioned rooms with air-conditioning, TV, free Wi-Fi and a fridge.
Arethusa Hotel is centrally located next to Plaka and 50 m away from Syntagma square with direct connections by the metro to the airport. It offers simple, old fashioned rooms with air-conditioning, TV, free Wi-Fi, and a fridge.
Mid-Range Hotels in Athens
Titania Hotel is centrally located 5 minutes on foot from Syntagma Hotel. It offers renovated air-conditioned room with free wi-fi and great views of the Acropolis from its rooftop terrace.
Best Western Amazon Hotel is centrally located between Syntagma square and Plaka. It offers air-conditioned rooms and free wi-fi.
360 degrees is located in Monastiraki square at the heart of the historic district. It offers modern rooms with all the amenities; air-condition, TV, free wifi and buffet breakfast with vegan options. Other hotel amenities include a rooftop bar-restaurant with breathtaking views of the Acropolis.
Boutique Hotels in Athens
Acropolis Museum Boutique Hotel is located in a restored neoclassical building close to the Acropolis Museum. It offers charming rooms with free Wi-Fi and eco-friendly mattresses.
Fresh Hotel offers stylish rooms with free Wi-Fi access at the heart of Athens. The rooftop bar offers amazing views of the Acropolis.
Herodion Hotel offers elegant rooms next to the Acropolis and the Acropolis museum. Its rooms offer all the modern amenities you would expect from a 4-star hotel. There is also an on-site restaurant and bar that offers panoramic views of the Acropolis.
5 Star Hotels in Athens
Hilton Athens offers luxurious rooms and suites, the biggest swimming in Athens and a great rooftop bar with Acropolis views.
St George Lycabettus Hotel is located in upmarket Kolonaki square and offers spacious rooms with breathtaking views of the Acropolis. It is also a very family-friendly hotel.
Check out my full post on where to stay in Athens.
This is how you can visit Athens and its neighboring cities in just three days, all while being able to see the most important monuments. After those 3 days you will have had an overall well-rounded experience of Athens where you've checked out its ancient ruins, its monuments, its museums, its restaurants, flea markets, food markets, graffiti and quirky neighborhoods!
Do you have anything to add to this 3-day Athens itinerary?
Tip: Never travel to Greece without a travel insurance. Get a free quote today.
Did you like this post? Pin it!
Travel Passionate is a participant in the Amazon Services LLC Associates Program, an affiliate advertising program designed to provide a means for sites to earn advertising fees by advertising and linking to amazon.com, amazon.co.uk, amazon.ca. Amazon and the Amazon logo are trademarks of Amazon.com, Inc. or its affiliates.