Greece is a popular tourist destination worldwide.  One of the most common questions visitor have is "When is the best time to visit Greece?". The answer varies depending on the interests of the visitor and the places he wants to visit.
Best time to go to Greece
Generally speaking the best time to visit Greece is during spring (from April until mid-June) and autumn (September- October).  During those months the weather is mild, and the crowds are less.
July and August are very hot months, and it's very crowded especially in popular destinations like Mykonos, Santorini, Rhodes, etc.  Planes, boats, and hotels are pre-booked, and everything is more expensive during this time. August is also the month that most Greeks take their annual leave. The only exception for this is the Northern part of Greece and the area of Halkidiki, and the islands of Thasos, Samothraki, and  Lemnos where it's preferable to visit from mid-June to mid-September for better weather.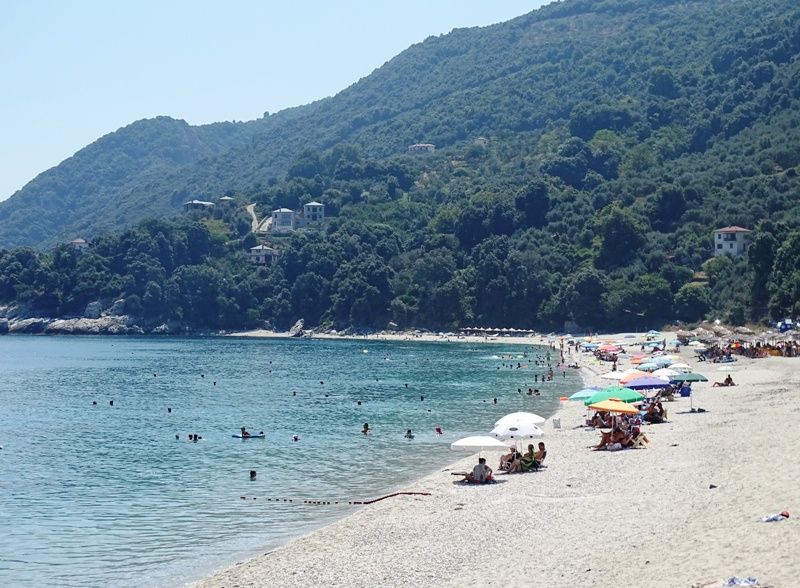 Personally, I would avoid visiting in August at all costs. Especially the period around the 15th of August that is a big religious holiday here in Greece and everyone is on vacation. If July was my only option, I would head to one of the many not so widely known islands but still equally beautiful. Serifos, Sikinos, Syros, Andros, Karpathos, Lemnos, Astypalea to name a few.
On the other hand, Athens is empty during August, but it's very hot, and a lot of restaurants and bars are closed. This doesn't mean that you won't find somewhere to eat but that you will have fewer options, and the most touristy places will be open.
Most hotels and restaurants in the islands are closed from November until April, but still, you will find somewhere to stay and eat, but the options are limited. It's better to head to big islands during that time like Crete, Rhodes, and Corfu. There are a few places that stay open in Santorini as well during winter. If it isn't very windy you will have an amazing time during winter there.
If you are interested infor the sea, the best time to visit Greece is in June and September. As mentioned before July and August are crowded and in May the water can be cold for your taste. (I find the water cold for me in May but I see that a lot of Northern Europeans find it ok)
December to March are usually the most colder months often accompanied with some rain and a little snow. If you don't want to head to the islands and would like to visit cities like Athens, Thessaloniki, Nafplio or head to famous archaeological sites like Delphi, Meteora, Ancient Olympia and more then you should consider visiting Greece this period. Hotels and restaurants in mainland Greece don't close during the winter months, and everything is cheaper and less crowded.
You can also check my post 5 reasons to visit Greece in winter.
If you are interested in activities like hiking in Greece's beautiful paths or bird watching the best time to visit is during Spring and Autumn.
Ferry service and flights are extremely busy during July, August, Christmas and Easter. If you plan to visit during these times, you should always book ahead. From October until March the ferry services and flights are cut back, but you can find a lot of deals during these periods. Last year I visited Santorini from Athens in November and my return flight cost me 20 €. I paid the same price for a return ticket to Chania in Crete in January.
To summarise when to visit Greece:
The best time to visit Greece if you are interested in swimming: May – the first 15 days of October.
The best time to visit popular islands like Mykonos and Santorini: May – June and September – October (you acan visit Santorini in November and April too if you are not interested in swimming in the sea).
The best time to visit off-the beaten path islands is July and August.
The best time to visit Athens is April-May and October- November.
The best time to visit Greece if you are interested in hiking and seeing the nature is April – June and September – October.
The best time to visit Greece if you want to save money is during the winter November- March and shoulder season late May – beginning of June and from late September to the middle of October.
November- March the weather is colder with many sunny days, perfect for mainland Greece, archaeological sites, big towns – cheaper prices.
Due to its mild climate, Greece is an all year round destination. Depending on your budget and activities you can choose the appropriate time to visit.
Pin this to your Pinterest Travel Board for later >>>>>>>>>>>>>>>>>>>>>>>>>>>>>>>>>>
If you have any questions, about when to go to Greece leave a comment below.
What is your favourite time to visit Greece?