Sun-drenched, glitzy, glamorous, and emblematic, Mykonos still stands proudly, boasting the ultimate components for making it the optimum holiday place. It's the perfect blend of sun, sea, and parties, a combination of sight-seeing, swimming, dancing the night away or simply wasting your days by the beach – Mykonos is perfect for all ages and preferences.
Think luxurious resorts, natural beauty, picturesque sandy beaches, thatched windmills, and a little port town, all in one place…Mykonos is renowned for its quintessential white sand, its pristine beaches, its rolling hills and its ever so vibrant Mediterranean charm.
The little town of Mykonos is the epitome of beauty, a place that will, without a doubt, make you think that you've fallen into a postcard with its dreamy vibe and white-washed houses…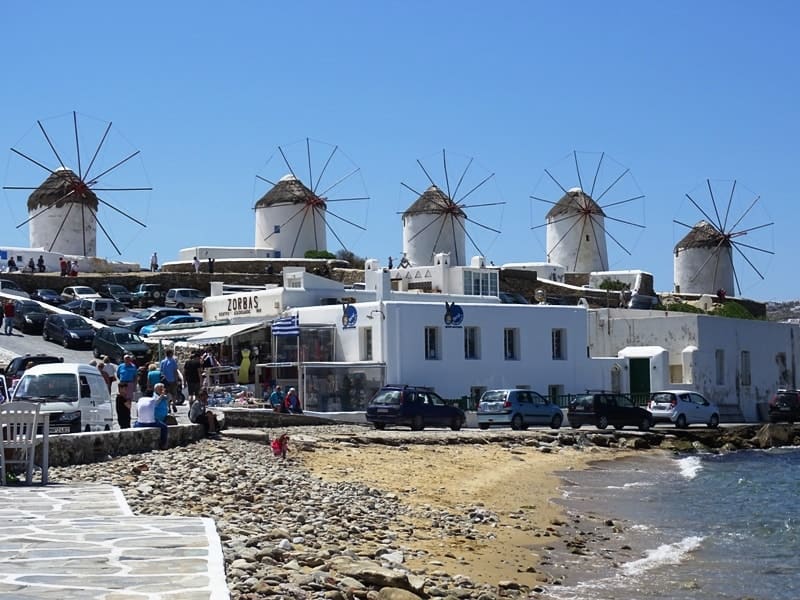 Where to stay in Mykonos island
Even though Mykonos is not huge, it has two contrasting areas you can stay at and it all depends on your personal preference in the end. The thing about Mykonos is, the town with the bustling restaurant's, cafes, night-life and most of the shopping is inside while most of the beaches border it, thus making the "city center" a little bit far away.
With over 1 million visitors per year, Mykonos welcomes an array of all types of tourists who all choose different types of accommodation, and before you go ahead and book your hotel, make sure you know exactly what you want to experience!
So you have two options.
Option 1: You can revel in the beach areas of Mykonos, most of them have an array of restaurants and bars nearby (keeping in mind that you will need either a car or a bus to go to town).
Option 2: Or stay where most of the action happens, right in the middle of the hustle and bustle of Mykonos, shoulder to shoulder with people of all nationalities, with the echo of all diverse language chattering all over each other, and the vibrancy of the city is emanating all over. By staying in those parts of the city, you can be close to both – the restaurants, bars and cafes and the beach!
You might also be interested in: What to do in Mykonos.
Best place to stay in Mykonos – Stay in a beach resort
So let's say, you don't want any of that constant action that goes into the lively part of town, and you just want a holiday by the beach. If you don't care about your hotel's proximity of the town and would rather just come out and be directly on the beach, then these places are for you!
You might also like: The best beaches in Mykonos.
#1 Places to stay in Mykonos – Psarou beach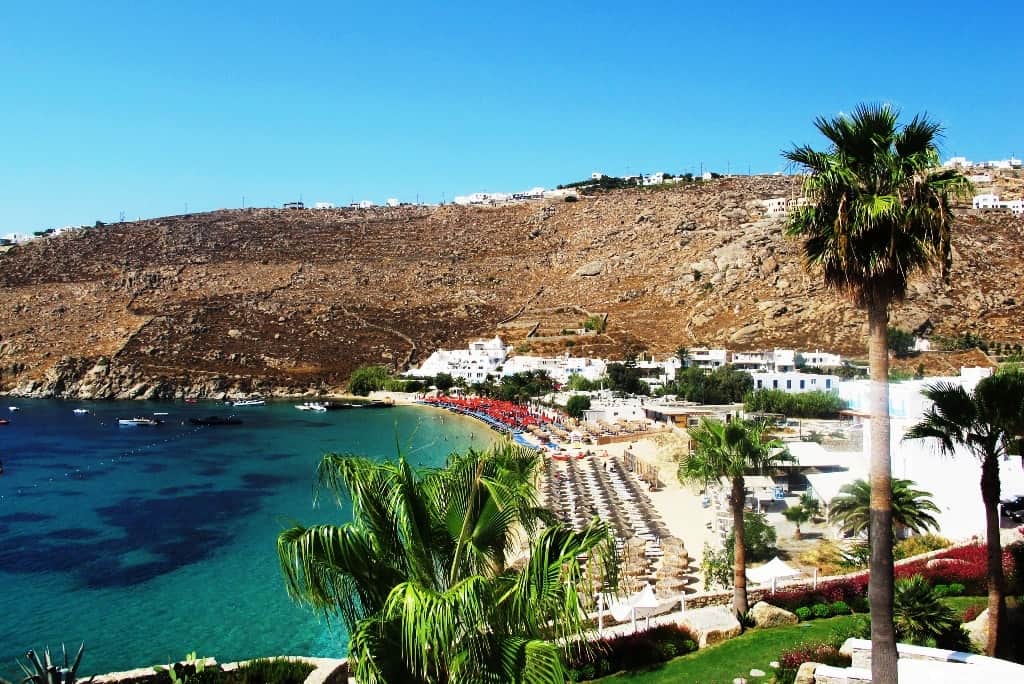 Psarou can easily be considered the most cosmopolitan beach on the island, and one of the liveliest in all of Mykonos. It has organized sandy beaches, perfect clear waters with just the right temperature, incredible water facilities, and a row filled with restaurants, beach clubs and much more.
Psarou also houses the most famous restaurant and beach club in all of Mykonos called N'Ammos where celebrity sightings are completely normal, and a sunbed costing 120 euros is not a big deal. It's the ideal area to stay in for solo travelers or couples.
Hotels near Psarou beach:
Grecotel Mykonos Blu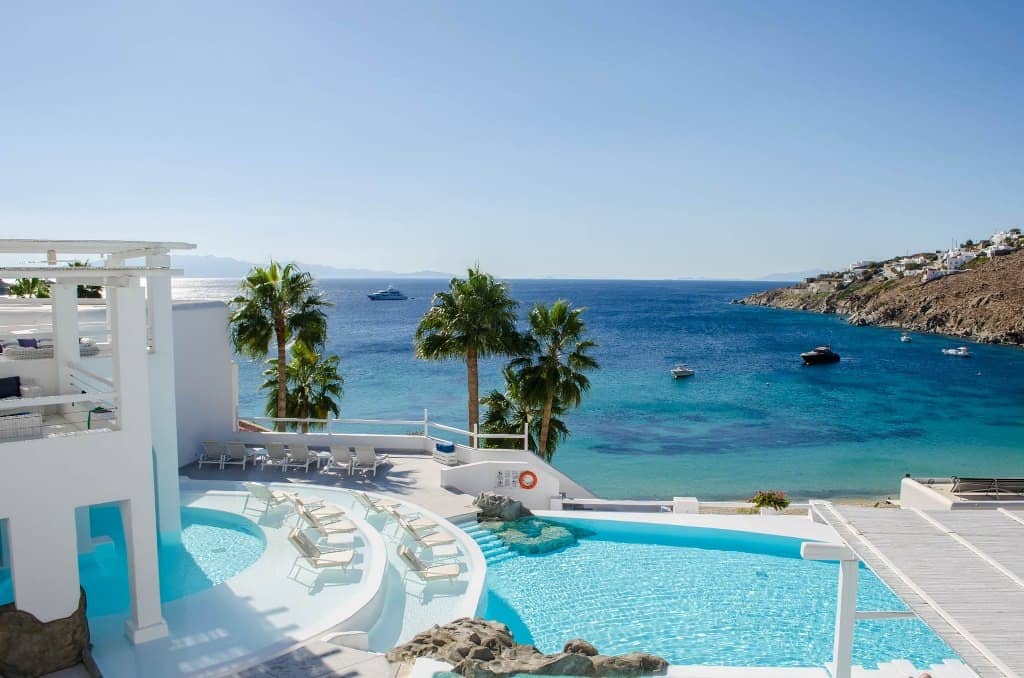 This property offers sweeping panoramic vistas over the Mediterranean and is only a 5-minute walk away from the beach. You'll be spending your time in their infinity pool, or their spa, or simply lounging on a beach chair sipping on a cocktail (with the umbrella on it and everything!). You can choose from bungalows and villas overlooking the sea, indoor or outdoor bathtub, private pools an much more.
Click here for the latest prices and to book your stay.
Colours of Mykonos Luxury
This property is a little further away but o much worth it – it's a place boasting tranquility and style, an outdoor pool, Jacuzzis, and of course – amazing views. Encompassed by a garden from the outside, you can even go outside and have a barbecue.
Click here for the latest prices and to book your stay.
#2 Places to stay in Mykonos – Agios Ioannis beach
Over and over again, this has been called the most beautiful beach on the island with pristine blue waters that shimmer under the sunlight, amazing views over the island of Delos and stretches of white sand.
The beach is dotted with beach bars, sun-beds and umbrellas. Interestingly enough, the sea is divided by one rock in the middle thus creating two sides to the beach. One is livelier than the other, and is actually shallow enough for the children to play in.
The sandy beaches, the bamboo fields, and the beautiful beach in general is the perfect area to stay in for families! You can go to Mykonos Town every hour by a regular bus from there.
Hotels near Agios Ioannis beach:
Saint John Hotel Villas and Spa
5 acres of pure beauty, this hotel is where you get to experience world-class service. The rooms come with spa bathtubs, fine dining and a few famous bars along with its own private beach. For the rooms, you can choose either sea views or garden views depending on your preference.Inside the hotel, there are 3 gourmet restaurants that will offer an unparalleled gastronomic experience, along with 2 bars as well so you can seamlessly go from romantic dinner to fun night! The Spa and Beauty center has five different rooms, including hammamas, indoor heated pools and saunas. Mykonos Town is only 4 km away from the hotel, so you can have the best of both worlds!
Click here for the latest prices and to book your stay.
Anax Resort
Only one minute away from the beach, this hotel offers everything needed for a comfortable trip. An outdoor pool and hot tub, incredible meals and views of the sea are all part of what the hotel offers, promising a superb, comfortable trip.
Click here for the latest prices and to book your stay.
#3 Places to stay in Mykonos – Elia Beach
This is the island's longest beach, stretching along 10 km from Mykonos town up until the sandy beaches and the beautiful water. The award-winning (literally!) beach hosts VIPs, celebrities, influencers along with a lot of honeymooners. It is the ideal place for honeymooners or those looking to live a fancy live for a day and people-watch. You'll find the picturesque seaside contrasted with the crystal clear waters, and a range of watersports are offered at the beach. There are all types of activities from waterskiing, windsurfing and parasailing to simply lying on the bench and sleeping in the sun.
Hotels near Elia Beach:
Royal Mykonian
Experience five-star luxury only 6 kms away from Mykonos City. This resort also includes a playground and a sun terrace, thus making it optimally fitted for both, kids and adults.
Click here for the latest prices and to book your stay.
Mykonian Imperial Resort and Village
An outdoor pool, breath-taking views of the sea, a hot tub and a private beach area – what more can a person want on their vacation?
Click here for the latest prices and to book your stay.
Avaton Resort and Spa
Three minutes away from the beach, this hotel has an outdoor pool and fitness center, a free shuttle service, a hairdresser and a gift shop. It's the perfect simple relaxation spot after a long day at work.
Click here for the latest prices and to book your stay.
#4 Places to stay in Mykonos – Ornos Beach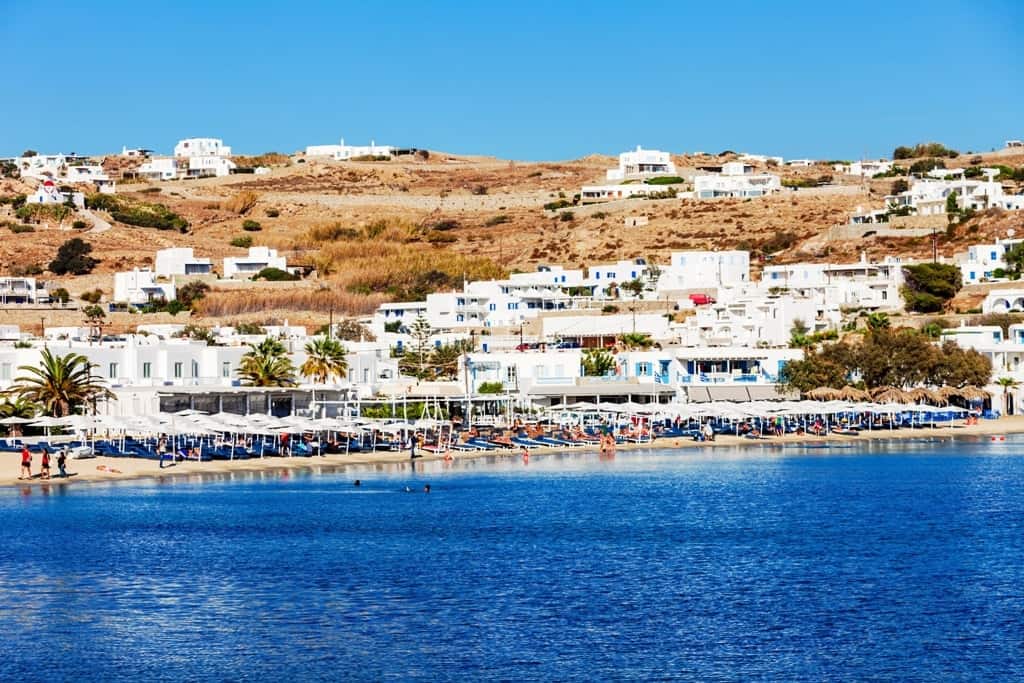 If you want that authentic taste of Greek fishing life, then Ornos is the closest you cn get to that. It's right in front of a small fishing village and it's an overall beautiful area to be at.
The beach boasts so many things to do from sea-skiing, windsurfingand much more and you can also spend your day walking around flea markets, adorable cafes, and ending your day in the turquoise water.
Don't forget to try out Apaggio Restaurant, Apomero Ornos, and Kostatis.
Ideal for: Families.
Hotels near Ornos Beach:
Santa Maria
Recently completely renovated, this hotel offers panoramic sea views, beautiful private villas, private pools and terraces! At the beach in Santa Maria, you'll get to have a completely secluded vacation. Two beautiful pools – one for socializing and relaxation and the next one for majestic panoramic views. There is also a shop where you can shop for the latest souvenirs, shawls, makeup and more.
The hotel also features a playground, catering directly to families, which makes it an incredible place for kids.
Click here for the latest prices and to book your stay.
Yiannaki
Yiannaki is drenched with colours of blue and white, reflecting the authentic architecture of Mykonos. It's only 200 metres away from the beach, and not that far away from the town, so you can spend your day the beach and then go back to your peaceful abode at night after a long night of partying. There's a restaurant that overlooks the pool and incredible food offered.
Click here for the latest prices and to book your stay.
Kivotos
This hotel is a 5 minute drive from Mykonos town, and features two swimming pools, extensive spas, and a gym. You'll find different room designs, and some even overlooking the bay.
Click here for the latest prices and to book your stay.
#5 Places to stay in Mykonos – Platys Gialos Beach
This is one of the most popular beaches on the island, filled with lively people moving the place with their energy, golden sands, turquoise watersand many hotels. A lot of the hotels in Platys Gialos allow the visitors to go straight from the room to the beach, prioritizing your beach time above anything else.
It's also one of the biggest beaches, and it's known for its outstanding climate, its peaceful weather, and its easy access. There is a bus service that takes you to Mykonos Town every half an hour.
Hotels near Platys Gialos Beach:
Thalassa
Right on the edge of the beach, Thalassa stands proudly guaranteeing flawless views and generous hospitability. It is the brush of the summer breeze on the modern designs that makes this place beautiful, with perfect restaurants, pools, a Jacuzzi, and much more.
Click here for the latest prices and to book your stay.
Petinos Beach Hotel
24 spacious guest rooms all serve the same purpose – provide you with luxury interiors, appealing styles and a lot of character. It's only 1 minute away from the beach and serves breakfast, snacks and even candlelight romantic dinners if requested.
Click here for the latest prices and to book your stay.
Nissaki Boutique Hotel
A 2 minute walk from the beach, you can revel in the most beautiful views in Mykonos from any hotel. You'll be able to see open views of the blue Aegean Sea, swim in the outdoor swimming pool, unwind at an exterior hot tub, or enjoy a cup of coffee or a drink in the bar lounge!
Click here for the latest prices and to book your stay.
Best place to stay in Mykonos – Stay in Mykonos Town
If you would rather be amidst all the action going on, all the late night partying, the noise, the whizzing and buzzing of the thousands of people, the sleepless part of town, then option two is for you!
#6 Places to stay in Mykonos – Mykonos Town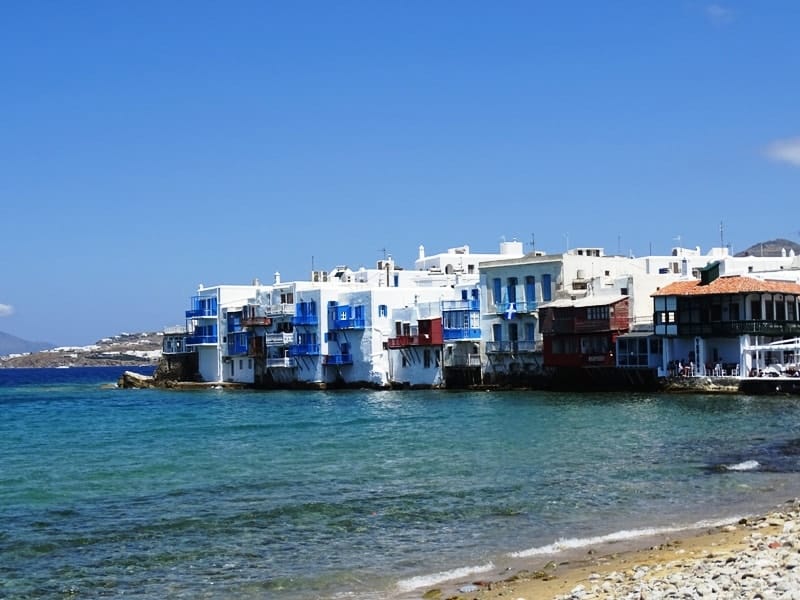 A labyrinth of narrow pebble-paved alleys, white-washed houses, attractive scenery and picturesque surroundings, Mykonos Town is the liveliest place in all of Mykonos. Cyclades architecture dominates the place with hints of blue and white blending together to create the quintessential Mykonos look, hundreds of people walking around, an immense feeling of energy around you and incredible places to shop – Mykonos Town is the place to be!
You can walk around the streets of Chora to window-shop, from designer labels, to jewelry shops to leather goods, and you can take a stroll along the picturesque harbor or visit the famous windmills.
Don't forget to check out some of the top restaurants in Mykonos if you're in Mykonos Town including D'Angelo Mykonos, Captain's, Fato a Mano, or Avra Restaurant Garden! They all offer incredible food, great service, and most of all, very picturesque places to hang out in.
Hotels in Mykonos Town:
Tharroe of Mykonos Boutique Hotels
Mykonian architecture dominate this place, offering a luxurious atmosphere with the Aegean Sea as the backdrop blending art, nature and luxury together. Perched on top of a hill, this hotel offers great sunset views, and wonderful scenery.
The hotel is 17 minutes away from the beach, and there's an outdoor pool, and a hot tub!
Click here for the latest prices and to book your stay.
Belvedere
A chic hotel with a great swimming pool, Belvedere is an effortless hotel that offers unique rooms, each with different design elements and rain showers in the bathroom! There is a gym, spa and massage treatments, and steam rooms!
Click here for the latest prices and to book your stay.
#7 Places to stay in Mykonos -Tagoo
This is where you stay for an unforgettable holiday, one that mixes the craziness of Mykonos Town and the peace and tranquility of the beach area! There are a lot of excellent accommodation options, and you can spend your day relaxing by its quiet beach and then going out at night, thus moving completely at your own pace, unpressured by the sound of "wooo"-ing people at 7 pm and thinking you're missing out on something!
You can watch the most incredible sunsets, and you can still take advantage of the hustle and bustle of Mykonos Town!
Hotels in Tagoo:
Kouros Hotel & Suites
Perfectly located 10 minutes on foot from Mykonos Town this luxurious hotel offers spacious rooms with private terraces overlooking the sea and the town. Hotel amenities include a swimming pool, amazing breakfast, free Wi-Fi, free airport shuttle and parking.
Click here for the latest prices and to book your stay.
Cavo Tagoo
Only 10 minutes away from the beach, this is, without a doubt, the most perfectly located out of all the hotels. It's directly in the center of Mykonos Town and the beach, thus making it an award-winning pool (and not just because of it's wonderful infinity pool!)
There's a 130-foot aquarium bar inside, a fully-equipped spa, and every room Is complimented with lush sea views.
Click here for the latest prices and to book your stay.
Selected Tours in Mykonos
How to get to Mykonos
By air: There are many flights from Athens and Thessaloniki to Mykonos. The flight trip from Athens to Mykonos is about 30 minutes. During the summer months, many airlines have direct flights to Mykonos from many European cities.
By boat: You can take the boat to Mykonos from Athens's two major ports Piraeus and Rafina. There are daily ferries going to the island and the trip lasts about 3 hours if you take the high-speed ferry and 5 hours if you take regular one. Mykonos is also connected by ferry to other Cycladic islands like Tinos, Andros, Paros, Naxos, Syros and Santorini to name a few. During the tourist season, you might find connections to other islands.
Click here for the ferry schedule and to book your ferry tickets.
So deciding where to stay in Mykonos completely depends on you, who you're going with, your preferences, how do you perceive your vacation and much more. For the unstoppable force of people, music, crowds, and chaos then definitely choose Mykonos Town or one of the trendy beach resorts,. For a beach vacation that will disconnect you from life for a few days, then choose one of the many beach resorts.
Disclaimer: This post contains an affiliate link. This means that should you click on certain links, and then subsequently purchase a product, I will receive a small commission. It costs nothing extra to you but helps keep my site running. Thank you for supporting me in this way.