Naples is the third most populous Italian city and it's, therefore, an unmissable stop for any traveler wishing to discover the Southern Regions.
Large, chaotic, teeming with life, and full of art: Naples has so many facets and contradictions that any visit could be a completely different experience.
If you plan to stay in town for only two days, it's best to carefully choose your itinerary in order to be able to grab Naples' true essence.
Disclaimer: This post contains affiliate links. This means that should you click on certain links, and then subsequently purchase a product, I will receive a small commission.
Two days in Naples: where to stay?
If you like glamorous, trendy, refined, and quiet neighborhoods, the Chiaia district is for you. It's one of the coolest neighborhoods in town, slightly off the most touristy areas, yet close to some points of interest like Piazza del Plebiscito.

Hotel Exe Majestic: great location within walking distance from some of the main attractions. Click here for more information.
If you only have two days, it's definitely best to stay in the city center, and the Old Town is an excellent choice to be able to walk and avoid wasting time on public transport.

Hotel Piazza Bellini: perfect for immersing yourself in local nightlife but quiet enough to offer a pleasant and elegant stay in an ancient noble mansion. Click here for more information.
Two days in Naples: a perfect itinerary
Two days are not enough to fully explore and visit all the historic and artistic treasures of Naples, but you can plan an itinerary touching the main points of interest and letting you wander around the most picturesque corners of the city center.
Naples in 2 Days: Day One
Cathedral
Santa Maria Assunta Cathedral is a rare mix of architectural styles making it one of a kind. Inside, there are several beautiful sculptures and paintings, but one of the reasons you should visit it consists in its deep spiritual value for locals.
That's the place where the ampoule containing the blood of S. Gennaro is kept and it's also where locals wait for the miracle occurring three times a year during the three feasts of their patron Saint. S. Gennaro's blood usually becomes liquid again on these occasions, and nobody has ever managed to scientifically explain this phenomenon.
Spaccanapoli
The beating heart of Naples is crossed by a long street whose name literally means "break Naples". Actually, it's not one single street, but a series of streets, one after another, and none of them bears that name which is purely symbolic.
The most picturesque section of Spaccanapoli goes from via Duomo and touches via San Biagio dei Librai, San Domenico Maggiore Square, via Benedetto Croce and Gesù Nuovo Square.
San Gregorio Armeno Street
Make a detour to visit the so-called "Street of the Nativity Scene". It takes its name from the many craftsmen's shops making and selling the figurines of the traditional local nativity scene all year long.
San Severo Chapel
One of the most mystic and mysterious places in town housing the amazing "Veiled Christ" whose shroud really looks like a thin layer of fabric even if it is made of marble.
Please note that photography inside the chapel is not allowed.
Tip: Book your tickets in advance to avoid waiting times.
Santa Chiara Monastery
A monastic complex which is particularly famous for its majolica cloister. It's a courtyard entirely covered in richly decorated majolica tiles.
Church of Gesù Nuovo
Its ashlar-work façade clearly shows its origins: it was a former noble mansion lately turned into a church at the end of the XVI century. Inside, its colorful marbles make it worth a visit.
Toledo Street
One of locals' favorite streets for shopping, walking and having a drink.
Plebiscito Square
At the end of Toledo Street, you'll find yourself in a huge square of 25.000 square meters: Plebiscito Square, one of the symbols of Naples and the place where the main local events take place.
Encircled by neoclassical arcades, it is also lined by some important buildings like Salerno Palace, the Royal Palace and the iconic Basilica of San Francesco da Paola.
Royal Palace
It was built in the XVII century to receive the Spanish Kings, but it was later used as a temporary residence by all the other Kings ruling this area, Savoia family included after the unification of Italy.
Inside, you can visit the Historical Apartment, the Court Theater, the Throne Hall and the Royal Chapel. One of the highlights of the visit is the Roof Garden overlooking the Gulf of Naples.
Recommended: 2,5 hour downtown Tour of Naples that includes an entry to the Veiled Christ.
Naples in 2 Days: Day Two
Below the surface, another city tells visitors more about local history: from Naples' ancient origins, to its first aqueduct, to the bombings during WWII. You can only access the underground tunnels by joining a guided tour. This visit might not be suitable for people suffering from claustrophobia.
Recommended: Naples Underground Entry Ticket and Guided Tour.
Castel dell'Ovo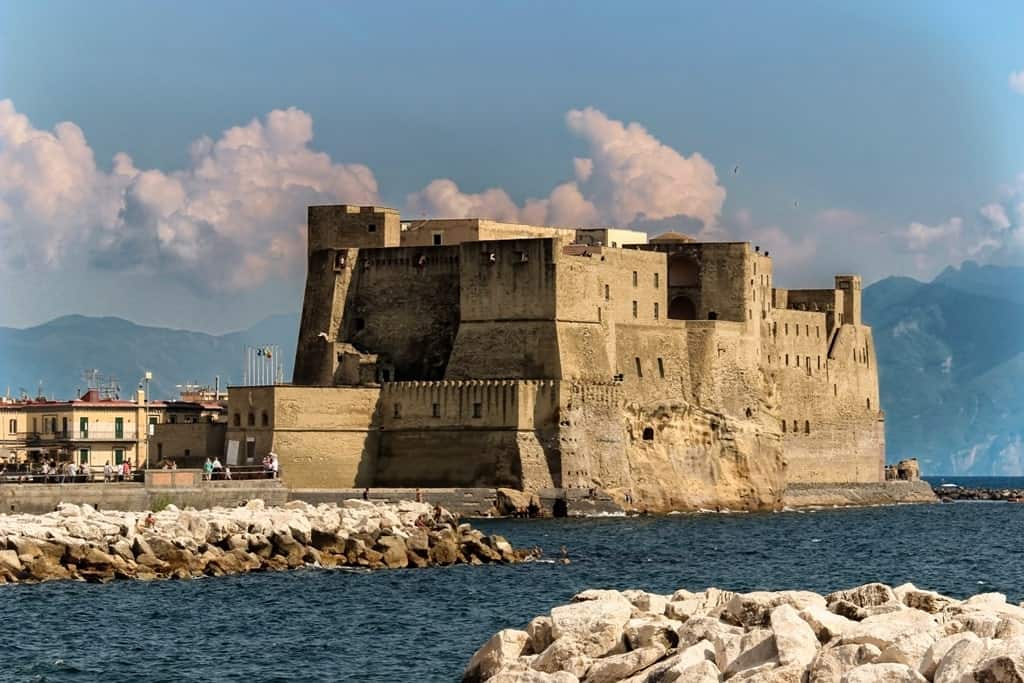 After a pleasant walk along the seafront, you'll reach this castle offering some amazing views of Mount Vesuvius, Capri and Ischia. It's weird name (Egg Castle), comes from a legend according to which the poet Virgil hid a magic egg in the dungeons. If ever someone finds it and breaks it, a terrible tragedy will happen in town.
You cannot leave Naples without swing by this worldwide famous archeological park. If you only have a couple of hours, join a guided tour: a skip-the-line ticket and an expert guide will allow you to see all the main points of interest while teaching you something about this ancient Roman town that was destroyed by the eruption of Vesuvius in 79 AD.
Recommended: Pompeii: Small-Group Tour with an Archeologist.
You can easily reach Pompei by train from Naples, and the journey only takes 30 minutes.
If you want to learn more about Pompeii and the history of Naples you can also visit the Archaeological Museum Of Naples.
Check out: How to get from Naples to Pompeii.
Where to Eat in Naples
Thinking about Naples and food, there's usually one thing that comes to everybody's mind: pizza. Even though this popular Italian dish was created here at the end of the XIX century, there are many other gastronomic specialties you cannot miss!
Local cuisine is made of simple ingredients and it's not very elaborate nor gourmet, but it's more about comfort food and home cooking instead.
To taste some fresh fish: Trattoria de Golfo: Large portions and excellent value for money.
To try regional cuisine: A Taverna d'O Re: Only local products like cherry tomatoes and buffalo mozzarella.
To taste local fried specialties: Locanda Ntrella: Located at the heart of the vibrant and picturesque district called Spanish Quarter, it also offers fish dishes and pizzas.
For the best pizza in town: Gino e Totò Sorbillo: High-quality and organic ingredients have made this brand famous throughout Italy.
Practical Information for Your 2 Day Naples Itinerary
When is the Best Time to Visit Naples?
Spring and Autumn are the best seasons for sightseeing, thanks to sunny and warm weather. In March and October, there are also fewer tourists around and the city is a bit quieter than usual.
Winter is another good option because the weather is always mild and sunny. Summer is not the best time of year to visit Naples because it gets really hot, but it could be an option in case you're planning a beach holiday somewhere in Campania.
You might also like the following:

How to spend 3 days in Naples

Best day trips from Naples
How to Get from the Airport to Naples Center
Alibus is a special bus line connecting Capodichino Airport to the city center. You can either get off at the railway station or at the harbor, which is very well connected to every other neighborhood.
The journey takes about 20 minutes and a one-way ticket costs 5 euros (6 euros if you buy your ticket on board).
Taxis are just in front of the Arrival Terminal and a ride to the city center usually costs about 18 euro.
How to Get Around Naples
If you only have a weekend, it's best to choose accommodation in the city center and walk. Traffic is terrible in Naples, and renting a car is not recommended, as well as using surface transport.
Try to avoid rush hours when public transport is packed with workers and students. The best way of getting around Naples is taking the metro. You can get some discounts buying a ArteCard or a Unicocampania ticket.