Bali is breathtaking. From striking sunsets to gushing waterfalls and Instagrammable cafes, Bali really has it all. This 7-day Bali itinerary will cover must-see attractions as well as underrated activities, including some exciting things to do in Munduk, one of my favorite hidden gems of Bali.
Follow this 7-day Bali itinerary during your next trip to paradise.
A Detailed 7-Day Bali Itinerary
Day 1: Uluwatu and Nusa Dua
Water Blow
Water Blow is located only 20 minutes from Denpasar Airport, making it a great place to begin your holiday. Head to the south of Bali to witness surges of bright blue water against limestone rocks. This attraction is free, but just make sure you visit when there is a high tide.
Uluwatu Temple
One of the things that make Uluwatu Temple so special is that it is considered one of the 6 holiest places on the island. The temple is stationed over a cliff overlooking amazing views.
Travel 40 minutes from Water Blow to get there. Entry will cost 30,000 IDR per adult. Be sure to keep any loose items hidden including hats, sunglasses, and water bottles. The monkeys are very cunning and will steal your belongings!
Suluban Beach
Suluban Beach is like no other. You'll walk down winding stairs with restaurants and bars dotted along the way. At the bottom, you'll reach a cave where the beach is located. Grab lunch at one of the restaurants, then afterward, head down to the beach. You could easily spend an afternoon here.
Tegal Wangi Beach
Tegal Wangi Beach is my favorite place in Bali to see the sunset. It's less busy than Tanah Lot, which will be mentioned later on in this article. It'll take around 10 minutes to climb down the rocks to the beach. Find a rock to sit on as you watch the sun setting.
Canggu is a great place to stay for backpackers, young couples, digital nomads, and surfers. For more mid-range to luxury price ranges, or for families and groups renting a villa with a private pool in Bali, Seminyak is the place to be.
Day 2: Kuta and Canggu
Kuta Art Market
Kuta Art Market is a great place to start the day and shop for souvenirs. If you get there early, you may be able to score yourself some great deals. It is believed by the Balinese that the first sale of the day will bring good fortune and luck!
Canggu Beach
After spending some time in Kuta, head to Canggu, just 10 minutes down the road. Head straight to Batu Bolong Beach for a swim, surfing lesson, drink at the beachfront bar, or simply to relax on the beach with a good book in hand.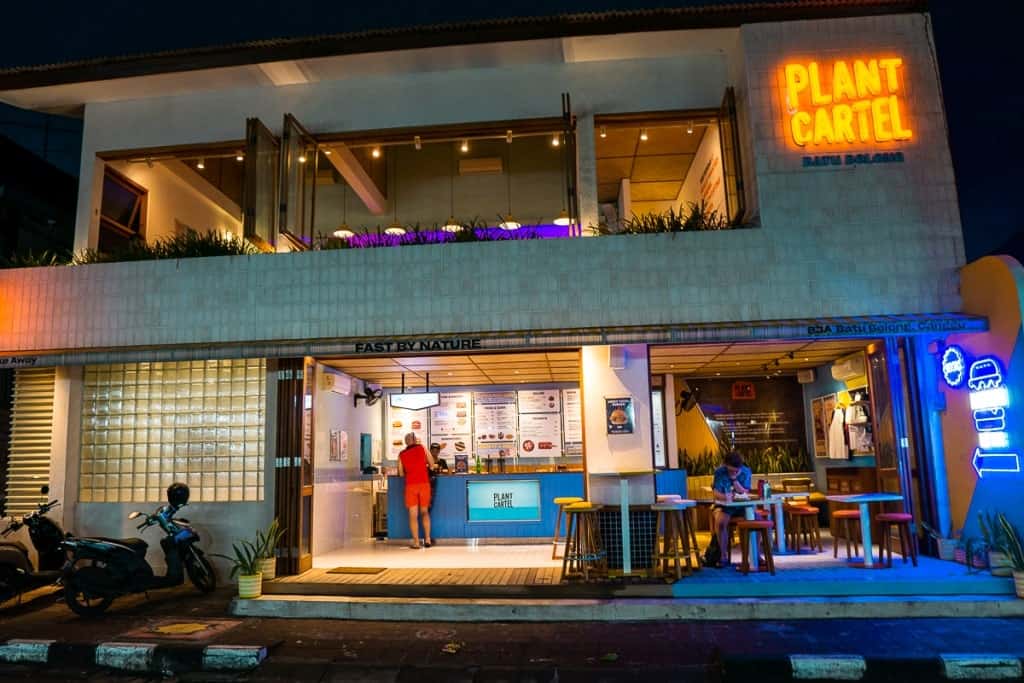 There are plenty of things to do in Canggu, including the infamous Finn's Beach Club, visiting the rice terraces, and yoga. Grab lunch at the many great eateries. Plant Cartel has the best vegan burgers.
Tanah Lot
Visiting Tanah Lot at sunset is possibly the most popular thing to do in Canggu. It is a well-known structure in the photography world.
The temple is one of the sacred sea temples in Bali. It is believed that each temple can be seen from the next, forming a chain around the island. Tanah Lot is situated atop a small island. During high tide, the temple cannot be accessed.
The entry will cost 60,000 IDR per person. If you do end up visiting during high tide, you will not be able to access the temple, but the view of the temple as the sun is setting is definitely still worth the visit.
Head back to Canggu or Seminyak afterward for food and drinks.
Day 3: Ubud
Tegallalang Rice Terraces
Tegallalang is one of the must-see places in Bali. The terraces are located just over an hour from Canggu or Seminyak. The rice terraces offer such a lush green backdrop to your Instagram photos. Have breakfast and a coffee here to kickstart your day.
To beat the crowds, head there at 8 am when they open. You can enter for 15,000 IDR, or ride the Bali Swing for 500,000 IDR. 8 am is definitely the best time to get there if you don't want to wait in a line for the swing.
Tirta Empul
Tirta Empul is also regarded as one of the holiest temples in Bali. This water temple complex is a place for purification. You'll see many Hindu locals bathing in the water. Tirta Empul is located just 15 minutes from Tegallalang and will cost 7,500 IDR per person.
Ubud Monkey Forest
Head to Ubud to stay for the night. Check out their monkey sanctuary located within the town. Rest assured, these monkeys aren't as cunning as the monkeys you will have seen at Uluwatu temple. In fact, a lot of them are quite friendly and curious. Once again, keep any loose items secure.
Entrance fees are 80,000 IDR per adult.
Day 4: Ubud and Nusa Penida
Tegenungan Waterfall
Start the day at Tegenungan Waterfall, just 30 minutes south of Ubud. This is a great waterfall for a dip and the walk to the waterfall isn't too far.
Entry will cost 15,000 IDR per person.
Nusa Penida – West Side
Tegenungan Waterfall is roughly half-way to the port to Nusa Penida. Grab some lunch in Sanur before heading to the port. Don't bother buying your tickets online – you'll pay a premium. Instead, just head straight to the port where there are 10+ ferry company ticket offices. Just take your pick. Your ticket should be 300,000 IDR return.
Most visitors take a day trip to Nusa Penida, but I would highly recommend heading in midday or early afternoon and staying the night. The island is packed during the day, but if you stay the night, you'll get to experience the island during sunset and sunrise, when there are barely any other travelers. It will also give you time to see both sides of the island which definitely isn't possible on a day trip.
The sun sets from the western side of the island, so see the main sights on your first day. Kelingking Beach, Angel's Billabong, Broken Beach, and Crystal Bay are the usual stops.
Day 5: Nusa Penida to Ubud
Nusa Penida – East Side
Wake up bright and early to catch the sunrise on the east side of the island. Then, continue on to visit the other scenic sites on the east side of the island. Atuh Beach, Rumah Pohon Treehouse, Thousand Island Viewpoint, and Diamond Bay are the usual stops.
After taking the ferry back to Sanur, head back to Ubud.
Campuhan Ridge Walk
The Campuhan Ridge Walk is perfect for the late afternoon. This is when the sun isn't as harsh, which is perfect for a walk with next to no shaded areas. The Campuhan Ridge Walk will take around two hours to complete.
Alternatively, do this walk at sunrise.
Day 6: Munduk and Bedugul
Ulun Danu Beratan Temple
Munduk and Bedugul are truly underrated areas of Bali. Take a day trip to visit some of the coolest attractions in Bali.
Ulun Danu Beratan Temple is a water temple that appears to be floating on a river, backdropped by the Bedugul mountains. The grounds of the temple are beautiful, featuring green pastures and red flowers.
The entry will cost 50,000 IDR. The drive from Ubud will take an hour and a half.
Wanagiri Hidden Hills
Head from Bedugul to Munduk, the neighboring town only 20 minutes away. Wanagiri Hidden Hills is an Instagrammer's paradise. Here, you'll find the Bali swings to pose on, giant bird nests big enough to sit in and other props.
Tickets cost 100,000 IDR. If you're not keen on Instagram, it may be best to skip this one and head to Jatiluwih Rice Terraces on your way back to Ubud instead.
Banyumala Twin Waterfalls
Banyumala Twin Waterfalls are another hidden gem in Bali. While Tukad Cepung Waterfall is unique, it is overrated and whereas Kanto Lampo Waterfall is beautiful, the crowds ruin the atmosphere.
These are my favorite waterfalls on the island. With Banyumala, you may even get the whole falls to yourself. The water is clear and refreshing. Entrance fees are 20,000 IDR.
Head back to Ubud after your full-day trip.
Day 7: Last Day in Bali
Yoga Lesson
Your last day in Bali is reserved for some well-deserved rest and relaxation, after exploring the island. Ubud is the best place for this. Start your day with a yoga lesson. This is definitely one of the most popular things to do in Ubud.
Yoga studios are everywhere, and if you've never done yoga before, you're not to worry! There are many great beginners classes, as well as Vinyasa, Yin, Hatha and restorative yoga, to name a few.
Massage
When in Bali, treat yourself to a massage. Bali is full of resorts and day spas, just take your pick. If you're a budget-conscious traveler, there are still affordable massage parlors around. The standard pricing for a one-hour full-body massage is around 180k, so look around for prices as low as 100,000 IDR.
Ubud Town
Spend the afternoon exploring Ubud Town. It's definitely one of my favorite places in Bali to be, in fact, I spent it was the place I settled for the longest during my one-month Bali holiday.
Allow for an hour or two browsings the Ubud Art Market. This is a great place to buy souvenirs for friends and family back home, as well as clothing and accessories.
Spend your last evening at the Ubud Royal Palace. At 7:30 pm, they host a traditional Balinese dance performance which will cost 100,000 IDR per person.
Bio: Delilah Hart is a Kiwi who loves to travel. Her travel blog aims to help people travel the world better.