There's no denying it: Greece is one sexy place.
Sun-kissed and exotic, beach-lined and steeped in culture; historical, proud, diverse and full of passion and fine food…it has a magnetism that's hard to resist.
The cradle of Western Civilisation, Greece is home to some of the greatest attractions in Europe, and people flock to see them every year.
But while the majority of travelers head straight to its picture-perfect islands and white sand beaches (perhaps after the obligatory few days in Athens), the Northern part of the country is often overlooked.
Northern Greece is as diverse and spectacular as the rest of the country and simply should not to be missed! So, to convince anyone without this magical place already on their agenda to go, here are seven of the top things to do there!
Things to do in Northern Greece
1.Walk around the beautiful coastal town of Parga
Situated on the North Western Coast of Greece is the charming, picturesque town of Parga.
Honestly, this place was made for postcards- it is absolutely beautiful and is truly picture perfect. Colorful houses rise up the hillside, overlooking the stunning white sand beaches and harbor front.
Walk down the cobbled streets of the old town; meander idly around the cafes, shops, and bars that cater for the mass of tourists that visit here each year.
Make sure you walk around the ruins of the ancient Parga Castle on the hillside too and look out from on high at the marvelous township below.
2. Visit the mighty Vikos Gorge
The incredible Vikos Gorge is in the Pindus Mountains of Northern Greece, set deep within the Vikos–Aoös National Park. It is 20km long and in places 490 meters deep and 400 meters wide.
The gorge is staggering to behold, breathtaking to experience and utterly mind-blowing to explore. If you're heading to Greece, visit the Gorge!
The tiny village of Vikos is a great starting point for exploring this magical place. There are heaps of hiking opportunities all around, viewing points aplenty and lots of gorgeous little mountain top villages for accommodation.
3. Get out on Lake Pamvotida in historical Ioannina
Next up is the buzzing city of Ioannina (Yannena), situated on the banks of the beautiful Lake Pamvotida. The atmosphere is vibrant and lively, and there's a lot to do here, so consider spending a good few days sampling all that Ioannina has to offer.
Explore the castle town (the oldest Byzantine fortress in Greece), which is inhabited to this day, to learn all about the remarkable history of the city.
And make the most of the Lake too! It is possible to simply walk around it, but I recommend taking a boat out to the island at its center as well. This cool little island is home to multiple ancient temples, which you can go inside to see remarkable religious paintings that adorn the walls.
4. Explore the magical monasteries of Meteora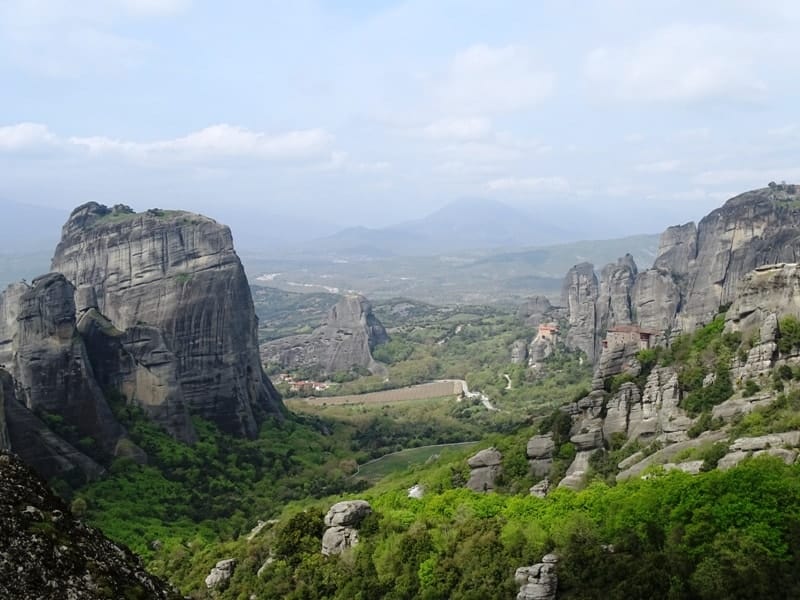 Meteora is a unique, special place where ancient monasteries sit precipitously atop vast rock pillars. High above the town of Kalambaka, you can explore centuries-old buildings of immense spiritual significance, hundreds of meters up in the air.
If you fancy a hike, it is possible to go by foot up the mountainside to each monastery. Otherwise, there are numerous tour companies that can take you where you wish to go, or you can hop on a public bus from Kalambaka too.
Each monastery requires a €3 per person donation upon entry, and all six monasteries are majestic. The atmosphere is awe-inspiring, peaceful and sublime; the perfect place to pause, reflect and be present.
A visit to this remarkable part of the World should be a must for anyone visiting Greece.
5. Visit the Mythical Gods at Mount Olympus
At 2,918 meters, the highest mountain in Greece has long been a mythical place, where the Gods of Ancient Greece were said to reside.
These days though, people visit for a legendary experience of their own: partaking in mountaineering and other outdoor pursuits in a location renowned for its fantastic and diverse fauna and flora, surrounded by breathtaking natural beauty.
Litochoro, known as the City of the Gods, is about 100km away from Thessaloniki and the gateway that most people use to explore the mountain.
6. Soak up the City Life of Thessaloniki
This hugely popular ancient city is the second largest in Greece and is thousands of years old. Its history is incredibly rich, with heavy influences found throughout from its Roman, Byzantine and then Ottoman past.
Due to its geographical location, Thessaloniki has been a site of immense importance in Greece for millennia. Hailed as a cosmopolitan hub of art, culture, architecture and gastronomic experiences, it remains an important city in the country and draws tourists in droves to each year.
There's a wealth of things to do in Thessaloniki, so take some time to really experience the city.
Walk along the seafront, visit the Byzantine castles, explore the museums and seek out the dozens of amazing architectural hotspots around, such as the White Tower.
7. Visit the Paradise that is the Halkidiki Peninsula
Last but by no means least, is the paradise that is Halkidiki Peninsula. This stunning place is recognizable by its 'three fingers,' which extend from the mainland out into the Aegean Sea.
The peninsular is characterized by lush forest that opens up onto pristine sandy beaches and clear blue waters. It is a haven for travelers and tourists. Halkidiki is a popular destination for locals too.
Though all are renowned for their wonderful beaches, each 'finger' has its own vibe, with Kassandra known as the most built up of the three; head there for resorts and thriving night life. Sithonia, by contrast, is said to be far quieter and less crowded. Finally, Athos has been untouched by modern development and is more popular among locals.
Athos is also famous for its monastic community on Mount Athos, known for its strict rules (based upon their religious beliefs) around living and visiting there.
Whichever finger you find yourself on, you'll be sure to enjoy your time on the Halkidiki Peninsula.
And that brings to an end my list of the top things to do in Northern Greece. The North of the country is a truly incredible place to visit, and this is by no means an exhaustive list of all there is to do there.
Head to Greece, venture up North, and you're bound to have an amazing time!
For related info, here's a piece detailing how much it costs to travel around Europe.
Danny Newman is a travel enthusiast with a passion for writing and inspiring others to live fully. He runs a travel blog called Coddiwomp, which is dedicated to helping aspiring travelers travel for the first time. For Danny, the essence of travel is found in the feeling it elicits. He wants to inspire and support as many people as possible to experience this 'travel feeling.' You can find him on  Instagram.