France is filled with unique areas and is especially known for its stunning medieval towns and villages. These spaces will take you back in time with their ancient architecture and historic traditions. If you're planning to visit France and want to check out some of the best medieval towns and villages in them, you'll want to keep reading. Below you'll find the top places to visit during your trip.
20 Medieval Towns and Villages in France you should visit
1. Avignon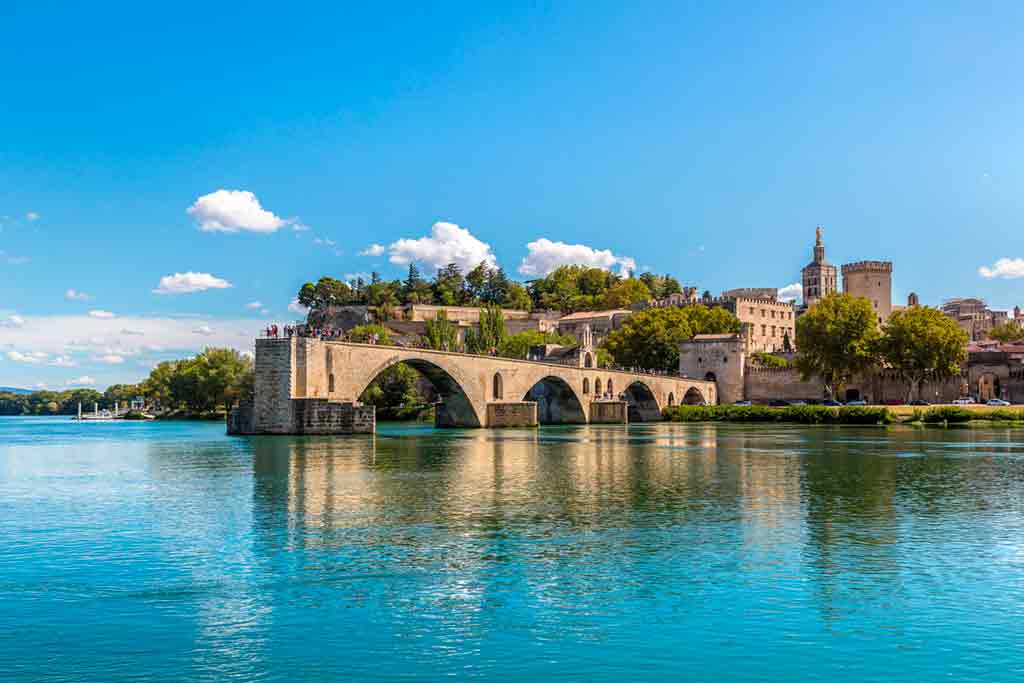 Situated in France's Provence region and near the Rhône, Avignon is known for its intriguing history, especially since it was once where many Catholic popes resided from 1309-1377. Medieval buildings from this time period can still be seen today, such as the Palais des Papes, which features stunning Gothic architecture and numerous frescos. In addition to this, some other highlights in Avignon include the Pont d'Avignon (a medieval bridge), the Musée Du Petit Palais (known for its collection of works by Botticelli), and the Frigolet Abbey (an ancient monastery).
Besides its historic buildings, Avignon is also known for its culinary specialties, especially those which feature a local favorite – asparagus.
2. Saint-Malo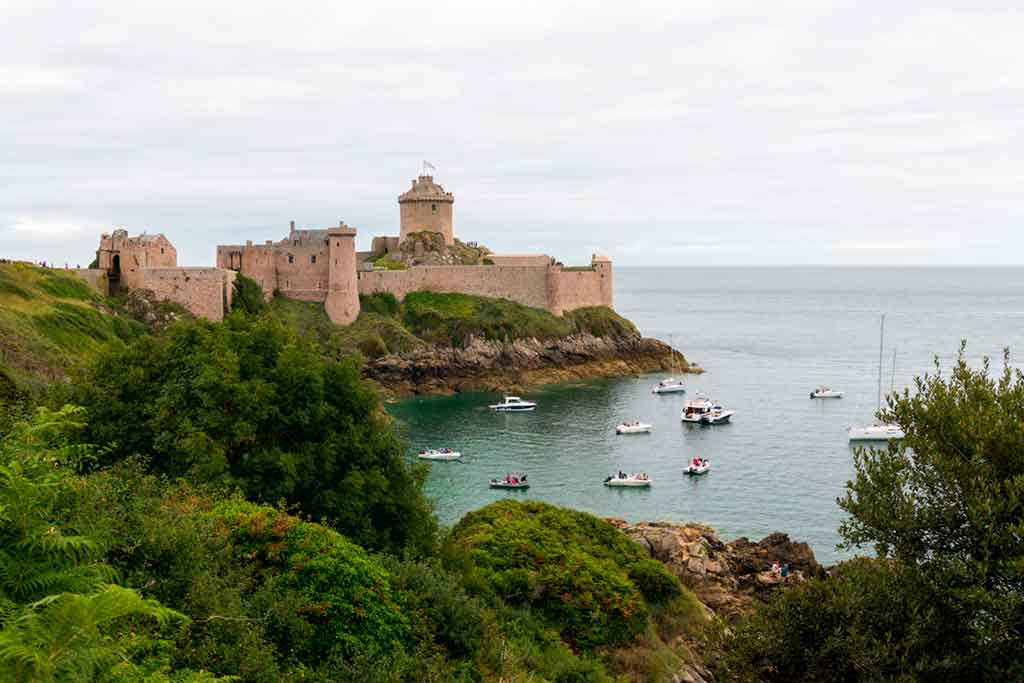 Situated in Brittany, Saint-Malo features towering ancient walls that protect its borders. These walls were constructed as a way to help defend the city from common invaders during the Medieval Ages, such as pirates. There is plenty to do and see while in Saint-Malo, such as touring its main gem, the Saint-Malo Cathedral. The cathedral is a national monument in France and features an interesting mixture of Roman and Gothic architecture. During World War II, it was bombed during a battle, but still survived the war. Today, visitors can tour the restored cathedral and view its altar, stained glass windows, and impressive organ.
Saint-Malo is also home to many islands and beaches, such as Grand Bé. Situated next to the Rance, the island features an old fortress and plenty of amazing panoramic views.
3. Yvoire
While small, the town of Yvoire is packed with history. Known for its restored medieval homes and buildings, the town overlooks Lake Geneva. Besides its many shops, which sell various types of local goods, Yvoire is also popular for its love of horticulture. Guests to the town can stop by the remarkable Garden of the Five Senses which is designed to please all five of your senses.
It's filled with colorful and fragrant plants and visitors can sometimes pluck flowers to feel or taste them. While touring the town, you could also stop by Yvoire Castle, which was built during the 14th-century, or head down to Lake Geneva to go for a swim.
4. Conques
Conques is a commune located in the Aveyron department which is situated in the southern part of France. This area was once sought after by pilgrims who were looking for a place to freely live and express themselves. Many of their buildings and traditions still live on today, such as the Abbey-Church, which contains the relics of Sainte Foy, and the Bridge Over the Dourdou. The bridge will take you through the local forest and is the site of an interesting legend that says if you ring a bell here you will hear the local monks immediately answer you.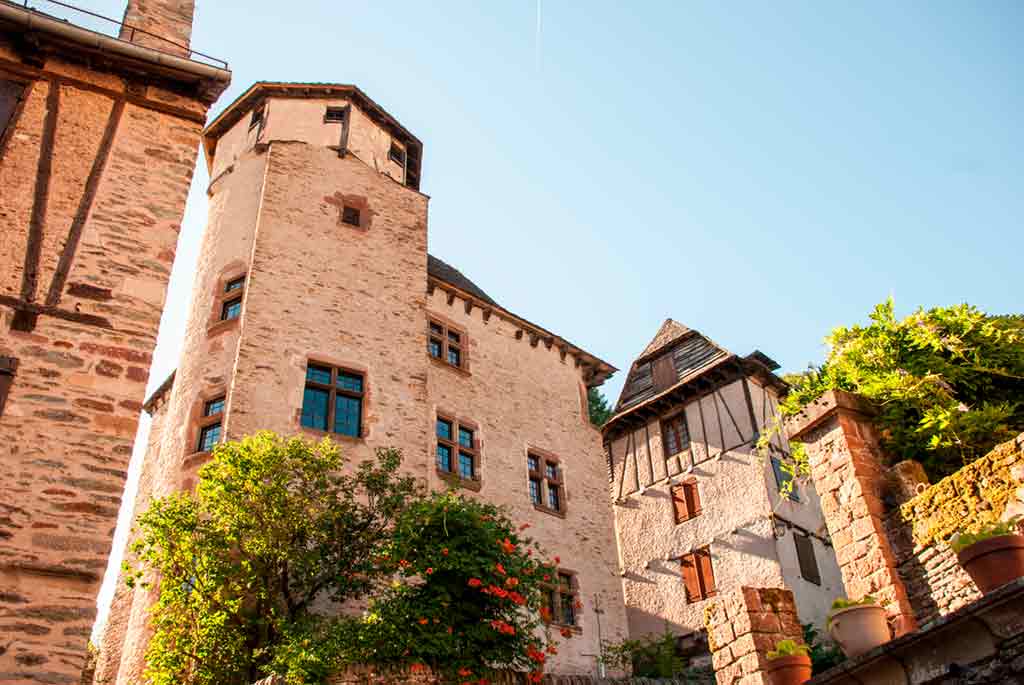 Besides exploring its many shops, churches, and museums, Conques is also a foodie's dream. You'll find a handful of unique places to dine at which serve local dishes that usually feature tasty wild herbs collected throughout the village.
5. Carcassonne
This hilltop city in the southern section of France is a popular destination for visitors thanks to its many medieval structures. Carcassonne was an important trading section in the country and was once settled by Romans. Eventually, it became known for its wool textiles before this item's popularity dwindled.
There are plenty of places to visit while in this medieval city. One to consider is the Cité de Carcassonne. Situated high on a hill overlooking the Aude, the castle features over 52 towers. Guided tours can be taken of its interior where you'll be able to view more of its breathtaking architecture.
If you prefer to spend some time enjoying the great outdoors, Carcassonne contains parts of the Canal du Midi. This long canal flows through the city and is a great place to go boating or cycling next to.
6. Vitré
Located in the Ille-et-Vilaine department, Vitré is a quiet commune known for its unique historical artifacts. Featuring many buildings from the 15th to 16th centuries, the town is particularly known for being home to the Château de Vitré. This castle was one of the first to be built in the town and is constructed out of various types of stone. It also features beautiful circular towers and a small museum.
In addition to the castle, Vitré is home to many historic churches, such as the Saint-Nicolas Chapel and the Convent of Augustins.
7. Troyes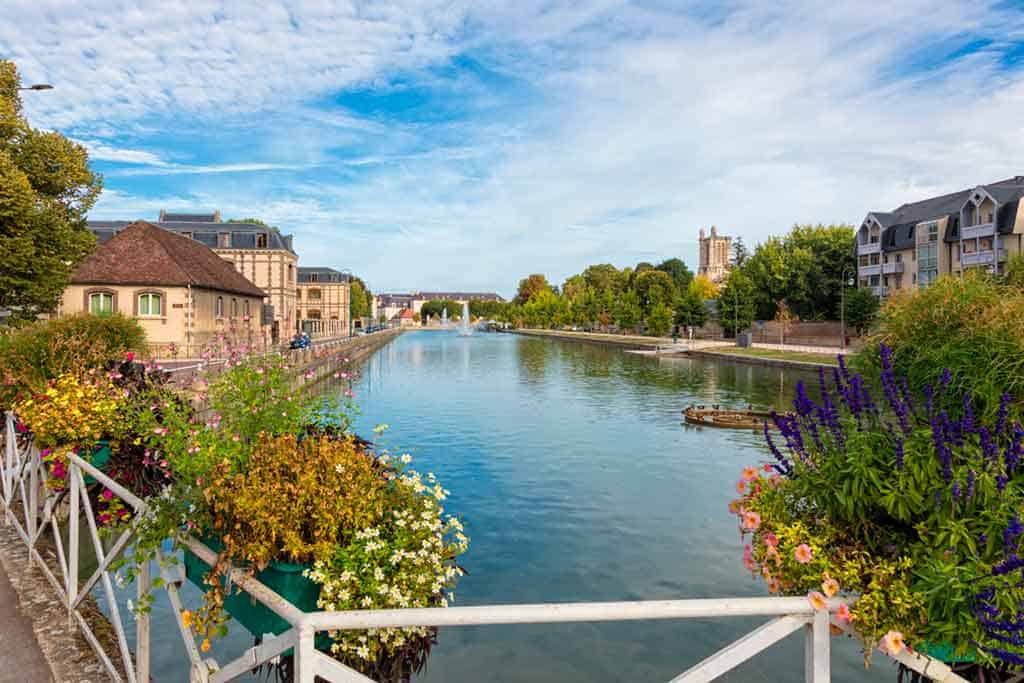 Troyes is located in the Grand Est region of France and features beautiful cobblestone streets and colorful timbered houses. Troyes is also home to numerous Gothic cathedrals, such as the Troyes Cathedral. This 400-year-old cathedral is known for its special stained glass windows and is where the Treaty of Troyes was signed.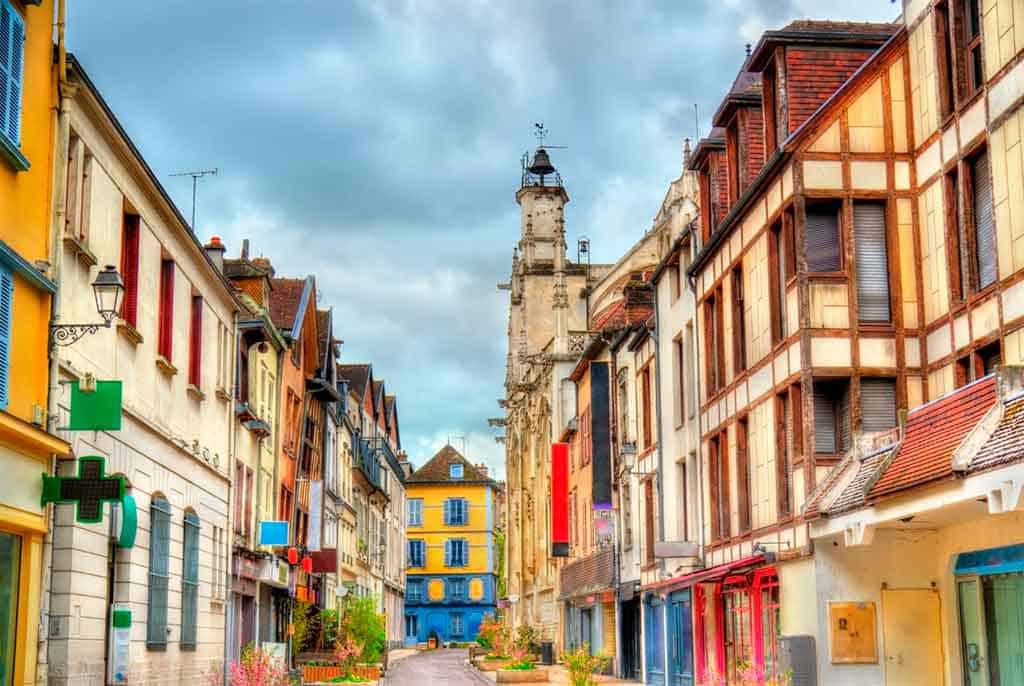 Visitors to the city could also venture down the Ruelle des Chats. This picturesque street is lined by homes, cafes, and shops and is a magical place to walk during the evening thanks to the hundreds of candles and lanterns that illuminate it.
8. Colmar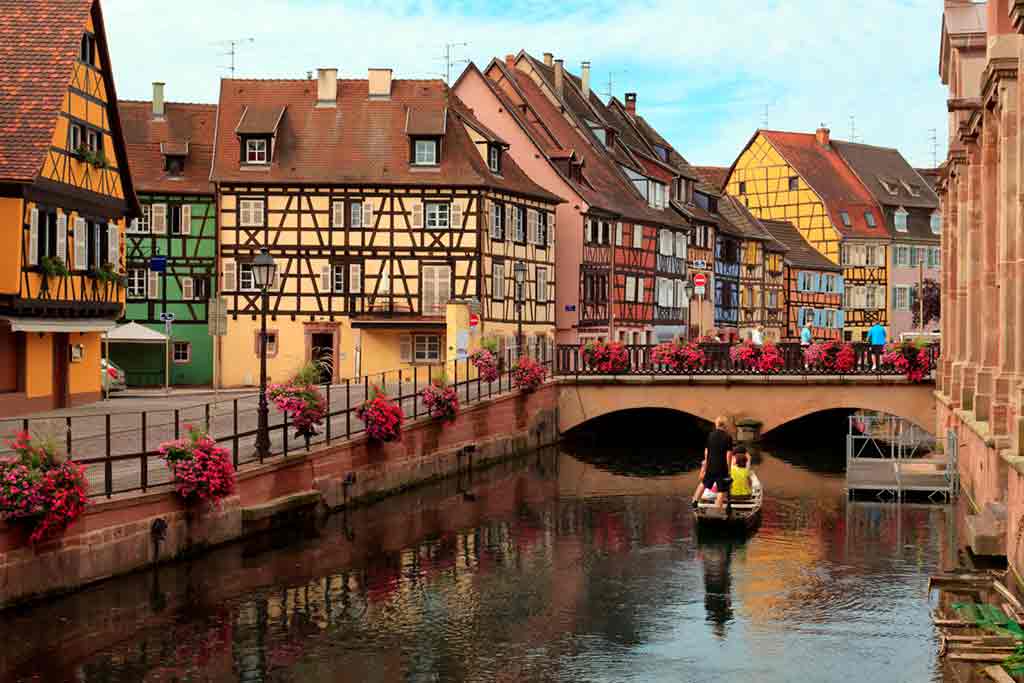 Colmar lies next to the German border and is packed with a mixture of Medieval and Renaissance-era buildings. Colmar is also part of the Alsace Wine Route and is filled with flourishing vineyards. One place to visit while here is La Petite Venise, a small Italian area that features specialty shops and restaurants.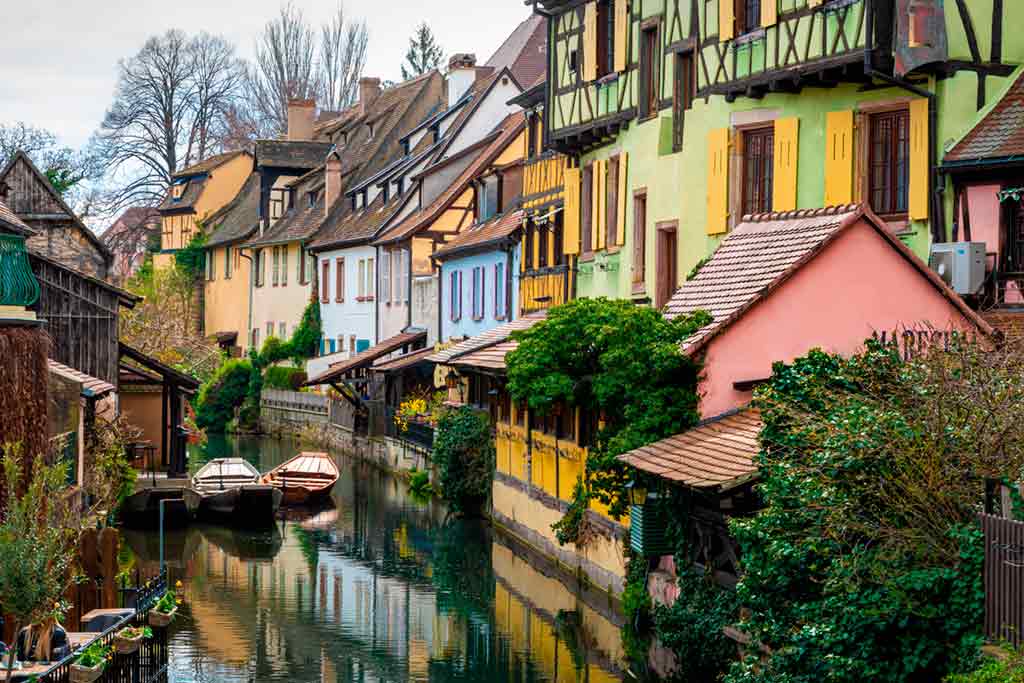 You could also check out the Unterlinden Museum, which is situated inside a 13th-century building that once served as a convent and public bathhouse. There's also the Musée du Jouet which serves as a toy museum and contains toys constructed from the 1800s to today.
9. Laon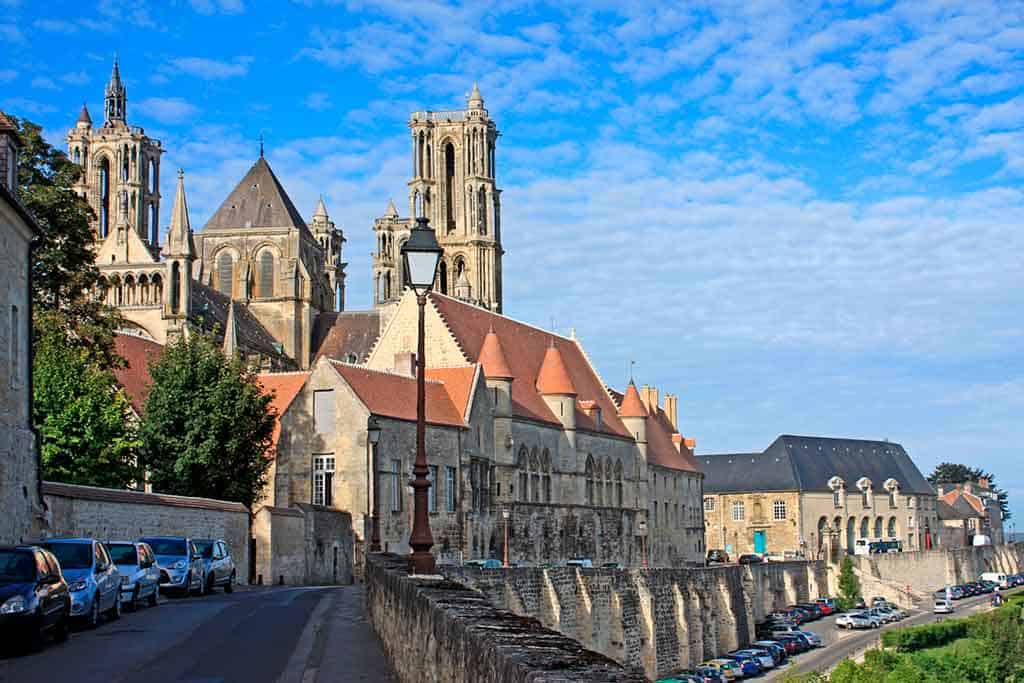 As the capital of the Aisne department, Laon was once an important strategic center in France and was where the Battle of Laon was fought. It's home to quite a few interesting attractions, including the Laon Cathedral. The cathedral was built in 1235 and towers over the city. It's also believed to be one of the first Gothic buildings to ever be built in France.
You could also trek through the Porte d'Ardon which serves as the entrance to the city and leads up to a winding road. For those looking for something unique to do, you could explore the Laon Souterrains. These underground tunnels are over 2,000 years old and curve around under the city. Tours can be taken of the tunnels with a guide.
10. Dinan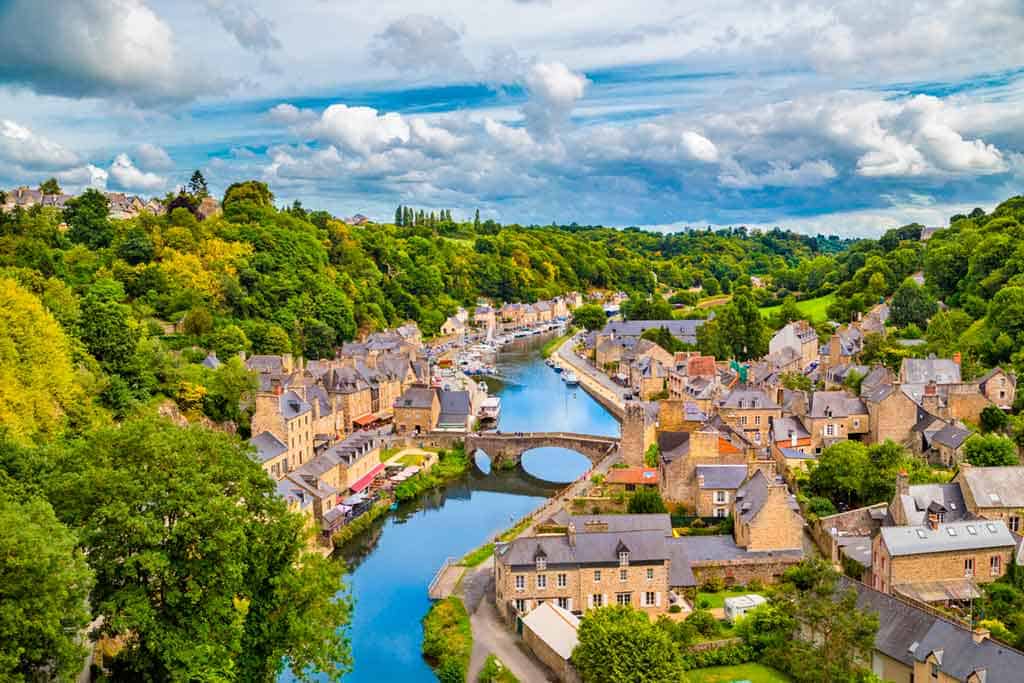 This charming town in Brittany features cobblestone streets lined by colorful timbered houses. Dinan is home to a beautiful clock tower which guests to the town can climb up to get stunning panoramic views of the area. Another place of interest in Dinan is the Château de Dinan.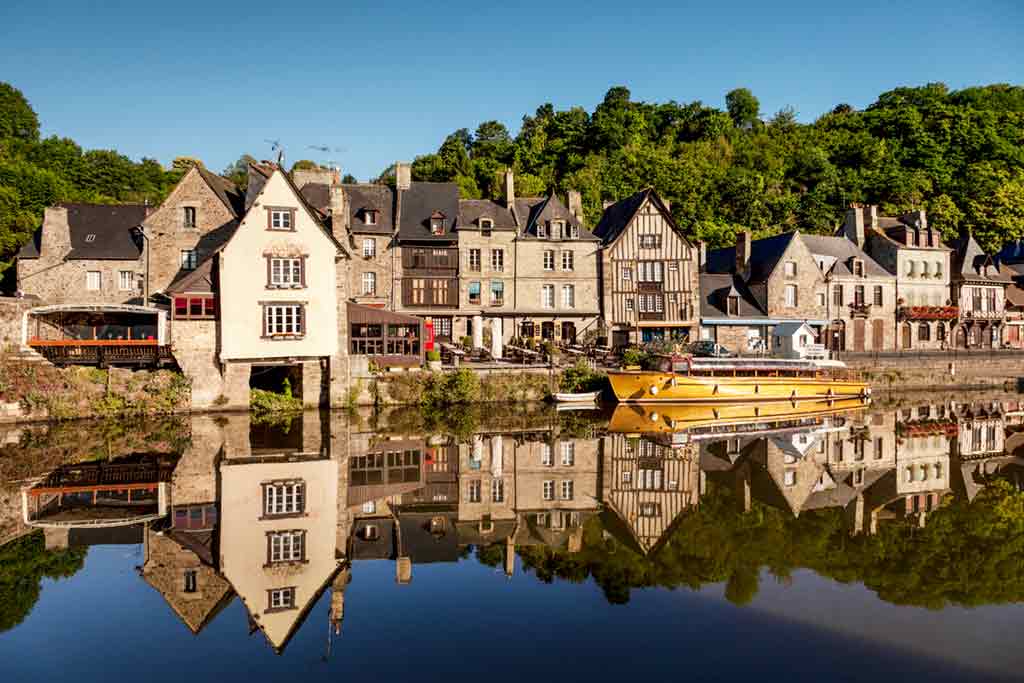 This 14th-century castle is well-preserved and features ancient gates and medieval ramparts. Dinan is also home to the Rail Museum which tells of the history of the railroad and showcases train-related artifacts.
11. Lacoste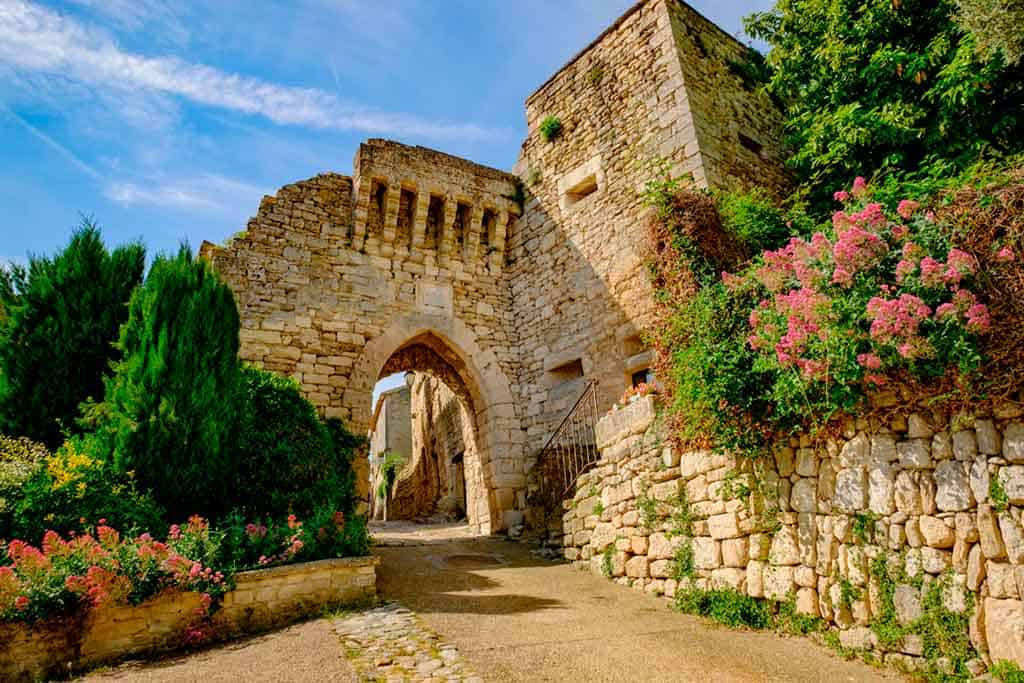 Located in southeastern France, Lacoste is a sought-after summertime destination thanks to its picturesque views. This mountain village overlooks the nearby Bonnieux and Grand Luberon Mountains and is known for its vernacular architecture. Lacoste was also a popular spot for many famous artists, including Henri Cartier-Bresson.
One place of note to visit while here is the Forêt des Cèdres which is filled with ancient cedar trees and features local wildlife roaming around. Lacoste is also home to many artisan shops which sell everything from cheese to handcrafted jewelry.
12. Eguisheim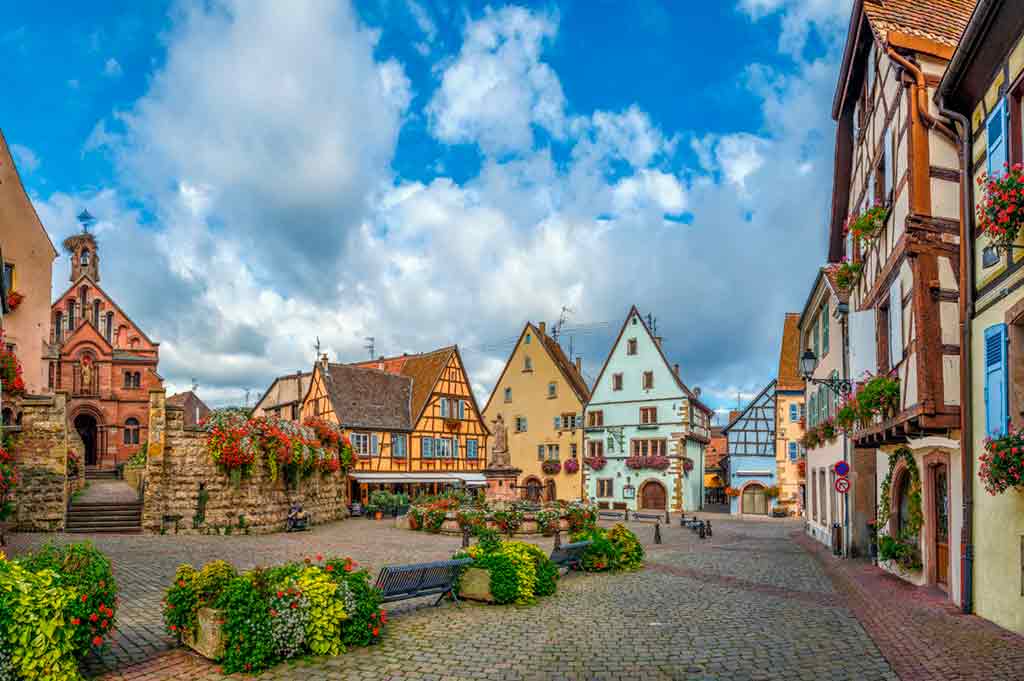 Eguisheim lies in the Alsace wine region and is known for its small streets that are lined with houses and shops which are often covered in flowers and wooden balconies. This medieval town is home to various historical structures, including the three Eguisheim castles which are nothing more than ruins now.
If you'd like to see them, you can hike up a hill to get a close-up look at them as well as an impressive overview of the town. Eguisheim is also the site of the Stork Festival. The festival celebrates this bird which is an important symbol of the Alsace region.
13. Les Baux-de-Provence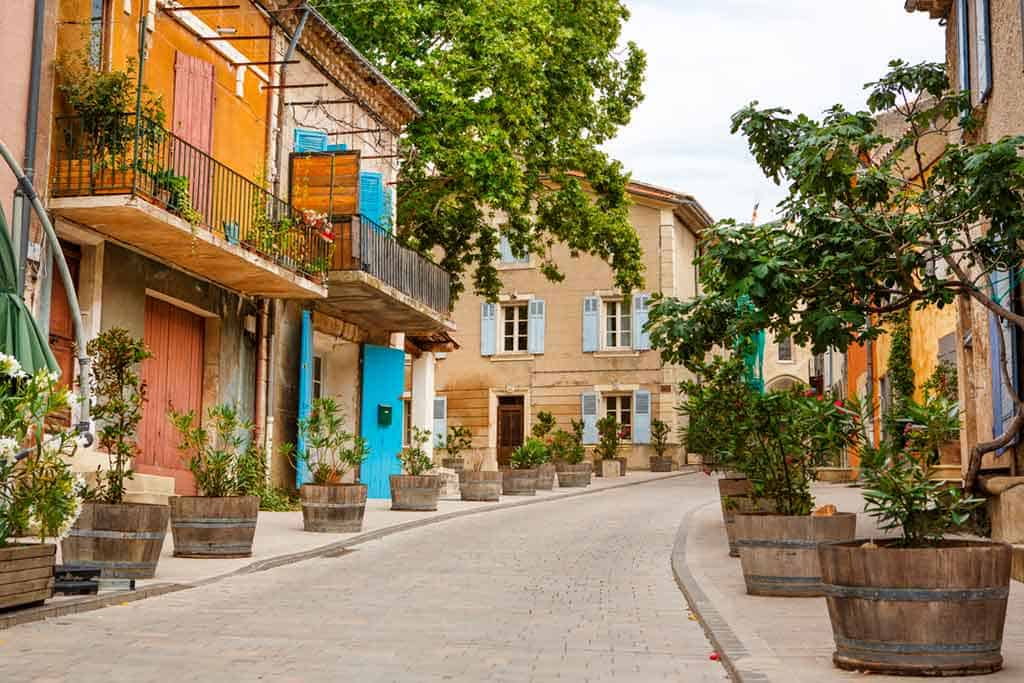 Les Baux-de-Provence resides next to the Alpilles and is a place all art lovers should venture to. It's home to the Mas de la Dame, a vineyard that has been depicted in various works of art, including those by Vincent van Gogh.
You can also visit the Carrières de Lumières which was once a quarry and has since been converted into a multimedia art exhibit which features interactive works of art. Besides these, you could also stop by one of the many castles and windmills in the town.
14. Saint-Rémy-de-Provence
Located in southern France, Saint-Rémy-de-Provence was named after Saint Remigius and is known for its Mediterranean climate, including the Mistral, which is a violent wind that blows here during the winter and spring.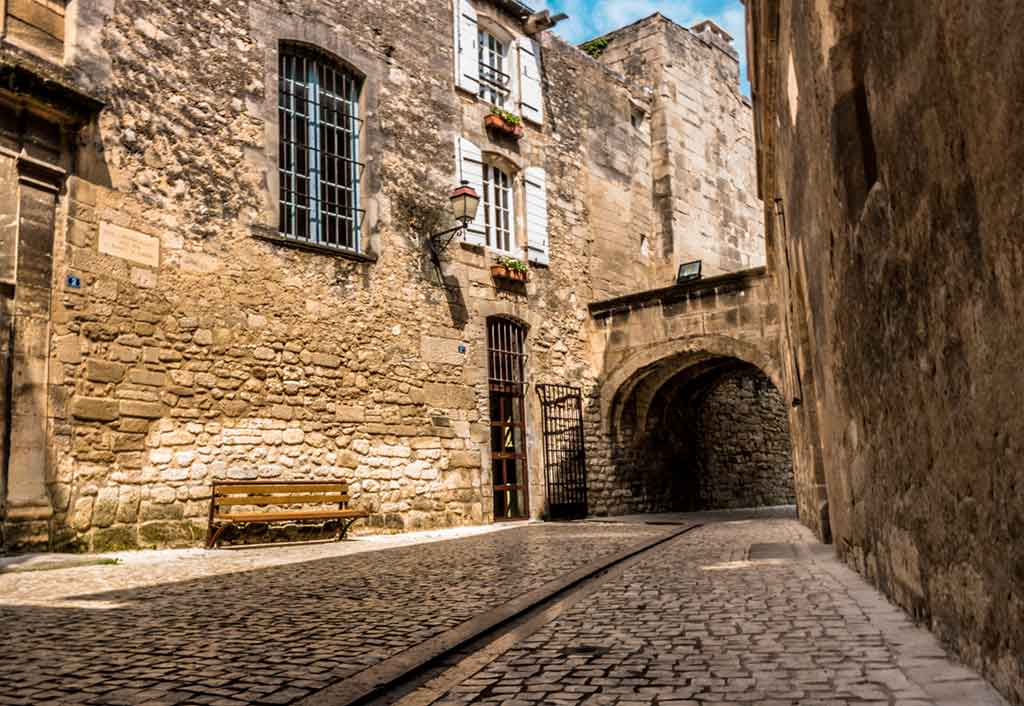 There are many places of note to visit here, such as the Site Archéologique de Glanum which features Roman and Gaulish ruins. There's also the Monastery Saint-Paul de Mausole which is known for its pyramidal roof and being where Van Gogh once stayed for psychiatric treatment.
15. Èze
Èze is located in the Alpes-Maritimes department which rests next to the Ligurian Sea. Besides its many beaches, there are plenty of other places to see while in this medieval seaside town. For instance, the Nietzsche Path is a trail that winds through the local cliffs and gives panoramic views of the sea.
There's also the Jardin Botanique d'Èze which is a botanical garden filled with exotic plants. You could also see the ruins of the Trophy of Augustus which was built by the Romans as a way to celebrate Augustus' victory in the area in 6 B.C.
16. Beynac-et-Cazenac
This medieval village is considered to be one of the most beautiful in all of France. Featuring views of the Dordogne River you'll find plenty of unique things to do and see while visiting. One highlight is the Château de Beynac. This castle was built in the 11th-century and is one of the best-preserved castles in the country.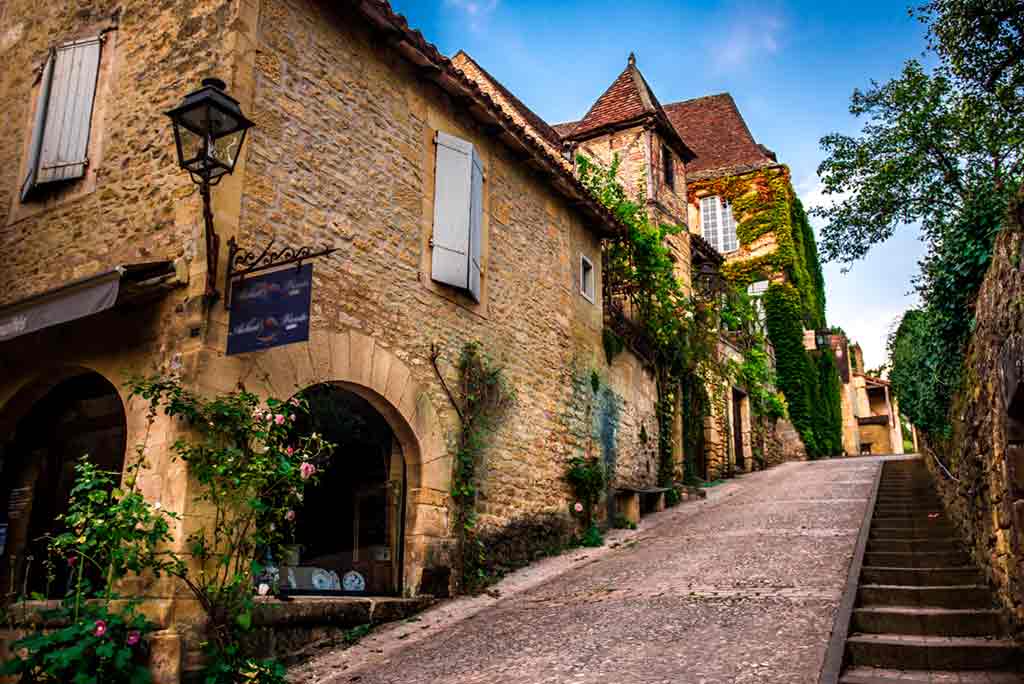 The village is also known for its hot air balloon rides which will take you on a flight over the village giving you stunning bird's-eye views.
For a great stay in the nearby area, I recommend the hotel Cours de Thomazeau.
17. Saint-Cirq-Lapopie
Saint-Cirq-Lapopie overlooks the Lot River and is part of the "Beautiful Villages of France" association. It is situated high on a hill and features a winding road through the Lot Valley you can drive down. The village is best known for preserving over 13 monuments, which includes cafes and homes.
It was also a popular spot for many artists, including those who created the Surrealist Movement. One place to visit while here is the Musée Rignault which is named after famous painter Emile Joseph-Rignault and holds some of his works.
18. Gordes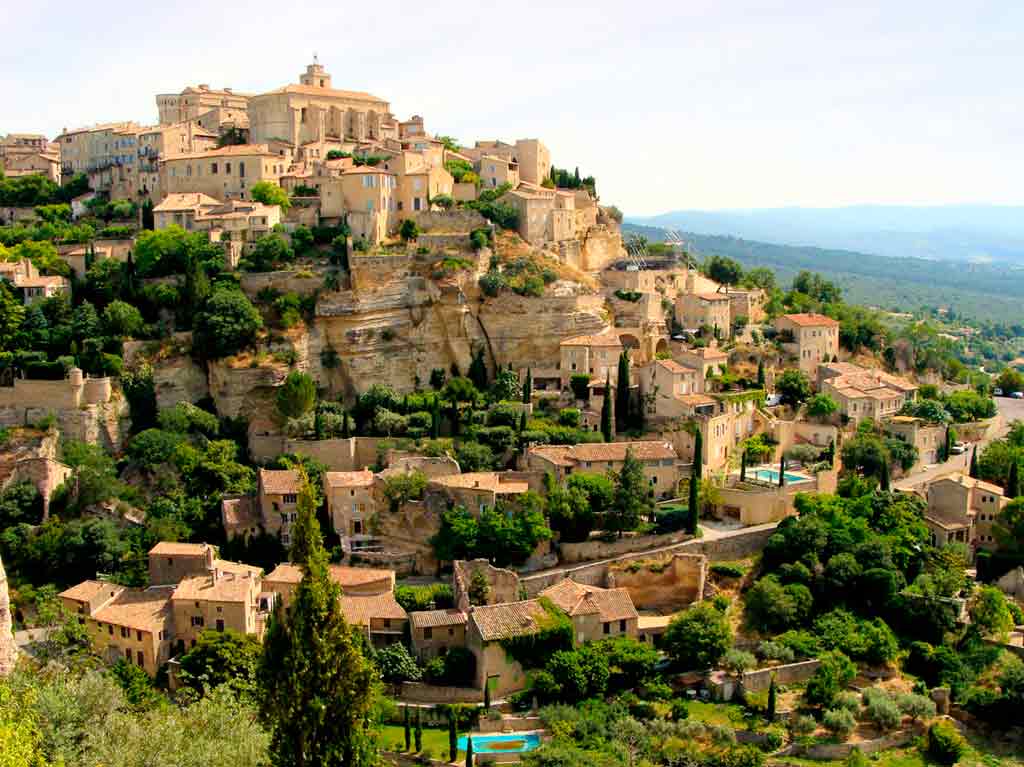 Gordes is located in southeastern France and is situated near Avignon. The village is best known for its houses which feature white stone. The village is also connected together with small cobblestone streets which are lined with shops.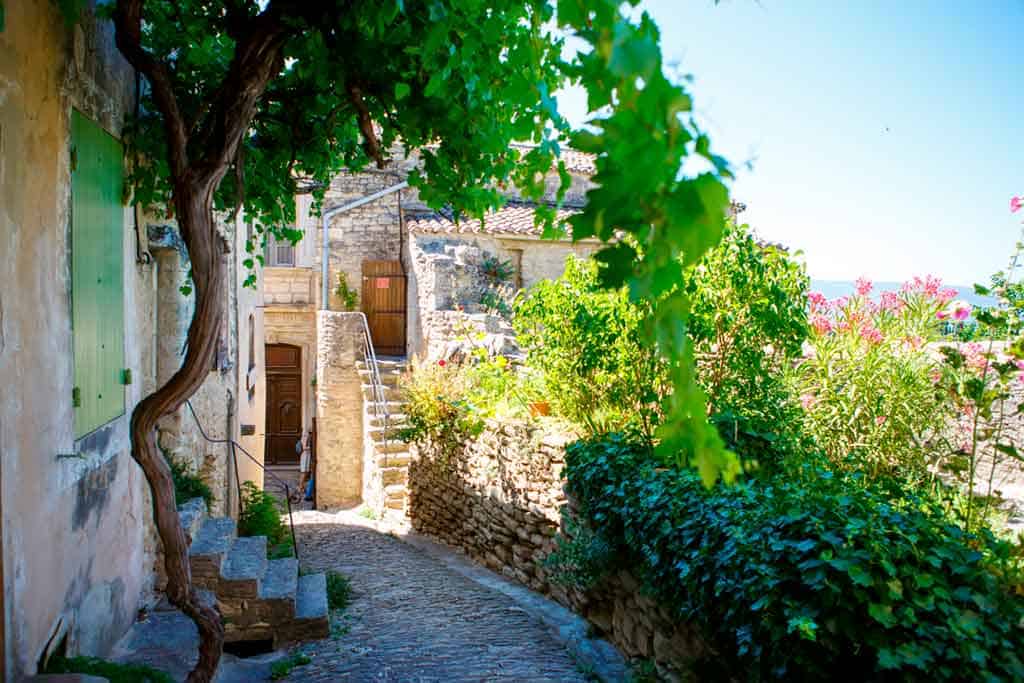 You'll discover plenty of things to do while here, such as exploring the cellars of the Saint Firmin Palace which will let you explore the cave-like hallways and stairways underneath the palace which are illuminated with lanterns. You could also visit the Pol Mara Museum which celebrates the life and works of the artist Pol Mara.
19. Mont Saint-Michel
This medieval town rests on an island near Normandy and is known worldwide for its stunning ancient structures. Mont Saint-Michel is a UNESCO World Heritage Site and is home to a magnificent abbey and monastery that was built in the early 1500s.
20. Saint-Paul-de-Vence
Saint-Paul-de-Vence is one of the oldest medieval towns situated next to the French Riviera. Besides its many historic churches and castles, the town is also popular for its art scene. In fact, you'll find many modern art museums to explore here. Visitors will also find plenty of hip restaurants and shops located in old buildings.
France is home to many charming medieval towns and villages, all of which range in their attractions and traditions. If you're looking for a unique trip to take while in France, definitely consider exploring some of these medieval areas. They are a step back in time that will make your trip to them memorable.
PIN IT!