If you're seeking pristine beaches, warm waters and stunning seaside towns along the Côte d'Azur, then look no further as we discover the best beaches in Southern France and help you decide which spot will be right for you. Whether you're looking for Cannes glamour, Saint Tropez style, or are seeking something a little more laid-back, the South of France will certainly fit the bill. This region has hundreds of kilometres of beautiful coastline, with each beach town and city having its own unique character and charm.
The climate in the South of France is some of the best in Europe, with temperate summer weather stretching from May to October! Temperatures remain ideal for walking, city exploration, vineyard tours and beach relaxation so it will always be sunny enough to enjoy the sights.
With influences from Spain on one side and Italy on the other, the beaches of Southern France allow you to soak up different cuisines and cultures without having to travel too far!
So, whatever your style, read on to find out all about the best beaches in Southern France and to choose your favourite…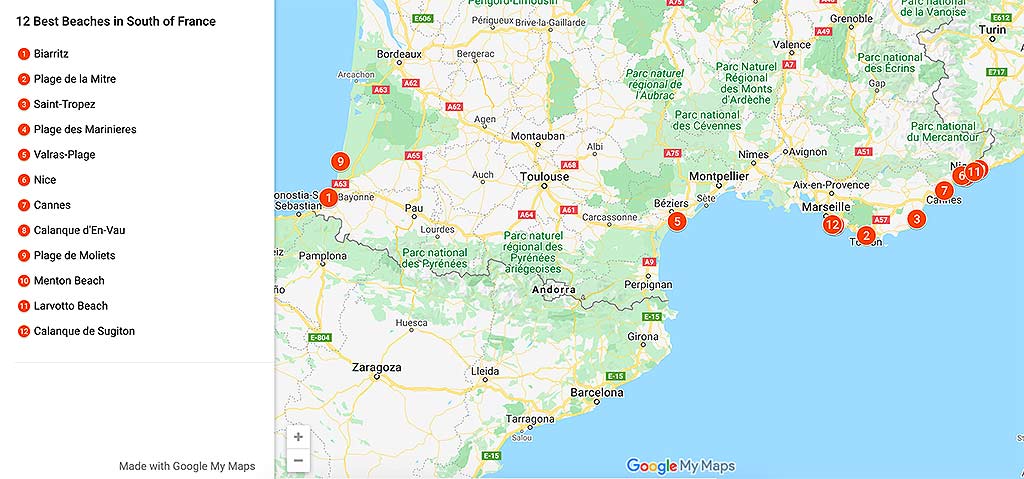 12 beaches in Southern France you should visit
1. Biarritz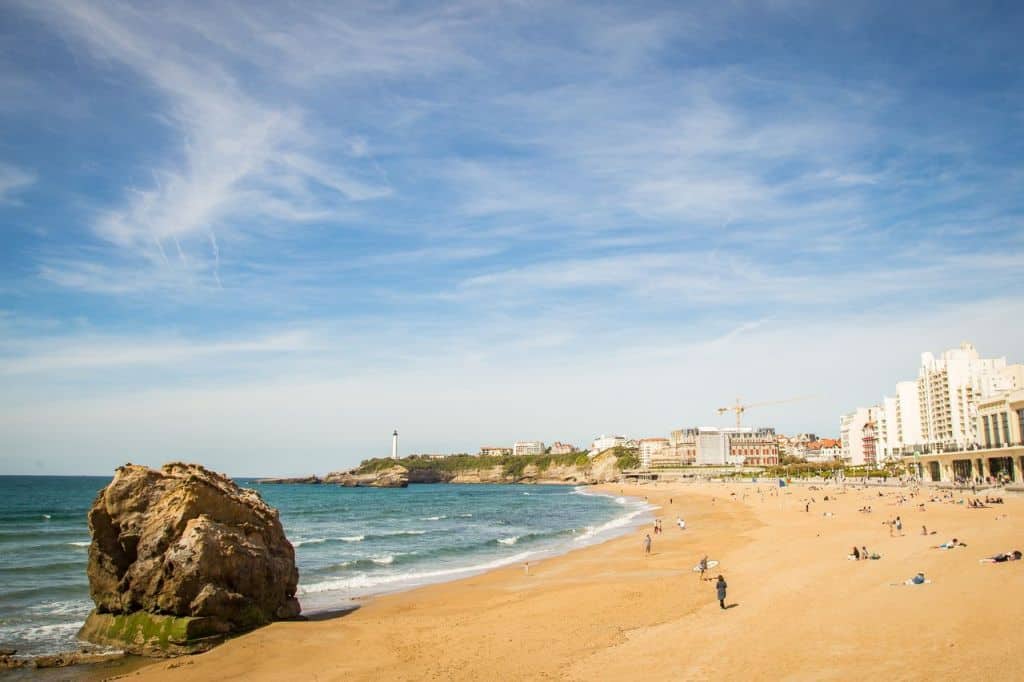 contributed by Jenny of Tales from the Lens
Biarritz is one of the most beautiful and relaxed beaches in the south-west of France. Located on the Atlantic ocean, in the French Basque Country, Biarritz has for a long time been a hub for pirates and corsairs before the French royalty made it a trendy and ritzy destination during the 19th century. It is Napoleon II's wife, Empress Eugenie, who revolutionized the outdoor activities along the coast bringing with her glamour and upmarket tourism from Paris.

Since, Biarritz's 3 long beaches have also been attracting international surfers and summer holidayers! While la "Côte des Basques" in the south is mostly reserved for surfers and paddles, people looking to resting, sun-bathing and swimming will head towards Grande plage or Miramar beach. The latter is my favourite at low tides, as it tends to be less packed towards the northern cliffs and the view at sunset is incredible.
Though, it is recommended to swim carefully because of the strong currents and waves. Besides, make sure to keep an eye on the surfers to not get hit, they are not always careful… If you have young kids, it might be best to visit "La Plage du Vieux-port" which is sheltered from the strong swell of the Atlantic and you can even go snorkelling!
2. Plage de la Mitre, Toulon
contributed by Victoria of Culture Passport
I discovered this hidden gem of a
beach
by chance while wandering the coast of Toulon, France. You can get to Plage de la Mitre by descending a long beautiful staircase on the main Toulon peninsula. From there, continue west along the coastline and discover even more small, enclosed, sandy
beaches
surrounded by rocky cliffs. Be sure to wear comfortable walking shoes as you'll be going up and down small rocky staircases and wading in shallow water – all part of the natural charm of this secluded stretch of coastline.
The water along the
beach
is calm and clear, and this stretch of Mediterranean Sea is the perfect spot to pause and take a dip. During my July trip, Plage de la Mitre was mainly full of locals. I didn't hear an English word spoken once! Once you finish your walk along the shore, you'll end up at La Tour Royale, a 16th-century fort built to protect the port and city of Toulon.
3. Saint Tropez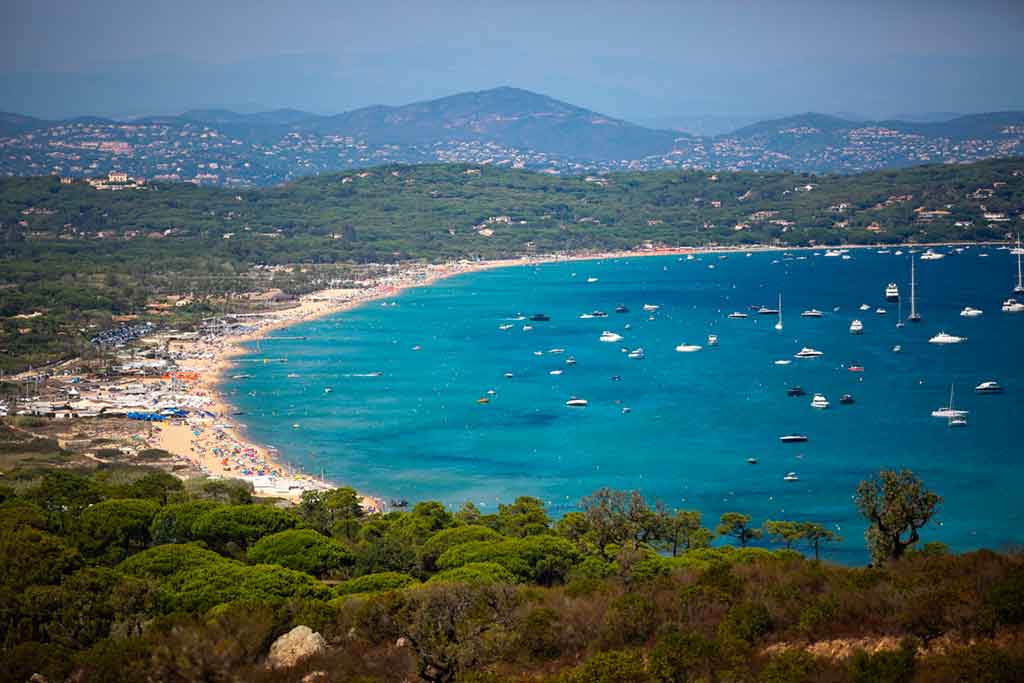 Contributed by Priya from Outside Suburbia
Saint Tropez
, the Côte d'Azur seaside town, is a Romantic Port popular with European and American jet setters. Just like them, we were drawn to St Tropez for its unbeatable setting and glamorous vibe. While the
beaches
in Nice are pretty, the pebbly
beaches
are not the most comfortable! Plan a few days or a day trip to St. Tropez!
Unlike the beaches of Cannes and Nice, St Tropez has true beaches, deep white sand that stretches out into blue waters. The wealthy Plage Port Grimaud is the best beach to see and to be seen. The best beaches for families can be found at Plage de la Bouillabaisse – Plage des Graniers and Plage des Jumeaux, also offer beachside playgrounds that the kids will love. Plage de Pampellone in the neighboring commune of Ramatuelle is 3 miles of beautiful beaches, with plenty of bars and places to stop for snacks.
While we didn't make it to the beaches, we spent our time exploring the town – there was coffee at the Dior house and French macarons at Laduree and a glass of Côte de Provence rosé and lunch at Café de Paris that kept us busy.
4. Plage des Marinieres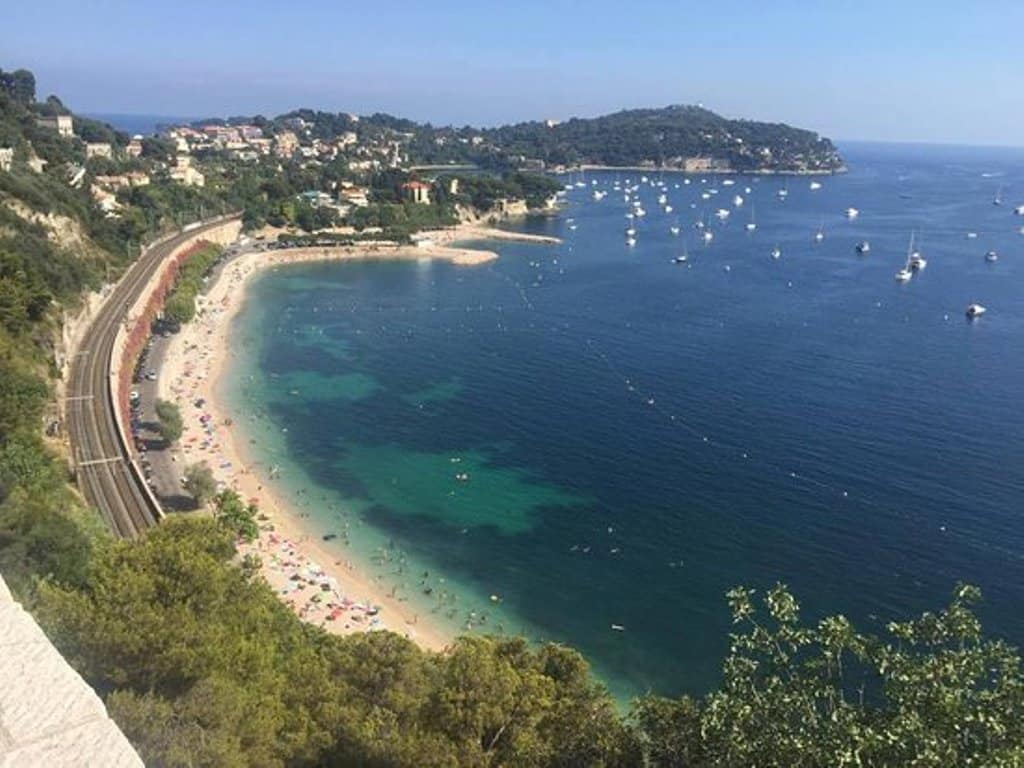 contributed by Casey of Viraflare
This little beach is just a short walk from Nice, or you can take a train for a few stops. It also tends to be less crowded than beaches nearby and has clear water to wade in, so bring goggles! And while the beach may be pebbly, it's surprisingly smooth and pleasant to walk on.
Also, it may be a small beach, but there are still eateries around if you get hungry or thirsty. Then, if you're not one for just relaxing at the beach like me and want some activity, there are options for paddle board rentals if you want to do a little more than just swim.
5. Valras Plage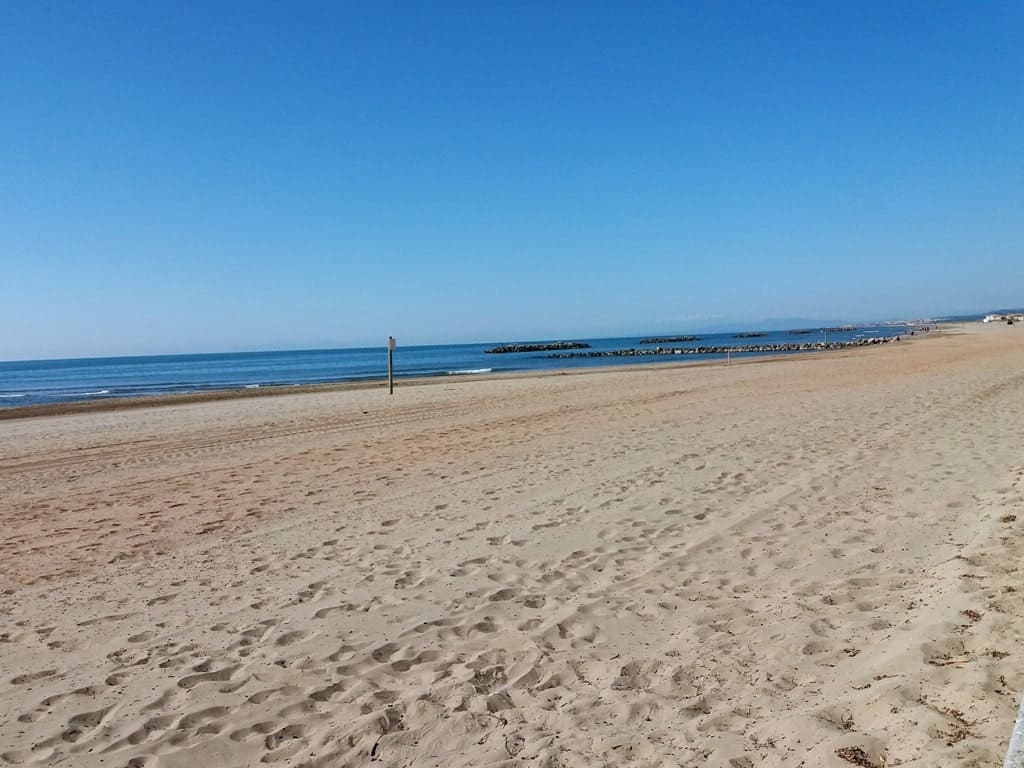 contributed by Andrea of Happy Days Travel Blog
The modern Mediterranean town of Valras Plage in Languedoc-Rousillon is often overlooked by foreign visitors seeking sun and sand in southern France. This is a shame as there are good reasons why locals have long considered it to be the top seaside town in Hérault.
Valras has numerous decent restaurants, an attractive harbour, a lively twice-weekly street market, plenty of shops, and several annual events to entertain the crowds. It is the town's beach, however, which is its main attraction.
Four kilometres of wide, sandy beach make Valras the perfect place for family holidays. It never feels crowded, even on the busiest days. The beach shelves gently to the sea which remains shallow for a long way out, making it safe for children and non-swimmers. Out in deeper water, there is lots of marine life to see when snorkelling. For adventure seekers, there are jet-skis and power boats available to hire in the harbour.
There are beach bars at intervals along the sand where you enjoy lunch in the shade. The best thing about Valras beach for me, though, is that there are none of the sellers found in the livelier resorts on the Côte d'Azur so I can relax and enjoy my book in peace!
6. Nice
contributed by Abi of Inside the Travel Lab
A promenade along the seafront in Nice is a journey back in time. The beach itself, let's quickly admit, isn't the prettiest in and of itself. It's the wide expanse of water and the open air display of Nice itself that makes it my favourite.
Nice enjoys its position as the capital of the French Riviera. The official Promenade des Anglais, paid for by English expats in 1822, runs for four kilometres along the Baie des Anges. On the one side, a pebbly beach with deck chairs and Mediterranean blue. On the other, terracotta rooftops, Art Deco cinemas, fresh food markets and cafes. And in between, a dedicated lane for cyclists and skaters.
The entire Promenade (or Le Prom, for short) has been put forward as a tentative UNESCO World Heritage Site, a nod to the architectural input of the Art Deco artists, the Italian influence before 1860 and the unusual involvement of the English aristocracy.
To mere mortals, it's an easy and enjoyable way to soak up sunshine, sea and a spot of history, with a crepe and gelato nearby. The markets of Nice also make a great place to pick up some authentic French souvenirs.
7. Cannes
contributed by Grace of Extreme Nomads
If France's southeast coast is on your radar, make sure you don't pass up the chance to visit Cannes — home of a lovely little slice of beachfront, both at the main city beach and the quieter, less touristy Mouré Rouge.
Cannes' city beach is by far the most popular. Lined with mega yachts and palm trees, the beach is only a hop and a skip away from the main boulevard, making it the spot of choice for many of the city's beach lovers. Ask us, though, and we say the best beach to base yourself from is around the corner of the Pointe Croisette, where far fewer tourists venture.
Since the Mouré Rouge is slightly out of the way, it immediately feels a little more chilled, a little less hectic, and a lot more authentic. The beach itself is covered in soft powdery sand which slopes down to the clear blue water; while out in the bay, the local kitesurfers and windsurfers are making the most of the steady breeze. Behind, the footpath meets with a handful of seasonal restaurants slinging out piping hot portions of chips and heaped bowls of local mussels. Make sure to grab yourself a cold glass of Provence rosé to complete the meal!
8. Calanque d'En Vau, Marseille
contributed by Nadine of Le Long Weekend
Hidden between towering cliffs, the beach at Calanque d'En Vau is a sanctuary within the Calanques National Park. The azure sea meets the sandy shoreline where you'll find a sprinkling of sunbathers enjoying the surroundings. The serene cove is protected from the winds, and the water is incredibly translucent. Despite its remote and reasonably inaccessible location, it remains a firm favourite with the locals. And it's becoming more and more popular with visitors to the area also.
To get there, you'll need to hike from Cassis, through Calanque de Port Miou and Calanque de Port Pin before scaling the steep hill to the third calanque. This option offers the best views and reaching the beach feels very rewarding after a good climb! Alternatively, you can hire a kayak and paddle through calm waters from Cassis. Or you could look at hiring a boat and sailing to the calanques at your leisure. Tour boats also visit Calanque d'En Vau, but most won't stop to let you off…
9. Moliets et Maa
contributed by Hayley Lewis from A Lovely Planet
Moliets et Maa is my favourite beach in Southern France for many reasons. Firstly, it's beautiful – a long stretch of golden sand sheltered by a lush forest. Secondly, it's a great beach for surfing. If you've never surfed before, you can take lessons with one of the surf schools, or experienced surfers can hire boards and enjoy the waves.
There are plenty of things to do in Moliets et Maa, so if surfing isn't your thing, you can go horse riding along the beach, hire fat tyre bikes and cycle on the sand, or enjoy a round of golf at the golf club. There is also an adrenalin park nearby with high ropes, quad biking and paintballing.
There are cafes and shops right on the beach and in the summer months, a folklore festival takes place every Tuesday in the main square of the town, with traditional games, dancing and local food and wine.
10. Menton Beach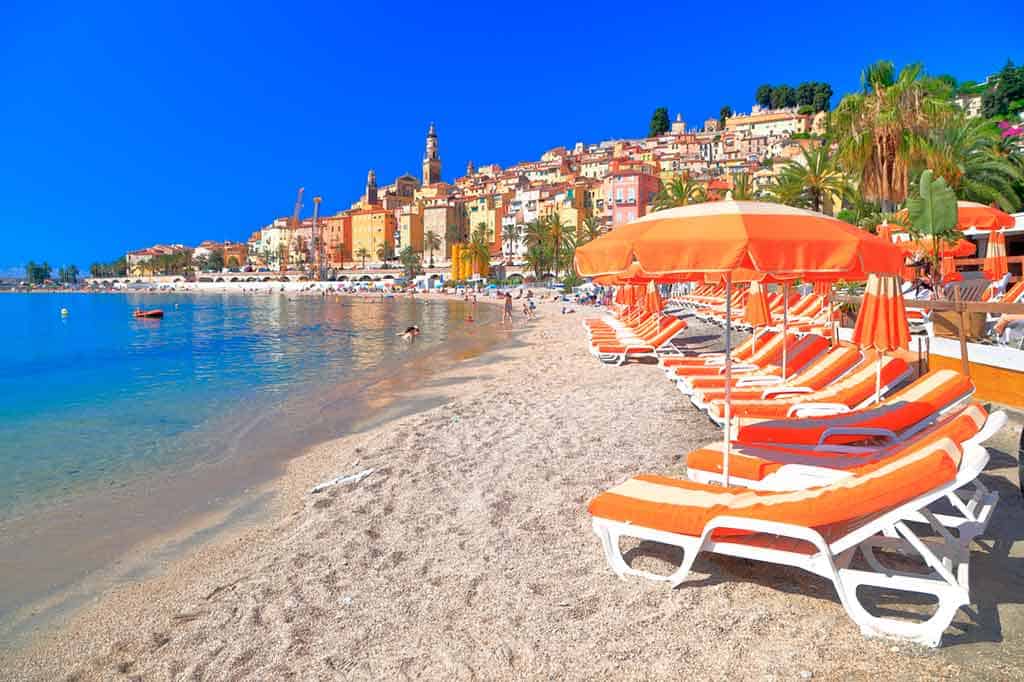 contributed by Shoba of Just Go Places
We love taking our children to the
beach
at Menton which is a sandy family friendly
beach
. Menton is the first town over the border from Italy. Thanks to the EU the border crossing is pretty seamless. It's way to nip back and forth into the Italian
Riviera
section. Needless to say the pizza and gelato is excellent! And everyone seems fluent in French and Italian.
Menton has had a reputation in the past for being quiet and boring but that's only compared to its very hip neighbors like St Tropez or Cannes. The town itself is small, pretty and friendly. We don't need a 'scene' when we travelling with children because usually they are the ones creating a scene!!
11. Larvotto Beach, Monaco
contributed by Louis of The Northern Boy
Exploring Monaco is an awesome experience, you can rub shoulders with millionaires in shops like Gucci or gamble the day away at the famous Monte Carlo. This is all fun, but, one of the best things to do in Monaco, is to head to the Larvotto Beach.
No visit to Monaco is complete without visiting the epic Lorvotto Beach!
Okay, so what is there to expect? If you enjoy swimming, you will appreciate taking a dip in the crystal clear water! Furthermore, there is plenty of epic work that goes in to keep the beach clean. Which is why it's also a perfect family beach.
Monaco can be very expensive, this is why a few hours is recommended lounging on this top beach in Monaco! Then, once you've had enough of swimming and soaking up the sun. There are some cool beachside restaurants to grab some food and a well-deserved drink. Also, you'll only be a 5-10 minutes walk to all the best shops in Monaco.
12. Calanque de Sugiton
contributed by Elisa from France Bucket List
Calanque de Sugiton is one of the beautiful beaches found in Parc National des Calanques de Marseille – Cassis, in the Region of France Provence – Alps – Côte d'Azur. This National Park of Southern France, located between high cliffs and the Mediterranean Sea, is the perfect place for hikers, nature lovers and people looking for sun and a relaxing time in a secluded beach.
The Calanque de Sugiton has a very beautiful setting, with high cliffs. It has two creeks, both with a small beach bathed by turquoise waters. On one side the path goes to Morgiou, and on the other side, it goes to another calanque, the Calanque de l'Oeil de Verre.
It is possible to reach Sugiton on a day hike starting from the parking at Luminy Campus. From there it is one hour hike (a bit more on the way back) being the last part a winding path down to the creeks. Alternatively, it is possible to reach Calanque de Sugiton by sailboat or a catamaran. This makes a pleasant day trip from Marseille or Cassis.
So, there you have it, my round-up of the best beaches in Southern France. From fun festivals and fabulous vineyards, to beautiful beaches and pristine promenades, the beaches of Southern France are some of the best in the world offering something to remember during each visit! The Côte d'Azur has so many different styles that there's sure to be something for everyone.
Let me know which is your favourite beach in the south of France, or if there is a favourite of yours that I've missed off my list! I'm sure I can be persuaded to visit some new beaches in France in the not too distant future…!
Did you like the post? Pin it!