February in the Caribbean is one of the coolest months of the year but with temperatures averaging between 70-80°F, visitors from the Northern hemisphere who want to escape the dismal weather back home have nothing to worry about as they laze on the beach or hike through the jungle. The only question is, which Caribbean Island to choose, we hope this article will help you decide the best island for you…
8 Caribbean Islands to Visit in February
1.Cayman Islands
Visit the Caymans in February and you can expect temperatures of between 65°F-85°F with little chance of rain. Comprising of 3 islands, the biggest is Grand Cayman which is well known for its beach resorts, scuba diving (did you know that the Caymans boasts 365 dive sites?!), snorkeling, and water sports – Snorkelling at Stingray City and scuba diving off of the USS Kittiwake are just two things to add to your underwater bucket list. If you seek some time away from the sea, head to the capital of George Town, here you can enjoy tax-free shopping and museums.
Don't spend all your time on Grand Cayman though – the island of Cayman Brac is where most of the deep-sea fishing excursions launch from as well as being a paradise for hikers whilst Little Cayman, the smallest yet also the mightiest, is a haven for honeymooners and also beloved by twitchers as here you'll be able to watch the uniquely named bananaquits, red-footed boobies, and frigate birds.
The Cayman Islands truly have something for everyone whether you're a family, couple, or solo traveler – Luxury resorts, some of the best beaches in the world, and an abundance of activities on land and underwater.
2. St Lucia
In February, this Eastern Caribbean island enjoys balmy breezy temperatures of between 73°F-84°F. Green and pristine with two dramatic mountains on its West coast, St Lucia has volcanic black sand beaches as well as pristine white sand beaches to enjoy.
The capital city, Castries, is the main cruise port so can become crowded but escaping into nature is no problem – choose a trail and make your way through the interior rainforest being sure to pay a visit to Toraille waterfall, or choose a beach and alternate between snorkeling or diving on the reef sites and relaxing beneath a palm tree. When you're ready for some culture, explore the fishing villages and then head over to Pigeon Island, the national park dotted with ruined military fortifications from colonial times.
St Lucia is well known for being a wedding and honeymoon destination but it should be known that it's an island with a split personality so where you stay should be chosen carefully – Do you want the noisy action-packed North with the port, multitude of resorts, nightlife, markets, and general hustle and bustle or the slow South with the rainforest and laid back resorts that are few and far between?
3. Antigua
If you visit Antigua in February you can expect beautiful breezy daytime temperatures of 83°F and nighttime temperatures of 72°F, pretty perfect for enjoying the pristine white sandy beaches and aquamarine sea, home to turtles and rays.
If you can drag your head out of the water and your body off of the beach (the island is ringed with coral reefs and boasts 365 beaches!) there are plenty of cultural and outdoor nature activities to enjoy on this small island that don't involve swimming, snorkeling, or scuba diving – visit the capital, St John's for a day of shopping and museums, see Betty's Hope, the site of one of the first sugar cane plantations of the island, and visit Nelson's Dockyard, the restored 1780's base of Admiral Horatio Nelson. You can also hike up to Shirley Heights and take in the panoramic views from this former military lookout, hike or zipline your way through the jungle, and enjoy a sunset cruise along the West coast.
Often overlooked in favor of the more famous and larger Caribbean islands, Antigua is great for couples as well as families looking to kick back and relax under the breezy blue sky.
4. Barbados
The temperature on this Eastern Caribbean island of Barbados during February usually keeps in the mid to high 80's with little humidity so expect beautiful breezy days though night temperatures can drop down to 66°F.
Bridgetown is the capital with cruise ship port but don't let the crowds of day-tripping tourists put you off spending time here, it's full of wonderful colonial buildings with Lord Nelson's statue standing proud in National Heroes Square. The harbor at sunset is a must-see with the sun reflecting off of the fishing boats and no trip would be complete without trying out some of the street food on offer. Be sure to venture further afield too, St. Nicholas Abbey is a 17th-century plantation house worthy of seeing as is the historic military base of Garrison Savannah, there's also Speightstown, a charming port town with the 18th century Arlington House. If you're more of a nature fan than a culture vulture, head to the Andromeda Botanic Gardens or hike through the jungle, a visit to Hunte's Gardens and Harrison's Cave are a must.
Barbados is certainly the family-friendly island to choose for culture vultures and nature lovers who seek more than just water activities, not that there's anything wrong with spending your entire time snorkeling, scuba diving, surfing, and sunbathing!
5. Martinique
This rugged Caribbean Island with its mix of French and West Indian influences (it's an overseas region of France) enjoys temperatures averaging 76°F in February however, you should expect some rain showers, possibly thunderstorms too, this island experiencing an average of 15 days of rain in February versus 3 days of rain on St Lucia and Antigua.
Mountains, beautiful beaches, tropical gardens with hummingbirds, jungle waterfalls, diving, snorkeling, and pre-Columbian history will fill your days when you're visiting this island. Fort-de-France is the port capital containing steep narrow streets filled with French boutiques and bakeries along with museums and architectural delights such as the cathedral whilst Trois Ilets is where most of the tourist resorts are located.
When off sightseeing, Saint Pierre is a must-see town as this was the former capital of the island before Mount Pelee erupted and destroyed the city in 1902. Today the town has been rebuilt from the ashes but you can still see the scars of Mother Nature. Other highlights include visiting the ruins of Château Dubuc, hiking Mount Pelée or the gorges along the Falaise River, and of course, spending time relaxing on the beaches and in the crystal clear water.
Martinique can be the ideal Caribbean Island for European travelers who have not dared to venture beyond their own back garden yet as they can say they've visited the Caribbean safe in the knowledge that you're still part of the EU with the familiarity of the Euro!
6. Grenada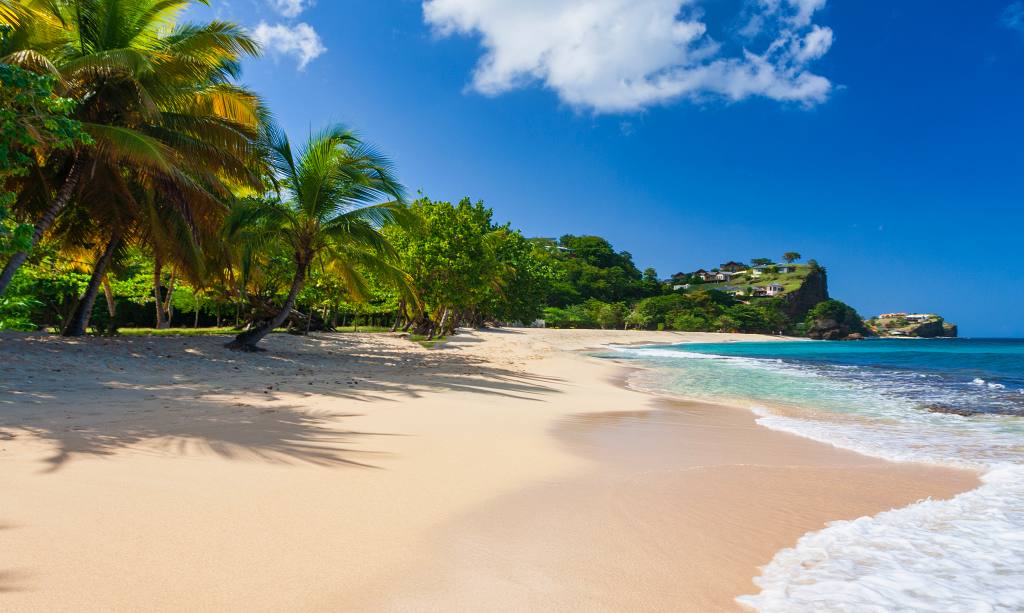 Grenada is a Caribbean country as well as an island, the country made up of the main island of the same name and smaller surrounding island. Known as 'the Spice Isle', St. George's is the capital of Grenada with architecture including a fortress and a mixture of Georgian buildings, and colorful wooden homes, tourism concentrated in the South-West corner of this Caribbean island that is roughly the same size as the UK's Isle of Wight.
Visit this island in February and you can expect temperatures of between 75°F – 83°F with light to moderate winds and perhaps one or two rain showers, this island receiving on average 9 days of rain during February which makes it dryer than Martinique but wetter than the Cayman Islands and St Lucia.
Awash with nutmeg plantations (which is why it's known as the spice island – you can smell the nutmeg in the air), tourists can spend their days hiking in the rainforest, admiring the waterfalls, scuba diving at the world's first underwater sculpture park, and relaxing on the white sandy beaches. A visit to the Diamond Chocolate Factory or a mooch around St George's waterfront can round off the day nicely if you seek some non-water activities.
Less developed than some of the other Caribbean Islands, Granada is a true tropical paradise for those who want to enjoy Mother Nature and get back to a more simple and unspoiled way of life.
7. St Vincent and the Grenadines
A major sailing destination, this volcanic south Caribbean nation is made up of the main island called St. Vincent, and a chain of 31 smaller islands with cheap ferries making travel between the Grenadines as alluring as island hopping in Greece!
Known as SVG for short, daily temperatures in February average 80°F with strong breezes helping to keep the humidity at bay. There's a likelihood of a rain shower or two throughout your visit, St Vincent and the Grenadines usually experiencing 13 days of rain in February despite this being the dry season. Bear in mind that the climate does vary between the Grenadine Islands with the southern islands being slightly warmer and drier than the northern islands so choose your base carefully.
Most loved for its beaches, sailing culture, the island of St Vincent contains the capital, Kingstown, a lively port town with a market, museums, and the cathedral with the botanical gardens, 18-meter high Baleine Falls, and La Soufriere Volcano also must-see places on the main island. Bequia is the largest of the Grenadines, famous for its boat builders and the last hand-harpooners in the world with the island of Canouan beloved for its white-sand beaches and the islets of Tobago Cays the place to dive and snorkel the coral reefs.
Travelers seeking a desert island experience with ample opportunity for hiking and island hopping without mass tourism wouldn't go far wrong to choose St Vincent and the Grenadines for their vacation be they solo travelers, couples, of families.
8. Dominica
Known for its rainforests and hot springs, Dominica is the hidden gem of the Caribbean containing 365 rivers, 18 waterfalls (that have been named), and black sand beaches.
Visit this volcanic Caribbean island in February and you can expect daytime temperatures in the 80's with short and light rain showers experienced for about 10 days of the month. A fairly strong Easterly breeze helps keep the humidity level muggy rather than oppressive.
Roseau is the colorful capital filled with timber houses located on the West side of the island with Morne Trois Pitons National Park home of the Boiling Lake another must-visit, so-called because it's volcanically heated. Sulfur vents, a 65-meter high waterfall, and the beautiful Titou Gorge can also be found at this national park with Dominica also tempting you with dolphin and whale watching, canyoning, river tubing and of course snorkeling and scuba diving from the famous Champagne Reef. If you seek culture too, you can learn about the indigenous Kalinago people at the Kalinago Barana Autê cultural heritage center, see the cannons at Fort Shirley, and explore the quaint fishing villages.
Travelers seeking picturesque white sandy beaches should head to one of the other Caribbean Islands as Dominica has black and silver beaches, but for those with an adventurous spirit and a passion for enjoying the great outdoors away from the typical tourist trail, Dominica hits the right spot!
As you can see, each of these Caribbean Islands is a tropical paradise waiting to be explored, the question is, which place tickled your fancy?