When we lived in Southwest London, I used to tell my American friends back home that you could throw a dart at the map of England and it would land on something interesting to see: a crumbling monastery, a picturesque cathedral town, or the country estate of an esteemed member of the nobility.  At the very least, you'd find some of the most picturesque rolling countrysides I've seen anywhere in the world.   There really is so much to see within a couple of hours of the city, and choosing just 4 "best day trips from London" is an incredibly difficult task.  Anyway, here goes. We'll even try to bundle a few destinations together to maximize your experience.
Disclaimer: This post contains affiliate links. This means that should you click on certain links, and then subsequently purchase a product, I will receive a small commission. It costs nothing extra to you but helps keep my site running. Thank you for supporting me in this way.
Windsor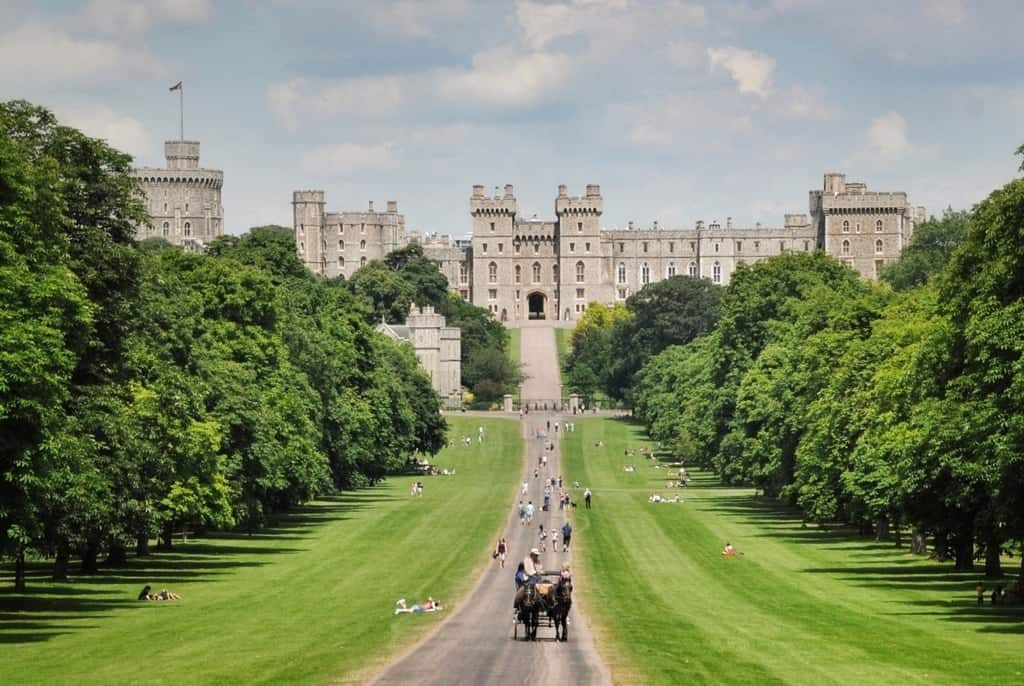 Picture this scene: Four adults, two toddlers, and a picnic in a park. It's summer in England. One of the children, finished with lunch, decides to putter around on her scooter while the rest of the group chats. A couple minutes pass, and the adults are surprised to find a green Volvo coming slowly toward the group on a road that was assumed to be a pedestrian walkway. The parents quickly guide the toddler over to the grass. As the car passes, they turn to look at the car, and who should be driving? THE QUEEN HERSELF. With a slight wave, she was gone. That was us, in the summer of 2014, just outside the gates to Windsor Castle.
Windsor Castle is one of the top tourist attractions in the UK for good reasons: It's the Queen's favorite residence, seeped in history, and an easy train/car ride (21 miles) from Central London. Like any proper medieval castle, it's set atop a hill with commanding views of the surrounding countryside. While the military implications of the location are no longer overly relevant, it does make for a striking setting.
Visitors are able to wander around much of the castle grounds as well as tour the State Apartments. You just may want to check before your visit to be sure they're not being used in an official capacity, and thus closed to visitors. Be sure not to miss the on-site chapel, St. George's, the burial site of Henry VIII and nine other English monarchs. St. George's offers much more than just tombs, however. Go for the architecture, the stained glass, the intricate carvings, and a soaring ceiling. If you enjoy royal pomp, you'll enjoy the Changing of the Guard, just outside the chapel doors, which takes place at 11am most of the year. (Check before you go to be sure, however!)
Outside the castle, the town of Windsor is worth a visit in it's own right. There's a large pedestrian high street, often frequented by street performers and artists. The pubs and shopping are nice, and not nearly as tacky-touristy as you might fear. Windsor's proximity to London makes it one of the most accessible and rewarding day trips for someone looking for a taste of England outside the capital.
When we lived nearby, we would stop by the food hall in Marks and Spencer's for picnic fare, and bring it east of the main castle entrance to the Long Walk, a park-like setting in plain view of this amazing 11th century royal residence. Many of the streets surrounding the castle are closed to car traffic, unless you're a royal, which makes it a quiet spot to wander around or pop open some tasty takeout. And you might just find yourself herding your child off of the road so she's not hit by the Queen's Volvo.
How to get there:
Windsor Castle is accessible by car via the M4, but it's extremely easy by train.  From Waterloo Station in London, take a South West Train to the Windsor & Eton Riverside stop.  The train terminates right in Windsor, so you won't miss it!  Given the choice, I'd take the train; parking can be found in a mall garage, but it's obnoxiously tight. Don't forget to get the entrance tickets for the castle here.
If you prefer to take a tour instead here is good one:
Windsor Half-Day Tour from London
Salisbury & Stonehenge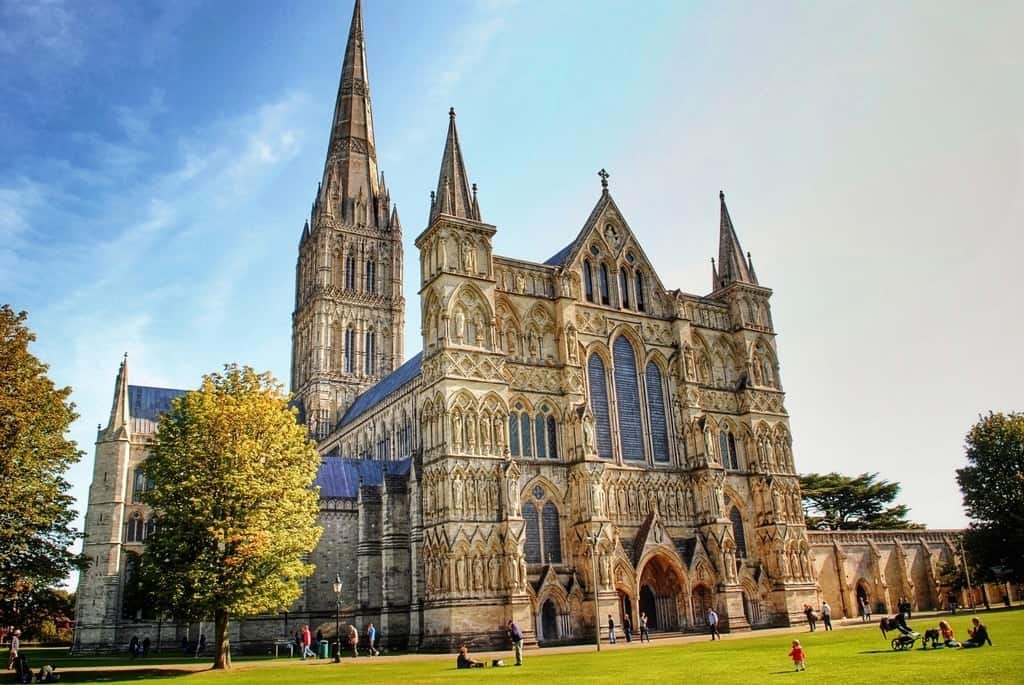 In my opinion, every visitor to England should experience a true cathedral town. Cathedral towns are a completely different experience from the bustling, stylish, commercial London, and any one of them represents a worthy stop for any visitor to the UK.
For this list I was tempted to rhapsodize about Winchester (the capital of medieval England), Wells (England's smallest "city"), or Canterbury (the historic and current seat of the Church of England), but Salisbury's proximity to Stonehenge gives it the edge. Stonehenge is 10 miles away (or a half-hour bus ride) from Salisbury, making it easy to cross both off of your list in a single day.
You'll see the spire of 13th century Salisbury Cathedral long before you arrive; it's the tallest in England. Going out into the town, old stone shops and restaurants are everywhere, and you'll often stumble across pop-up markets on the old city streets as you wander. The city center is mostly pedestrian, not to mention old and charming, and it would be a worthy destination even if it didn't contain THAT cathedral.
Thankfully, however, it does. This is the main attraction. Marvel at the cathedral from the outside, and plan for an hour+ of experiencing the grounds (the Cathedral Close is truly one of the most beautiful public spaces in England), the nave, the 14th century clock, the crusaders' tombs, and the best original copy of the Magna Carta. Don't fail to appreciate that, with all of its beauty and soaring splendor, the cathedral was built without modern tools, building techniques, and engineering.
It's officially free to enter, but donations are very much appreciated.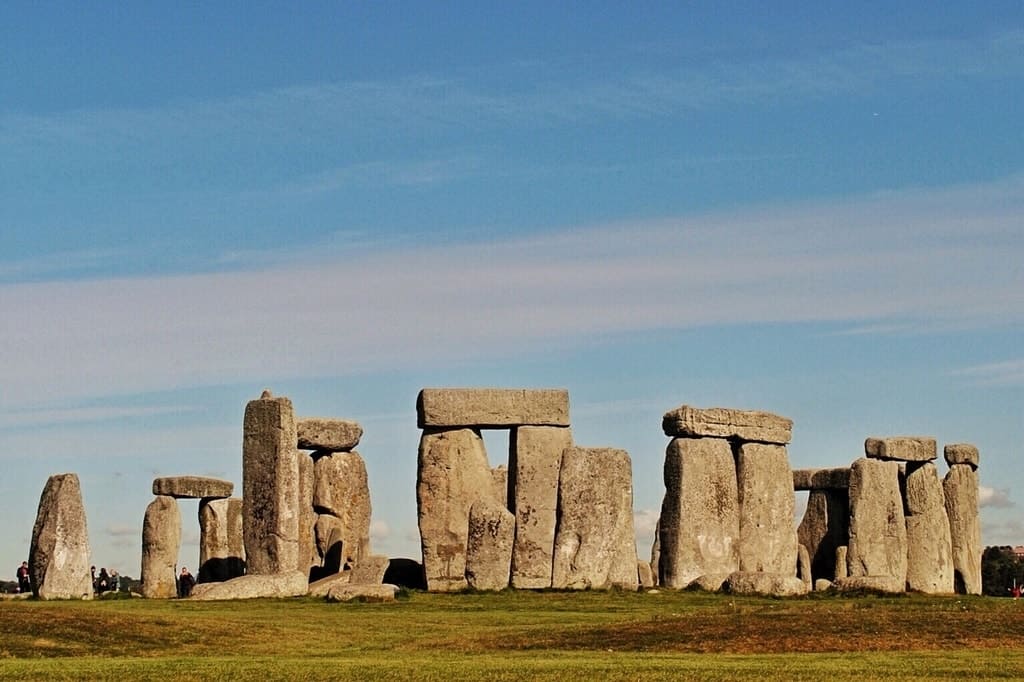 Once you're ready, take the bus to Stonehenge (they leave every half-hour) and tour the ancient stones.  You'll wonder, like millions of visitors before you: Why, what, and how?  Why did ancient people pull 25-ton stones out of the ground and haul them dozens, if not hundreds of miles down the road to erect this monument?  What was the purpose?  How in the world did they organize the manpower to achieve such a feat?  If the building of Salisbury Cathedral (constructed between 1220-58) is an impressive feat (and it IS), how about a stone circle begun 4200 years before that?  Mind-boggling is more like it.
How to get there:
If you're traveling by train, take the South West Train from Waterloo station toward Exeter St. Davids. Salisbury is your 5th stop, and the Stonehenge Tour bus leaves from the railway station at regular intervals. By car, It takes about 2 hours to get from Central London to Salisbury via the M3 and A303. From Salisbury, Stonehenge is just 20 minutes North via A360 and A303.
Don't forget to book your timed admission tickets to Stonehedge here.
If you prefer to visit Stonehedge with a guided tour instead here are a few options:
Oxford & Blenheim Palace
Walk in the steps of C.S. Lewis, Oscar Wilde, and 58 Nobel Peace Prize winners. Peek into numerous illustrious museums, galleries, and colleges, and then scope out where many scenes from the Harry Potter series was filmed. Don't miss Radcliffe Camera, resplendently clad in golden brown bricks and topped with an impressive dome. In my opinion, it's the most beautiful building around — in a town of brimming with beautiful buildings. Oxford's shops and restaurants seem to cheerfully intermingle with the university's many colleges, making for an ideal place to stroll around for an afternoon.
For a good ale and a dose of literary history, stop by the Eagle and Child pub. It was once the meeting place for C.S. Lewis, J.R.R. Tolkien, and their circle of friends known as the "Inklings."
From Oxford, it's just nine miles out to Blenheim Palace, the country estate and home of the Duke of Marlborough as well as the birthplace of Winston Churchill. Lavish in the extreme, it was given to John Churchill, the first Duke of Marlborough, by Queen Anne in appreciation for military victories over France and Bavaria. England is home to its fair share of these impressive estates (think Downton Abbey and Mr. Darcy's place in Pride and Prejudice, any version) but none are more opulent than Blenheim. While you're here, don't miss the grounds and gardens, complete with a mermaid fountain and hedge maze. If the weather is poor or you're not in the mood to explore on foot, a tram is available to take you around.
Check here some more amazing places to visit in Oxford and Oxfordshire.
How to get there:
The easiest way to get to Oxford is the hour train ride from Paddington Station, but buses leaving from Victoria Station will also get you there. If you have a car, it's also a straight shot on the M40, and the drive will take you just under 90 minutes in good traffic. To get to Blenheim from Oxford, it's a 40 minute bus ride from Magdalen Street, or 20 minutes if you did bring your car. Parking is plentiful.
Getting to Oxford by train is very easy but if you want to do a tour that includes Oxford here are a few great options:
Corfe Castle & Durdle Door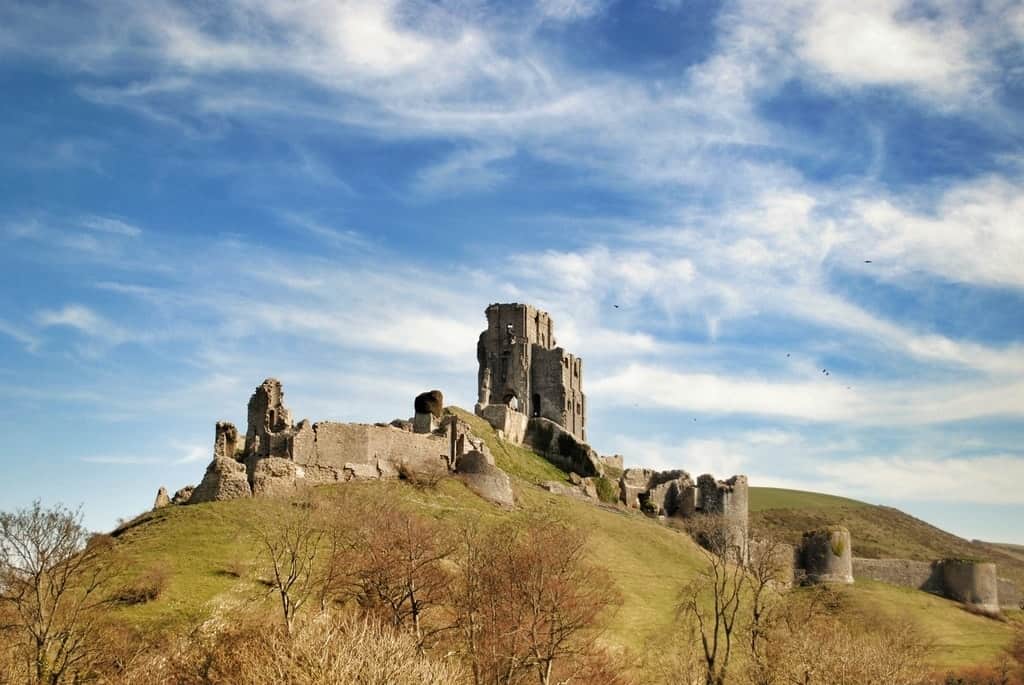 After all this splendor, it's time for a ruin, and Corfe Castle is our pick! Built, or at least begun, by William the Conqueror in the 11th century, this magnificently evocative structure is sited on top of hill overlooking the charming stone village that shares its name, with the surrounding countryside beyond. A hike up the hills on either side of the town will help you get the lay of the land and some the best photo opportunities in England. You won't regret it.
Corfe Castle had a long history as a military stronghold, but the castle paid a great price for its allegiance to the crown during the 17th century English Civil War. The castle was destroyed by an act of Parliament, and we're left with the ruins we see today. That's not to say that it's any less impressive today for being a ruin. You could even argue that it's a good deal more fun to explore in its current state. After touring the castle grounds, the village is worth a visit, and don't miss the nearby tea room with great views out over the castle. Castle cost of admission is 9.90 GBP for adults.
Since you've already come this far from London, you can probably be convinced to go a little bit farther. Durdle Door lies just over 10 minutes southwest of Corfe Castle, and a stop here will ensure that you take in one of England's best coastal views. While the walk along the limestone cliffs is impressive, the "door" itself, a limestone arch jutting out into the English Channel, and the beach at its base are the highlights of any visit. If it's a warm summer day, consider packing your bathing suit. The path down from the car park is a bit steep and will be challenging for very young children or those with restricted mobility. Always take caution next to the cliffs
How to get there:
This trip is best done by car since public transportation will require at least two trains and a bus. The town of Corfe Castle is about 2.5 hours from Central London by car via the M3, and the trip to the Durdle Door will add on an additional 20-25 minutes. This is the longest day trip on the list, but it's easy to see both sights in a day if you leave the city at a reasonable time.
These trips represent our favorite trips from London, but I could definitely keep going — if you're in London, you'll never go wrong with a day trip to the Cotswolds, Cambridge, the Seven Sisters, Bath, or a hundred other places within a day's journey? England is both endlessly diverting and relatively small. Regardless of where you go, however, be sure to seek out the following experiences:
Grab a pint at a pub.
Treat yourself to an Afternoon Tea (or, at the very least, order at a Marks and Spencers cafe.) You won't be disappointed.
Walk somewhere.
Find something charming and cute that's quintessentially English, and maybe snap a photo or two. You won't lack for choice.
Read up on the history of England, whether its William the Conqueror storming the English beaches from Normandy, the antiquity of Stonehenge, the tumultuous rule of the Tudors, or the more recent horrors of the Blitz. Your visit will be all the more rich for the context you'll gain.
London is one of the world's great cities, but if you don't leave its boundaries you'll miss out on some of the best English experiences: a tour of a country estate, a romp around a castle perched high upon a hill, and getting lost in the nooks and shadows of a cathedral.
So go. Now. By train, bus or car. Enjoy every minute of it.
BIO: Jessica Brown currently lives in Connecticut and writes at Roaming the Northeast, a website dedicated to family travel in New England, New York, and farther out. She loves hamburgers, DIY, and exploring the world with her husband and three kids in tow.
Did you like this post? Pin it!