Perched on top of a hill not too far from Siena, this lovely medieval town is one of the most charming places in Tuscany, other than one of the favorite destinations of national and international wine lovers!
You've probably already heard about the prized Nobile wine, which is produced in the vineyards surrounding Montepulciano: you can have a glass of it anywhere in town, and you cannot miss a visit to a wine cellar, a wine estate, or a local winery offering guided visits and tastings!
Montepulciano is mainly famous for its idyllic country landscapes, its scenic views, and its wine, but it also offers plenty of historic buildings and beautiful churches that will keep you busy for an entire day.
Thanks to its picturesque old town, it was often chosen as a movie set, and one of the most popular movies that were shot right there was "New Moon", belonging to the iconic Twilight saga!
Here's a list of what you can see and do in Montepulciano:
Disclaimer: This post contains affiliate links. This means that should you click on certain links and then subsequently purchase a product, I will receive a small commission.
17 Things to Do in Montepulciano
Enjoy a wine tour and taste a glass of Nobile wine
No day trip to Montepulciano is complete without a glass of Nobile wine! And what's best than tasting it right in the cellar of one of the main producers? Take this guided tour and enjoy a scenic walk among the vineyards, together with some tastings Montepulciano: Vino Nobile Wine Tour — Meet the Producers. If you're a movie lover, don't miss this one, combining pop culture and gastronomy: Montepulciano: Twilight Saga New Moon Tour with Wine Tasting.
If you want to taste some wine without taking a long guided tour, choose one of these wineries: Cantina Ercolani offers an underground visit to the cellar Cantina Avignonesi in the countryside outside Montepulciano or Cantina de Ricci which is the most renowned winery in town.
Stop in Piazza Grande
It's considered one of the most beautiful squares in Italy, and it's the beating heart of Montepulciano. Here you can find the main public buildings (the Cathedral and the Town Hall) and an old well. It's named Well of Griffins and Lions because of the statues placed on its top.
Visit the Civic Museum
An elegant building dating back to the 16th century houses this art museum displaying several masterpieces made by a few Tuscan artists between the 14th and the 19th century. It was the private collection of Francesco Crociani, who decided to share his passion for local art with his citizens.
An archeological exhibition about Etruscan and Roman artifacts was also added in 2000. You can find more information here.
Enter the church of S. Biagio.
You can find it just outside the town, in the middle of a wide lawn. This majestic Renaissance building was erected upon the remains of a medieval church. A medieval fresco representing the Virgin Mary with her Child and St. Francis was actually considered miraculous, and it was the main reason why locals wanted to erect a larger and more beautiful church in this exact spot.
Other than for its works of art, the church deserves a stop for its old well located in the middle of the lawn, which makes it a great place for your pictures!
Learn the story of the Marzocco Column.
The symbol of Montepulciano is a column topped by the statue of a lion named Marzocco, which is typical of Florentine iconography. In the past, there was a wolf instead, which represented Siena before Montepulciano was conquered by the Florentine army in 1511.
From that moment on, the lion was placed on top of the column to represent the power of Florence over Siena. Marzocco is a name deriving from the Latin version of "Mars," the god that was originally associated with the town of Florence.
Climb to the top of the City Hall.
This beautiful Gothic building dates back to the 13th century, but it was restored during the Renaissance to make it look more like the "trendy" palaces that were typical of that era. It actually looks very much like Palazzo della Signoria in Florence! You can climb to the top of its tower to enjoy a great view spanning from Trasimeno Lake to Mount Amiata.
Visit the Cathedral
It's a true Renaissance masterpiece deserving a thorough visit. In the 16th century, an architectural competition took place, and the winner was Ippolito Scalza, a student of Michelangelo, who started to work on this cathedral and dedicated all his life to that.
The construction works lasted so long he could not see them over, and the cathedral was only inaugurated in 1680, a century after he had laid the first stone. Among its artistic masterpieces, don't miss the Lily Altar made by Andrea della Robbia in 1512 and the tomb of the famous humanist Bartolomeo Aragazzi.
Reach the Medici Fortress
One of the most popular places among both locals and visitors has recently been converted into a cultural center. It overlooks the town offering a great view of the Orcia Vally. You can easily reach it from Piazza Grande, and you can visit several art exhibitions and attend many cultural events up there.
The first traces of a fortress date back to the 8th century, but the castle acquired its current look after the famous Montaperti battle (1260) when the Siena's army defeated Florence.
Visit the church of S. Agnes.
It's located in the lower part of Montepulciano, and it was established in 1306 by a Dominican nun named Agnese Segni. Her relics and her body are still kept inside the church. Its beautiful façade in white and ochre marble deserves a stop.
Take a picture of the Pulcinella tower.
A statue of Pulcinella stands on top of the Clock Tower ringing the bell: that's quite strange if you think it's a popular Neapolitan folk character! It is said it was brought to Montepulciano by a Neapolitan bishop towards the end of the 17th century, but it could also represent a tribute to theatrical art.
Have a stroll along the Corso.
It's the main street of the Old Town, and it's full of shops, cafés, and picturesque corners. Its proper name is Gracciano del Corso Street, but it's Corso for everybody! It's a great place for a night out too.
Enter the Old Town from Prato Gate
The monumental entrance to the old town was this gate embedded in the medieval walls. It's been later restored and included in the Renaissance walls in the XV century.
Have a day trip to Pienza.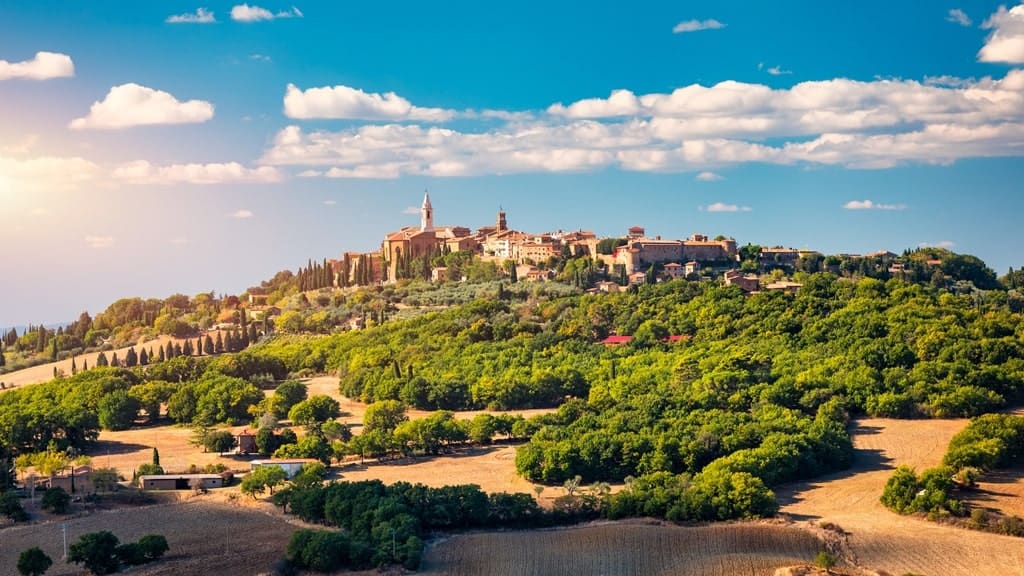 It's really close to Montepulciano (only 14 Km), and you can combine these two lovely towns in one single-day trip from Siena. Pienza represents the ideal Renaissance town conceived by Pope Pio II, and it's indeed quite different, but not less picturesque, from the other medieval Tuscan towns you can visit nearby.
Have a day trip to Trasimeno Lake.
It's located 30 Km away from Montepulciano, in Umbria. It's the largest lake in Central Italy and a great location to spend a day in nature, have a picnic, or swim in summer! Choose Castiglione del Lago as your base: it's a medieval walled town featuring a castle and a scenic promenade.
Have a day trip to Montichiello
If you love the hilly Tuscan countryside and you prefer to stay away from the crowd, choose Montichiello for your day trip! It's easily reachable from Montepulciano by bike, and it's a great location to spend a relaxing day in a peaceful and cozy atmosphere.
Attend Bravio delle Botti
This historical competition takes place in late August, and it's a true attraction for locals! The game consists of rolling 80Kg barrels uphill throughout the old town. The actual competitors are not the athletes, but the quarters of Montepulciano, and the winner can display the "Bravio", (the modern version of the Latin word "Bravium"), which is a flag representing the Saint patron of the town.
Attend a show organized by Cantiere dell'Arte
This artistic and cultural event was first introduced in the 70s, and it's still very popular. It lasts for several weeks in summer. Its rich calendar of shows, classical music concerts, ballets, and theatrical performances attracts many visitors both to Montepulciano and the surrounding towns.