Be bold and adventurous and visit Oslo, the capital of Norway, in wintertime. The queues for museums are shorter, Christmas decorations are up and lit the city up, and you can do lots of fun snow activities without leaving the city. Oslo is the only city that hosts the Nobel Prize award outside of Sweden – the Nobel Peace Prize award, which you can attend in December if you can get the tickets.
This is a guest post from Lena of the Travelletters.
What to do during winter in Oslo
Weather in Oslo in winter
Winter months in Oslo are December, January and February, but in reality the winter can start in November and last until mid of April. With the winter I mean minus degrees Celsius and snow on the ground. If you are traveling to Oslo in this time period bring your winter gear because the temperature can vary from – 10C at night to +5C at daytime.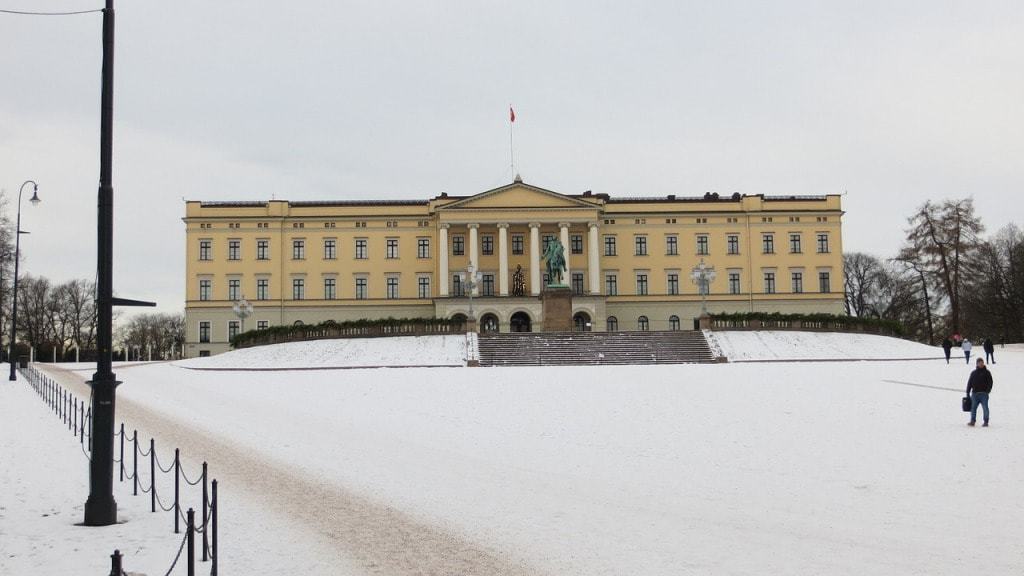 Things to do in Oslo in winter
The things you might know about Oslo are – it held winter Olympic in 1952, it has one of the most famous ski jumping arenas in the world – Holmenkollen, which has the most amazing views over Oslo and it is a home of the Munch's most famous work "The scream". You can visit both attractions during the winter.
But did you know that you can do cross-country skiing, downhill skiing and tobogganing on sleds just outside the city centre? You can rent all the gear you need for the above at the activity centers. The metro ride of approximately 30 min up to the "city roof" will also give you an amazing view.
Take line 1 to Frognereseren and got off at Holmenkollen for ski jump arena and museum.
Take line 1 to Frognereseteren, get off at the last stop Frognereseteren and walk up to Tryvann, where Oslo Winter Park is located. The Park has something for everyone, from the easier slopes in the beginners' area to wide and exciting slopes for the whole family to carve down. In addition, they have one of Norway's biggest snowparks with a slopestyle course and Europe's only Superpipe open to the public.
Take line 1 to Frognereseteren and get off at the last station Frognereseteren, if you want to go togobanning at the Oslo's famous Korketrekkeren.
While you are up here, visit the famous Frognerseteren café and restaurant, for their famous apple tarte and hot chocolate with whipped cream. The building dates all the way back to 1891 and has amazing architecture that gives you the feeling of being in the mountains. Here you get an amazing view over Oslofjorden. The café have many rooms, large and small, and not all of them open to the public at all time. However, you will always find a spot either inside, on the balcony on the second floor or outside. They have fireplaces in several rooms which they lit quite often.
You can also go ice-skating at several places in the centrum of the city – Frognerparken and Spikkersuppa, the latest is located on the left side of the main street, in front of the National Theatre.
If you have time to visit the  Norwegian mountains you can check my post on it here.
You can visit Oslo Opera House located beautifully by the water. Visit Vigelandparken and Ekebergparken, wich are both well known for their beautiful statues and art. They both have free entrance and Ekeberg has a beautiful view over Oslo. The city has many museums, a fortress – Akershusfestning, which is open to public and from there you get a beautiful view of Akerbrygge, the harbor area with many restaurants.
At the Christmas market on the main street you can get Christmas decorations, traditional Norwegian wool wear and taste traditional Norwegian food and drinks.
What to eat in Oslo
The city's cuisine has a strong maritime theme and is now a foodie hotspot thanks to what's known as New Nordic cuisine — food that revolves around nature, purity, freshness and simplicity. You can also have some of the Norwegian quirky specialties such as rakefisk, lutefisk and pinnekjøtt, which are all traditional winter specialties.
Oslo has a few restaurants with Michelin stars – Maeemo has 3 stars and a waiting list several months long. Statholdegaarden, Galt and Kontrast have 1 each. Oslo is expensive but you can have many good quality meals at cheaper places.
Other high quality restaurants are asian Dinner, asianKamai, asian fusion Hanami, tapas Escalon or italian Villa Paradiso.
But what you probably don't know about Oslo is that the city runs on coffee. In terms of coffee connoisseurship, nowhere can match the capital city of Oslo, from small-batch artisan roasters to specialist espresso bars run by former barista champions (according to a report from Lonely Planet in 2017). Visit Tim Wendelboe's coffee bar – one of the best in Oslo, with only a few seats. Check out also Oslo's hipster area Grünerløkka and have a coffee at Supreme Roastworks.
Shopping in Oslo
Oslo has two shopping malls by the central railway station and a few more along or near the main streets. Norway is expensive, but if you visit it during winter months, especially in December or January,  the sales are on. But there are also many small shops that promote up and coming young designers or small brands.
Where to stay in Oslo
There are many hotels in Oslo, both large chains like Choice, Thon and Scandic, but also small brands. Lately AirBnB has taken some of the market. If you want to stay at one of the coolest hotels in Oslo, I recommend The Thief at Tjovholmen. Hotel Opera near the Opera House is very nice too. They are both located very central, but in two different areas. But like in any other city, hotels get cheaper the farther away from the center you stay.
Click here for more hotel options in Oslo.
Go out in Oslo
Oslo's nightlife is busy during the period of late November and up to Christmas, due to Christmas parties. People dress up and go to fancy restaurants and nightclubs. Oslo has plenty of bars, discos and clubs for different age groups and orientations, and Norwegians are very open-minded.
If you are looking for something new, check out Bar ISM, just outside National Theatre. On the ground floor the concept is "Guilty pleasure", but downstairs and behind closed doors they have a small room (you have to book in advance) with space for 10-12 people. It is sophisticated sort whisky and cigar concept, where they will make your drink based on your taste. They have different theme every week – which can be anywhere between sustainability or 3rd world issues. Remember to dress up when going out in Oslo.
If you are looking to visit another city during wintertime check my post on Best Time To Visit Paris Here
Bio: I am Lena from Norway and I love to travel. I am married with two teenagers and have a
full time
job. We can only travel for a few days at a time and on our vacation time. This, however, hasn't
stoped
us from traveling to places far away. If we can do it, so can you! If you are curious about how we do it or need some tips head over to https://travelletters.net – Around the world on a long weekend. See you around!
 Disclaimer: This post contains affiliate links. This means that should you click on certain links, and then subsequently purchase a product, I will receive a small commission. It costs nothing extra to you but helps keep my site running. Thank you for supporting me in this way.