Puglia is a large Region in Southern Italy and it is often referred to as "the Heel of the Boot", for its geographical position. It is one of the most important Italian locations for seaside tourism, thanks to its many kilometers of sandy beaches. It is also the place where Adriatic and Ionian seas meet. Moreover, Puglia has a rich historic and cultural heritage, so that it's a perfect destination for all tastes.
During your stay in Puglia, don't limit your visit to the most popular destinations! Don't just follow your guide, unless you want to be among crowds of tourists in packed sites! Choose also alternative places and unusual activities, like the ones below:
28 Amazing Things to Do and See in Puglia, Italy
1. Get lost in a magical landscape at Castellana Caves (Bari)
It is a spectacular underground cave system that is 3Km long and 70m deep. You can have a guided tour that will lead you through sceneries that seem to belong to a fantasy tale. All the caves have evocative names like "Wolf Cave", "Owl Cave", Precipice Cave" or Desert Corridor". If you want an even stronger experience, plan your tour at night! For more information visit here.
2. Have a quick trip to the Middle-Ages at Castel del Monte (Andria)
It is a 13th-century fortress built on top of a hill. It's been part of UNESCO's World Heritage List since 1996 and it is a perfect example of Medieval architecture. Its main feature consists of its entire layout being built around the number 8 (8 towers, octagonal base, etc). Moreover, it shows some particular lighting effects during solstices and equinoxes.
3. Have a walk in the Old Town of Gallipoli (Lecce)
This town is called "The Ionian Pearl" for its elegance, its sandy beaches, and its ancient and picturesque Old Town district built on an island. This part of the city is surrounded by the sea on 3 sides and it's connected to the modern districts by a bridge. Have a walk through its narrow alleys and discover historic buildings, churches, and pieces of heritage from different periods.
4. Explore the canyons of Terra delle Gravine Natural Park (Taranto)
This area is located between Brindisi and Taranto and it is called "Murge". Its landscape is really wild, with deep canyons called "gravine". A "gravina" is a rocky slit that can be 100m deep and form a narrow natural corridor. This natural park is perfect for hiking on your own or with a guided tour leading through breathtaking sceneries.
5. Enjoy a panoramic drive along Gargano coast (Foggia)
Gargano promontory is also called the "Spur of Italy", because of its shape and its geographical position (above the heel of the "boot", like Italians call the Country). Gargano is surrounded by the Adriatic Sea on 3 sides and it is one of the most popular natural areas of Southern Italy. To enjoy the best views, you can have a drive along the coastal road connecting Vieste to Peschici. Here you'll have the chance to admire steep drops over a crystal-clear sea, rock formations, green Mediterranean vegetation, and little hidden bays.
6. Celebrate Christmas in Polignano a Mare (Bari)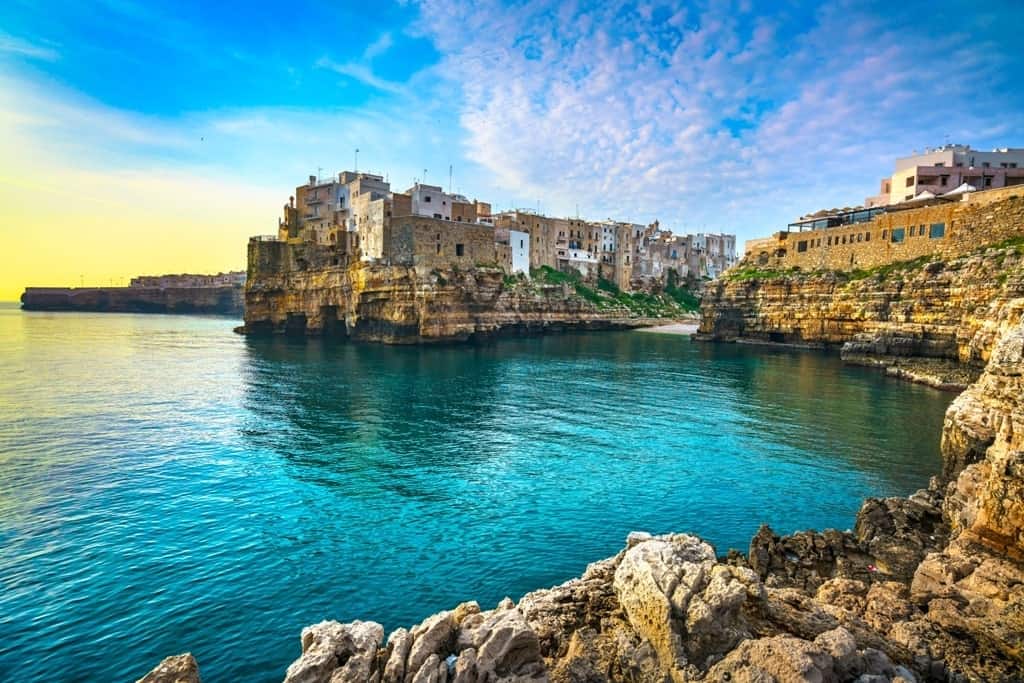 This historical seaside resort has an ancient tradition to celebrate Christmas: the Living Nativity Scene. Every year, hundreds of volunteers and animals commemorate the Nativity with a sort of theater scenography in a historic place of the village. In December and early January, there are also traditional crafts exhibitions, food events, Christmas lights in the streets, and a huge Christmas tree.
7. Discover the "White City" (Ostuni)
This town owes its surname to its whitewashed buildings aligned along narrow alleys climbing the local hill. From a distance, it looks like an Arab town and its skyline is really picturesque. You can have a walk in the city center and discover many small craft shops or places selling typical products or local food. Don't forget to climb to the top of the hill to visit the Cathedral.
8. Admire Lecce's Cathedral at night
This beautiful baroque church gives its best at night, thanks to the evocative lighting creating a magical atmosphere in the whole square. Have also a walk through the surrounding alleyways, where you can stop in several pubs and bars and enjoy the local nightlife.
9. Enjoy silence and peace at Olivetani Monastery (Lecce)
Nowadays, this former monastery hosts a branch of Salento University (History, Society and Human Studies), but it's still an aesthetically beautiful place with lots of pieces of art. It is located near a cemetery and it welcomes its visitors with a nice citrus garden. Have a guided tour to admire its architecture and its artistic decorations and have a stop in the peaceful cloister.
10. Swim into the natural pool of the Poetry Cave (Lecce)
The Poetry Cave is a karstic complex composed of 2 caves (Big Poetry and Small Poetry) without their roofs: they are open-air and deeply carved into the rocks. The largest natural swimming pool is perfect to take dips from a height of 5m and to swim in salty water. It's connected to the sea by an underground canal: you can swim through it or you can explore it with a small boat.
11. Learn something about majolica art in Grottaglie (Taranto)
This town, like Puglia Region in general, has an ancient tradition of terracotta manufacturing. This material is used to produce both artistic and common objects. Local craftsmen use to paint their creations with a colored glaze forming nice decorations, geometric patterns, or floral motifs. Visit the "Ceramic District" with its many craftsmen's shops to see these local artists at work.
12. Go snorkelling in the Violet Cave (Tremiti Islands)
This small archipelago is composed of 5 tiny islands and it is located North of Gargano promontory in the Adriatic Sea. It is a protected marine reserve and it is an ideal location for snorkeling and diving. There are many caves, rock formations, and hidden bays hosting numbers of fishes, mollusks, and urchins. The Violet Cave owes its name to the violets growing on the banks and to the violet tint of water due to the presence of a particular species of seaweed.
13. Spend one day on Torre Lapillo beach (Porto Cesareo)
It is one of the most popular and renowned beaches in the whole Salento area. Here you can enjoy a typical day off in Puglia, like a real local. You'll find white sand, crystal-clear water, and the perfect environment for families with kids. Visit also the ancient tower giving the name to the beach and the little marina.
14. Dream about Maldives in Pescoluse (Lecce)
Here you'll find a beach which is often considered the most beautiful and "exotic" one in the whole Puglia Region. Its fine sand and turquoise water are the reason why this entire coastal area is often referred to as the "Salento Maldives". Shallow waters and a large beach protected from the winds by vegetation and sand dunes make it also an ideal destination for families with kids. To fully enjoy the beauty of the natural scenery, come here in June or in September to avoid tourist crowds.
15. Admire the dolphins on a half-day cruise (Taranto)
The Ionian Dolphin Conservation Center in Taranto offers tourists and locals the chance to spend about 5 hours on their catamaran to admire the dolphins living in the gulf. This research association is engaged in the protection of marine biodiversity and promotes education about biology, marine fauna, and the marine environment in general. For more information visit here.
16. Visit a real "Trullo" (Alberobello)
This town is famous for its traditional buildings: they are whitewashed and made of local limestone with a particular conic roof made of layered stone labs. The building technique is called dry-stone and it is really ancient, stemming from a pre-historical period. Trulli have been part of UNESCO's World Heritage List since 1996.
17. Take a hot air balloon ride above the Gravina
You'll have the chance to admire a wild natural landscape made of deep canyons and hills, but also the stone houses of the village looking like a sort of open-air museum. For more information visit here.
18. Do a tour of the rock carved churches in Massafra (Taranto)
This town offers its visitors some precious pieces of heritage that are hidden in its ancient streets and the surrounding countryside: some beautiful rock-carved churches with amazing decorations and original frescos. Visit San Leonardo, Candelora of Sant'Antonio Abate, and enjoy a guided tour not to miss any hidden gem.
19. Enjoy a Street Food Tour
Enjoy a Street Food Tour to taste local specialties and learn something about the typical gastronomy of Puglia. There are many tours in the main cities of the Region so that you can choose according to your preferences and your itinerary. A very appreciated tour is held in Bari and it will let you taste locals' favorite products while visiting the city center at the same time. You'll discover famous products like burrata and local cold cuts, but also popular street foods like focaccia and artisanal ice cream. For more information visit
20. Learn how to make real orecchiette
Discover all the secrets of authentic handmade pasta with a dedicated chef just for you. This way, you'll be able to reproduce your favorite Italian dishes at home after your trip! These cooking classes are often held in "masserie", that is local farmhouses in the countryside. This is also a good idea to enjoy a relaxing weekend doing open-air activities like walking, swimming in the pool, biking or horse riding. For more information visit
21. Attend a play or a concert at the Roman amphitheater in Lecce
This striking historic place hosts many events like concerts, shows, opera, plays, or ballet. The wonderful setting adds some extra glamour to every show. The updated calendar of events can be found here.
22. Enjoy a relaxing day on Turkish Bay Beach (Otranto)
The name of this beach stems from the bloody conflict that took place here in the 15th Century: Saracens landed on this beach to conquer Otranto and engage in a violent battle. Despite the origin of the name, this is now an idyllic place where you can admire both the sea and the Mediterranean vegetation in a peaceful atmosphere.
23. Live a day like a nobleman of the 16th century in Acaya (Lecce)
This ancient fortified village has remained unchanged during the centuries, together with its beautiful castle. Here everything is like it was during the 16th century and it is the only example of a fortified city in the South of Italy to still be intact and perfectly preserved in every part.
24. Dive at Punta Meliso (Leuca)
This diving spot is located just in front of Leuca's lighthouse, where Ionian and Adriatic melt. Here you can see many fishes like barracudas, groupers, morays but also spider crabs and other shellfishes. This is something for expert divers only because the depth is about 50 meters and it is a quite long dive. For more information visit here.
25. Have a boat tour and reach Castro Caves by the sea (Lecce)
With a half-day boat tour, you can visit amazing spots like "Lovers 'Cave", "Palombara Cave", "Blue Cave", "Zinzulusa Cave" and "Romanelli Cave". The guided boat tours often give the chance to swim in beautiful locations too, like for example Romanelli bay. For more information visit here.
26. Horse-ride in Gargano forest (Vieste)
Spend a whole day admiring nature from an unusual perspective. You'll have the chance to slowly explore the trails and see local flora and fauna while meeting lovely animals like horses.
27. Visit Locorotondo's vineyards (Bari)
This village is located among terraced hills cultivated with typical vineyards. The area is famous for the production of renowned red and white wines, like Verdeca or Negramaro, among the most popular ones. Learn more about the techniques and the products of this area! For more information visit here.
28. Discover huge ancient olive trees by following the Giants' Itinerary (Ostuni)
Have a 2-hour walk in the so-called "Plain of Olive Trees", populated by ancient trees up to 3000 years old. For more information visit here.
Once in a lifetime, stop in Puglia to discover its natural landscapes, but also its rich history and cultural traditions!