Located on Croatia's northwest coast, the city of Pula is perfect for a short, 2-day break. This 2-day Pula itinerary and guide has all the information you need to know to make the most of your time in this picturesque Adriatic city.
From ancient history to beaches, Pula really is a city with something for everyone. Its coastal location provides easy access to a wealth of beaches, and whilst in the city centre, you can walk in the shadows of ancient Roman ruins! Plus, the fertile lands have made it a growing wine region, making wine tasting an absolute must-do activity in the city.
Croatia is one of the fastest-growing tourist destinations and with places like Pula, it's only too easy to see why…
This is a guest post by Zoe of Zoe Goes Places.
Two Days in Pula: Where to stay.
There are two main areas to stay in Pula: the city centre or along its western coastline.
The centre of Pula is full of private apartments (including Airbnbs), guesthouses and small, independent hotels/serviced apartments. There are very few, if any, big chain hotels in Pula, which means you can support the local tourism industry directly by staying in these accommodations.
Alternatively, there are plenty of holiday parks, Eurocamps, hotels and resorts dotted along Pula's coastline. There are options for all types of traveller and budget, such as at least four different Park Plaza hotels on the Verudela peninsula.
How to Spend 2 Days in Pula, Croatia
Pula 2-Day Itinerary: Day One
Immerse yourself in Pula's History
The most striking attraction in the city is the 2000-year-old Pula Arena. This former Roman amphitheater is one of the best-preserved in all of Europe. And, for 70 Kuna (10 Kuna = 1.60 USD or 1.30 EUR) you can visit inside of the impressive theatre as well as walk through the connecting tunnels and underground passageways like gladiators once would have.
A free alternative is to walk the public footpath around the perimeter of the Arena. You'll still get magnificent views of the architecture and building as well as a clear glimpse into the heart of the Arena through the many arched gaps. 
In a flat, coastal city like Pula, it can be hard to get a bird's eye view of the area. Fortunately, Pula Fortress is at the top of a hidden hill in the very middle of the city! The hill is somewhat hidden due to the tall buildings and narrow streets of the old town. But, from the top, you'll get panoramic views of the sea, coastline, and surrounding areas of Pula. Plus, you'll get to walk around the fortress (for free) or visit inside for just 20 Kuna.
From the top of Pula to the bottom, a tourist attraction has been created from underground tunnels built during World War One. The tunnels of Zerostrasse served as a shelter from the many bombs dropped on this port city. And, today, the tunnels contain exhibitions and are accessible for just 15 Kuna. Out of the heat, these tunnels will be a welcome break for visitors in summer.
Another must-see in central Pula is the stunning Old Town. The narrow, pedestrian streets are full of restaurants, bars serving Croatian beer, independent shops and bakeries. As well as being full of plenty of hidden gems such as more Roman remains and historic buildings. Spend some time taking in the culture and chilled atmosphere of Pula in this beautifully preserved part of the city.
Sample Pula's wine offerings
The city of Pula lies in the Croatian region of Istria, full of fertile soils perfect for grape-growing. And, while the vineyards themselves are a distance from Pula, there are plenty of wineries to sample the local produce. Vina Benazic is one such winery in a quiet suburb of Pula. For 75 Kuna, you can indulge in wine tasting.
This price includes 5 different wines (reds, whites, and a rose) and 1 Istrian olive oil, as well as a cheese and breadboard for snacking. The winery has outdoor seating that is covered with parasols and canopies, perfect for sunny days, as well as a wine cellar where you can purchase a bottle or two of your favorite. 
For more ideas of what to do in Pula, read my complete list of the 49 best things to do in Pula.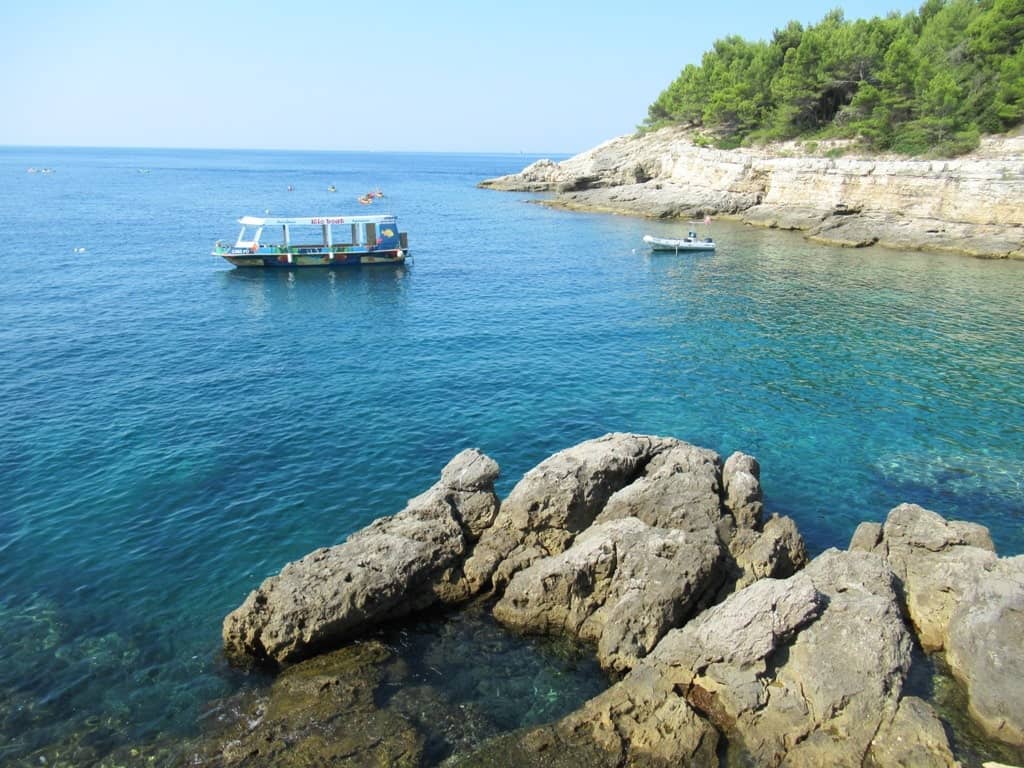 Pula 2-Day Itinerary: Day Two
The beaches in both Stoja and Verudela are easily reachable by taxi for a cost of around 40 Kuna, taking about 10 minutes to each from central Pula.
Stoja beaches
For an off-the-beaten-path beach, you'll want to visit Cyclone Beach in Stoja. It's a five-minute walk from the nearest road, so it doesn't attract the same number of visitors as other beaches.
Made up of a short pebble beach in addition to a rocky, cliff-like coastline, this is a great place for cliff jumping and swimming in the sea. Along from Cyclone Beach, there are a number of sea caves, bays and coves that can be explored from land. 
The more popular, and easily accessible, beach in Stoja is Valovine Beach. Set back from the sea in a shallow bay, the beach boasts calm and warm waters – perfect for swimming and paddling. Plus, the water is amazingly clear, so also perfect for snorkelling to see underwater creatures.
Verudela beaches
Histria Beach is the perfect place to spend a chilled-out day at the beach. Made up of large pebbles, the sea is warm and the waters are clear – what more could you want? And, with added amenities such as a small beach bar, as well as having sunbeds, kayaks and pedalos for hire and an inflatable obstacle course just off the shoreline, you won't be bored.
For sunset and drinks, Croatia Beach is the place to be. The beach also has lots of activities on offer such as pedalos and an inflatable, over-water obstacle course during the peak months. Zeppelin Beach Bar is located at the back of Croatia Beach and serves a large selection of drinks all day and all night. The perfect way to end your 2 days in Pula!
Do you love spending time at the beach? Then, here's all the information on the 11 best beaches in Pula.
Practical Information for your 2-Day Pula Itinerary
When is the best time to visit Pula?
Between late spring to early autumn (May to October) is the best time to visit Pula. The shoulder seasons are generally mild and pleasant. The temperatures can reach over 30 degrees Celsius in July and August, although it's still enjoyable you'll need to stock up on sun cream and avoid long walks in the heat of the day.
In winter, average temperatures are around 10 degrees Celsius, so perhaps you'll have to skip the beach. But, you'll still be able to take in the wonders of central Pula's ancient history.
How Do You Get From the Airport to the City Centre?
The easiest and most convenient way is by Uber, or the Croatian equivalent called Cammeo. The availability of drivers can vary a lot across the day, and if you're arriving early in the morning or late at night you could have to wait a while.
However, these services are the most cost-efficient option. An Uber from Pula Airport to central Pula costs around 45-50 Kuna. In contrast, the bus from Pula Airport to Pula Bus Station costs 30 Kuna per person. And, then you'll likely need onward travel to your accommodation, particularly if you have luggage. So, if there's at least two of you, an Uber/Cammeo is definitely the most cost-efficient option!
The final option is to flag a metered taxi. For this, it would be good to have your destination written down/available on-screen to show the driver as English is not as widely spoken as in other European countries.
How to get around the city
Pula is a small city and walking is the cheapest and quickest way to get around when you're staying in the same part of the city. Especially, given that the old town is pedestrianised. If you want to move between different parts of the city, for instance, the city centre and the beaches), then a taxi (or private equivalent) is the best option.
A number of bus routes do run between central Pula and various suburbs. But, given the low cost and increased ease of other options, there's no need to worry about bus timetables.
Bio: Zoe is an intrepid traveller who has been visiting new countries for as long as she can remember. Now, to document those travel tips and moments, she runs Zoe Goes Places – a growing travel blog focused on practical, thorough guides to exploring the world. For more travel inspiration, follow Zoe as she leaves behind her 9 to 5 job in the UK for her indefinite round-the-world trip beginning June 2021!