Are you thinking about spending two days in Taipei, the enticing capital city of Taiwan? In this article, I'm going to share the absolute must-sees so that you can prepare the perfect Taipei two-day itinerary.

Taipei is a modern metropolis that is famous for its bustling night markets, high concentration of 7-Elevens, and Taipei 101, once the world's tallest skyscraper. It's got welcoming people, colorful temples, and amazing food all rolled up in one tempting package.

Join along as we ride the sparkling clean MRT or hop on a publicly shared YouBike to explore the best historical, cultural, and natural attractions this city has to offer!
This is a guest post by Nick Kembel of Taiwan in the Eyes of a Foreigner.
Two Days in Taipei: Where to Stay
When deciding where to stay in Taipei, make sure you choose somewhere close to an MRT station, as that is how you will mostly be getting around. Here are some highly recommended choices:

Dandy Hotel: Dandy Hotel is a modern boutique hotel overlooking Da'An Park, the largest park in Taipei. It is right on the edge of the park, so the rooms come with epic views. Click here for more information and to check the latest prices.

Via Hotel: This choice is right in the middle of Ximending, the coolest neighborhood in Taipei. The streets around Via Hotel are traffic-free and full of cool shops, cafés, and restaurants. Click here for more information and to check the latest prices

Kimpton Da'An Taipei: The Kimpton is one of the newest additions to the Taipei hotel scene. It is handsomely designed, with a lovely outdoor patio, and is located in the perfect area for shopping and dining. Click here for more information and to check the latest prices
How to Spend 2 Days in Taipei: A Perfect Itinerary
Taipei in 2 Days: Day One
Marvel at Chiang Kai-Shek Memorial Hall
Taipei's top historical attraction should definitely be a priority on your Taipei two-day itinerary. The memorial was built for Taiwan's former dictator. The imposing blue and white building is one of the city's most recognizable structures. You can ascend the steps of the memorial to stand before the large statue of CKS, and there's a small museum dedicated to him below.
The Memorial Hall sits on enormous Liberty Square. The square is flanked by two equally classical Chinese buildings: the National Concert Hall and National Theater. For the best view and photos of the square, make sure you check out Liberty Square Arch on the western side. There are also some ponds, gardens, and walking paths around the square.
Tour the Historical Temples of Wanhua
Wanhua District is the Old City of Taipei, thus it is home to some of the city's oldest and most important temples. Start with Longshan Temple, where fortunetellers gather outside and vendors sell traditional Chinese herbs in the narrow alley beside the temple. The temple is considered the city's most sacred.

Within walking distance of Longshan Temple, Qingshan and Qingshui Temples are small but highly significant and worth checking out. Finally, Taipei Tianhou Temple in Ximending is a peaceful abode right in the middle of the city's trendiest neighborhood. Watch carefully for the tiny entrance on the busy street–it's easy to miss. But once you enter the courtyard, you'll forget about the hectic world outside.
Explore Funky Ximending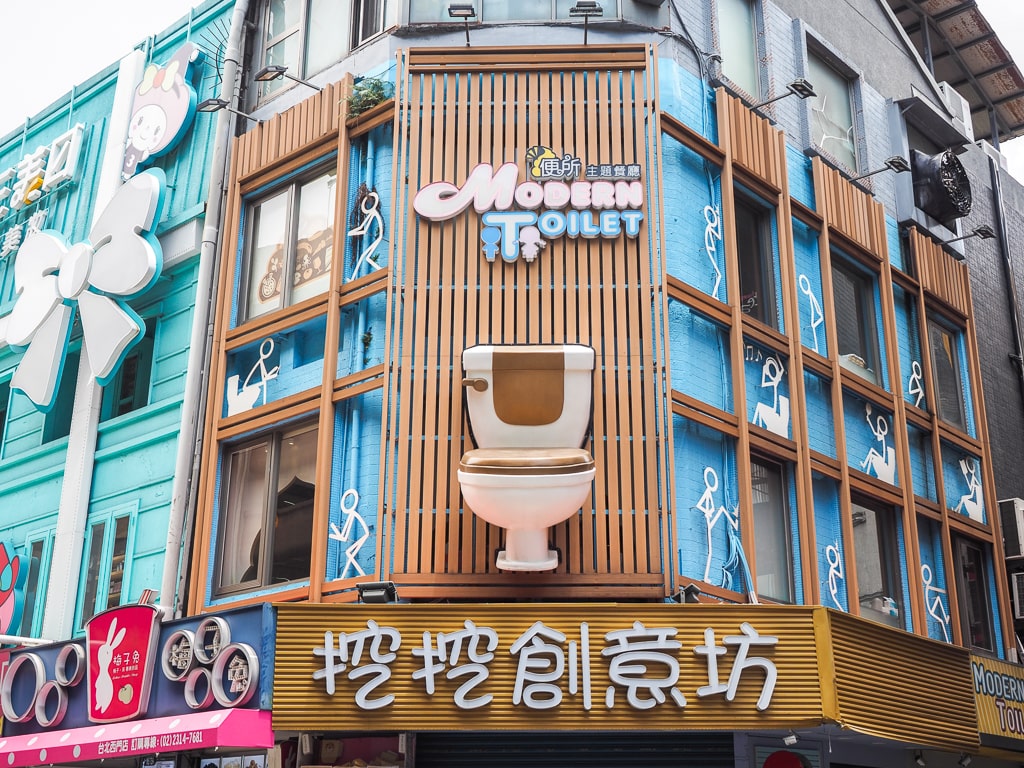 After visiting Taipei Tianhou Temple (see the last entry), you'll find yourself in Ximending, often shortened to Ximen, a pedestrian-only shopping district. This is where all the cool kids in Taipei hang out, plus it has some fascinating historical attractions.
Simply strolling the streets of Ximending is a feast for the eyes. Look out for Tattoo Street, Modern Toilet (a toilet-themed restaurant), cosplay cafés, claw machine arcades, KTV (karaoke), and MTV (private movie room) parlors, and bubble tea galore. Red House, a theater and market hall built during the Japanese colonial period, is now an arts & crafts market, while the remains of the Nishi Honganji Japanese shrine are worth checking out.
Feast at One of Taipei's Night Markets
One of the major highlights of visiting Taipei is the city's legendary street food, so you absolutely can't miss eating out in a Taipei night market. There are literally dozens of them, but the big five are Shiling Night Market, Raohe Night Market, Ningxia Night Market, Tonghua Night Market, and Huaxi Street Night Market. These markets feature a massive number of street food stalls, serving an unbelievable variety of classic and creative Taiwanese street foods.
While most tourists gravitate to the biggest one, Shilin Night Market, Raohe and Ningxia are more manageable in size, with a more local vibe and better food. Tonghua is conveniently located very close to Taipei 101, while Huaxi is right next to the city's Red Light District and thus has a crustier edge to it.
Taipei in 2 Days: Day Two
Ride the Maokong Gondola
Start your second day by taking the MRT to Taipei Zoo station and hopping on the Maokong Gondola. Within seconds you'll be rewarded with grand views across Taipei before the gondola veers off into the verdant hills which surround the city.
Get off at the second last station to admire the incredible views from Zhinan (Chih Nan) Temple, then continue on to the final stop, Maokong. The area around Maokong is known for its excellent oolong teas, especially tieguanyin (Iron Goddess) and melon-scented baozhong.
Choose from one of the numerous teahouses, most of which have patios with great views, or go on a hike past tea plantations to Silver Stream Cave & Waterfall, a small temple buried in the woods.
Have a Picnic at Huashan 1914 Creative Arts Park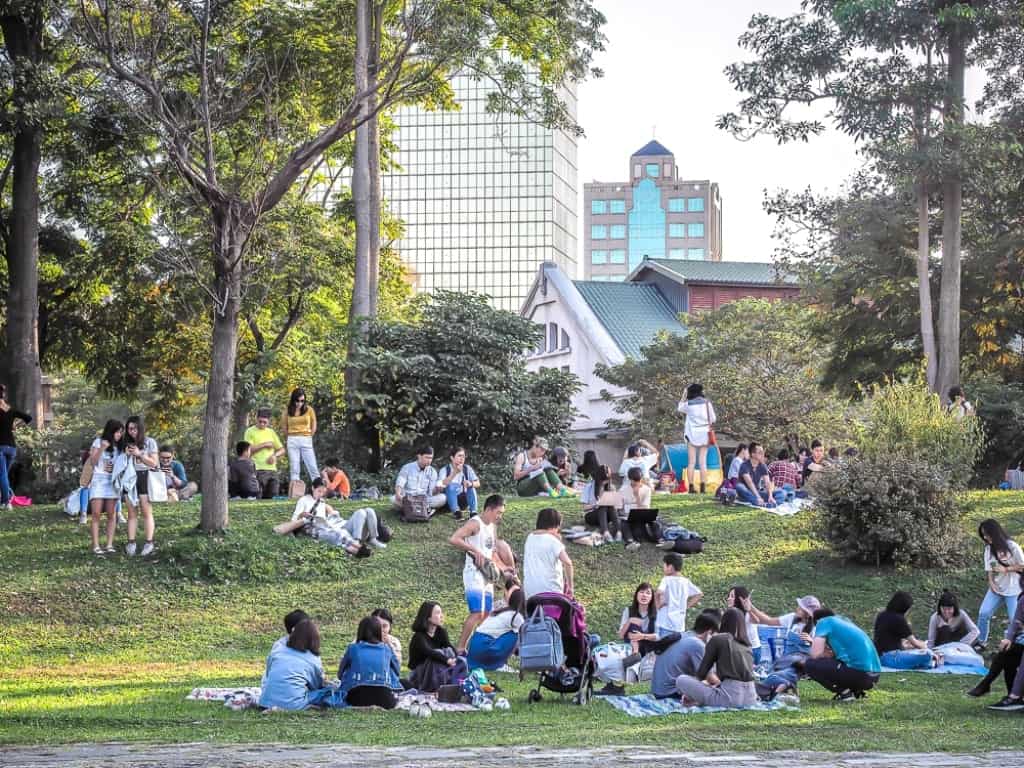 Returning to the city, get a take-away bento box for lunch and a few cold beers from 7-Eleven, then head to Huashan 1914 Creative Arts Park. The complex served as a sake distillery during the Japanese colonial period. In recent decades, the abandoned building has been converted into an arts venue, hosting numerous artworks, exhibits, cafés, restaurants, and events.
After exploring the facility and its creative photo ops, find a good spot on the huge lawn at the back to enjoy snacks and drinks in the sun for the afternoon.
You can't leave Taipei without visiting the country's most iconic attraction, Taipei 101. Shaped like a towering stalk of bamboo, the skyscraper was the tallest in the world from 2004 to 2009. Today, it is said to be the tallest "green" building in the world, and it has the world's fastest elevator.
The bottom five floors of Taipei 101 are a large department store. But for a true Taipei-101 experience, you have to pay a visit to the Observation Deck on the 89th to 91st floors. There you'll enjoy a 360-degree view of the city and surrounding hills. Don't miss the insanely large stabilizing ball hanging at the center of the building, which helps to prevent the building from toppling during an earthquake.
Click here to book your tickets to the 101 observatory.
Watch the Sunset from Elephant Mountain
To bring an end to two perfect days in Taipei, why not watch the sunset from the city's most famous viewpoint? Conveniently located right beside Taipei 101, Elephant Mountain is where you can find the classic postcard view of Taipei.
From Elephant Mountain MRT station (just one stop past Taipei 101, or easy walking distance), the trail is only a few minutes away. The staircase is steep, but it only takes about 20 minutes to reach the most famous viewpoint. Just prepare yourself for some crowds! If you want to get away from all the people, the trail continues on to three other animal-named mountains: Tiger, Lion, and Leopard.
Practical Information for Your 2 Day Taipei Itinerary
When is the Best Time to Visit Taipei?
When trying to choose the best time to visit Taiwan, no season is a clear winner. In Taipei, winters can be cool and damp, but it's the best time for hot springs and cherry blossoms. Spring is lovely, but there's a small rainy season in later May to early June. Summers are extremely hot and humid and beware of typhoons, but it's also the best time to visit the beaches just out of town. Last but not least, autumn features lovely mild to warm weather, so it may be a contender for the best time.
How to Get from the Airport to the City Center
MRT: Only a few years old, the Taipei MRT Airport Line is the most convenient way to get from Taoyuan International Airport to the city center. The ride only takes 35 to 50 minutes (every second train is an express one) and only costs TWD160 (one-way). It's never too busy, and there are large luggage racks.

Bus: Before the airport MRT was built, the bus was the only budget option for reaching the city center. The buses still run, and the ride takes about one hour, with tickets costing around TWD135.

Taxi: If you prefer to travel in privacy, there are numerous taxi stands outside. Depending on where exactly you are going in the city, expect to pay TWD800-1200, including the airport fee which the driver should add to your total at the end. Taxi drivers in Taiwan are honest, and scams are very rare, so this isn't something you need to worry about. They don't always speak English, so it's better to show an address.
How to Get Around the City
MRT: The Taipei MRT is the lifeline of the city. It is fast, clean, and goes just about everywhere. Make sure to get an EasyCard before you ride, which is a reloadable card that you use to swipe on and off (including for the Airport MRT line). You can get it at any station, and it has a TWD100 deposit, which you get back at the end. Using a card is not only convenient but also makes each ride cheaper.

YouBike: Taipei's public bike-sharing system is called YouBike. You will see the bright orange and yellow bikes everywhere. You'll need a local phone number and EasyCard with money on it to sign one out. The rates are very cheap, too. And the coolest part: they are made by Giant, one of the world's top bicycle manufacturers, which of course is a Taiwanese company!

Taxi: Taxis seem to be everywhere in Taipei. You could stand on just about any main road, and you'll have a ride in minutes, if not seconds. The rates are very reasonable, too, but beware of traffic jams at peak hours. Most drivers speak a tiny bit of English, but it's always best to show them an address.

Bus: Once in a while, you may have to take a bus in Taipei, for example, to go to the National Palace Museum, Taiwan's most famous museum. When you get on a bus in Taipei, it's usually OK to get in the front or back door. If the sign inside says 上, you should swipe your EasyCard when boarding. If it says 下, then swipe it before leaving. If both characters are lit up, then you'll have to swipe when getting on and again when getting off (usually for longer rides).
Well, that brings us to the end of the Taipei 2-day itinerary. Hopefully, you've found plenty of ideas for enjoying an awesome visit to this incredible city!
Nick Kembel is the author of Taiwan in the Eyes of a Foreigner and the person behind Spiritual Travels. He has lived in Taiwan for over 10 years and his two kids were born and raised there.