New England offers some amazing weekend getaways to anyone living on the East Coast. The area is known for its historic towns, beautiful landscape and amazing seafood. We have gathered here some great recommendations for a romantic or adventure weekend trip in New England.
10 Weekend Getaway Trip Ideas in New England
Providence, Rhode Island
Recommended by by Tegan and Alex of Why Not Walk Travel Guides
Often overlooked in favor of its more popular neighbors like Boston or Newport, Providence is a fantastic city for a weekend getaway in New England. Lovers of museums, city walks, academic architecture, green spaces, and quality cuisine will all enjoy a visit here, and a weekend is the perfect amount of time to experience it all.
Start your visit at the Rhode Island State House (free tours available daily), located right next to the train station, before exploring the Ivy League splendor of the Brown University campus, as well as nearby Rhode Island School of Design and its fantastic RISD Museum in the College Hill neighborhood.
Explore fantastic Roger Williams Park, and don't miss checking out its botanical center, Temple to Music, and Carousel Village, perhaps having a picnic somewhere on its lush 435 acres.
Enjoy fantastic Italian cuisine in the Federal Hill area or delicious Peruvian-Bolivian fusion at Los Andes. Be sure to stop for a nightcap at delightful Ogie's Trailer Park or speakeasy-style The Avery.
Portland, Maine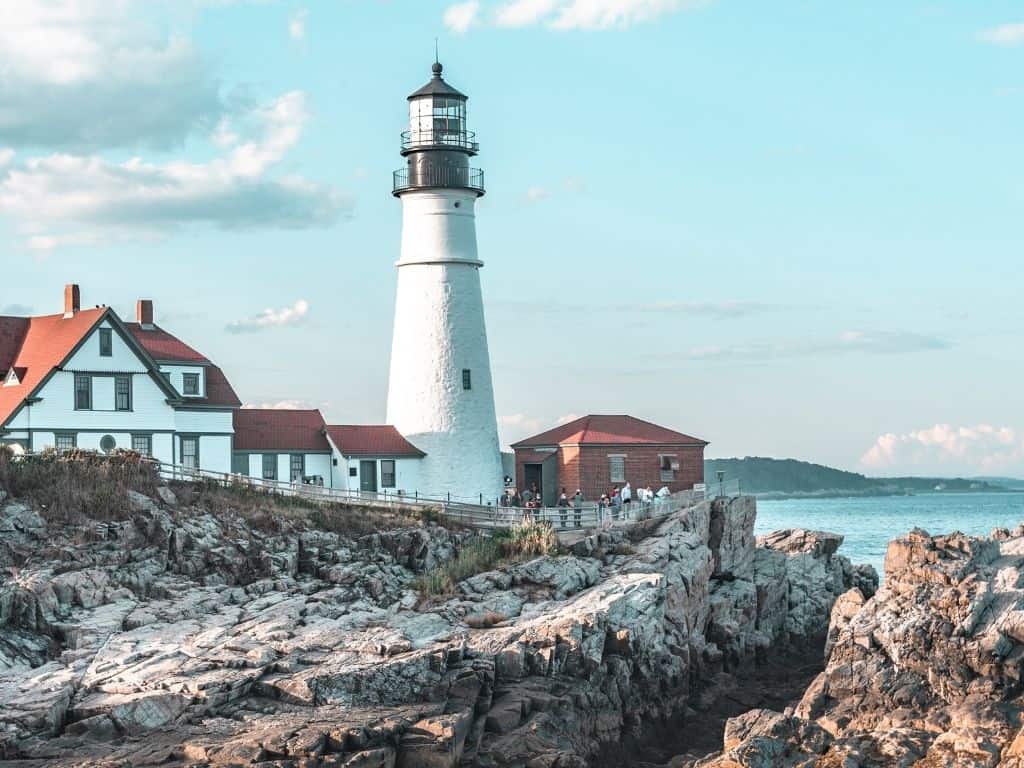 Recommended by Elena Pappalardo of The Carry-On Chronicles
Coastal Portland, Maine is a great jumping-off point for everything from outdoor adventures, to artistic endeavors, to culinary delights. Travelers can kick off the weekend with a delicious brunch at Hot Suppa, followed by a visit to at least one of Portland's six beautiful lighthouses. The oldest and most iconic is the Portland Head Light, located in nearby Cape Elizabeth.
Travelers should also consider visiting the Spring Point Ledge Lighthouse and the Portland Breakwater Lighthouse, both located in South Portland.
Additionally, art and history buffs will enjoy exploring the city's museums and historic homes, including the Portland Museum of Art, Victoria Mansion, and Tate House Museum.
After a fun-filled day, it's time to indulge in a mouthwatering lobster roll and a craft beer from one of the local breweries. Visitors should also consider a day trip to neighboring Kennebunkport, a charming gem located just over a half-hour away.
Provincetown, Massachusetts
Recommended by Vicky of Buddy The Traveling Monkey
A great weekend getaway in New England is to the town of Provincetown on Massachusetts' Cape Cod. There are a lot of things to do in Provincetown and it is easy to get to by car, plane, or even by boat.
On your weekend trip, you can spend time in one of the many museums in town. There is a lot of history in Provincetown. In fact, did you know that the Mayflower Pilgrims landed in Provincetown first before continuing on to Plymouth?
Provincetown is also a great walking town and you can spend all day walking along Provincetown's Commercial Street. There are quirky shops, restaurants, cafes, and murals that are sure to pique your curiosity.
If you'd like to spend some time in nature, head to the sand dunes in The Cape Cod National Seashore with Art's Sand Dune Tours. During your tour, you'll go up and down large dunes and see different birds and vegetation. You'll even have a chance to get out of the vehicle and walk around at the top of a dune.
Nantucket, Massachusetts
Recommended by Linn Haglund of Brainy Backpackers
One of the best places to vacation in New England is the charming island of Nantucket just off the coast of Cape Cod in Massachusetts. It is a popular summer destination and there are a lot of fun things to do in Nantucket for the whole family.
Rent a bike to get around on a budget and explore the island in the best way. Chill at the beaches or hike to a lighthouse. Especially the Sankaty Head Lighthouse is beautiful at sunset and can be reached from Siasconset along Sconset Bluff Walk along the cliffs above the beach.
You should also learn about the island's history at the Nantucket Whaling Museum, Nantucket Shipwreck and Lifesaving Museum, African American History Museum, and the Nantucket Lightship Basket Museum.
There are also whale watching tours from the island in the summer months for animal lovers, or you can just enjoy a walk in the forest and you are almost guaranteed to see wildlife.
Burlington, Vermont
Recommended by Karen of Outdoor Adventure Sampler
The exciting activities and natural beauty of Burlington, Vermont make it perfect for a weekend getaway. The vibrant city is on Lake Champlain with awesome views of the Adirondacks and beautiful sunsets on the lake. Stroll along Waterfront Park or do one of the many nearby hikes to see the natural splendor. You can also rent a bike to pedal the Burlington Bike Trail to many stunning beaches.
The foodie and arts scene is worth exploring. A visit to the pedestrian mall of Church Street is the place to start. Enjoy the cute stores, street performers, and unique restaurants with outdoor seating. Burlington is famous for its craft brewing, so be sure to visit a local brewpub, many with live music.
History buffs will love the Ethan Allen Homestead with its spacious grounds. Families will enjoy the hands-on science exhibits of the ECHO Center. There is easily something for everyone during a weekend in Burlington.
Boston, Massachusetts
Recommended by Dhara from It's Not About the Miles
Boston is an incredible city New England getaway, no matter what the season. With its many historical landmarks, its great food and drinks scene, and wealth of things to do, Boston is a great weekend destination for couples, families, or solo travelers.
Boston's two great public green spaces are a must-visit. Boston Common makes for a wonderful stroll, with views of the city all around. Boston Public Garden is a great place to go for a swan boat ride or to admire the beautiful plantings and hear buskers sing or play.
Walking the Freedom Trail is another must-do on any trip to Boston. The 2.5-mile walk passes by 16 historic locations. Copley Place is yet another fun place to walk in downtown Boston. At the harbor, you can take a cruise on nice weather days.
While Boston is known for its seafood restaurants, it also has a fabulous Italian district: North End eateries like Mamma Mia are famous. Mike's Pastry and Modern Pastry offer delicious cannolis.
Acadia National Park, Maine
Recommended by Neha from Travel Melodies
Acadia National Park in Maine makes for one of the best weekend getaways in New England. Immersed in natural beauty, the park will amaze with its varied landscape of rocky cliffs, jagged beaches, glacier ponds to mountains. The park is spread over 47,000 acres on Mount Desert Island in Maine.
The best way to explore the National park is by driving along the 27-mile Park Loop Road that has most of the attractions along the way. Some of the must stop points include Thunder Hole, Sand Beach, Otter Cliff, Jordon Pond, Cadillac Mountain. For adventure seekers, there are many hikes that let unravel the hidden gems and offer great views. You cannot miss the sunrise from the summit of the Cadillac Mountain.
The park is great to visit from Spring to Fall and gives ample opportunity for some amazing pictures in every season. The best area to stay is Bar Harbor that is just 3-4 miles away. There are some great hotels near Acadia National Park to choose from.
As you drive along the Park Loop road, the Atlantic ocean gives you company with scintillating vistas to enjoy.
Newport, Rhode Island
Recommended by Pam of The Directionally Challenged Traveler
One of the best weekend getaways in New England is the small seaside town of Newport, Rhode Island. Located on Aquidneck Island, Newport is quaint surrounded by breathtaking beaches and sea cliffs.
There are plenty of things to do in Newport for any visitor. Newport is one of the most underrated beach towns – that can be visited any time of the year! Travelers can enjoy the water from the beach or even head out on a sailboat.
You can also take a stroll along the Cliff Walk to take in the nature of the area. The Cliff Walk is 3.5 miles long and has beautiful views of beaches and the famous Newport mansions. In the evening, walk around Bannister's and Bowen's Wharves for a variety of food and shopping. You can stay at the Marriott Newport – which is within walking distance of Bannister's Wharf!
A wonderful mixture of nature, history, and food make Newport one of the best places to visit in New England.
Martha's Vineyard, Massachusetts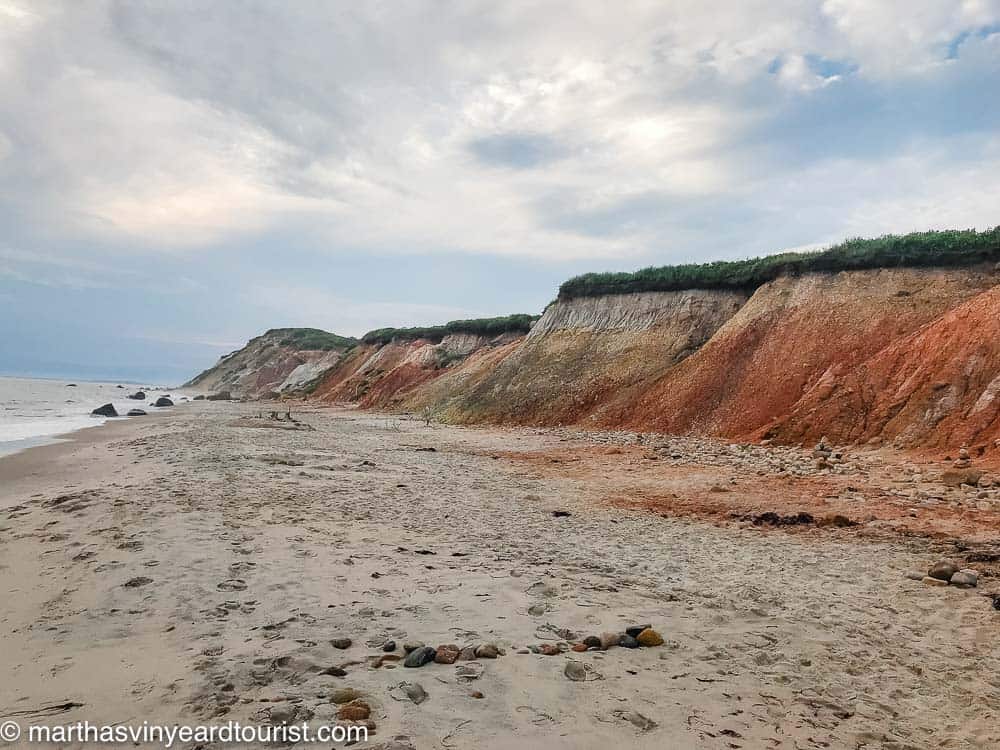 Recommended by Shobha of Martha's Vineyard Tourist
Martha's Vineyard is a charming weekend getaway either from the New York area or Boston with lots of transport links from New England whether you choose to arrive by plane, car, or boat. Note that in the peak summer season there may be minimum stay requirements in the hotels, inns, and even rental homes.
There are plenty of things to do in Martha's Vineyard that can easily occupy you for a weekend. Charming Edgartown is lined with gracious white 18th century Captain's houses from when the town drew its wealth as a center of the whaling trade. Edgartown is easily walkable and has lots of great independent stores, restaurants, and cafes.
For a different experience visit the brightly colored Oak Bluffs Campground houses. These are charming cottages from the 19th century when the area was used as a Methodist summer camp. And, of course, there are miles of beautiful beaches to explore.
One of the most famous is Moshup Beach which has colorful cliffs as its backdrop as well as the very pretty Aquinnah lighthouse perched on top of the cliffs. You will feel you are a world away even though the island is only about 16 miles off the coast of Cape Cod.
Portsmouth. New Hampshire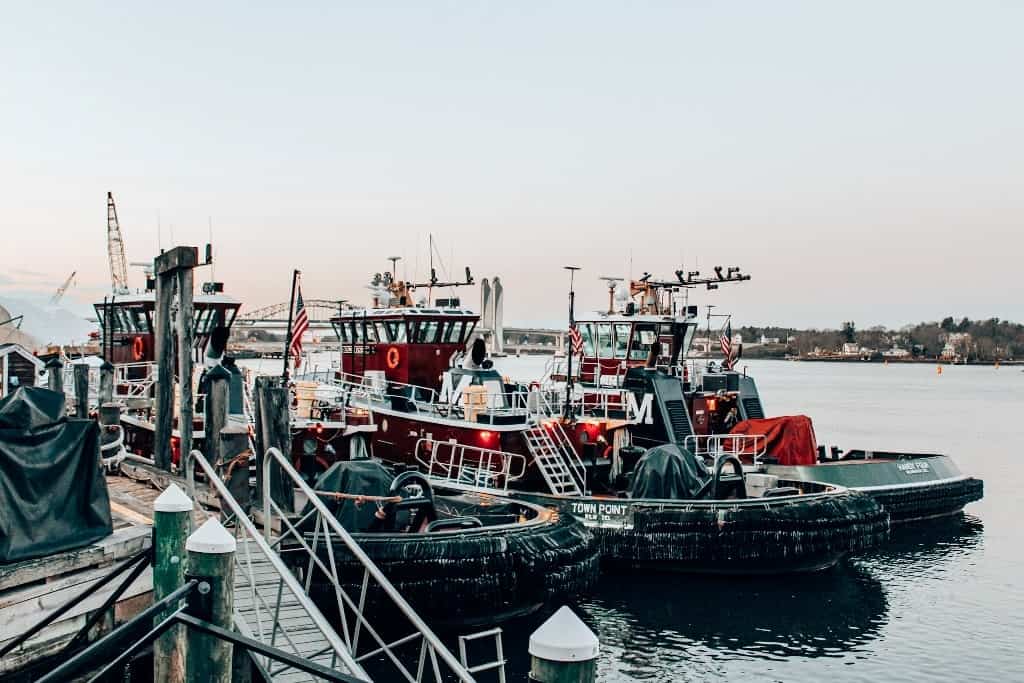 Recommended by Nicole of The Abroad Blog
Known as "America's Greatest Small Town" by National Geographic Travel, I think a visit to Portsmouth should be on everyone's New England bucket list. Portsmouth is the crown jewel of New Hampshire's Seacoast and is perfectly situated an hour from the White Mountains and an hour from Boston. It's the perfect place to visit for a weekend, or can even be enjoyed in just a day trip.
Downtown historical Portsmouth is quite charming, as it has colonial homes dating back to the 17th century. Strawbery Banke, an outdoor history museum, is New Hampshire's oldest neighborhood to be settled by Europeans. When visiting Portsmouth, check out the shops and restaurants in an area of the city known as Market Square.
River House is a highly-rated restaurant that I recommend dining at. There are also several beaches nearby that you can explore during your weekend trip, along with Kittery, Maine, which is located just 10 minutes away across the bridge.