Munich is an iconic city in Germany for many reasons. Not only is it filled with history, but is a city filled with stunning architecture, great culture, and delicious food. If you plan to spend 3 days in Munich this guide will help you to sort out your trip so you see a little bit of everything this city has to offer.
How to spend 3 days in Munich things to do and see
Where to stay in Munich
Hotel Excelsior
The Hotel Excelsior is located in Ludwigsvorstadt and is situated near many iconic city spots. This modernly designed hotel incorporates many historical elements into it which adds a unique atmosphere. The hotel allows pets to stay and features a restaurant that has a special vaulted roof which is designed to make you feel as if you're sitting in a German beer hall. There's even a wine shop here you can visit and cooking classes you can sign up for. The rooms here each have their own unique flair like the Alpine Room and JS Classic and offer spacious bathrooms and helpful amenities like Wi-Fi.
Click here for more information and the latest prices.
Arthotel Munich
Located in Ludwigsvorstadt, the Arthotel Munich is situated near the Munich Central Station and features creative pop art pieces throughout it. The rooms here have soundproof walls, free Wi-Fi, and minibars. The hotel also has a restaurant that serves many mouthwatering dishes you can try. You can even spend some time wandering around the hotel looking at the art exhibitions it has scattered around it. Besides fantastic art, the hotel also offers a gym and bar you can use.
Click here for more information and the latest prices.
H+ Hotel München
The H+ Hotel Münchenis situated in the district of Ludwigsvorstadt and is designed with a modern style. The rooms here have Wi-Fi and many have spectacular views of the hotel's courtyard. The rooms are equipped with free Wi-Fi, safes, and spacious bathrooms. The hotel also features a restaurant that serves traditional Bavarian breakfast foods you can enjoy.
Click here for more information and the latest prices.
Hotel Torbräu
Located in Altstadt-Lehel, the Hotel Torbräu is a historic place to stay and its rooms have amazing views of the city. Besides a stunning city view, the rooms also have minibars, large bathrooms, and computers you can use. The hotel offers many other amenities you can enjoy like a bar, gym, and even allergy-free rooms you can stay in. You can also rent out bikes from the hotel to use to get around the city.
Click here for more information and the latest prices.
Rocco Forte, The Charles Hotel
The Rocco Forte, The Charles Hotel is a very elegant place to stay in. Situated in Maxvorstadt, the hotel overlooks the stunning Old Botanical Gardens and city. Its spacious soundproof rooms feature Wi-Fi and even bathrooms that are covered in a stylish limestone. Besides this, this hotel has a spa, indoor pool, bar, and lounge you can enjoy. You can also visit the hotel's beautiful room The Library to enjoy a cup of afternoon tea while munching on fresh pastries.
Click here for more information and the latest prices.
How to get from and to Munich Airport
There are a few options for getting from Flughafen München (MUC) to the city centre: train, bus and taxi. It really depends on your budget, group size and personal preference as to which option you choose. It's also always worth checking with if your hotel if they offer any transfers from the airport as that will save you the hassle of taking any public transport!
Train
Taking the train is the quickest way to get from Munch Airport to the city centre, so unless you have lots of luggage or are travelling as a large group, this is probably the best option.
There are actually two S-Bahn trains that depart from Munich Airport for the city centre: S1 and S8. Both of these trains stop at the Marienplatz central station and, as between them they run six times an hour, you're bound to be able to catch a train fairly easily when you arrive.
The S8 train offers the fastest route, taking only 38 minutes to reach central station. Tickets can be purchased from both the ticket counter and automated machines so you shouldn't have any trouble organising the train when you arrive.
Please note: the first S-Bahn train of the day to/from the airport starts at 4.44am and the last runs at 1.44am.
Time: 38 minutes
Cost: 11.20 EUR
Bus
The best option by bus to/from the airport to the city centre is the Lufthansa Express Bus that runs every 15 minutes from Munich Central Station. The journey takes around 45 minutes and allows you to board and alight from both Terminals 1 and 2.
Tickets can be purchased online for 10.50 EUR or from the driver for 11 EUR. You can also save money by booking a return journey for just 17 EUR (18 from the driver). There are concession prices for children.
Time: 45 minutes
Cost: From 10.50 EUR.
Taxis
Regardless of whether you catch a regular taxi at the airport or take a pre-booked car, the cost from Munich Airport (MUC) to the centre of Munich should cost 70 EUR.
Please note this will cost more if you are flying into Memmingen Airport (FMM) – around 148 EUR.
Private Airport Transfer with Welcome Pick-Ups
Pre-booking a taxi with Welcome Pick-Ups is the easiest way to organise transport before you arrive into Munich Airport (MUC). Once you book your taxi with your arrival details, your driver will be waiting for you in the arrivals' hall with a welcome sign ready to take you straight into the city centre.
The taxi with Welcome costs 70 EUR (the same price as a regular taxi) and takes around 45 minutes to reach the centre.
Click here for more information and to book your airport transfer.
3 Days in Munich: Day One
Deutsches Museum
This museum is one of the oldest and largest science/technology museums in the world. Built in 1903, the Deutsches Museum features hundreds of exhibitions and collections you can browse through, like Glass-Blowing, Marine Navigation, Mathematical Cabinet, and Oceanography. They also offer many unique demonstrations throughout the day you can watch like learning more about the night sky in an interactive planetarium. One of the museum's most popular demonstrations is a high-voltage one where museum staff stand inside a Faraday cage while intense and sparking voltages are emitted. Tickets are needed to enter the museum and can be bought in advanced.
Museum Quarter
Also known as Kunstareal, the Museum Quarter is an amazing space where you can view different types of art all at once. The quarter is made up of 5 museums each of which focuses on a specific art period. The Alte Pinakothek holds art created from the 14-17th centuries and displays works by historic artists like Ruben. Neue Pinakothek is home to the Impressionist movement and showcases stunning paintings from Monet and Van Gogh. Nearby is the Pinakothek der Moderne, a modern art museum featuring artwork done by iconic modern artistslike Andy Warhol. There's also the Glyptothek and State Collection of Antiquities which is home to ancient artwork and pieces like Greek and Roman sculptures. You can buy a combined ticket to get into all the museums at once, or buy a separate ticket to visit the one that you're most interested in.
Marienplatz
Marienplatz was created back in 1158 to be the central square of Munich and still serves as it today. Here you'll find plenty of historic buildings that are designed with remarkable architecture like the Old City Hall and St. Peter's Church which is one of the oldest churches in the city.
There are plenty of historical buildings you can view here. The Mariensäule is a large column that towers over the square and was created in 1638 as a way for the city to celebrate the end of the Swedish invasion. There's also the Fischbrunnen which is one of the oldest fountains in Munich and is believed to have once been a spot where fishermen once stored the fish they caught.
Besides the architecture and buildings, there are also courtyards you can wander through, cafes you can visit, and unique events you can view, like the Glockenspiel that rings out from the New City Hall every day at 11 AM and 12 PM. If you'd like to get a panoramic view of the city, you can climb up to the top of St. Peter's Church.
Church of Our Lady
This stunning church certainly stands out in the city thanks to its domed towers and numerous stained glass windows. Inside you'll find art pieces you can gaze at while getting whiffs of fresh incense burning.
Church of Our Lady might be an architectural marvel, but it also is a very historic and mysterious place as well. Here you'll find the tomb of Louis IV you can visit as well as learn from tour guides why it always seems to be so windy solely around this building in the city.
Eat at Hofbrauhaus
Hofbrauhaus is home to one of the oldest breweries in the world and serves incredible beers you can try. Inside the brewery you can dine on traditional German dishes while listening to local musicians play. You can even try to read historic carvings in the tables you eat at – some of which were created back in the late 1800s.
Hofbrauhaus features many rooms and areas you can enjoy a beer or meal in, like Schwemme which is originally where the beer was brewed in the building. There's also the Biergarten which is located outside under towering chestnut trees. You can even dine in its Erkerzimmer room which is designed with an octagonal shape and features windows on its sides that look out to the city.
Besides its stunning rooms, you can enjoy many different types of beers, like the Hofbräu Original, Münchner Weisse, and Hofbräu Oktoberfestbier.
3 Days in Munich: Day Two
Englischer Garten
Englischer Garten is one of the largest parks in the world and has many beautiful gardens and places you can visit. For instance, you can visit its Japanese Tea House, the beautiful Schönfeld Meadow, or one of its many beer gardens scattered around the park. The Japanese Tea House often performs ceremonies which you can view and even take part in. There are also plenty of trails you can hike down and cafes you can visit as well as special designated places you can nude sunbathe at. If you're into surfing, you can even try it out on the park's streams. Thispark also has a special platform, the Monopteros, which you can climb up to get beautiful views of the park and city below.
Schloss Nymphenburg
Nymphenburg Palace is a stunning place to visit. Not only does it have large grounds that are covered in beautiful landscaping, but it showcases many unique pieces of artwork in it, like frescos of mythological creatures. There's even towering tapestries inside you can view which can give you a glimpse into what life what like back in the 1600-1800s for prominent German families. Once you're done touring the interior of this Baroque-styled palace you can wander around its grounds and see the small palaces built around it like the Badenburg (filled with intricate baths) and the Amalienburg (a hunting lodge). You might even see some animals enjoying the vast landscape like geese and roebucks.
Olympiapark
Olympiapark is the former home of the 1972 Summer Olympics and the FC Bayern Munich. Today it serves as a concert venue and is a great place to enjoy the outdoors thanks to its numerous trails. You can even climb up its Olympic Tower which features a restaurant inside it that has an observation deck on the exterior you can stand on to get panoramic views of the city below.
If you are interested in the history of the Third Reich and WWII I totally recommend that you do this 3 our walking tour. Click here for more information.
3 Days in Munich: Day Three
On your last day in Munich you can do a day trip to the nearby Neuschwanstein Castle or the Dachau Concentration Camp.
Neuschwanstein Castle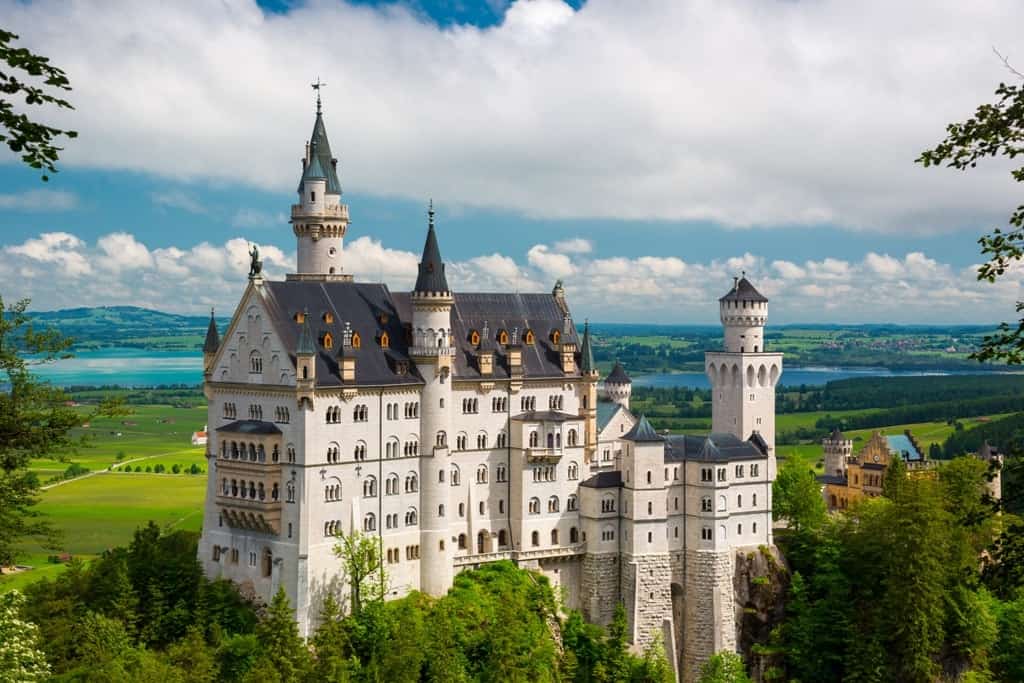 As one of the most popular places to visit in Germany, Neuschwanstein Castle features not only stunning architecture but a rich history as well. Built in the 19th century to be the home of Ludwig II, the castle was meant to be a relaxing escape for him near the mysterious Black Forest. This magnificent castle has many towers and many of the room designs are inspired by the composer Richard Wagner's musical works. You'll also find many swan figurines and artwork scattered around the castle which was put in it by Ludwig II to show purity.
You can take tours through most of the castle, like to the Throne Hall and Dining Room, but be aware that photography is sometimes restricted in certain parts. It's also a good idea to buy tickets beforehand as this is a very popular spot to visit and it can become crowded very quickly.
Here are some great tour suggestions for you:
or
Dachau Concentration Camp
A trip to the Dachau Concentration Camp will allow you to learn more about the Holocaust and the horrific things prisoners here had to go through. There are many exhibitions you can view, like the "Path of the Prisoners". This interactive exhibit takes you down paths throughout the camp that the people here had to take until they reached their fate of either liberation or death. Along the way you can read posts that tell of the history of where you currently are standing and biographies of the people who once suffered here.
You can also view the prisoner baths and barracks and reflect at memorials scattered around the grounds. There are also guided tours you can take around this somber place to help you learn more about this horrific event in history.
Check here for more information on the half day tour to the Dachau Concentration Camp.
From its adventurous and historical spots to visit to its unique blend of hotels, the city of Munich is certainly a spot that should be on every traveler's list. Even with just 3 days in Munich you can visit the wide selection that this city has to offer with this itinerary and experience many things that will leave you completely amazed.
Disclaimer: This post contains affiliate links. This means that should you click on certain links, and then subsequently purchase a product, I will receive a small commission. It costs nothing extra to you but helps keep my site running. Thank you for supporting me in this way.