Florence has some really popular attractions and some sightseers often end up standing in terrifying long queues. There are some simple tricks that will save visitors hours of vacation time that they are now wasting standing in long queue lines.
On my last visit to Florence I went to all of these places, in some I was prepared but in others, I had to stand in those long queues. I learned from my mistakes, however, and I have decided to write this post allowing others to learn from my personal experiences.
I believe there is nothing worse than standing in a queue for hours under the hot Mediterranean sun.
If you hate standing in lines as much as I do, then follow these tips to avoid queuing in Florence.
Disclaimer: This post contains affiliate links. This means that should you click on certain links, and then subsequently purchase a product, I will receive a small commission.
How to skip the lines in Florence
Uffizi Gallery
Ask almost anyone who has vacationed in Florence, and they will tell you about the long queue lines at the Uffizi Gallery. Lines keep getting bigger each year with many visitors spending more than five hours standing in line to enter this gallery containing Leonardo da Vinci's Adoration of the Magi and Rembrandt's Portrait of an Old Man along with other important pieces. Of course, you would rather spend your time exploring Florence than standing in long queue lines. Thankfully, you have several options.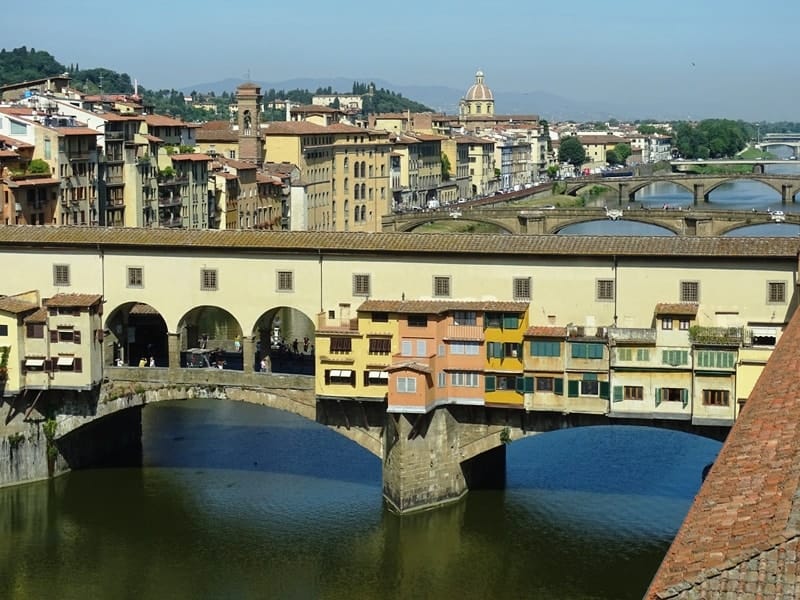 Solution 1: Timed Entrance Ticket
Visitors can enter the Uffizi Gallery with a timed entrance ticket without taking a tour. You can simply reserve your ticket online, and skip the queue when you arrived at your assigned time. If you would like an audio guide once you are in the museum, then make sure to print two tickets. You will need the second one to get your ticket.
Book your Timed Entrance Ticket
Solution 2: Skip the Line with a Guided Tour
Visitors can also opt to take a guided tour allowing them to skip the long queue lines. Your knowledgeable guide speaking English, French, Italian, Portuguese, and Spanish will lead you through the gallery teaching you about the important works of art located there like those painted by Cimabue, Botticelli, Raphael, Titian, and Giotto among others.
After the tour is over, then you can stay in the gallery as long as you wish. There is no need to print your ticket for this exciting tour as you can simply show your guide your tour on your smartphone or other devices. I chose this option as I wanted to learn more about the art in the museum.
Book a guided tour with skip the line ticket
Solution 3: Combination Guided tour of Uffizi Gallery with a Walking Tour of Florence
Start your day with a half-day guided walking tour while other visitors are standing in long queue lines in Florence. Accompanied by an extremely knowledgable guide, wander through the Cradle of Renaissance. See the exterior of the Duomo and Palazzo Vecchio. After you enjoy your walking tour, then the guide will accompany you on a guided tour through the Uffizi Gallery. After the tour, you are welcome to stay at the gallery as long as you desire.
Book a Florence Walking Tour and Skip the Line Uffizi Gallery tour
Solution 4: Use the Firenze Card
The Firenze Card works like a three-day fast pass to your favorite amusement park. This is a great option for visitors trying to pack as much sightseeing into a Florence vacation as it lets them skip the long queue lines at most of the most popular sites. When you get to the gallery or other location, simply look for the Firenze logo above a door and head to it.
When you present your card, you will be allowed to enter immediately allowing you to skip the long queue lines in Florence. In some cases, you must present the card at the ticket booth in exchange for a physical ticket. Everyone will need their own card assuming that they are over the age of 18. You can buy your card at numerous Florence locations including at Via Cavour 1 red, at the airport, and at the tourist information offices at the train station.
Using any of these options when visiting the Uffizi Gallery allows you to skip the long queue lines in Florence allowing you to accomplish more on your vacation.
Accademia Gallery
The Accademia Gallery has been home to Michelangelo's David since 1873 along with other important works by this sculptor. Some visitors feel like they have been there that long after standing in the long queue lines in Florence. This gallery is also home to Florentine paintings from the 15th and 16th centuries along with Russian icons.
Everyone should see this gallery in Florence once in their lives. While you may want to try to make friends with one of the staff members so that they will sneak you into the museum, this is seldom successful. It seems the staff working here have had too many visitors try this method.
Long queue lines can be found here all year long but they become even longer during the summer months. In fact, some visitors report that they feel like they could have carved David during the time that they stood in line. Of course, you always have the option of getting up super early while you are on vacation to stand in the queue line in Florence. If you value your sleep, however, you also have several other options so that you do not have to stand in long queue lines.
Solution 1: Timed Entrance Ticket Without a Tour
You can reserve a timed-entrance ticket to the Accademia Gallery allowing you to skip the long queue lines in Florence. This ticket can be reserved with or without an audio guide. Before you arrive at the gallery, simply print your ticket online. If you choose to get the audio guide, then you will need to present a valid identification once you arrive. Timed tickets require you to enter the gallery within 15 minutes of your assigned time.
Book your Timed Entrance Ticket
Solution 2: Skip the Long Queue with a Guided Tour
Learn even more about the works of Michelangelo and other important artwork contained in the Accademia Gallery with a very knowledgeable tour guide. This 1-hour tour allows you to skip the long queue line in Florence. This tour is available in English, French, Spanish, and German.
Book a guided tour with skip the line ticket
Solution 3: Use the Firenze Card
The Accademia Gallery is also included in the Firenze Card. Keep in mind that you can only enter each museum one time. The card is only good for 72 hours from the moment you enter the first museum. Using the card allows you to skip the long queue line, and there is no need to make a reservation. The card is also good for the special night openings that this gallery often hosts during the busiest tour seasons.
Want to See Then Both?
Many visitors coming to Florence want to visit both the Uffizi Gallery and the Accademia Gallery. If your time in Florence is short, then consider these options allowing you to see both galleries on the same day.
Solution 1: Uffizi and Accademia Combined Tours
Visitors to Florence wanting to skip the long queue lines while seeing both the Uffizi and Accademia galleries will want to consider the full-day combined tour. Start off in the morning with a 90-minute guided tour of the Uffizi giving you plenty of time to see the important artwork there. After the tour, you have the option of spending time in the gallery on your own.
Then, eat lunch where you please before heading to the Accademia where your guide will rejoin you. Tour the Accademia seeing Michelangelo's most important works with a guide. This tour which is available in Spanish, English, French, German and Italian allows you to see both galleries in one day. In all, your tour guide is leading you for about 2.45 hours. Visitors standing in long queue lines in Florence never make it through both galleries in one day.
Book this skip the line, combined tour to Uffizi and Accademia
Solution 2: See the Uffizi and Accademia in One Morning
Visitors who are in Florence for a very short time do not want to spend their time standing in long queue lines. This 150-minute tour allows you to get a flash tour of the Uffizi before immediately heading to the Accademia in the same morning. After the tour's completion, you can remain in the Accademia as long as you want.
Book this skip the line, morning combined tour to Uffizi and Accademia
Duomo and the Cupola
No visit to Florence would be complete without visiting the Duomo and the Cupola. The great news is that visiting the Duomo is free. The bad news is that there can be extremely long queue lines just to get into this cathedral taking two centuries to complete.
Some unlucky visitors stand in the long queue lines to discover they will not be allowed inside because they do not meet Duomo's dress code. Do not let this happen to you. Women must wear clothes covering their knees and their elbows. Men must wear long trousers. Of course, this makes the queue lines seem even longer in warm weather.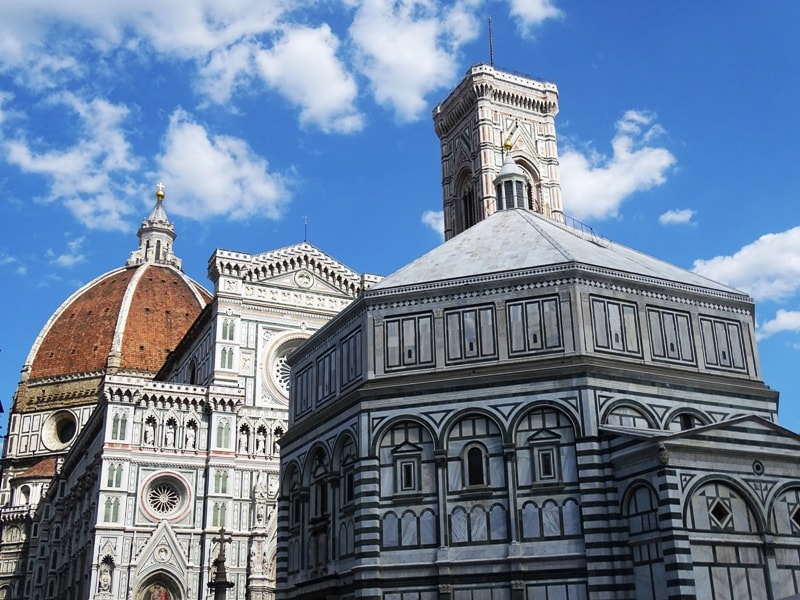 Then, you have to stand in another long queue line in Florence before you can climb the 463 steps up the Cupola. The views from the top of this tower are unforgettable, but you must wait in long queue lines and pay a fee for this experience. Here I wasn't prepared and because it was too late to book a tour I decided to go stand in the line half hour before the opening early in the morning having already purchased tickets the previous day. Still, I had to wait in queue for 1 hour and 30 minutes.
Thankfully, there are some options allowing you to visit the Duomo and the Cupola while skipping the lines.
Solution 1: Duomo Guided Tour & Reserved Cupola Access
Visitors wanting to skip the lines in Florence can go on a 135-minute tour of the Duomo and see the Baptistery of St. John. It then heads to the Museum of the Works of the Cathedral where many of the most important works of the Duomo are housed. Finally, guests can skip the line at the Cupola by climbing Giotto's Bell Tower. The three levels of the bell tower are each filled with fantastic works that visitors climbing the Cupola miss.
Book this guided tour of the Duomo and the Cupola
Solution 2: Guided Tour of the Duomo Including the Rooftop and View of the Terraces
Another way to skip the lines in Florence is to take a 2-hour tour of the Duomo with a guide speaking English. Guests choosing this option have more time to explore the Duomo including the Paolo Uccello clock, Giorgio Vasari and Federico Zuccari frescoes, and the polychrome mosaic floor tiles.
After a tour of the inside of the Duomo, head to the narrow open-air corridors on the building's roof. You will have to crawl through this area, but the panoramic views are simply amazing. Then, end your guided tour with a visit to the circular room where restoration of important works continues to be done by the top experts in the world.
Wait! While the tour is done at this point, you are free to see the remaining structures on your own including the cathedral, the dome by Brunelleschi, and the Crypt of St. Reparata. Your ticket is good for 24 hours.
Book this Florence Cathedral and Terraces Guided Tour
Solution 3: Use the Firenze Card
Another option is to use the Firenze Card to visit the complex. Be aware, however, that you must make reservations beforehand or wait in long queue lines to climb the Cupola.
You can spend your Florence vacation standing in long lines or you can skip the lines by using the Firenze Card or taking a guided tour. If you are like me, then you would much rather see as much in Florence as possible while being accompanied by a knowledgeable guide.
It really is possible to skip the line allowing you to enjoy your Florence vacation.
Did You like the post? Pin it!