Trying to put together the perfect 3 days in San Diego for your first visit to the city? We have prepared for you the perfect San Diego itinerary with everything you need to know.
San Diego is a popular California destination that promises beautiful weather, outdoorsy activities, a dynamic restaurant scene, and unparalleled ocean views.
The most iconic attractions in San Diego are Balboa Park, Coronado Island, and the Sunset Cliffs. It's a great place to explore tide pools, spot sea lions, and hunt for sea caves. Although, you can also enjoy hiking, biking, sailing, or just lay on the beach. San Diego is an excellent destination for couples, solo travelers, and families.
If you've got three days to spend in San Diego, you'll be able to hit all of the major sites. On day 1 in San Diego, you'll chill out on Coronado Beach and explore Balboa Park. On day 2 in San Diego, you'll visit Torrey Pines, the Gaslamp Quarter, and watch the sunset at Sunset Cliffs. Finally, on day 3, you'll hike to Potato Chip Rock and stand-up paddleboard at Mission Bay.
Best Time to Visit San Diego
The summer season is most touristy in San Diego. June through August, temperatures peak in the 80s and dip into the 60s. If you choose to travel March through May, or September to November, you'll enjoy milder temperatures and smaller crowds.
If you visit in March, April, or November it may not be warm enough to swim in the ocean. So, it also depends on what activities you most enjoy and how much you care about crowds and cost.
How to get to San Diego
The best way to get to San Diego is to fly into the San Diego International Airport. San Diego is a 2-hour drive from Los Angeles and an 8-hour drive from San Francisco in California. Also, you can get to San Diego in 5 hours driving from Las Vegas, Nevada, or 6 hours driving from Phoenix, Arizona.
If you're flying into the San Diego airport, you'll need to rent a car. Public transportation isn't really an option, as most of the destinations aren't accessible. It's a big city, so you won't be able to walk or bike. Check out this San Diego attractions map for navigation and directions.
3 Days in San Diego, a Detailed San Diego Itinerary
3 Days in San Diego: Day One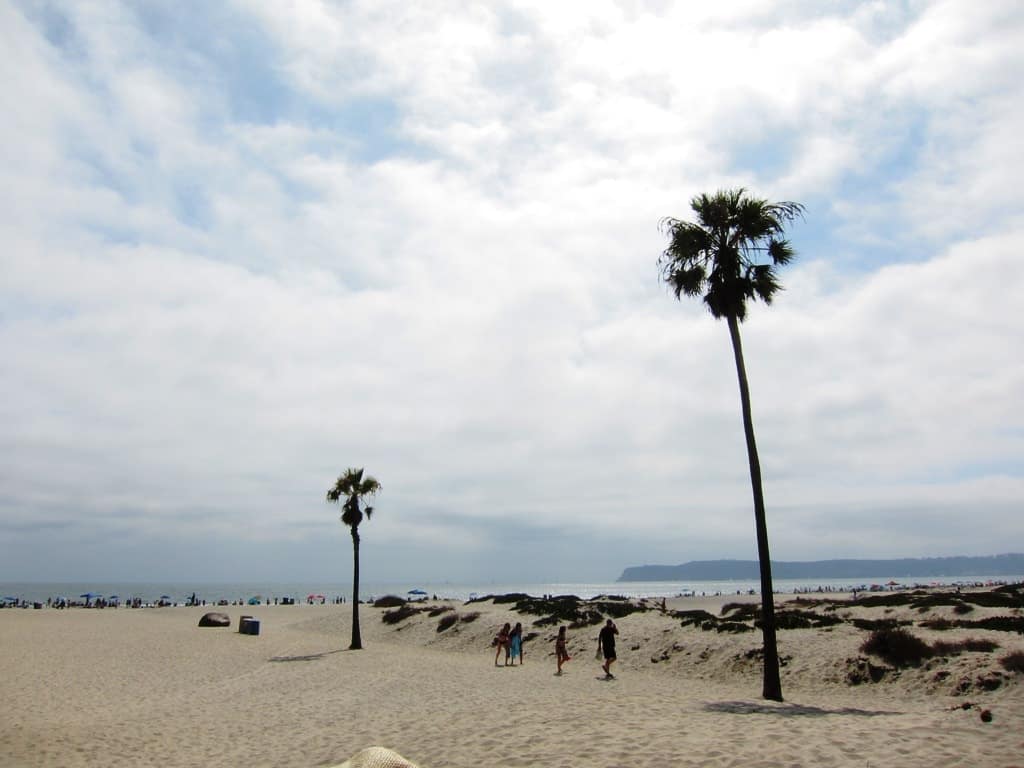 On day 1 in San Diego, you'll visit the stunning Coronado Beach. Have brunch there and then enjoy a bike around the island. In the afternoon, you'll check out the unique Balboa Park.
Coronado Beach
Just driving into Coronado island is breathtaking. As you pass over the Coronado bridge, you'll gawk at the sparkling blue ocean on either side of you. Get there early, as it can be somewhat difficult to find parking on Coronado Island.
Grab coffee and pastries at Tartine.
Coronado Island is San Diego's historic resort destination. The highlight of Coronado Island is Coronado Beach which has been called one of America's best beaches. The magic of Coronado's beaches is the sand. Quite literally, it glimmers and gleams in the sun! This interesting phenomenon is due to mica deposits.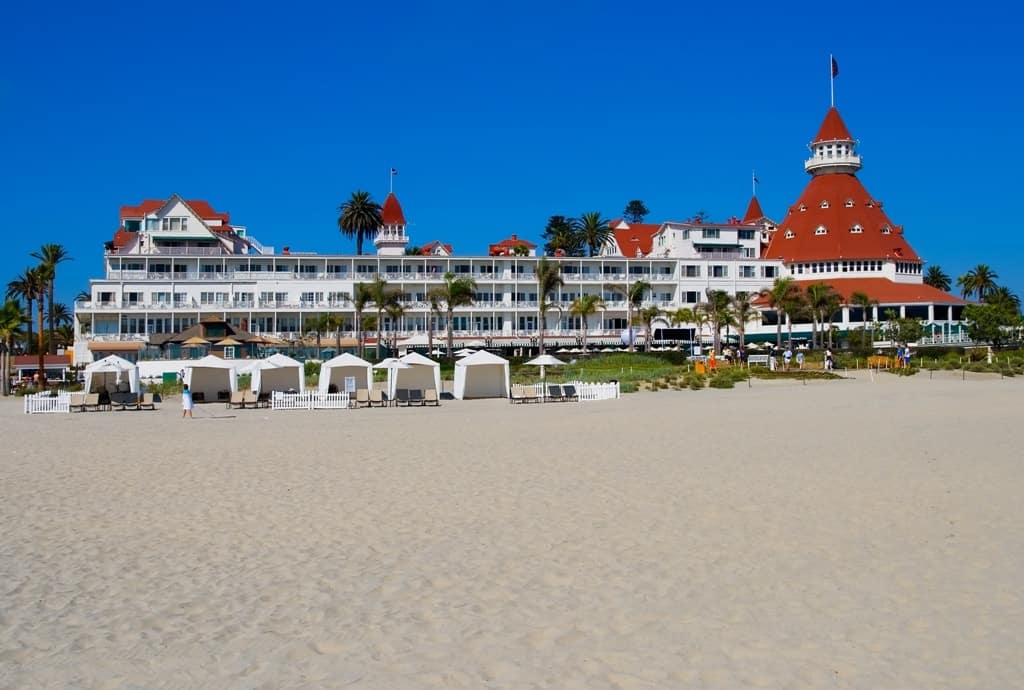 While on Coronado Beach, make sure to check out the famous Hotel de Coronado. It's the one with the iconic red roof (that you can find in almost every picture of Coronado beach). Dreams for this iconic resort were made in the late 19th Century. When it first opened, it was the largest resort hotel in the whole world! Today, it's a National Historic Landmark.
You can also walk down Orange Avenue. This is Coronado's main street and it's lined with plenty of cool restaurants, shops, and boutiques.
One of the fun things to do on Coronado Island is to take a bike ride. You can rent bikes from Holland's Bicycles on Orange Avenue for a reasonable price. There's an easy 6-mile bike loop that circles the island.
Have lunch at the coastal chic restaurant Serẽa. You'll enjoy fresh seafood and great vibes.
Balboa Park
Spend the afternoon on your first day in San Diego exploring Balboa Park. Balboa Park is essentially a giant museum campus and garden space. Highlights include the Spanish Village Art Center, the California Tower, and the Alcazar Garden.
When you visit Balboa Park, you'll be absolutely blown away by the architecture. It's a really big park with nearly 20 museums and it's impossible to see it all in a day. There are also countless events going on in the part every week. So, you'll need to prioritize and plan ahead.
3 Days in San Diego – Day Two
During day 2 in San Diego, you'll enjoy hiking through the scenic Torrey Pines. You'll also discover sea caves and sea lions in La Jolla. Have lunch in downtown San Diego's Gaslamp Quarter. Finally, you'll end your day by watching the sunset over the beautiful Sunset Cliffs.
Torrey Pines
Start your day with breakfast at Bella Vista Social Club & Caffe near Torrey Pines.
Torrey Pines has been called 'one of the wildest stretches of land' in Southern California. There's a great selection of easy and moderate rated trails. Most of the trails are under a mile in length, but you can combine them to get some good hiking in.
The Torrey Pines State Reserve protects the legacy of the Torrey Pines species. Torrey Pines are so rare, in fact, that they only grow in Southern California, specifically San Diego. It is the rarest species of pine in the world. There are less than 100 of these amazing trees that remain in existence.
Sea Caves at La Jolla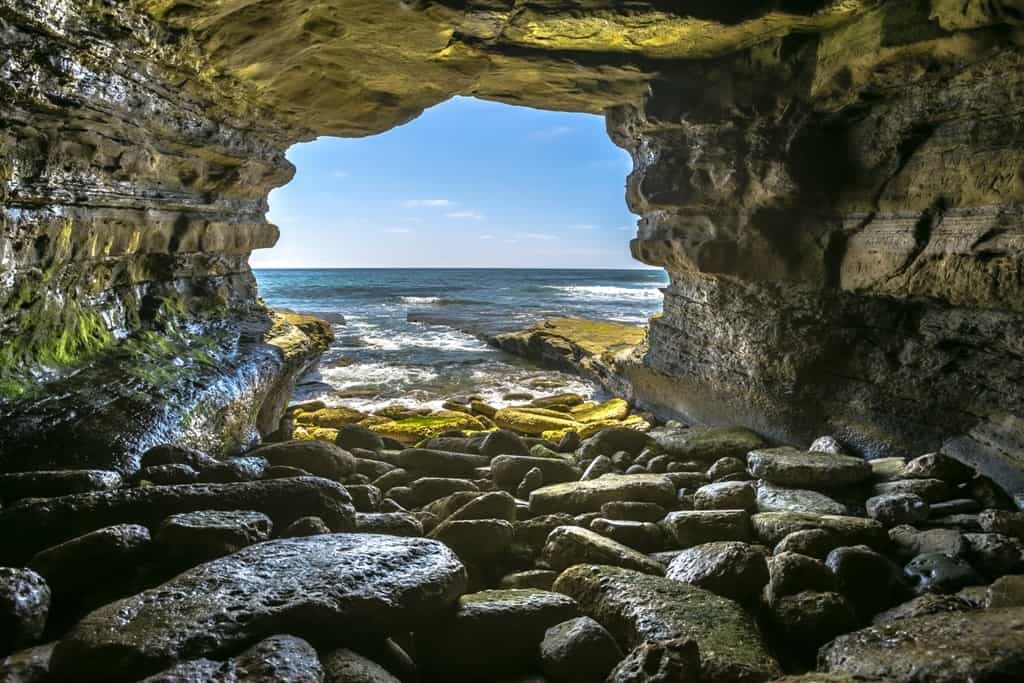 After your visit to Torrey Pines, make sure to stop by La Jolla. This is one of the most sought after beach destinations in California. It's also one of San Diego's most luxurious spots with plenty of fine dining opportunities, ritzy art galleries, and spectacular views.
La Jolla beaches boast warm waters and gentle surfs. They're popular for kayaking, snorkeling, and scuba diving. La Jolla's gold sands also attract many seals and sea lions. La Jolla Cove and Shell Beach are great places to hunt for them.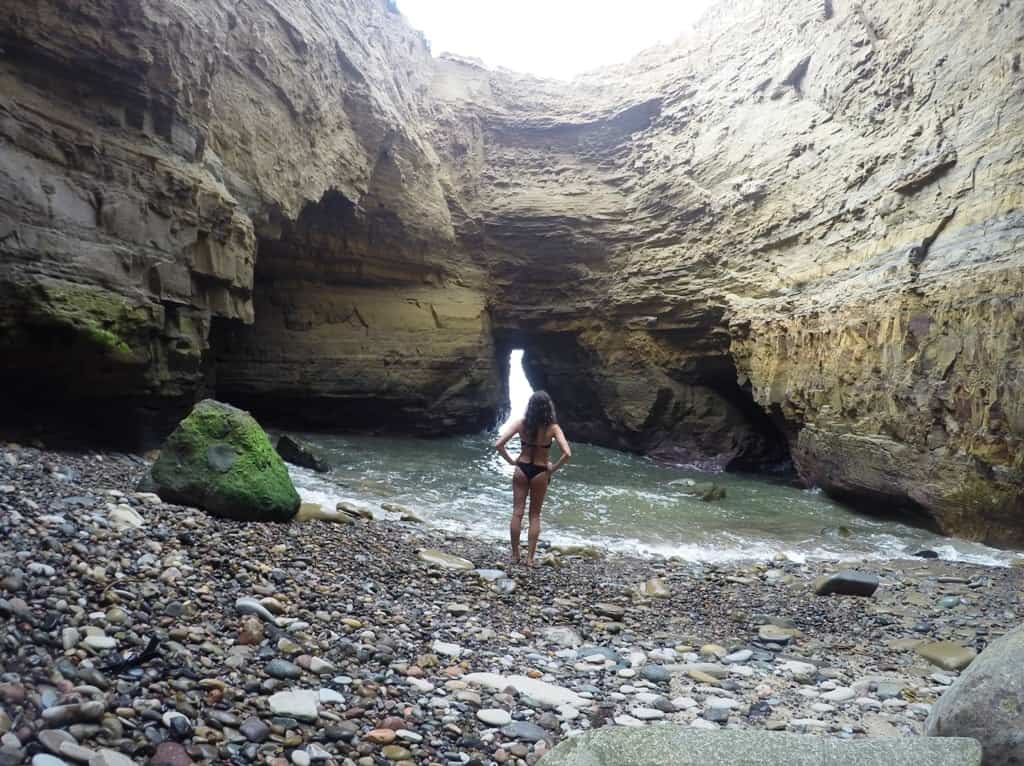 La Jolla's lesser-known attractions are seven secret sea caves. These are the hidden gems of La Jolla! You can only reach one of them on foot, so it's best to visit the caves by kayak. If you don't want to book a kayaking tour to see all the caves, you can look up instructions to visit the Clam's Cave. This is also a great place to spot sea lions.
Gaslamp Quarter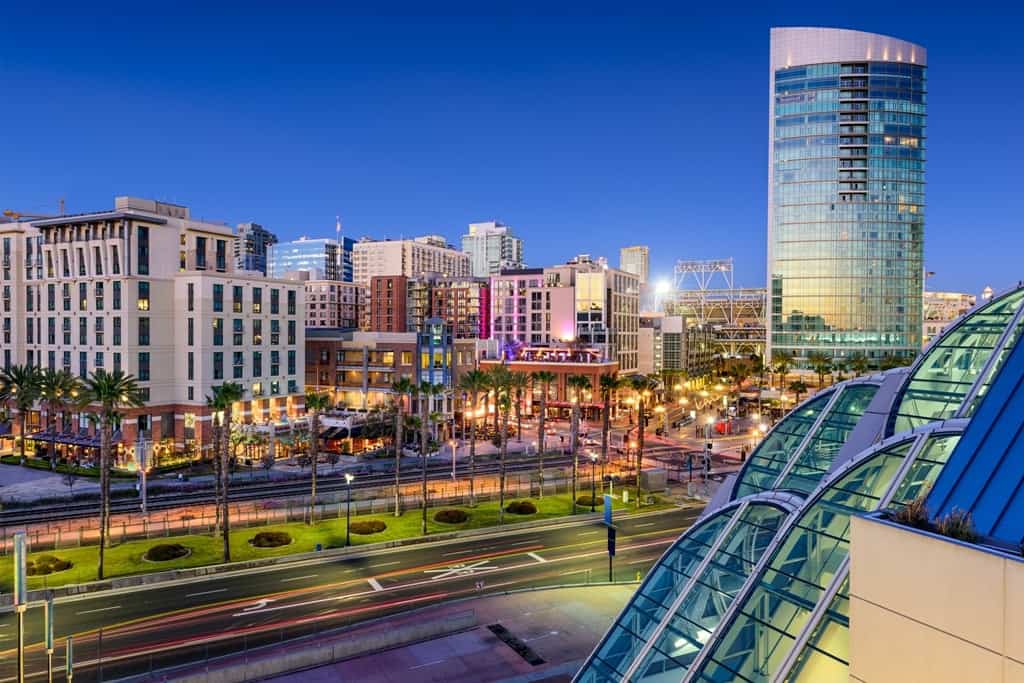 After an adventurous day hiking and kayaking in San Diego, refresh and get ready for a more metropolitan experience. The Gaslamp Quarter is San Diego's historic downtown district. It's lively and fun. It's full of restaurants, bars, and entertainment.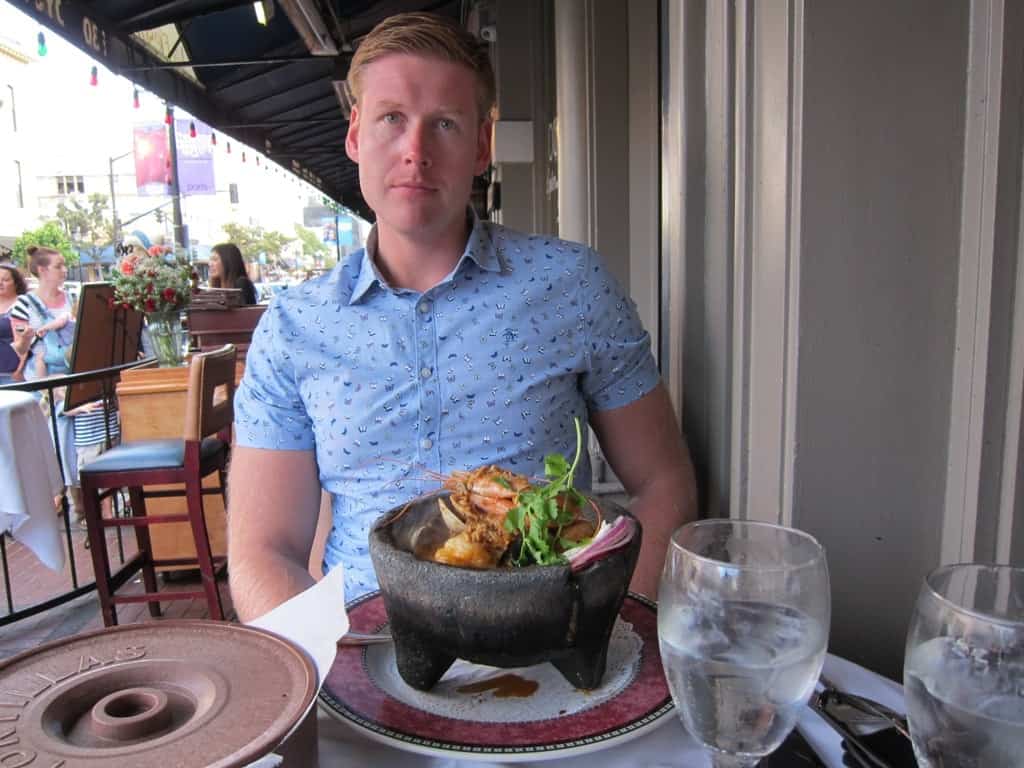 There are so many great restaurants in San Diego's gaslamp quarter that it's hard to choose just one. You may consider Biga if you love Italian, STK if you're looking for a steak or the Hopping Pig for more casual BBQ. With so many excellent options, you can't go wrong in San Diego's Gaslamp Quarter.
Sunset Cliffs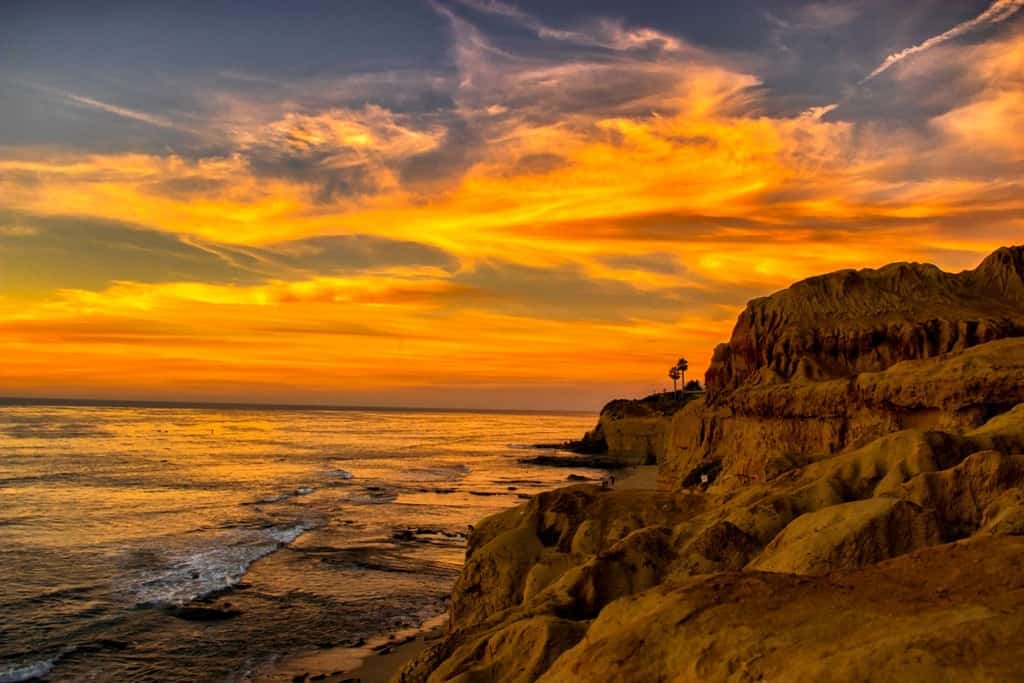 After you've filled your belly with a delicious dinner, head to Sunset Cliffs to watch the sunset! This place is so notoriously beautiful that it's become a popular spot for wedding and engagement photos.
Prior to the sunset, you could enjoy a gentle walk along the Sunset Cliffs Park Trail. It's less than 2 miles out and back. Enjoy beautiful views at every turn.
3 Days in San Diego – Day Three
On your last day in San Diego, you'll get the pleasure of climbing the Instagram famous 'Potato Chip Rock.' You'll enjoy stand up paddleboarding in Mission Bay. Finally, you'll have an unforgettable meal at one of San Diego's seaside restaurants.
Potato Chip Rock
The Potato Chip Rock hike is just 1 hour outside of San Diego. You can reach Potato Chip Rock via a 7.6 mile out and back trail. The Mt Woodson Trail is rated difficult — a perfect challenge for the seasoned adventurer.
Also, be sure not to miss the Mt. Woodson Summit. You'll be rewarded generously with panoramic views of Southern California and the Pacific coastline. It's a bucket list must for any Southern California adventure!
Mission Bay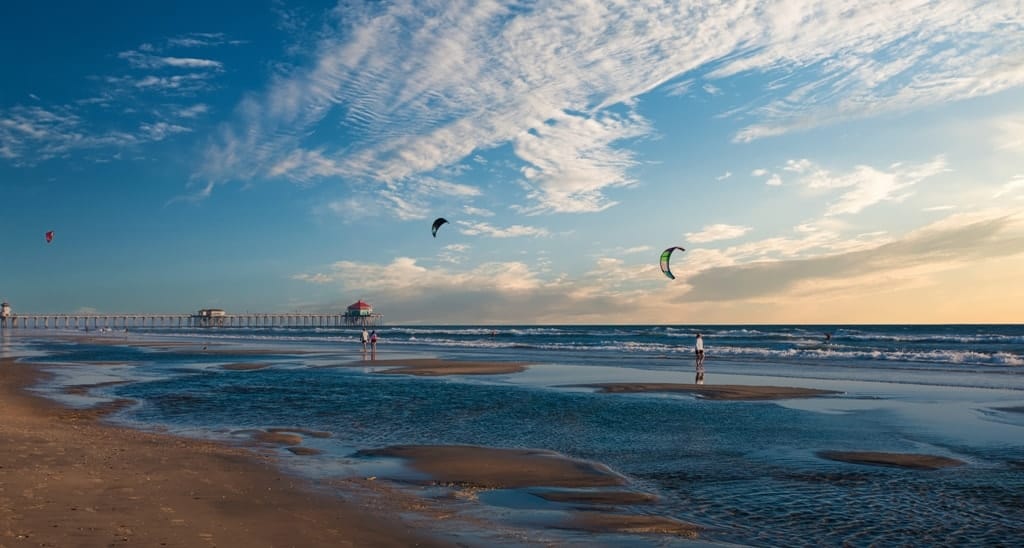 Mission Bay is San Diego's top adventure destination. Rent jet skis or stand-up paddleboards. Learn how to kitesurf. Many sportfishing tours also depart from Mission Bay. You may consider having a picnic at Ski Beach or joining a volleyball game at Crown Point.
Within Mission Bay, you can also explore Fiesta Bay. The easiest way to access Fiesta Bay is through Crown Point Park. Fiesta Bay is a Wildlife Preserve that encompasses mudflats and salt marshes.
You may also treat yourself to a fancy meal at the bayside Paradise Point Resort & Spa. This charming mid-century beach house is famous for brunch and impressive views.
Seaside Dinner
Now that you've enjoyed all the best that San Diego has to offer, you must treat yourself to a scrumptious dinner with ocean views. Consider Sea180 Coastal Tavern, C Level, or JRDN. This is the best way to experience California's life!
Author Bio: Valentina's Destinations was born from my obsession with meticulously researching, organizing, and planning my travel itineraries. I'm originally from Serbia, but I grew up in Chicago. I love hunting down local restaurants, unique experiences, and hidden gems.
PIN IT!