Spending winter in Switzerland is a dream for many people globally. The country is home to various superb winter destinations, including Davos, St Moritz, and Zurich. Switzerland has Europe's highest mountains, and winters are fantastic for skiing, snowboarding, and snow sports.
Switzerland also has delicious chocolate, majestic hiking destinations, and stunning scenery. Plus, Switzerland offers some of Europe's most enticing cuisine, such as Fondue, Raclette, and Swiss tarts and cheeses. If you're looking to visit Europe during the winter – you will struggle to find a better spot than Switzerland. Rent a car and plan your Switzerland road trip adding the below destinations to your itinerary.
Switzerland in Winter Complete Guide
Weather in Switzerland in winter
Switzerland is cold during the winter, and it often snows. The average lows during the Swiss winter are between 6 Fahrenheit and 30 Fahrenheit, while the average highs are between 16 Fahrenheit and 42 Fahrenheit. Sunlight is weak during the winter months and may only last for two to four hours in certain places.
December is Switzerland's snowiest month, with temperatures plummeting way past freezing in both December and January.
What to pack for Switzerland winter weather?
If you're visiting Switzerland during its bitterly cold winters, you should pack plenty of layers. Make sure you bring a warm jacket, maybe two jackets for an extra layer. Also, be sure to bring gloves, hats, and scarves with you.
You should bring waterproof boots because the snow is deep, and water will get into your socks if they aren't waterproof. Bring your ski shirt if you want to go skiing but most importantly, make sure everything is waterproof.
8 Beautiful Places to Visit in Switzerland in Winter
Zermatt
Zermatt is a superb destination if you are visiting Switzerland in winter. The town is in the Swiss Alps and is home to shops, bars, hotels, and restaurants. Visitors love the excellent views of surrounding nature and there are incredible views since the town is from 5,200 feet above sea level. Popular attractions include ice skating rinks and curling opportunities.
You will find The Matterhorn in Zermatt, one of Switzerland's most iconic mountains and one of the world's most photographed places. If you'd like to see glaciers, check out the Matterhorn Glacier Paradise via the Matterhorn cable car. This is Europe's highest cableway, at an incredible 12,740 feet. Once you've arrived, you will find cinemas, shops, and bars.
St Moritz
St Moritz is in the heart of the alps and offers some of Europe's greatest skiing and winter views. The town is 5,905 feet above sea level, and it overlooks the entire valley. The town hosted the Winter Olympics in 1928 and has been a vibrant winter sports town ever since. St Moritz also has a long history, spanning back to the 11th century when the Celts discovered the town.
Popular attractions include Diavolezza, one of Switzerland's most beautiful peaks and a fantastic photo opportunity. Visitors also love Lake St Moritz, offering spectacular photo opportunities, churches, and places to sit. Also, you should visit the Lake of Staz, a stunning crystalline lake offering mountain views in the background.
Lucerne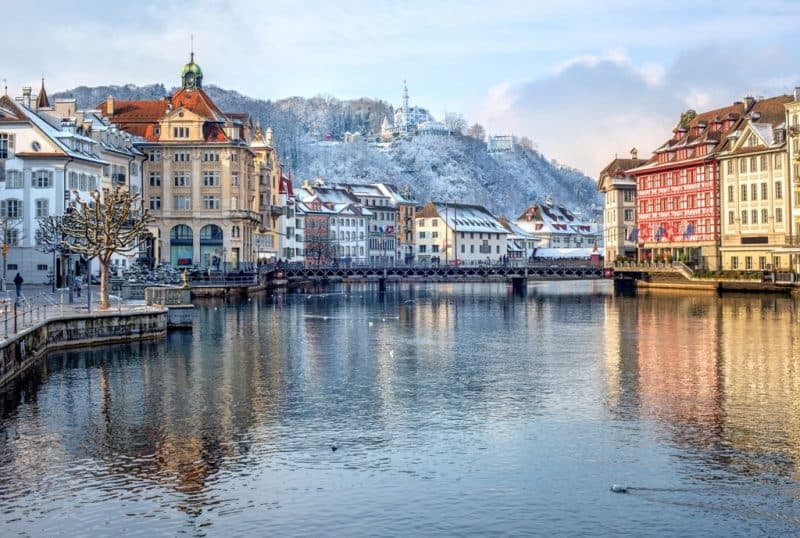 Lucerne is in the center of Switzerland and the German-speaking part of the country. It is the most populated town in Switzerland with 82,000 residents. The most popular Lucerne attraction is Lake Lucerne because of the breathtaking crystal clear waters. Plus, there are stunning surrounding mountain views. Switzerland offers a vast history, and it is hard to find richer Swiss heritage than Old Town Lucerne.
Popular old town attractions include Weinmarkt and the Old Town Hall, which offer a deeper insight into its history. If you love aviation, you should visit the Swiss Museum of Transport and view its vast collection of aeroplanes. It is Switzerland's most visited museum, and also has trains, classic cars, and Switzerland's first IMAX cinema.
Glacier Express
Glacier Express is one of Europe's – and the world's – most popular train journeys. The views from the train are utterly spellbinding. You'll love the 180-mile journey taking you from Zermatt to St Moritz on the world's slowest express train. You'll enjoy the seven and a half-hour ride while sitting in the train's comfortable interior.
Two private Swiss railways run the journey: Rhätische Bahn and Gotthard Bahn, and they complete the trip daily. Guests can enjoy crisp Swiss white wine and a delightful lunch of your choice as you witness one of the world's most spectacular train views. It is a must-do if you're in Switzerland in winter.
Zurich
Zurich is Switzerland's biggest city with a population of over 415,000. It is famous for being one of the world's wealthiest cities with great shops, restaurants, and stunning mountains. Did you know the official Zurich language is German? However, locals speak various global languages in this cosmopolitan city that attracts millions of visitors yearly.
Zurich is home to one of Europe's best old towns. You will see a plethora of historic buildings and the area is pedestrianized so there are no cars allowed. Lake Zurich is also one of Europe's most famous lakes, with fantastic city views and surrounding structures. If you have the chance, visit Uetliberg Mountain because it offers the most splendid city views of Zurich at 2,847 feet above sea level. Plus, if you want beautiful winter views, this is one of the best places to visit in Switzerland in the winter.
You might also want to check out: How to spend 2 days in Zurich in winter.
Davos
Davos is famous for its world-class skiing resorts and being home to the World Economic Forum. You will find Davos in the heart of the Swiss Alps, and during the winter, the mountains are capped with stunning snow. Davos is nearly 5,000 feet above sea level, so it does freeze during the deep winter months. If you're visiting Davos, there's a good chance you are a skiing fanatic or you want to learn how to ski.
If so, you're in the best place because Davos is home to over 125 miles of slopes and terrain. There are various nearby ski resorts, attracting luxury clientele, including the Klosters ski resort. Davos is also home to Switzerland's best nightlife and tourists can enjoy multiple clubs, such as Ex-Bar, Pöstli Club, and Jatzhütte.
Jungfrau
Jungfrau is one of Switzerland's main ski resorts. At a staggering 13,641 feet above sea level, the views and the ski slopes are outstanding. Many locals and visitors consider the mountain Europe's most iconic peak. The Grindelwald-First is a very popular ski-resort, offering some of Europe's best skiing opportunities and beautiful crystalline lakes.
Trummelbach Falls is also a top-rated destination. During the winter, these waterfalls might be challenging to access. However, these are the world's only glacial waterfalls and a must-see if you're visiting the region, regardless of the season. The falls carry up to 20,000 liters of water per second. Visiting the Jungfrau region is a must-do if you are spending winter in Switzerland.
Gruyeres
Gruyeres is a medieval Swiss town and a must-visit if you're looking for places to visit in Switzerland in winter. The primary Gruyeres attraction is the castle, dating back to 1270, and it is a Swiss heritage site of national significance. Today, it is also a museum with some incredible exhibits on Swiss history.
The HR Giger Museum is also popular with visitors. The museum began in 1998 and exhibits the 400-year history of Gruyeres. If you check out the top floor, you'll find a permanent display of Giger's private art collection. Plus, you should check out the HR Giger bar because it is an impressive work of art. The museum has remodeled the bar so the ceilings, walls, and floors match the artist's acclaimed biomechanical designs. If you want to experience some of the country's most delicate artwork, a visit here is a must!
You might also like:

One day in Geneva

An Italy and Switzerland Itinerary