While the Spanish capital has loads to offer even the most discerning traveler and city-breaker, there may be times when you want to explore a little more than just the city sights. It is then that you'll need inspiration about the best day trips from Madrid to whet your travel appetite.
Day trips to historic cities such as Segovia allow you to explore Gothic churches, picturesque plazas and even a Roman aqueduct while Cuenca offers something different yet again, with hanging houses and bizarre rock formations. Ávila's impressive fortress will have you feeling like a knight in battle, and a visit to Toledo gives you an insight into the medieval, Moorish and Mudéjar influences that give this ancient hillside city its magical atmosphere.
If you can't get enough of Spanish culture there's no better way to soak it up than spending a few days in the capital before taking some exciting day trips to spectacular spots around the region.
Disclaimer: This post contains affiliate links. This means that should you click on certain links, and then subsequently purchase a product, I will receive a small commission. It costs nothing extra to you but helps keep my site running. Thank you for supporting me in this way.
The Best Madrid Day Trips Ideas
1. Valladolid
Contributed by Inma of A World to Travel
One of the best options to spend a fun day near the Spanish capital is to visit the nearby city of Valladolid.
Less than two hours by Renfe from the train station of Madrid – Chamartin and a little more than two hours by bus (both tickets from € 19), Valladolid has much to offer those who decide to put it in their Spain itinerary.
Monuments such as its cathedral in the heart of the city, the Romanesque-Gothic and Neo-Gothic church of Santa María La Antigua (where my parents were married!), the church of San Pablo, the one of San Benito, the Palace of Villena with its stunning central courtyard, the convent of the Descalzas Reales, the National Museum of Polychrome Sculpture, and the Calderón Theater where the International Film Week of the city is held every year will keep visitors in love with art and architecture busy.
On the other hand, foodies will be delighted in the surroundings of the Plaza Mayor, full of restaurants and tapas bars – one of the things Spain is famous for! And overall everyone will enjoy the multiple green spaces of the city, never crowded or chaotic. A good example of this is the Campo Grande, the main urban park of Valladolid that showcases multiple sculptures, a pond, and two fountains.
2. Alcala de Henares 
Contributed by Talek of Travel with Talek
The town of Alcala de Henares, 22 miles north of Spain's capital city of Madrid, punches above its weight. The town of about 200,000 inhabitants is a repository of great Spanish culture, particularly art and literature.
The city boasts an interesting pedigree. The original inhabitants were Celts who were conquered by Romans in the First Century CE. These were subsequently replaced by Visigoths who gave way to Moors who were, in turn, reconquered by Christians during the Spanish Reconquest. In short, Alcala de Henares is a microcosm of Spain undergoing the same conquests and reconquests over the centuries, leading to the Spain of today.        
Perhaps Alcala de Henares' main claim to fame is as the birthplace for one of the world's great literary celebrities, Miguel de Cervantes, author of Man of La Mancha. It is in this city where every year the King of Spain grants the Cervantes Price for Literature to a deserving author of the Spanish speaking world.
The medieval center of the city is a UNESCO World Heritage site with its winding cobblestone streets and beautiful buildings in Baroque, Romanesque, and Gothic styles. Principal buildings include the University, famous for its liberal arts and language programs as well as its architecture and medieval cloisters and the Cathedral of the Holy Children, said to house the bones of two saints.     
Alcala de Henares makes for a great day trip from Madrid but to really absorb the city's history, culture, and architecture, you really need much more time.  
3. Sierra de Guadarrama National Park
Contributed by Jonathan of Journey Maxx
Little more than an hour northwest of Madrid, the region of the Sierra de Guadarrama mountains and national park makes for an ideal getaway from the big city even if just for a day trip. In between Madrid and the historic city of Segovia is a landscape of granite rocky mountains and nature trails around a glacial lagoon. Statistically, the fifth largest of Spain's National Park system but only officially designated that status as recently as 2013, the mountain range and its surroundings are blessed with a wealth of biodiversity.
It is the Peñalara Mountain that is the highest in the region, and the image of its reflection in the lake on a clear days is one of the most serene sights. What a contrast from the bustle of Madrid's Gran Via! As mentioned, the biodiversity of flora and fauna present adds to the scenery. Get there at the right time of day and you may spot a range of wildlife from the Iberian Ibex to the roe deer. Look closely on to the rock pools and see if you can spot the spotted salamander!
Ideally the best way to get to the Guadarrama region is by car but if you are not keen on renting a vehicle and do not mind a slightly slower journey, there are bus and train options from Madrid's Estacion Moncloa. The nearest train station is in the small town of Cercedilla that marks the start of this region. This itself is characterised by the pine
forests nearby which portray an ideal escape into somewhere very dramatic. A great alternative idea for the city slickers looking for something completely different.
Click here to book a hiking trip to Sierra de Guadarrama National Park.
4. Cuenca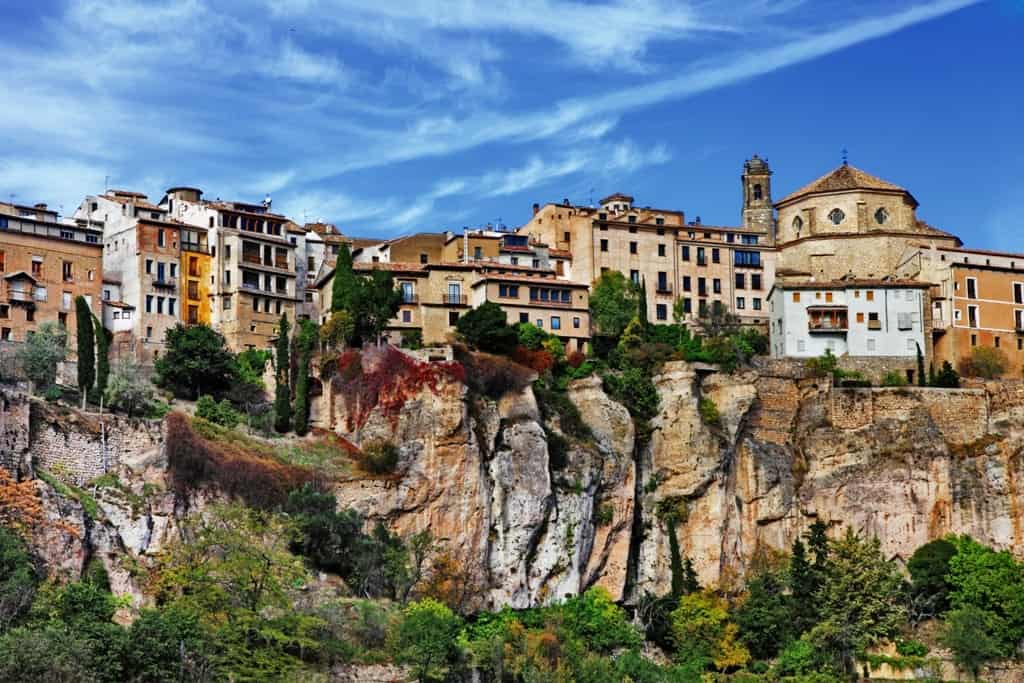 Contributed by James Ian of Travel Collecting
Cuenca is dramatically situated on an enormous rocky outcrop surrounded by a deep gorge. It is most famous for the Casas Colgantes (Hanging Houses). These are houses that are perched right on the edge of the cliff. Their balconies overhang the cliff edge. This section of town is not large, but the houses are beautiful and their location dramatic. There is a pedestrian bridge nearby for great viewing and photos.
However, there is more to do.  The main square (Plaza Mayor) is a lovely place to hang out and enjoy tapas and a glass of sangria.  At one edge of the plaza is the Casa Consistorial de Cuenca with beautiful arches barely big enough for small vans to squeeze through.  Across the gorge is the former Convent of San Pablo, now a Parador (an upmarket hotel), which glows golden in the sun.  There are also several small museums, and of course the cathedral.  Mostly, however, you will want to wander the narrow streets and soak up the atmosphere of this lovely medieval hill town. 
There is a direct train from Madrid to Cuenca. There are frequent departures throughout the day. The train only takes 54-59 minutes depending on the train, making this a perfect day trip fromMadrid.
Click here to book a guided tour from Madrid to Cuenca.
5. Toledo
Contributed by Halef and Michael of The Round The World Guys
One of the most popular Madrid day trip destinations is Toledo, an ancient town that established in the Roman era. Toledo's history is staggering – it has witnessed the rise and falls of several eras and rulers, starting from the Roman Empire to the Arab and now, modern Spain.
Because it is such a well preserved town, with significant culture and history, Toledo became a UNESCO World Heritage Site in 1986. Some of Toledo's highlights are the 13th century Gothic Cathedral with a Baroque interior, and the Alcazar fortress. For art lovers, the city celebrates one of Toledo's most famous artists with a museum dedicated to El Greco.
If you are on a budget, the Toledo Free Walking Tour by Cuéntame Toledo is highly recommended. While it is a free service, a tip for your guide is recommended. Find out more of the things you should know about Free Walking Tours here. Don't forget to wear your comfortable walking shoes as you'll be walking on Toledo's cobblestone streets!
The easiest way to get to Toledo from Madrid is by train. There are at least eight trips each day, and it only takes about 30 minutes. Spanish trains are fast, inexpensive, and efficient.
Click here to book a full day trip to Toledo from Madrid.

Alternatively, you can book a day trip that combines a visit to Toledo and Segovia. 
6. Buitrago de Lozoya
Contributed by Or of My Path In The World
If you're looking for hidden gems in and around Madrid, Buitrago de Lozoya is the place for you. It's relatively small, but this charming medieval town offers quite a few sights for you to enjoy.
One of the main landmarks you must see is the Buitrago del Lozoya Castle. It dates back to the 15th century and although its interior is destroyed, its seven towers of different shapes are still standing. Not too far from the castle, you'll find the Church of Santa Maria del Castillo, a Gothic building built in the 14th and 15th centuries.
The castle, the church, and the town itself are surrounded by walls built by the Arabs. Climb these walls to enjoy some of the most incredible views over Buitrago del Lozoya. Beyond the walls, you can find another landmark dating back to the 15th century, and that is the old bridge Puente del Arrabal. 
For something a bit different, head to the Picasso Museum. It houses a collection of original works done by the amazing Pablo Picasso including drawings, ceramics, and posters. If you're in for an active activity, there are also several hikes you can take around this town.
How to get to Buitrago de Lozoya: From the subterranean part of Plaza de Castilla, take bus no. 191. This station is fairly busy, so make sure to get there in advance. Depending on traffic, it takes about an hour and a half to get from Madrid to Buitrago de Lozoya.
7. Seville
Contributed by Dhara of It's Not About the Miles
Looking for an exciting day trip to round out your Madrid itinerary? Consider Seville, the capital of Spain's southern province of Andalusia. Seville is a little over two hours away by high-speed train, and there are several trains that run in both directions every day, making Seville an attractive day-trip destination from Madrid.
There are so many wonderful things to do in Seville that you will be spoiled for choice. Plan on taking the earliest train out, to maximize your time in the city.
On a one-day adventure, start by exploring the Royal Alcazar of Seville. The palace-fortress is easily Seville's top attraction, and its stunning architecture and gorgeous gardens will take your breath away. It is part of Seville's UNESCO site. You could easily spend the better part of a day here, but allow yourself two hours for the highlights. Next, walk over to the nearby Seville Cathedral for a quick look inside before making your way to the Giralda, the bell tower. Walk up to the top for stunning views over the city.
For lunch, sample some of Seville's famous tapas in the historic quarter, Barrio Santa Cruz. Wander the picturesque lanes for a little while before heading to the Plaza de Espana, Seville's enormous and magnificent square. The plaza was only built in the early 1900s, but looks like it's been there since medieval times. Don't miss the beautiful azulejo displays, one for each of Spain's provinces.
Then stroll along the Guadalquivir River to the Torre del Oro, or take a walk through the green Parque de Maria Luisa, before making your way back to the historic quarter for dinner. If you are up for a late return to Madrid, finish your evening with a flamenco performance in one of the celebrated theaters in the historic quarter!
You might want to check out my one day Seville itinerary.
8. Salamanca
Contributed by Tom of Travel Past 50
For a day trip from Madrid, Salamanca offers several outstanding architectural sites. The first is Plaza Mayor that was once used for bullfighting but now features columned galleries with cafes and where you can sit, sip a coffee or wine, and watch the constant parade of people. While you are there, be sure to note the sculptural medallions along the gallery facades that depict many of the literary and intellectual figures of Spanish history.
The "New" Cathedral of Salamanca is one of the newer massive cathedrals of Spain. Begun in the early 1500s, was not consecrated until 1733, over 200 years later. It started out in a late Gothic style but finished up as more of a Baroque exercise. The carved walnut choir is worth a long look.
The adjacent "Old" Cathedral dates from the 12th Century. Luckily, it was not razed, as so many old cathedrals were when new ones were built. It features a tower that is worth a climb for its view of the old city and a stunning 15th Century painted altarpiece.
Finally, wander among the University of Salamanca buildings. The 12th Century university is the third oldest in the world and showcases many distinct architectural styles. The UNESCO World Heritage city of Salamanca can be reached in just under one and a half hours from Madrid (or three hours on a cheaper slower train.) Go early so you can spend as much time as possible.
You might be interested in a day trip to the towns of Avila and Salamanca.
9. Zaragoza
Contributed by Vicki of Vicki Viaja
Zaragoza is, in my opinion, one of the most underrated cities in Spain. Even though it makes for a great day trip as it is located right in the middle between the two important Spanish cities Madrid and Barcelona. The fastest way to get there from Madrid is by Ave-train but there are also buses operating which are usually much cheaper.
The most important attraction in the city is the impressive Basílica del Pilar. The basílica is the biggest and one of the most important baroque churches in Spain. You can find this imposing building right in the heart of the city on the Plaza de Nuestra Senora del Pilar.
Even though, the basílica already looks amazing when admiring it from the front, the view that you get from the so-called Puente de la Piedra – which you can find if you walk behind the basílica – is even better. The Puenta de la Piedra, also called Bridge of lions leads over the Ebro river, which flows through the city.
Just a few steps away from the Basílica del Pilar, you can find another important building of the city – The Cathedral of the savior, which is also called La Seo de Zaragoza. This cathedral is unique due to its Arabic influences.
10. Ávila
Contributed by Wendy of the The Nomadic Vegan
Ávila is one of the best preserved medieval towns in Spain and should not be missed. The real highlight is the medieval fortification wall surrounding the city, which is punctuated by 88 watchtowers. Even though Ávila is a compact town and is easily explored in just a few hours, try to stay until after dark. The city walls look like a fairytale castle when illuminated at night and are worth the wait. 
In addition to being a medieval fortified town, Ávila is also a very religious city, with many churches and convents. This was the home of Saint Theresa of Ávila and has been a place of pilgrimage for centuries.
The Cathedral, another unmissable site, combines both these aspects of a religious and fortified town, as it's actually built into the city walls. An unmistakeable large round tower is the tallest section of the 12th-century walls and also serves as the apse of the Gothic cathedral.
Soul Kitchen is a cozy eatery near the city center that also has a few gluten-free and veggie options, though not of the same caliber as the fantastic vegetarian and vegan restaurants in Madrid. Trains run frequently to Ávila from Chamartín Railway Station in Madrid and take between 1.5 and 2 hours.
You might be interested in a guided tour from Madrid to Avila and Salamanca.

Alternatively, you might be interested in a full day tour to Avila and Segovia. 
11. Segovia
Contributed by Jamie of CrashedCulture.com
When I lived in Madrid, one of my favorite day trips was Segovia. All you have to do is catch a Renfe train for less than 10 euros, and in just over 2 hours you'll be in one of Spain's oldest cities. There are tons to see, from the Aqueduct of Segovia, one of the best-preserved Roman aqueducts in the world, to the Alcázar of Segovia, a UNESCO site. Or, if you're more interested in the history of religion in Spain and seeing where ancient Catholics, Muslims, and Jews lived, you can find that, too.
My favorite, though, is Segovia's famous Cochinillo Asado, or Roast Suckling Pig. It's a culinary staple in Spain, and it comes from Segovia, so there's no better place to try it. Seriously, it's so delicious that I went back to Segovia twice after seeing everything there was to see, just to eat the authentic Cochinillo Asado again.
I mean hey, you're going to eat more tapas that you can count! And while you can absolutely try it in a touristy Madrid restaurant, there's no experience quite like going to a smaller, hidden restaurant in little ol' Segovia and going to town on a historical meal with a bunch of friends. Make the trip to Segovia, I promise it'll be worth it!
Book here a full day guided tour from Madrid to Segovia and Avila.

Alternatively, you can book a day trip that combines a visit to Toledo and Segovia. 
12. Burgos
Contributed by Bradley of Dream Big, Travel Far
Famous for its incredible medieval architecture, Burgos is one of the most popular cities to visit in the north of spain. It is perfectly situated just 2 and a half hours from Madrid and there are variety of ways to get there. Most notably either by bus or car. It is also possible to get there by train in just under three hours, but the journey takes you a bit further out and passes through Valladolid.
Once there, you'll discover tonnes to see and do. Such as visiting Burgos Cathedral, the Museum of Human Evolution, and the Monastery of Santa Maria. In general, it is a wonderful place to simply walk the streets and take in the incredible architecture. You'll find plenty of quaint bars, cafes, and restaurants that litter the street. But it's best enjoyed at an outdoor cafe that offers views of the cathedral itself.
It is also incredibly popular due to it being one of the biggest cities along the Camino de Santiago. Which is how I first discovered Burgos! This ancient pilgrimage route attracts thousands of people every year, all of whom have to pass through Burgos. But due to its incredible array of things to see and do, many pilgrims choose to stop here and recover for a day or two.
You might be interested in: Things to do in Burgos, Spain.
13. Córdoba
Contributed by Justine of Latitude 41
Córdoba is a flavorful area of Andalusia, which boldly showcases a blend of Moorish, Christian, and Roman architecture. The city's rise to domination was in 711AD when the Moors overpowered the Visigoths and captured Córdoba. Its most famous landmark is the behemoth mosque-cathedral, La Mezquita. Its iconic rounded and striped arches and radiant decorations make it one of the world's best examples of Islamic architecture.
The city also preserves Roman ruins and a whitewashed Jewish quarter of intimate white patios with vibrant potted plants spilling with color. Meander down the picturesque Calleja de las Flores, a narrow street with a perfect view of the Mezquita tower. The Alcazar de Los Reyes Cristianos is also a must-see – with its 14th-century Mudejar-style palace and enchanting gardens.
The Alcazar is where the power couple, Catholic monarchs Isabella and Fernando, held court and conquered the nearby Andalusian city of Granada. Lastly, be sure not to miss the ancient Roman bridge, a pedestrian bridge with a neat view of La Mezquita (also featured in Season 5 of Game of Thrones!). Don't forget to devour the incredible Andalusian gastronomy (the best in Spain, honestly).
Try Córdoba's native specialty, the salmorejo. Loosely, it's a thicker version of the cold soup, gazpacho, which is topped with cubes of cured ham, and bits of hard-boiled egg. Getting to Córdona from Madrid is a cinch using the high-speed railway called the AVE. Trains frequently on the hour from the Atocha Train station. 
You might also like: How to spend one day in Cordoba.
The ancient cities and stunning architecture are both sure to impress. Not only will you get a taste of Spanish cuisine with some tempting traditional dishes in local towns and villages, but you'll be able to enjoy some real culture too. Try flamenco dancing in Seville, visit a collection of great galleries and museums and chat to friendly locals while enjoying day trips from Madrid. These are just a handful of what I consider to be the best day trips from Madrid but the only way to know is to get out there and see for yourself!
Did you like the post? Pin it!