This post is also available in: French
Planning to spend one day in Seville, and looking to see as much as possible? There are so many things to see and do around the city. This 1-day itinerary will help you make the most out of your stay in Seville. 
Seville, Spain is one of Andalusia's top destinations – and for good reason! With this One Day in Seville Itinerary, you can experience the stunning history, culture, and cuisine of the city even if you're short on time.
As the capital of the southern Andalusia region in Spain, Seville or Sevilla is a very historic and cultural city to visit. A trip to Seville will allow you to immerse yourself in its intricate culture and history by seeing its incredible and colorful architecture, learning about famous events that happened here, and wandering around its amazing gardens and parks. I
f you're planning to spend one day in Seville, this guide will help make sure you see and experience the best things this city has to offer on your trip.
Disclaimer: This post contains affiliate links. This means that should you click on certain links, and then subsequently purchase a product, I will receive a small commission.
Tip: If you have only one day in Seville and you want to get the most out of it, I highly recommend booking this tour: Seville in a Day: Exclusive Early Alcazar Access, Cathedral, City Tour & Tasting.
Is One Day in Seville Enough?
As one of the best places to visit in Spain, Seville offers a lot to see and do. Truthfully, two days or three days in Seville, Spain is ideal as it gives you a chance to fit in a few off-the-beaten-path sites, but if you're short on time, you can definitely do a lot in one day in Seville.
This one-day Seville itinerary will allow you to see the major sites like Plaza de Espana, Catedral de Sevilla, and Torre del Oro while giving you just enough of a feel for the city to want to come back.
Seville can also be a good base for the Andalusia part of a larger trip to Spain, as there are many easy day trips from Seville.
Can You Do A Day Trip to Seville?
Technically, you can do a day trip to Seville from Madrid on the high-speed train, but it is a LONG day trip. It's about 2 hours and 45 minutes in each direction, though there are many trains running the route each day. You could leave Madrid very early and leave in the evening, but I highly recommend spending at least one night in Seville to take advantage of all the great things to do, see and do.
Things to do in Seville in one day
Optimizing your day is key to seeing the most important sites in any city, but especially in one as big as Seville. This one-day Seville itinerary will walk you through the best sites to see and the top things to do in Seville, as well as the best order to do them so you can fit the most into your day.
Visit Plaza de España
The Plaza de España was built for the 1929 Ibero-American Exposition. This massive plaza is home to many iconic buildings and places like the Parque de Maria Luisa. This plaza is also known as the "Venice of Seville" due to the numerous canals that wind their way around it.
When wandering around the plaza, you'll be able to look at the stunning architecture and colorful ceramic tiles, which are a huge part of Seville's culture.
See the Seville Cathedral
This historical and architectural marvel was built back in the 1400s. It features beautiful Gothic architecture and is one of the largest Gothic cathedrals in the world. The Seville Cathedral is home to the tomb of Columbus as well as the colorful Patio de los Naranjos,a courtyard filled with orange trees and fountains.
The Cathedral is located in the Santa Cruz district, which is overall extremely photogenic and a lovely place to wander if you find yourself with extra time.
Climb up the Giralda
The Giralda is the bell tower of the Seville Cathedral and is one of the tallest points in the city. After walking around the cathedral's grounds and interior, you can climb up its staircase to get a beautiful panoramic view of the city below.
While walking up to the top, you'll also be able to see ramps on the side of this bell tower which were once used to help transport animals up to it.
On the very top of this bell tower's exterior, you'll be able to see a weathervane which is what inspired it to be called Giralda (she who turns). It's meant to be a symbol of faith for the city.
Wander Through Alcázar
Originally built to serve as a fort in 913, the Royal Palace of Alcázar has gone through many historical changes. Built by the Moorish people, it features various architectural styles due to it being built through various time periods.
You'll find Moorish, Gothic, Mudejar, and Renaissance architecture, which can help you to recognize which part of the palace was built when. In the Renaissance section of the cathedral, you'll find a section that tells of where Columbus stood in it when asking the king and queen for permission to venture into the New World.
This UNESCO site features stunning architecture with its various arches (like the peacock arch that displays engraved peacocks on it) and stylish ceramic tiles covering the walls. You'll also find peaceful courtyards that feature ponds, trees, and fragrant native flowers.
Tip: The lines are huge to enter the Royal Alcazar as it's a UNESCO World Heritage Site. I had friends who didn't even get in after waiting for hours, so book your tickets and tour in advance. 
Check here for more information and to book your guided tour of the Alcázar.

If you are interested in a guided tour that includes the Alcázar, the Seville Cathedral, and La Giralda I recommend a Guided tour of the Alcázar, Seville Cathedral, and La Giralda.
See Las Setas
Also known as Metropol Parasol, Las Setas is a modern architectural wonder made out of wooden planks to resemble a mushroom. This structure was inspired by the many arches found in the local architecture. The view from the top is incredible, and it's considered to be the largest wooden structure in the world.
Tour the Torre del Oro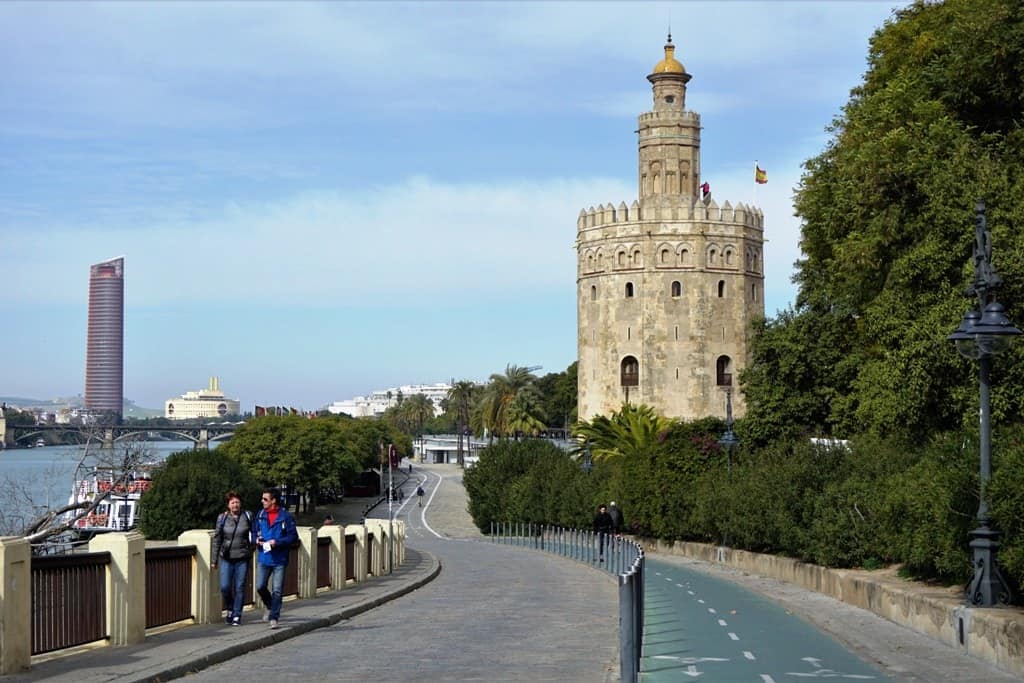 Located near the side of the Guadalquivir River, this former military watchtower was designed to be a way for the city to guard against possible attackers sailing down the river. Today, it's home to the Naval Museum, which highlights the city's navy and its history.
Besides its interesting exterior design, which is made of heavy stone and a golden top, it also has a large winding staircase inside you can climb up to get stunning views of the river and city.
Take a Cruise Down the River
When spending a day in Seville, you'll definitely want to take a relaxing cruise down the Guadalquivir River, one of the longest rivers in Spain. After touring the Torre del Oro, you can walk outside and down a flight of stairs to a boat ramp, where you can board a boat that will take you on a 15-minute cruise down the river to see bridges and other local city attractions.
Visit the Triana Neighborhood
Situated in the old city section, the Triana Neighborhood can be accessed by crossing the massive Puente de Triana. When you enter the neighborhood, you'll instantly be greeted by beautiful colorful buildings that serve as homes, churches, shops, and restaurants. You can wander through its many streets to find unique shops and markets, like fruit stands, you can browse through. Many of the restaurants are also built near the river so you can dine on local cuisine while watching the boats cruise down it.
Experience Flamenco Dancing
Seville is known worldwide for its flamenco dancing passion, so a stop to this city wouldn't be complete without seeing it or trying it out for yourself. There are plenty of places around the city you can experience a flamenco show, like the Casa de la Memoria, Casa de la Guitarra, and the Museo del Baile Flamenco.
You'll be able to see professional flamenco dancing and music and learn more about the history of this beautiful dance.
More Things To Do In Seville
Have more than 1 day in Seville? Or maybe you want to swap out one of the above activities for something different? No worries – this gorgeous city has so much more to offer! Here are a few additional ideas for your 1 day Seville itinerary.
Visit Another Palace
The Royal Alcazar is, by far, the most stunning palace in Seville, but if you'd like to explore life as a royal a bit more, you can also check out the Palace of the Countess of Lebrija, Casa de Pilatos, and Casa de las Duenas as well.
Check Out The Local Museums
If you're a museum person, Seville has plenty in store for you. My top museum recommendations for your 1 day Seville itinerary would be the Museo de Bellas Artes de Seville (the Museum of Fine Arts) or the Archeological Museum of Seville.
Eat ALLLLL of the Tapas
You can't spend time in Seville without dining on some tapas, especially before heading to a flamenco show. While you can easily find them at most bars and restaurants if you'd like to sample a bit of everything, consider joining a Seville tapas crawl that will take you to several places across the city to sample the local fare.
Learn To Cook Paella
Local cuisine is one of the best ways to get to experience a city, and Seville is no exception. Paella is a popular local dish, and you can learn to make it yourself with a short paella cooking class. Then you can take a piece of Spain home with you!
Things not to do in Seville – Bullfighting
It's hard to talk about the best things to do in Seville in one day without talking about the things NOT to do – or, in this case, the one thing not to do.
While bullfighting is a huge part of Seville's culture, it's not a good part of it. This practice is very inhumane to the animals as it taunts and teases them and can leave them suffering from numerous injuries, which can lead to their death. When in this city, there's plenty of other cultural and interesting things you can do and experience instead of viewing one of these fights.
Is Seville A Walkable City?
Yes, Seville is a walkable city. Once you get there, you'll be able to walk between most of the tourist sites within the historical center.
Public transportation is also available, with taxis pretty much everywhere. The local bus is another good option.
You can also get tickets for the Seville hop-on hop-off bus that will drop you off in front of almost all the attractions on the list, which can be a great option for seeing most of Seville in 1 day.
How to Get to Seville
Getting to Seville isn't difficult, but the best methods of transportation are trains and planes. These two are very quick and will allow you to get to the city as soon as possible so you can start to explore it. The Seville-Santa Justa Railway is the main railway in the city. From there you can take a bus and reach the historic center.
Flights to Seville will land at the Seville Airport, which is only about 15 minutes away from the heart of the city. There is a bus service that connects the airport to the city center. I visited Seville on a day trip from Madrid, and I went there by plane. Iberia has many flights during the day, and I paid only 50 euros for a return ticket.
For a more comfortable way to get from the airport to the city center, I recommend Welcome Pick Ups. It costs the same as a taxi, and a driver will be waiting for you at the arrivals hall with a bottle of water and many tips to share about Seville.
Click here for more information and to book your private transfer.
When Is The Best Time To Visit Seville?
The best time to visit Seville is during the spring months, from March to May. You'll have the best weather that's not too hot or too cold and beat the summer crowds. In late February/early March, you can catch the orange blossoms, and April and May are the perfect time to see the cherry blossoms as well.
Summer in Seville is beautiful but hot and crowded. Note that during the winter months, many things in Seville tend to close up, and it's quite cold, so it's not an ideal time of the year to visit.
Where to stay in Seville
If you decide to stay for the night in Seville. I suggest the following hotels:
Hotel Fernando: Located right in Seville's historic center, you get the perfect mixture of hotel amenities including free WiFi and modern rooms, along with your perfect dose of history. The hotel also has a rooftop terrace that offers incredible city views, a swimming pool for those hot summer days, and rooms with balconies! You can enjoy some quintessential Andalusian cuisine at the restaurant as well.

Click here for more information and to check the latest prices.

Ribera de Triana: If you're looking for impressive views, a rooftop pool, gorgeous air-conditioned rooms, a free gym, and a spa then you've come to the right place. This hotel includes everything that is guaranteed to make your trip a great one! You'll also be 20 minutes away from all of the city's main attractions.

Click here for more information and to check the latest prices.

Hostal Plaza Santa Cruz: For the easy-going traveler, this is the perfect place to be in. free luggage storage, free Wi-Fi, a guest-house feel, and access to rooftop terraces all the time – this place is the definition of cozy. It's also a few minute's walk away from the main attractions.

Click here for more information and to check the latest prices.

Hotel Alfonso XIII

Outdoor swimming pool, a gym, garden fountains, and beautiful elegant rooms that boast Arabic designs, this hotel is the personification of Seville's heart and soul.

Click here for more information and to check the latest prices.
One day in Seville isn't long enough to experience everything this city has to offer, but with this itinerary, you'll be able to see some of the most important parts of it. No matter where you travel in this historic city, you can be sure it will leave behind an incredibly lasting impression.