Sorrento is a famous Italian seaside town located in Campania Region, close to Napoli. This stretch of land overlooking the sea is called Sorrentina Peninsula and it offers one of the most amazing views of the entire Campania coastline. For this reason, Sorrento attracts many tourists, both from Italy and abroad, especially during the Summer months. Besides being a holiday resort, Sorrento offers the possibility to easily reach other famous places like Capri, Napoli, Amalfi, Positano, and so on.
Best period: Summer, of course!
How long: a weekend is enough to visit this small town, but you can also choose it as a base for your beach holiday! You could also spend 4 or 5 days in Napoli and have a couple of day trips, for example to Sorrento and Pompei.
Disclaimer: This post contains affiliate links. This means that should you click on certain links, and then subsequently purchase a product, I will receive a small commission. It costs nothing extra to you but helps keep my site running. Thank you for supporting me in this way.
19 Amazing Things to Do and See in Sorrento, Italy
1. Have a break at Villa Comunale Park
This mansion offers a beautiful park, which is one of the favorite places of local people. Thanks to its elevated position, it will allow you to admire the entire Napoli Gulf, the Vesuvio top, and Capri island.
2. Take some pictures of the Mill's Gorge (Vallone dei Mulini)
This is an abandoned place that offers an evocative and mysterious landscape that attracts artists and photographs from all over the world. It is really close to the old town and it consists in a deep furrow carved into the rocks where you can see some ruins almost entirely covered by spontaneous vegetation. The name of the place stems from the old mill you can still perceive on the bottom of the furrow.
3. Enjoy an "aperitivo" in Tasso Square
Tasso Square is the heart of the town and the center of local social life. This square was built in the XIX century during the urban transformations that changed the appearance of the entire town. In the middle of the square, you can see the statue of Torquato Tasso, a famous Italian poet who was born here in the XVI century. Tasso Square is the perfect place to have a break at one of its many cafés and enjoy a typical Italian aperitivo. Some addresses? Fauno Bar, Bar del Carmine or Bar Ercolano.
You might also be interested in: 

Where to stay in the Amalfi Coast.

An Amalfi Coast itinerary.

Where to stay in Naples.

A Southern Italy itinerary.

Two weeks in Italy, itinerary.
4. Visit Correale di Terranova Museum
If you are an art lover, don't miss this small museum hosted inside the homonymous mansion. Correale di Terranova Family lived here in the XIX century and they were rich, nobles, and art lovers too! Their mansion is really luxurious and elegant and it also has a citrus garden overlooking the sea. Inside, you can admire their collection of ancient furniture, majolica objects, pieces of art, and precious figurines of the Neapolitan crib. For more information visit here.
5. Visit the Cathedral
Sorrento's Cathedral is dedicated to San Filippo and San Giacomo and it was built during the XII century. Its facade has been completely rebuilt in 1924 and the entire church is a mix of different styles. Inside, there is the baptismal font where Torquato Tasso was baptized in the XVI century.
6. Taste Neapolitan Coffee
Coffee is a real institution in Napoli and in Campania in general and its preparation process is taken very seriously. To serve a real Neapolitan coffee, you shall use the "cuccumella", which is not a simple coffeemaker, but an ancient tool using simple gravity to spill coffee instead of steam. Do you want to try it? Go to Bar Vittoria in Piazza Sant'Antonino 21, Bar del Carmine in Tasso Square or Hopera Italian Styel Café in Corso Italia 183.
7. Buy your souvenirs in the Old Town
For the best shopping in town, go to Corso Italia and Tasso Square. If you search for some typical souvenirs, have a walk through the small streets of the old town where you'll find many shops selling the main Regional product: local lemon! Many shops sell lemons together with other specialties based on this ingredient like Limoncello, chocolate, candies, jams, and other pastry products.
8. Relax at the Baths of Queen Giovanna
It is a natural pool surrounded by peaceful natural scenery. This place owes its name to the fact that it was the favorite spot of Queen Giovanna, who often came here with her lover. This place is still loved by couples, because of its romantic and evocative atmosphere.
9. Taste Limoncello
The famous liquor made of fermented lemons and sugar has become one of the products that everyone immediately associates with Campania. It is mainly served after dinner, but it is also largely used in desserts, cakes, ice creams, jams, custards, and so on. Today, many families still make it at home. Do you want to bring a bottle of Limoncello home? Go to Tesori di Sorrento in via Fuoro 39, Corner Shop in via San Francesco 21 or in Limonoro in via Cesareo 49.
10. Spend a couple of hours at La Pignatella
This is a rocky coastal area where you can sunbathe and have a swim. It is not a proper beach and it is suitable for people who don't need too many facilities and like a natural and wild setting. It is not suitable for kids, because the slope is quite steep and it might be dangerous and slippery.
11. Spend a day at San Francesco Beach
This is the most popular beach in Sorrento and it is located near the marina. It is a large beach made of dark sand. The color of the sand derives from the crumbling process of local tuff, which is the main material of the reefs and rocks nearby.
12. Have a day trip to Capri Island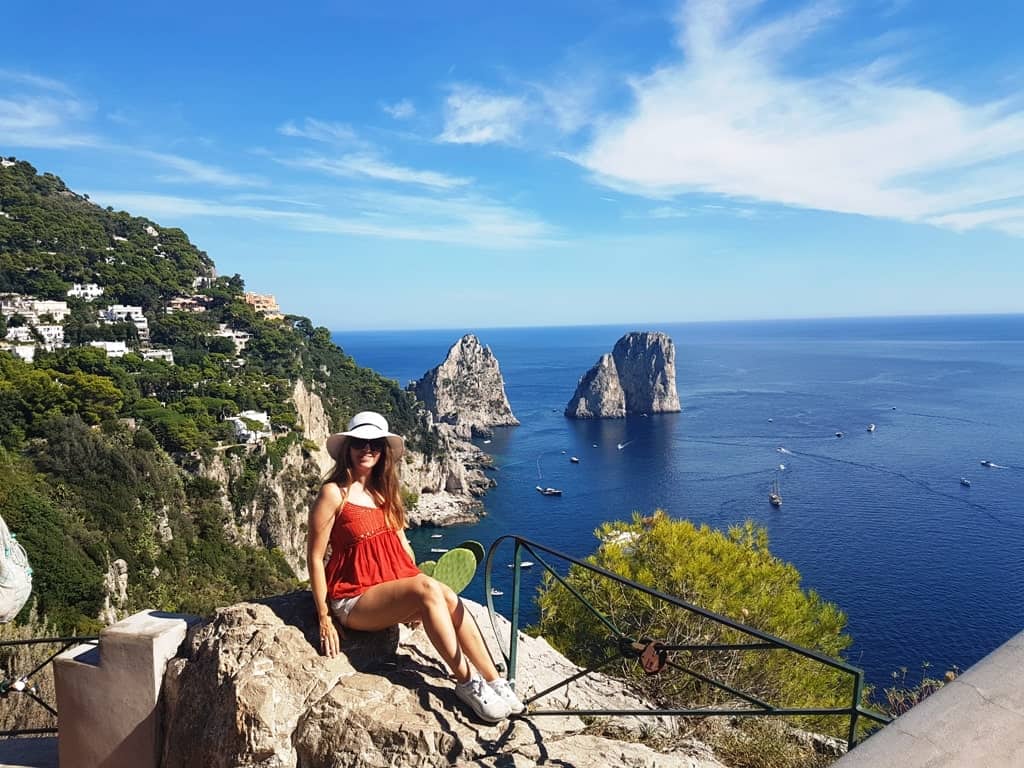 Several cruises take tourists to Capri Island every day. The trip only takes 30 minutes, but it is best to book your tickets in advance because it's the most popular day trip for people visiting Sorrento!
Alternatively, you can book a full-day boat trip from Sorrento that includes the round of the island by boat and free time in Capri. Click here for more information and to book this tour. 
13. Admire San Francesco Cloister
This is one of the oldest and best-preserved monuments in Sorrento. It offers a refined architectural style and a quiet spot where you can relax after a day spent sightseeing in the sun.
14. Enjoy a boat tour
Like any seaside resort, Sorrento offers several boat tours to tourists. The most famous one will let you discover Capri and its Blue Cave, but another interesting tour will let you discover the whole Amalfi coast from an unusual point of view or you can do a snorkeling trip with a visit to Cascatella waterfall. Click here for more details.
15. Enjoy a bus tour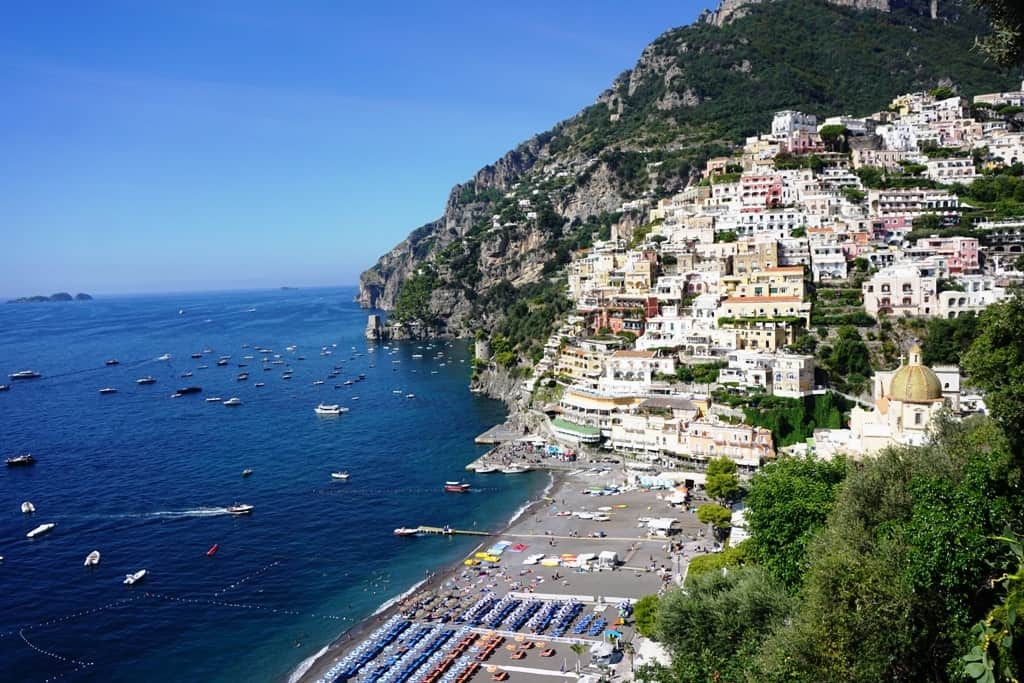 Another way of discovering the Sorrentina Peninsula and the entire Amalfi Coast is enjoying a bus tour. You'll have the chance to learn more about local culture and history and to see some spectacular landscapes. This 8-hour bus tour starts from Sorrento and visits the picturesque villages of Positano, Amalfi, and Ravello, and goes through one of the most scenic drives.
Click here for more information and to book this tour.
16. Taste gnocchi alla sorrentina
During your stay, don't miss this traditional local dish. It consists of gnocchi (potato dumplings) seasoned with a sauce made with tomato, mozzarella, and fresh basil. Where to taste this dish? At La Cantinaccia del Popolo in Vico Terzo Rota 3, at Zi'Ntonio in via De Maio 11 or at Le Grazie Restaurant in via Santa Maria delle Grazie 28.
17. Visit the Small Marina
Close to Tasso Square, you'll find the main marina of Sorrento. It was built in 1912 and it caused the demolition of many poor fishermen's houses that were replaced by modern buildings to give visitors a fancier image of the town on their arrival from the sea. Next to the marina, you'll also find several bathing establishments with plenty of facilities.
18. Relax on Big Marina Beach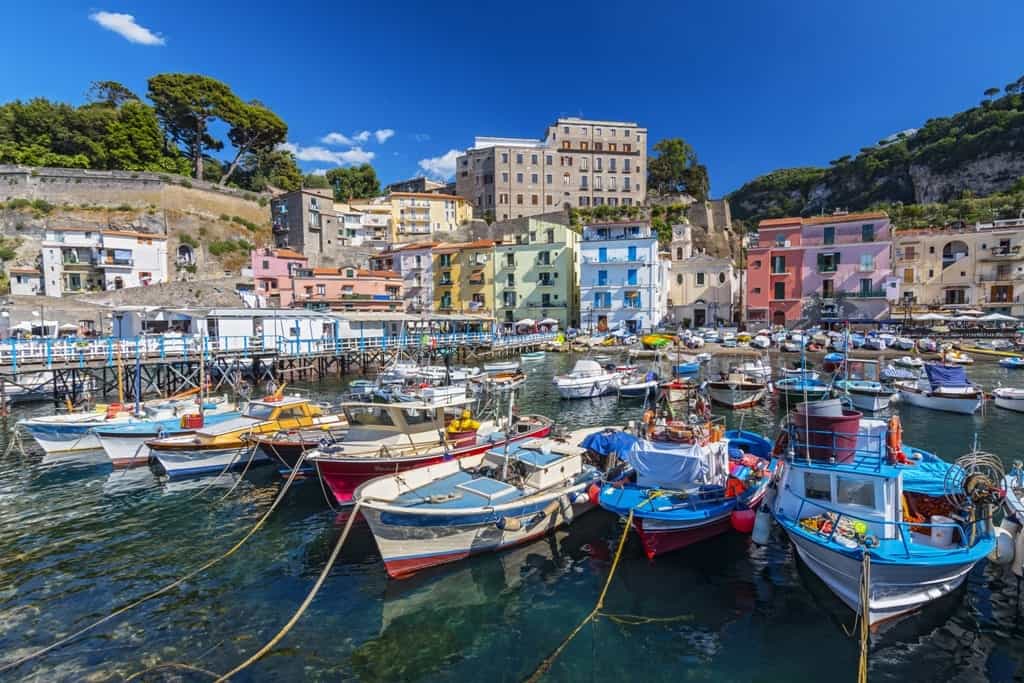 The other marina of Sorrento is not so close to the center of the town and it was the ancient place where people could land. It's been the only access to Sorrento for about 2000 years! Several nice terraces cultivated with lemons overlook the marina giving it a very special appearance, that perfectly represents the typical local landscape made of bright citrus gardens and blue sea.
19. Visit Cataldo's Garden Farm
This farm is specialized in growing lemons and producing many gastronomic specialties like liquors, ice creams, and jams. You can visit their lemon garden for free. For more information visit here.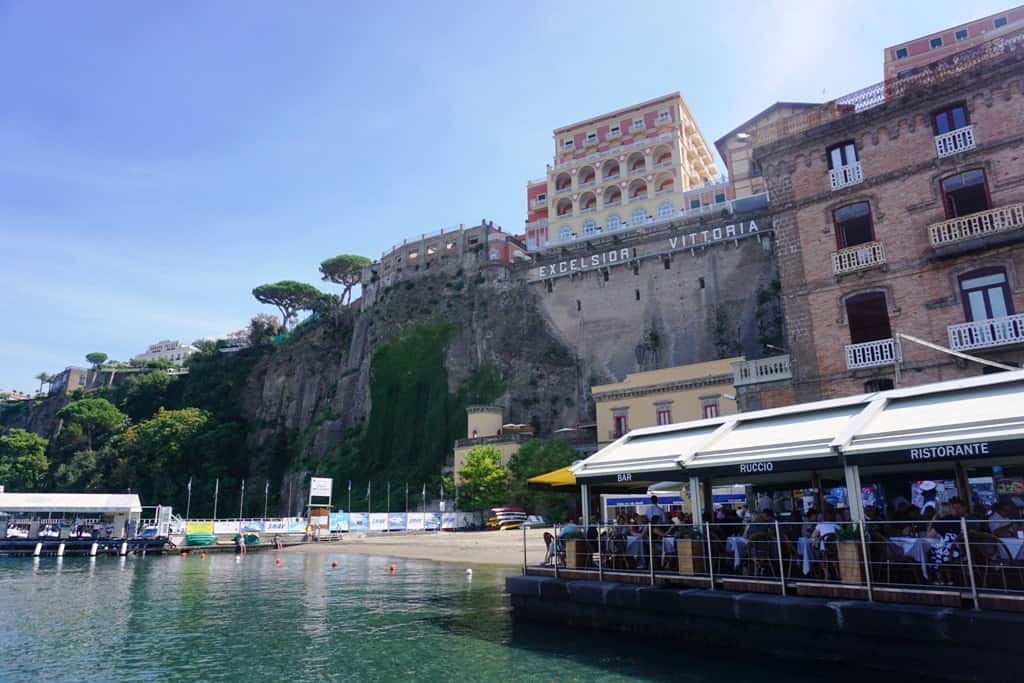 Practical tips for visiting Sorrento Italy
Sorrento is an expensive seaside resort since it's one of the most renowned tourist destinations in Southern Italy. Campania coast in general is quite expensive, so take a look at your budget!
August is the ultimate holiday period for Italians so that every single beach of the Country is crowded. Choose June instead, which is the best summer month for a quieter seaside vacation.
Sorrento is small, but its streets are very busy so that it's best not to come here by car. There are also few parking lots so that public transportations (buses, trains, and boats) are the best option to explore the entire Campania coast.
Where to stay in Sorrento Italy
The Grand offers 5-star luxury with all the features that guests would expect of a hotel of that standard including a private beach. It provides stunning views over the Bay of Naples as well as Mount Vesuvius.
Click here for more information and to check the latest prices.
With sea views from every room in the hotel, Belair looking out onto the Bay of Naples is a genuine experience. Spa, restaurant, bar, and pool, everything is there for the comfort of its guests.
Click here for more information and to check the latest prices.