Whether you are young or old, want adventure or to relax, have children, or are traveling solo, the Amalfi coast (and its surroundings) has something for everyone. When researching this area, there is so much information, as it is a famous tourist destination- for a good reason! If you have a few days to spend there, here is an itinerary of the Amalfi Coast with everything you cannot miss.
Disclaimer: This post contains affiliate links. This means that should you click on certain links, and then subsequently purchase a product, I will receive a small commission. It costs nothing extra to you but helps keep my site running. Thank you for supporting me in this way.
Amalfi Coast Quick Guide
Planning a trip to Amalfi Coast? Find here everything you need:

Top-Rated Tours and Day Trips to Do in Amalfi Coast:

– From Naples or Sorrento: Amalfi Coast Full-Day Trip

– Day Cruise to Capri from the Amalfi Coast

– Pompeii and Vesuvius Full-Day Tour from Amalfi Coast


Where to stay in Amalfi Coast: Grand Hotel Ambasciatori (Sorento), Hotel Luna Convento (Amalfi), Hotel Eden Roc (Positano)

| Tip
✈️ Find cheap flight tickets for trips on WayAway
5 to 7 Days in Paradise – The best Amalfi Coast Itinerary
Amalfi Coast itinerary: Day 1 – Sorrento
Most likely, you will be coming from Napoli or Rome, so Sorrento is a good place to start. It is bigger than the rest of the towns on the Amalfi coast, so you have more options as far as hotels, restaurants, and other services, but it still retains its small-coastal town charm. It is also easy to reach by train, bus, car or ferry, and it could be a perfect home base to see the rest of the Amalfi Coast, Pompei, and Capri.
What to see here? Stroll by the Villa Comunale, a beautiful park on a terrace overlooking the sea and gorgeous Sorrento Bay. There is usually someone playing a violin or harp- could it get any more romantic? Go for a dip at the beach- the water is all sorts of different blues!
Walk through the adorable little and lively streets where you can taste limoncello in its birthplace and take some unique photography at the Vallone dei Mulini, a 200-year-old abandoned mill set in a mysterious-looking valley close to the main square. End the day with some delicious pizza or seafood pasta. Unlike some other towns on the Amalfi coast, Sorrento always has nightlife. Stay downtown if you like some action, or just outside the center for quieter.
If you decide to base yourself in Sorrento, here are some great hotel options:

Grand Hotel Ambasciatori: The Grand offers 5-star luxury with all the features that guests would expect of a hotel of that standard including a private beach. It provides stunning views over the Bay of Naples as well as Mount Vesuvius. Click here for more information and to check the latest prices.

Hotel Belair: With sea views from every room in the hotel, Belair looking out on to the Bay of Naples is a genuine experience. Spa, restaurant, bar, and pool, everything is there for the comfort of its guests. Click here for more information and to check the latest prices.
Check out: The best things to do in Sorrento.

You might also like my post on where to stay in the Amalfi Coast.
Amalfi Coast itinerary: Day 2 – Positano and Path of the Gods
Sorrento is beautiful, but now get ready for more dramatic views as the cliffs get higher and the colors get more intense. Take a bus from Sorrento (or drive, if you are confident in driving on windy roads) and start your second day with a beautiful hike on the Path of the Gods.
It is 5 miles long, starting in Agerola, but of course, you can choose to walk it for any length. It is an easy path- starting from Agerola you will be going down the whole time, and there are benches along the way – and good even for children and older ones.
Many legends surround this beautiful road, which was believed to be threaded by Greek divinities. The views are spectacular, as you are surrounded by green and overlooking the transparent sea. Near the Vallone Porto, not far from the end, you will also see a waterfall and a canyon.
Bring some water and comfortable shoes, and in about 4 hours (including rest) you will reach the end of the trail which is in Nocelle, where you can walk down 500 steps and find yourself right in Positano (at least it's downhill, right?).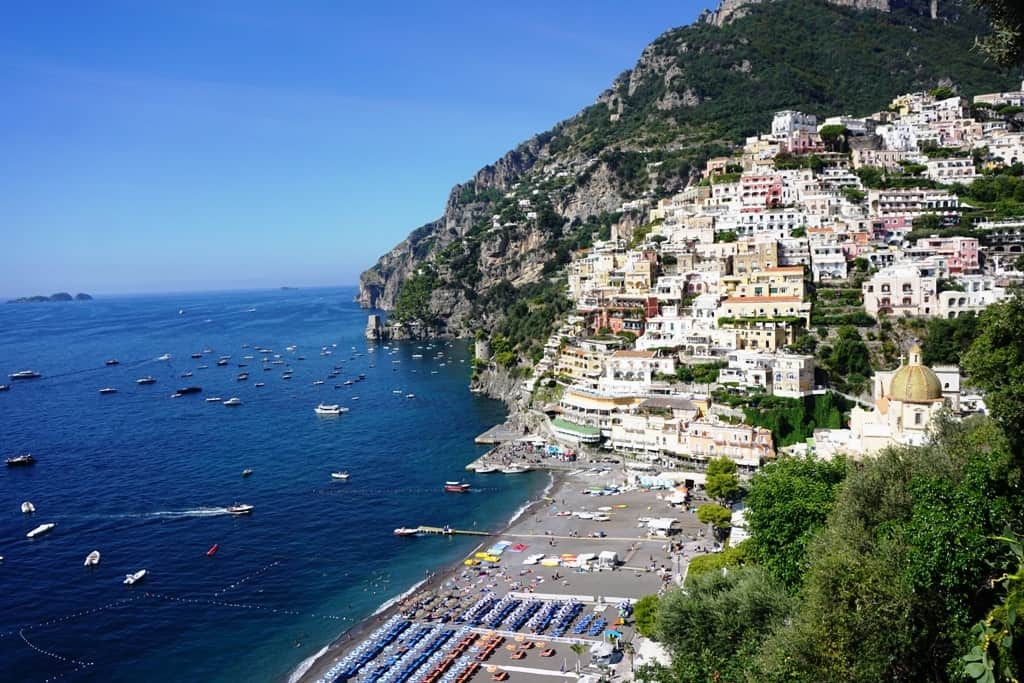 Positano is small and can be seen in just over an hour, but it is considered the highlight of the Amalfi coast. The setting is simply magical, the way the town is vertically built on the precipice, the way the colorful homes and churches are framed by blooming flowers, and of course the water surrounding it all. By hiking in the morning and arriving in Positano in the afternoon you get to relax in this stunning setting and can enjoy the sunset here.
Selected Tours in the Amalfi Coast

Full-Day Guided Amalfi Coast Road Trip From Sorrento visit the picturesque villages of Positano, Amalfi and Ravello.

Pompeii and Vesuvius Full-Day Tour from Amalfi Coast enjoy a guided visit to the archaeological site of Pompeii and then a walking tour of the Vesuvius crater.

Day Cruise to Capri from the Amalfi Coast discover the beauty of Capri by land and water on this day cruise.

Relaxing Full-Day Cruise Trip Along the Amalfi Coast enjoy a relaxing cruise along the Amalfi Coast, spend free time exploring Positano and Amalfi, and get into the water at 4 different snorkeling and swimming stops
Amalfi Coast itinerary: Day 3 – Amalfi and Ravello
On the 3rd day, continue exploring the Amalfi coast by seeing 2 of the main towns: Amalfi and Ravello. Amalfi is the biggest town on the coast, easy to walk (it is mostly flat!), and with beach access. The main square flaunts a beautiful cathedral, the Duomo di Amalfi, built in 987 with mosaics in the typical Amalfi colors – yellow and green. Inside the cathedral, there is the Chiostro del Paradiso, which features Moorish architecture and gardens.
There are many boat tours offered in the summer to see the coast from the sea- which is breathtaking- and most allow you to jump in the water.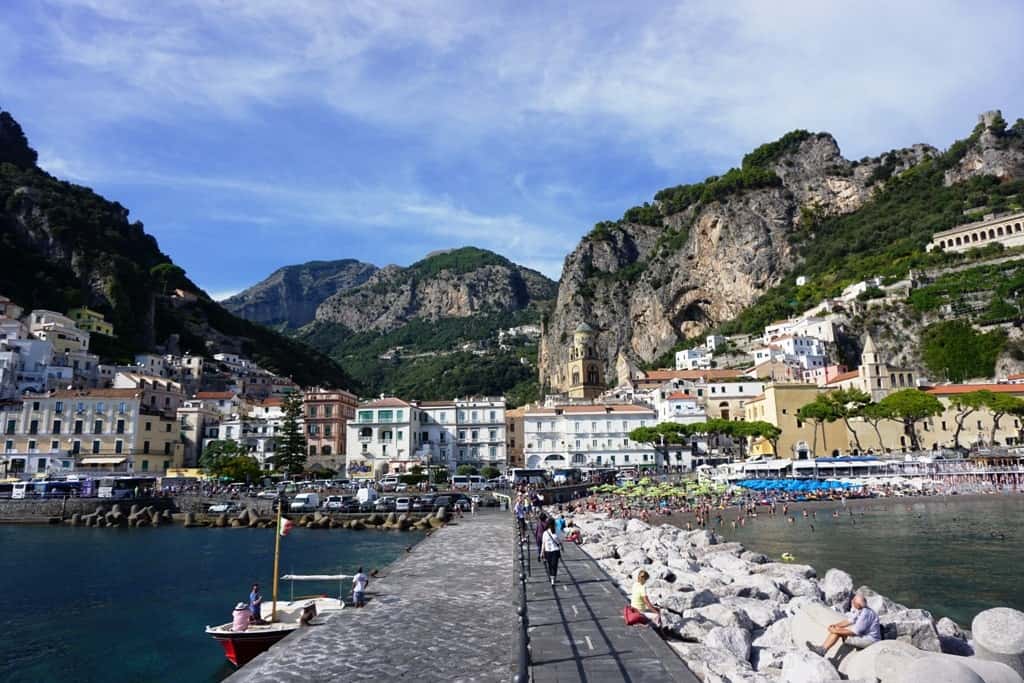 Of course, if you want to visit the town of Amalfi, sit at a restaurant for lunch and spend an afternoon on the beach/boat, you can add a day to the itinerary and see Ravello on the 4th day.
If you want to get an overlook, or you are not going in the summer, you can see each town in half a day. Ravello has two main landmarks: Villa Rufolo and Palazzo Cimbrione, two medieval palaces and gardens with Arabic architecture.
Ravello sits higher on the mountain so the view from both of these villas are stunning and you can see two different sides of the bay. The gardens are beautiful, and the setting is almost unreal.
Amalfi Coast itinerary: Day 4 – Pompei
At this point of the trip, we have mostly seen amazing views, beaches, cliffs and cute towns. Pompei is a nice change of pace as it is a huge historical site where you can spend a day completely thrown in a different era. I love history, but always thought Pompei would not actually be "aesthetically" appealing, being a bunch of ruins left from a volcano eruption over 2000 years ago.
At least that is what online pictures show. However, what you can't understand from the internet, is the size of this place.
It is a real and proper CITY, so walking along its well-preserved streets, passing every home, temple, villa, and shop is like time traveling, being completely immersed in this ancient world, imagining what their life (and their death) was like.
Usually modern and historical coexist in many cities, but Pompei is unique in that the whole city has been left untouched. A tour guide is recommended to get extra interesting gems you could not get otherwise. Take a train from Sorrento (the Campania Express is a quick and comfortable one) and you will be left right in front of the entrance.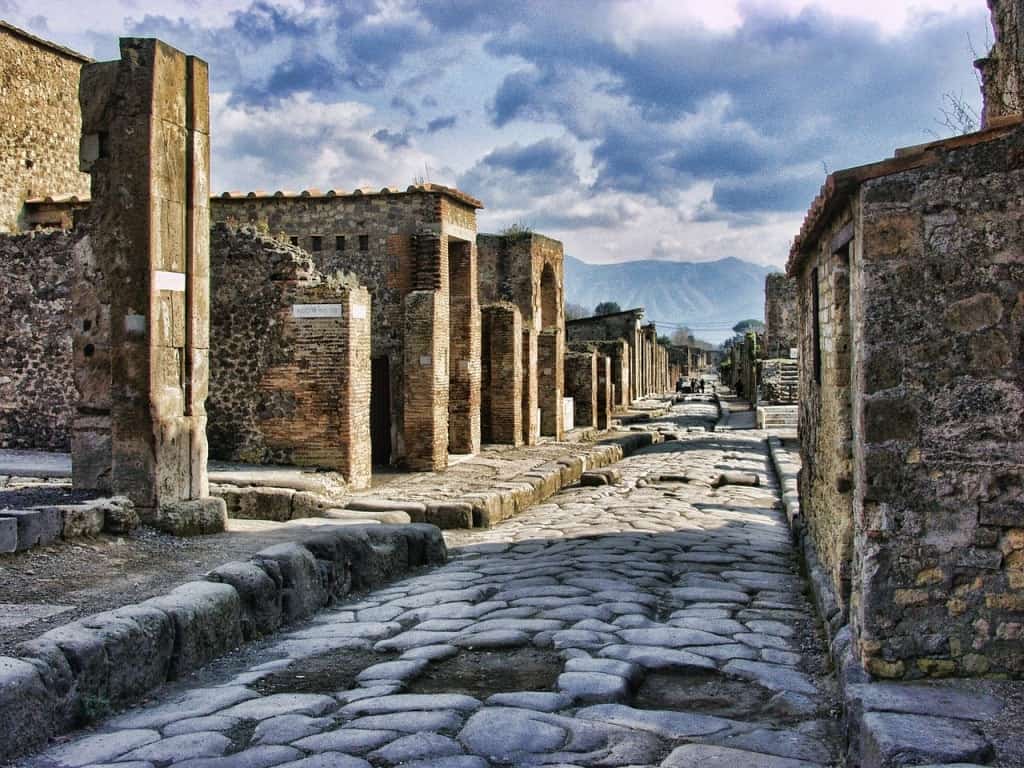 There will be queues in Pompeii so booking in advance allows you to get in quickly and not waste your time otherwise be there as soon as the archaeological site opens.
Here are a few options that I recommend:
If you want just to skip the line and see the archaeological site on your own I suggest that you buy a fast-track entrance ticket.

If you would like to do a guided tour and also skip the lines I suggest this 2 hour skip the line guided tour.

If you are looking for an organised skip the line guided tour starting from Sorrento I suggest this full-day guided tour that combines a visit to the Pompeii ruins and the mount Vesuvious.
No matter how you choose to visit the site, know that it is very busy especially through May to October. Bring a hat and a sunscreen, wear comfortable shoes and drink plenty of water.
Amalfi Coast itinerary: Day 5 – Capri
They say to save the best for last right? That is why Capri is number 5 on this list. If you see it first, nothing might impress you after it. Easily reached by ferry from Sorento, Napoli, Positano and Amalfi, Capri is a luxurious little island with some of the best views in the world.
On arriving to Capri, you can take a boat tour to get an overview of the island and visit its majestic grottos with incredible light effects (such as the Blue or the Emerald grottos). The tours are about 15-20 euros per person, but if you are traveling in a group (up to 8)
I recommend taking a private boat tour on one of the typical old Capri boats, for about 100 euros per boat (if you have 4 or more people you pay the same or less than the commercial tours and you are not with another 30 people).
Once you are back on land, there is a beautiful little rocky beach with some of the most beautiful and transparent waters in Italy. From the harbor, take the cable car to the actual town. It is full of fancy boutiques, stunning hotels, and romantic restaurants competing for the best views.
What you must not miss, are the Giardini Di Augusto, splendid manicured gardens -made by Roman emperor Augusto on top of the island-which boast the best views of the Faraglioni (two giant rock formations in the middle of the sea) and of the Via Krupp, an amazing ancient path with many steps leading to the bluest waters of Capri. Do not miss this!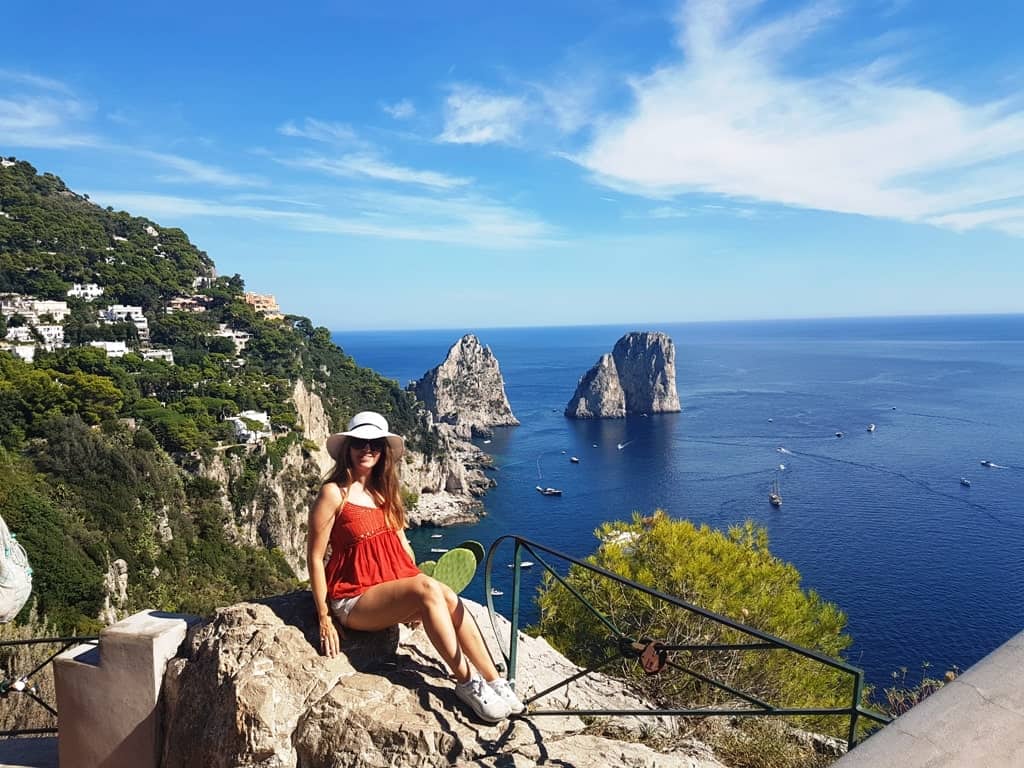 You can go to Capri on your own by ferry or with a guided tour from Sorrento.
You might also be interested in: Things to do in Capri.
If you have an entire week, what can you see in the remaining two days? These are some suggestions.
Amalfi Coast itinerary: Day 6 & 7 Furore, Vietri and Ischia
More Amalfi coast: Other unique sights in the Amalfi coast include Furore, with its amazing 30 meters high bridge over the water; Grotta dello Smeraldo, a beautiful grotto with stalactites which can be toured in the summer from Conca dei Marini; Bagnidella Regina Giovanna, a natural sea pool with crystal clear water amidst Roman ruins; and Vietri, the town of ceramics, colorful and lively.
Ischia: Less known and cheaper than Capri, but much larger and more historical, Ischia is a beautiful island famous for its natural thermal waters. Also reached by ferry, you can easily spend two days in Ischia.
| Tip
☀️ Visit small islands of Procida and Ischia during a day trip full of activities. Lunch and beverages, snorkeling equipment, pickup and drop-off from designated meeting points are included.
One day you could visit the Castello Aragonese, a beautiful ancient castle built 400 years B.C. which is on its own little island. It is truly stunning and inside you can visit the old gardens with wine and olive oil presses, orange and lemon trees everywhere, and the ancient cemetery.
After visiting the castle (which takes a couple hours) head to the area called Sant'Angelo, a charming neighborhood full of shops and restaurants, a beautiful beach, and a breathtaking cliff attached by a small stretch of land.
On the second day in Ischia, enjoy the thermal baths and all their wonderful health benefits. Negombo is wonderful thermal park, or for the more adventurous types, you can search around the island for some of the open natural hot thermal pools.
You might also want to check: The best Amalfi Coast towns to visit.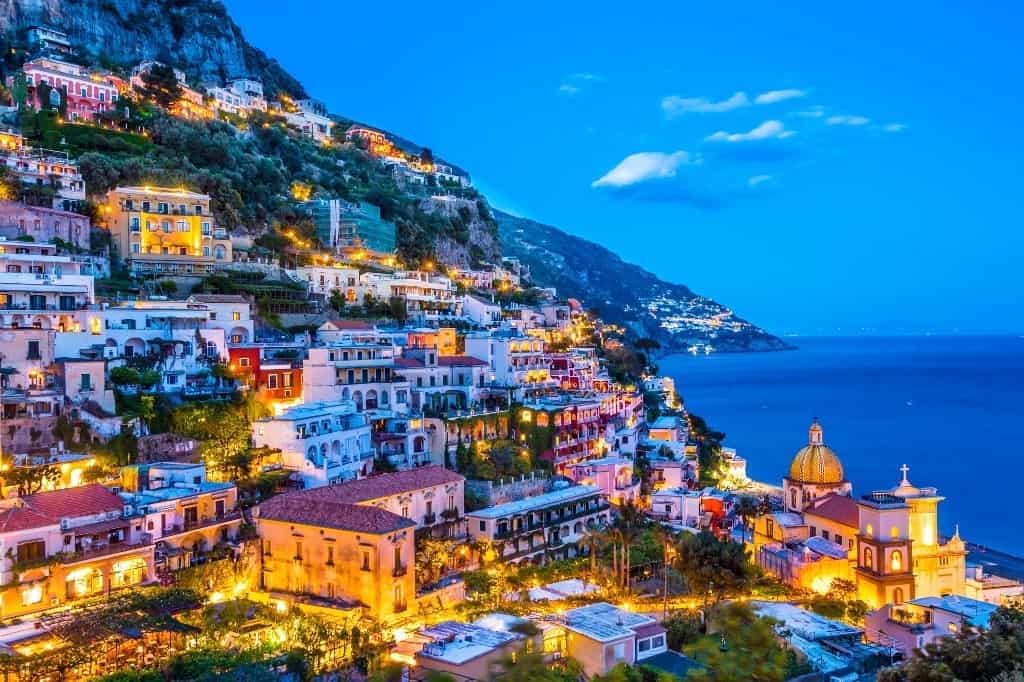 When is the best time to visit the Amalfi Coast?
Spring: April and May are the best months to visit the Amalfi Coast since they offer warm and sunny weather as well as the chance to admire the blooms. Easter Week shall be avoided because it's a traditional vacation time for Italians and all the main tourist destinations get very crowded.
Summer: June and September are the best months to enjoy a beach holiday on the Amalfi Coast since you'll surely find fewer tourists than in July and August and hotel fares will be lower too.
Best period to go sightseeing: May
Best period for your beach holiday: June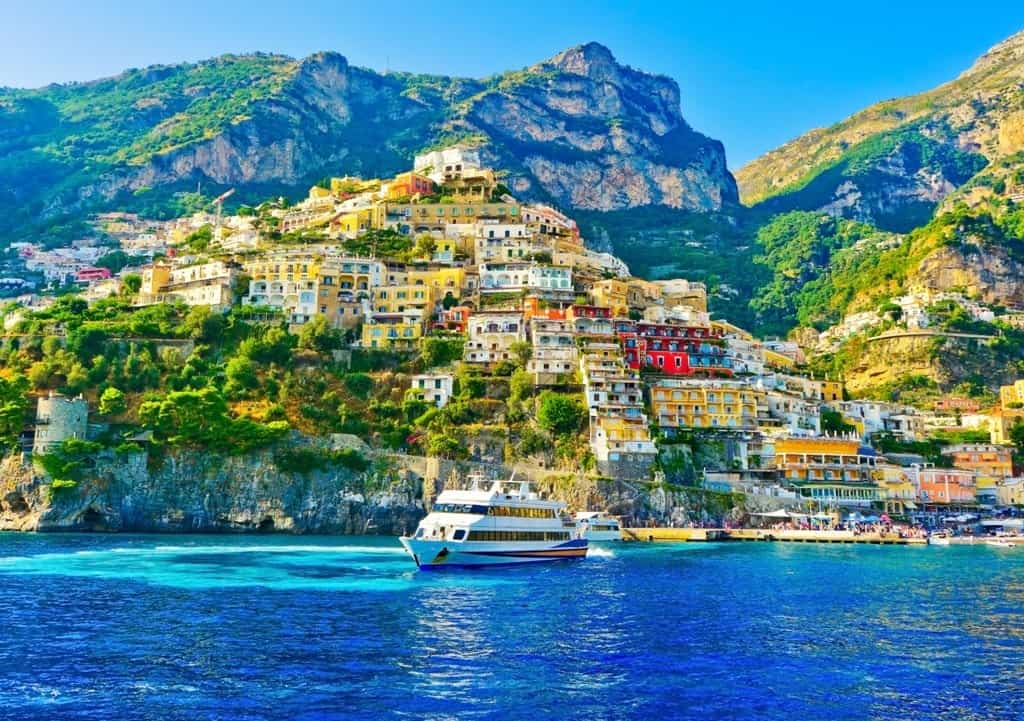 How to get around the Amalfi Coast
Pros: you'll be free to move at your own pace and stop anywhere you want for a break or to take some pictures along the famous scenic coastal drive.
Cons: the scenic drive is full of bends, so it's not so pleasant for people suffering from motion sickness! Traffic jams are also very common in summer and parking space is scarce and expensive.
Pros: frequent rides and cheap fares
Cons: traffic jams in summer and crowded buses
By train: you can catch a train to reach Sorrento both from Naples or Salerno, but you cannot reach other towns.
Pros: it's a good solution if you're planning a longer stay in Sorrento
Cons: you cannot reach any other town
By ferry: several ferry companies operate between April and October, while only Capri island is served by ferries in winter. Booking is really easy and you just have to go to the local marina and ask for information and you'll immediately find a ride available, especially in summer. If you prefer to directly contact a Company try Travelmar, SNAV, Capitan Morgan or Alilauro.
Pros: no traffic jams and a beautiful view
Cons: it's more expensive than taking a train or a bus (from 9 to 12 euro per ride)
Best way to move around: take the ferry to move from one town to another to enjoy a beautiful view and immerse yourself in the local atmosphere of each marina.
What to taste on the Amalfi Coast
Spaghetti with anchovy sauce: anchovy sauce is a local specialty typical of Cetara
Scialatielli all'Amalfitana: local pasta shape with seafood, tomatoes and capers
Gnocchi alla Sorrentina: gnocchi (potato dumplings) seasoned with tomato sauce, mozzarella and fresh basil
Ndunderi: ricotta dumplings seasoned with a sauce similar to Bolognese (ground beef and tomatoes)
Limoncello: a typical liquor made with local lemons
Caprese cake: a soft chocolate and almond cake
Delizie al limone: a sort of lemon profiteroles with some Limoncello custard
Pizza: the traditional Neapolitan pizza is everywhere!
What to pack for your vacation to Italy.
I hope you found this Amalfi Coast itinerary useful. Please let me know if you have any questions.