This stretch of coast that goes from the towns of Positano to Vietri is a small slice of paradise. From stunning views, history, beaches, hiking and wonderful food, there is something for everyone. The more well-known towns such as Amalfi, Ravello and Positano, despite being touristy, must be seen.
There is a reason they are so famous! But on this list you will also find less know destinations away from crowds (which are also more affordable), while still enjoying this gorgeous stretch of blessed land.
Depending on how long you want to stay, there are different options on where to stay in the Amalfi Coast. Some people see the Amalfi Coast on a day trip from Naples or Sorrento. In this case, if you want to hit a few towns in a day, you need to either rent a car (and stop wherever you like) or take a day-tour bus which usually hits Positano and Amalfi.
You will get a nice idea of it in one day and still enjoy amazing sceneries. Of course, if you have more time, it is recommended to stay at least one night as you cannot see all of the Coast in one day. And waking up in any one of these towns is pure bliss.
You might also want to check out my post about the best towns to visit in the Amalfi Coast and my Amalfi Coast itinerary.
Disclaimer: This post contains affiliate links. This means that should you click on certain links, and then subsequently purchase a product, I will receive a small commission.
A local's guide on where to stay in the Amalfi Coast

Where to stay in the Amalfi Coast: Positano
This town needs to be seen at least once in a lifetime. It is reachable either by ferry by both Naples and Sorrento or by bus from Sorrento (right outside the Sorrento train station you will see the Amalfi Coast bus- SITA). This is the very beginning of the Amalfi Coast.
The drive is absolutely gorgeous as at every twist and turn you get to see a different sliver of cliffs, a different shade of blue and turquoise. As you get off the bus and see the view of this coastal town completely built on the cliff, with its pastel roofs and flowers, and the green mountains hitting the blue water, you will feel as if you are inside a postcard.
Too beautiful to be true! Positano offers many high-end hotels right in the town. It is the most expensive and chic town on the Coast, so not the place to sleep for a more budget-friendly trip.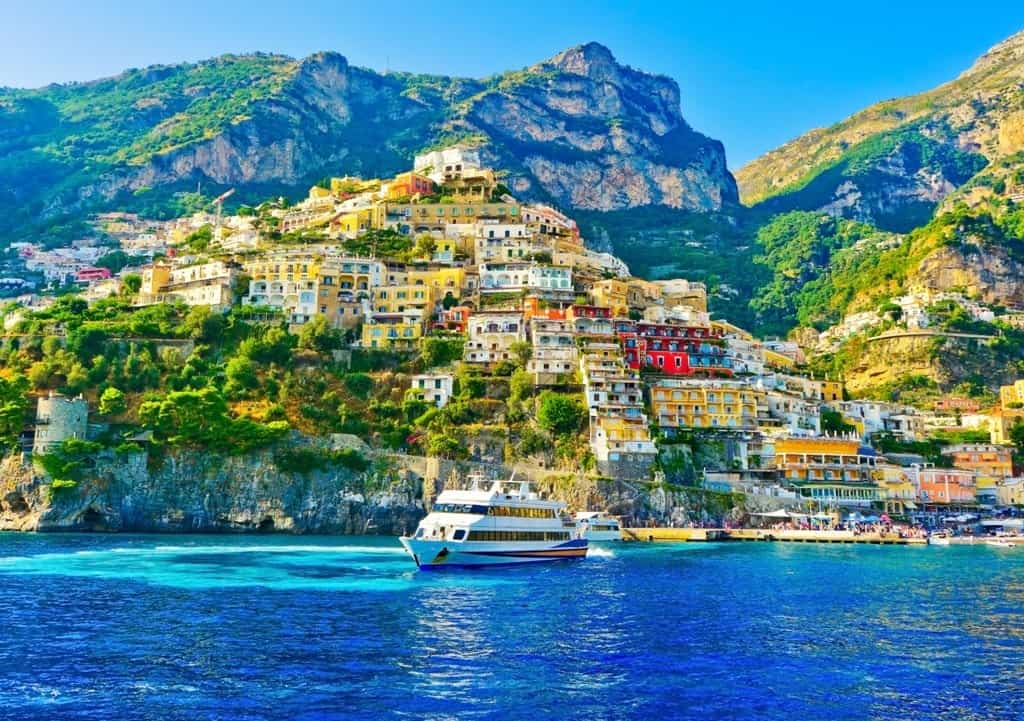 Positano is virtually vertical, so prepare to walk up and down many steps! The town is small, so you can stroll its tiny, beautiful alleys and enjoy some shopping in one afternoon. There is a beautiful beach, crowded in August but not so much the rest of the year.
Catch one of the most beautiful sunsets of your life here while enjoying a lemon ice-cream or granita inside a giant Sorrento lemon- this area is renown for their lemons! Enjoy delicious seafood at Ristorante Mediterraneo- a place also loved by locals for their home-made flavors, fresh fish, live music and friendly staff.
You can also rent a boat from Positano and see all of the Amalfi Coast from the sea.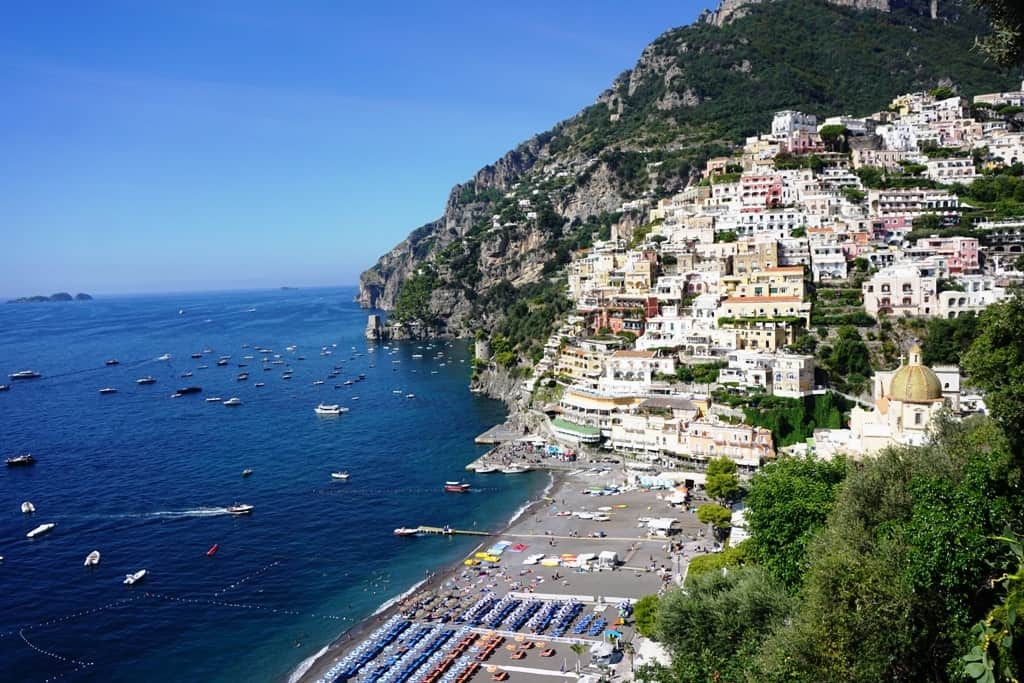 This is for you if: you are looking for an expensive place, want to be near the celebrities, you like to party and to shop and you don't mind walking uphill and if you prefer a sandy beach.
Recommended hotels in Positano
A 4-Star hotel, Eden Roc on four levels with a lovely terrace and pool, you will feel at home as soon as you walk through its doors. Everything looks out to sea and you can just relax, take in the views and enjoy the service.
Click here for more information and to check the latest prices.
This Hotel was once an ancient villa owned by the Rispoli family. It now provides luxury accommodation for its guests in the heart of the old center. The restaurant offers the best that Italian cuisine can offer.
Click here for more information and to check the latest prices.
Where to stay in the Amalfi Coast: Furore
This quieter town is a great place to stay if you have a car. It's pretty central so that you are not too far from anywhere on the rest of the coast.
The restaurants and hotels are fairly priced, and anywhere you sleep you will wake to stunning, peaceful, ocean views. Furore is famous for its "Fiordo", a 28 meter (91 feet) tall bridge that hosts a diving competition every year in July.
There is a beach under the fiordo, reachable by walking down a good amount of steps. The water is very clean and transparent (unless it's August!) and watching the sunset through the arch of the bridge is absolutely breathtaking.
If you love hiking, the Path of the Gods is a short drive from Furore. The trailhead is in Agerola, and after about 5 miles the trail ends in Nocelle. It's an amazing hike, good even for beginners as it is not steep. You will be surrounded by green and blue and see sights of the Amalfi Coast only visible from this trail.
Between Furore and Conca dei Marini, there is a fantastic tour of the Grotta dello Smeraldo. In the summertime, for a small fee, you can take a boat tour of this scenic grotto with stalactites and emerald colored water.
This is for you if: you have a car, you are looking for a quiet area to stay, you like hiking, you need a more budget-friendly option.
Recommended hotels in Furore
This B&B offers spacious rooms with airconditioning, a flat-screen TV, free toiletries and free Wi-Fi. I t has a beautiful garden and nice views. Continental breakfast is served every morning.
Click here for more information and to check the latest prices.
The hotel is situated within vineyards in a peaceful location with great views of the Amalfi Coast. It offers simple rooms with panoramic views, air – conditioning and free Wi-Fi. It also has a private parking and the stop for the public bus is opposite the hotel.
Click here for more information and to check the latest prices.
Where to stay in the Amalfi Coast: Amalfi
The biggest town in the Amalfi coast, Amalfi is good for everyone, including older ones and families with small children in strollers, as it is flatter compared to the other towns. It is also a good place for younger ones as it is busy with nightlife and has a plethora of bars, lounges, café's and more. It is reached by every bus and ferry that comes to the Amalfi coast.
Amalfi has a beautiful main square with a colorful, architecturally majestic, cathedral from the 9th century. Aside from the main beach, which can get quite crowded, here is a small secret gem: Lido delle Sirene. This private beach is reachable by boat in the summer.
The boat ride is actually FREE if you rent a beach chair and umbrella for the day once you reach the beach OR if you buy food at their café. It is a great deal as you can see Amalfi in all its glory from the sea, and then get to this "secret beach".
From where the boat leaves you, you will see a natural arch which leads to yet another smaller beach, with a big cave. The water is absolutely pristine here, and there are even small cliffs that you can jump off from.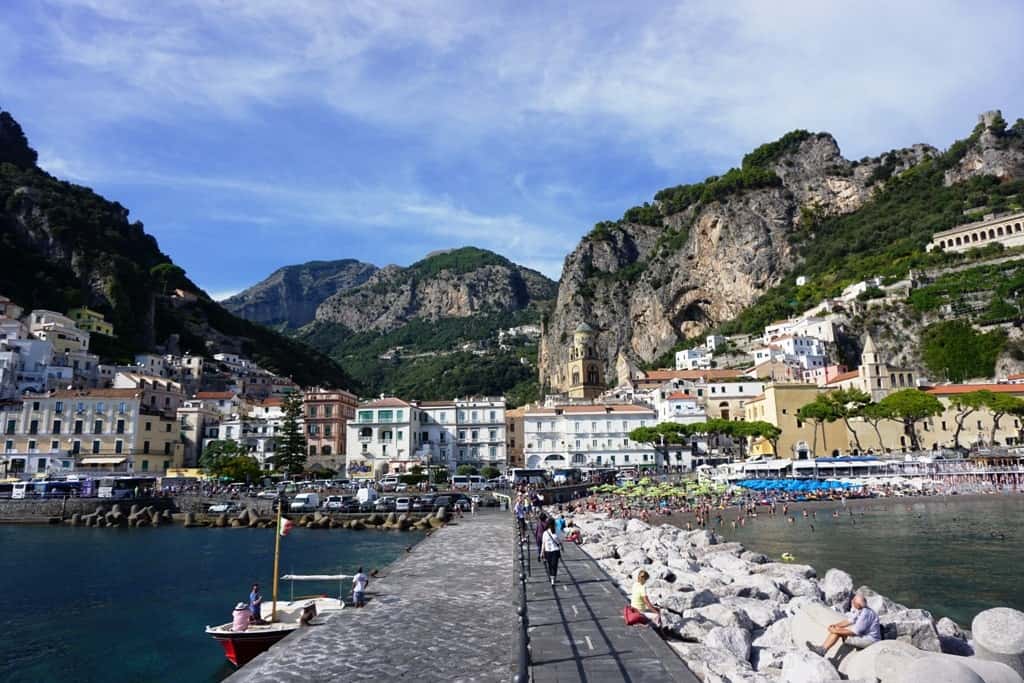 From Amalfi you can actually walk to Atrani, the next town over, which is just over a mile away. Atrani is the smallest village in Italy, and it is super romantic.
You can hike to Torre delloZiro, an ancient fortress that was used to defend Amalfi from the pirates! Again, this is another spot with stunning views. Try some local limoncello and amazing lemon pasta at Trattoria deiCartari.
This is for you if: you want to spend time on the beach, if you want to be centrally situated in the Amalfi Coast in order to explore all towns.It is also easier to walk around for families and older people.
Recommended hotels in Amalfi
The original convert that is now a lovely hotel was built in 1222 by San Francesco D' Assisi. Its church is still used for ceremonies including weddings to this day. A beautiful choice, the cuisine is excellent.
Click here for more information and to check the latest prices.
This 49-room hotel has 4 Stars and wonderful sea views from the hotel, its rooms, pool, and restaurant. A family-run establishment, it is located on land that juts out into the sea and has a private beach.
Click here for more information and to check the latest prices.
Where to stay in the Amalfi Coast: Ravello
A romantic town, more easily reached by car, good for people who like a more quiet place and just want to enjoy fantastic views and history. There is no direct beach access from Ravello, as it sits higher on the mountain. Ravello has 2 main points of interest: Villa Rufolo and Villa Cimbrone, two medieval palaces and gardens.
Villa Rufolo hosts the annual Ravello festival every summer, where world-famous symphonic orchestras play outdoors in the beautiful gardens overlooking the Mediterranean. Both villas flaunt architecture with Arabic influence and the gardens on the terraces are truly breathtaking.
Hard to say which one is nicer,both are worth a visit to be surrounded by history, nature and some of the most spectacular landscapes on earth.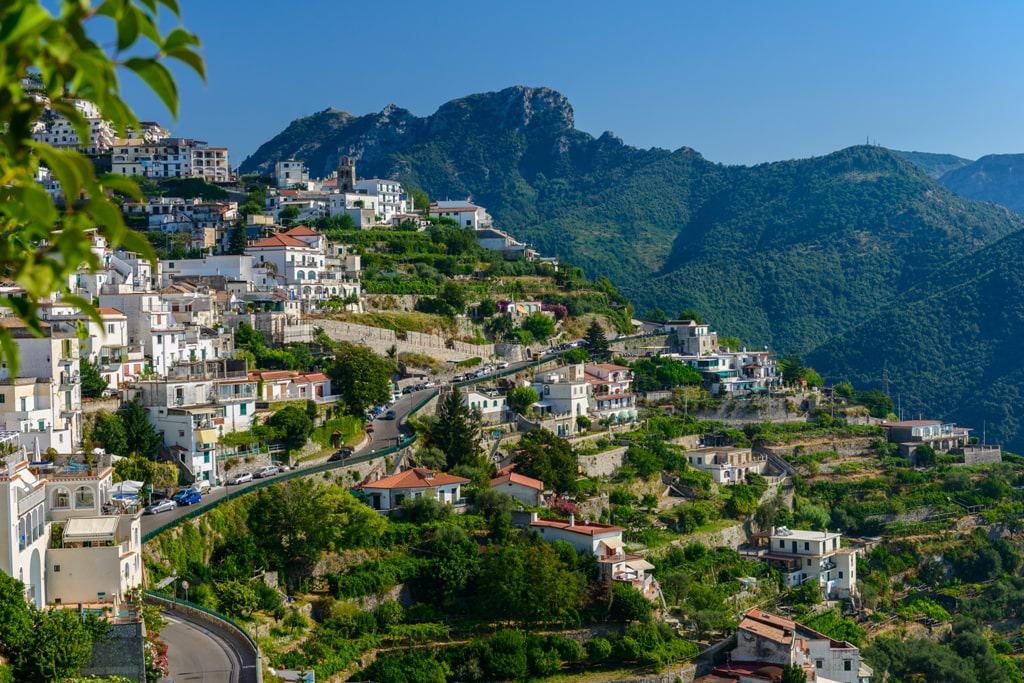 A short drive from Ravello, try Sal De Riso, a pastry shop in Minori , where some desserts famous in Southern Italy were invented-like Ricotta e pere and Delizia al limone. Hundreds of original (and delicious) recipes are found in this beautifully decorated shop.
This is for you if: you are looking for a quieter place away from the crowds, a more budget friendly option and if you don't mind being away from the beach and the nightlife.
Recommended hotels in Ravello
This hotel's elevated position allows guests to look down on the heart of Ravello which is two minutes' away and across to the Sea. The family-run hotel has 42 rooms and two restaurants to pick from.
Click here for more information and to check the latest prices.
Formerly an old villa, this hotel has been in the Palumbo family since the 1930s. Looking over lemon groves and the sea, the restaurant's chef actually conducts cookery classes for guests who want them.
Click here for more information and to check the latest prices.
Selected Tours in the Amalfi Coast
Where to stay in the Amalfi Coast: Cetara e Vietri Sul Mare

We are now at the opposite end of the Amalfi coast, near Salerno. These two towns are near each other. They are reachable by bus from Salerno and Sorrento. They are a good mix, as far as not being touristy, but also being more lively at night compared to Furore or Ravello.
Cetara is world-famous for its tuna and for inventing the "colatura di alici", an anchovie syrup put on pasta. It is a quaint fishing town, and you can taste some of its delicious products at "Il Convento" restaurant. Cetara boasts a beautiful sandy beach at the bottom of its ancient watchtower. It is quite a sight!
Vietri is known for its ceramics. The town is extremely colorful, with tiles painted in bright colors everywhere. Make sure to some of the many small artisans' shops who still make the ceramic in a traditional manner.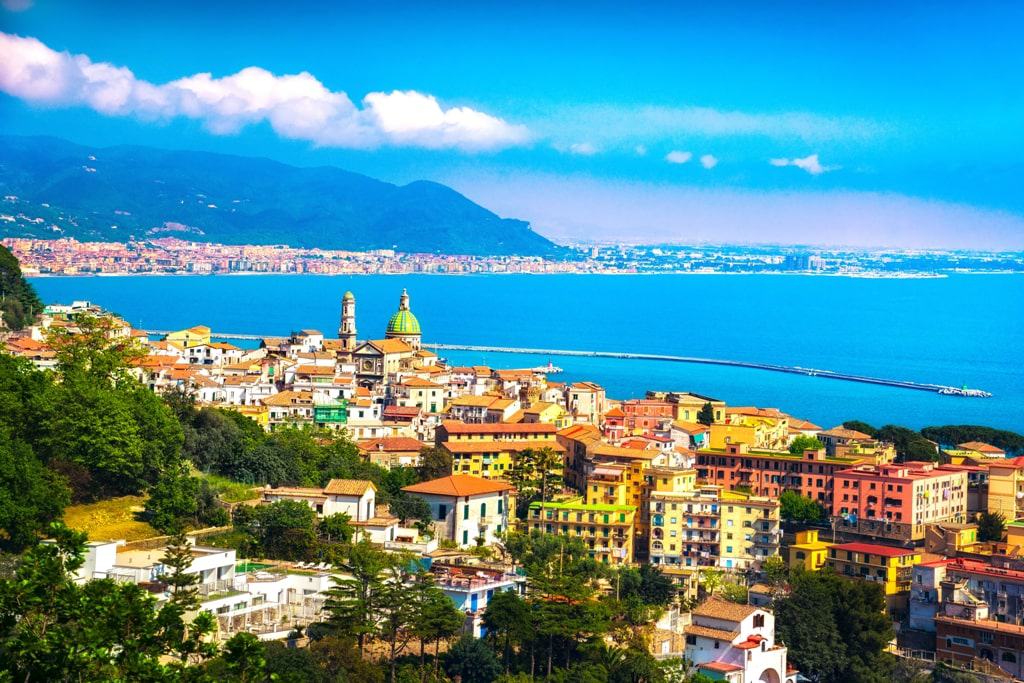 This is for you if: you want to be by the sea, away from the crowds and you are looking for a budget-friendly option.
Recommended hotels in Cetara
The Hotel's location could hardly be more striking, looking down over the bay and just a short walk out of the heart of Cetara. Elegantly decorated, it makes use of the famous Vietri ceramics.
Click here for more information and to check the latest prices.
This friendly B&B accommodation offers real value for money. The rooftop terrace is a highlight and the beach is just a short distance away. There are plenty of bars and restaurants close by.
Click here for more information and to check the latest prices.
Recommended hotels in Vietri Sul Mare
Set on the cliffs, guests can look across the Gulf of Salerno from the balconies of their air-conditioned rooms. The private beach, just two minutes' away, has a bar and the restaurant serves lovely local cuisine.
Click here for more information and to check the latest prices.
This hotel's panoramic setting above its own private beach makes it an excellent choice for visitors to Vietri Sul Mare. A glass lift takes guests down to the beach and during the summertime, there is entertainment on the beach.
Click here for more information and to check the latest prices.
Areas surrounding the Amalfi Coast
A bit outside of the Amalfi coast, but not too far, there is a place where you can actually overlook the entire Amalfi Coast along with the islands of Capri and Ischia.
From Castellammare di Stabia, just before Sorrento, you can take a cable car up to Monte Faito, the highest peak in the coast (about 4000 feet) and get this amazing view, hike and have a picnic. There is also one restaurant up on the top, and some ancient Roman ruins (they make for some amazing pictures with the blue in the background!).
The cable car ride is quite exciting as you are hanging on a thin cable and getting higher and higher. Kids and adults alike will love it, and in the summer, you can take a much-needed break from the heat by going to this higher elevation.
Where to stay in the Amalfi Coast: Sorrento
Sorrento is a perfect spot to stay to enjoy the Amalfi Coast. It is a bigger town, so you have all the comforts and commodities that you may need, and it has many options for hotels, from cheap to chic. It's well connected from Naples with trains, ferries and buses.
Additionally, it's a great destination on its own! Sorrento is the world capital of limoncello, and there are shops to have a taste of it in every corner. In this beautiful town, enjoy a stroll at the Villa Comunale, a romantic terrace and garden that overlooks the whole Sorrento gulf.
Check out the Vallone deiMulini, a 200-year-old abandoned mill in a green, lush and mysterious setting. Take a bus to Bagnidella Regina Giovanna. This Roman queen had a villa on a beautiful cliff, and she would bathe in a natural seawater pool at the bottom of her villa.
The water in this natural water hole is incredible, and since the queen is gone, you can now use what used to be her private pool and enjoy some Roman ruins, cliff diving, and scenic views while you're at it.
An amazing pizzeria in Sorrento is Pizzeria Da Franco, near the train station. This casual eatery makes a pizza that is neither Neapolitan, nor Roman style, but it's their own unique style and it makes everyone happy. They have unusual (but delicious) toppings and if you can't choose, you can taste at least two -different half pizzas.
For a less casual experience, try Agriturismo Le Grottelle. It's a bit of a drive, but you will get the most authentic experience. It's pretty much a farm where they make their olive oil, wines, cheeses etc., and everything they serve you is from their land. The inside is medieval and there is no menu, as their products change quite often.
Check out: What to do in Sorrento, Italy.
This is for you if: you want to be somewhere conveniently located to make day trips (Naples, Capri, Pompeii, Amalfi Coast. It is a great place for families and older people. There is a beach and a variety of restaurants and hotels for every budget.
You might be interested in my Naples itinerary and the best things to do in Capri.
Recommended hotels in Sorrento
The Grand offers 5-star luxury with all the features that guests would expect of a hotel of that standard including a private beach. It provides stunning views over the Bay of Naples as well as Mount Vesuvius.
Click here for more information and to check the latest prices.
With sea views from every room in the hotel, Belair looking out on to the Bay of Naples is a genuine experience. Spa, restaurant, bar and pool, everything is there for the comfort of its guests.
Click here for more information and to check the latest prices.
Where to stay in the Amalfi Coast: Salerno
On the other end of the Amalfi Coast, near Vietri, another good option on where to stay is Salerno. Salerno is a proper city, much bigger than Sorrento, but smaller than Napoli. It has a more metropolitan vibe, with a large downtown and plenty of nightlife, museums and things to do, but it is still small enough where you can walk most of the center without needing any public transport.
Here you can visit the beautiful botanical gardens called Giardinodella Minerva, a medieval castle called Castello Arechi – with breathtaking sea views- , and fantastic architecture and churches full of art down Via Vittorio Emanuele.
A special event in Salerno around Christmas time is the "Luci D'Artista"- people come from all over Italy to admire amazing light shows and intricate, artistic light decorations all around town but especially near the sea. For dinner, try local specialties and local wines at "O'pan e o' vin".
This is for you if: you want a good train connection with Rome, you prefer a bigger city vibe. Again there are many options for hotels and restaurants. It is also a bit less touristy and charming than Sorrento.
Recommended hotels in Salerno
This family-run hotel is in the heart of Salerno and its pedestrian area. It is well placed for the Station and 10 minutes from the beach. Air-conditioned, the hotel provides free Wi-Fi and LCD TV in en-suite bedrooms.
Click here for more information and to check the latest prices.
Grand Hotel Salerno
Close to the beach, this large hotel with wellness center including a heated saltwater pool and sauna has en-suite guest rooms with satellite TV and air conditioning. Its restaurant serves excellent local cuisine.
Click here for more information and to check the latest prices.
You might also want to check out: How to get from Rome to the Amalfi Coast and Sorrento.
When to visit the Amalfi Coast
When to go? Of course, being on the water, in the summer you get to enjoy swimming and water-related activities. August is the busiest month so it will be hard to find a spot to even lay your towel, so June, July and September are the best months. If you don't need to absolutely jump in the water, then spring and fall are the prettiest months. Gorgeous flowers blooming everywhere in the spring, and mountains covered in red and yellow in the fall (especially in November), make for a magical setting.