Steeped in history and culture, crammed with iconic landmarks, and bustling with activity, there's something for everyone in this world-famous capital. Founded by the Romans in the first century, London is now the most visited city in the world.
The skyline is a blend of the modern and the ancient, with hidden gems in every corner; stumbling across a stunning piece of architecture or a hidden cafe is just the norm, making it an exciting place for any visitor. This 7-day London itinerary will help you see as much as possible combining popular and unique things to do in London. 
Disclaimer: This post contains affiliate links. This means that should you click on certain links, and then subsequently purchase a product, I will receive a small commission.
Tips for your 7-day London itinerary

Depending on how you plan to travel to and from the airport and around London during your trip, it may be worth buying an Oyster or travel card. It is therefore advisable to decide what type of ticket will be best before you arrive, as it may be possible to also use this ticket to get from the airport. Some tickets also need to be purchased in advance, such as Visitor Oyster cards.
Oyster and travel cards
If you plan to travel around London using public transport it's best to get an Oyster card, as tickets are usually cheaper when you pay with these. If you want to pay for tickets as you go and you live outside the UK, you can get a Visitor Oyster card, which you preload with credit. The card itself costs £5 and needs to be bought before you arrive. The Visitor Oyster card also gives you access to discounts and special offers around London.
If you know you will be using public transport a lot then you might want to buy a travel card. Have a look at Transport for London's (TFL) handy guide if you're unsure whether a Visitor Oyster card or a travel card would be best for you.
It is also possible to combine a travel card with the London Pass. The London Pass gives you entry to many of London's top tourist destinations, which can be excellent value if you intend on visiting a lot of attractions. The pass can be bought with or without a travel card.
A 6-day London Pass, excluding travel card, costs around £154. If, for example, you chose to do every activity in this guide, you would save around £90 using the London Pass. Tickets can be collected in Charing Cross, London, or downloaded to your mobile phone for free. You can also have them delivered to your home for a fee.
Click here to buy your London Pass.
Click here to read my London Pass review.
How to spend 7 days in London a first timers itinerary

While this itinerary can be followed as it is, you might want to swap some days around as certain events only happen on specified days, or you might want to take advantage of some good weather by doing outdoor activities, and saving the museums for those inevitable rainy days.
7 days in London: Day One
After arriving and settling into your hotel, there is no better way of getting that London feeling than heading towards the West End.
The British Museum
The British museum is widely considered to be one of the best museums in the UK, with around six million visitors every year. Displaying over two million years of human history through a large collection of arts and antiquities, there's bound to be something to peak your interest. The Egyptian mummies and Rosetta Stone are must-sees, along with the Greek and Assyria exhibitions.
Opening hours: 10.00 am to 5.30 pm
Admission: free
The West End
After taking in the culture at the British museum you can soak up the atmosphere of the West End, including world-famous shopping destination Oxford Street, Covent Gardens with its historic markets and quirky street performers, Leicester square famous for its cinemas, as well as lively Soho and China Town.
Check here some amazing things to do in Covent Garden. 
While you're in the area, it's a great opportunity to catch a West End show. There are over 40 theatres in "theatreland", mostly from the Victorian and Georgian period and architecturally very impressive. As there are so many theatres, there is always a great range of shows to choose from, including several classic, long-running show.
These include Phantom of the Opera, which has been running at Her Majesty's Theatre since 1986, the world's longest running musical, Les Misérables, which has been playing at Queen's Theatre since 1985, or even The Mousetrap, which has been staged at St. Martin's theatre since 1974 and is the longest continuous run of any show in the world.
If you just want to see a quintessential West End theatre then visit the London Palladium, arguably one of the most famous, or the London Coliseum, one of the largest theatres in London.
7 days in London: Day Two
Buckingham Palace and Trafalgar Square
Buckingham Palace is the Queen of England's official residence and a working palace. When the queen is not in residence (during the summer and some selected days in winter and spring) it is possible to go inside and visit the impressive State Rooms, which are lavishly furnished and used for entertainment on a grand scale.
The visit also includes a walk through the gardens. However, even when the queen is home, the palace is still a great place to visit, not least for the famous Changing of the Guard. The ceremony never fails to bring in a crowd and is totally free to watch, although it's recommended to get there around 45 minutes before the start to guarantee a good viewpoint.
You can also always visit the Royal Mews, which is a working stables housing all the horses, carriages and vehicles used for royal occasions. The Queen's Gallery is also open year round and displays an impressive array of artwork from the Royal Collection.
Opening hours:
The State Rooms 9:30 am to 7:00 pm (closes at 6:00 pm in September)
The Royal Mews 10.00 am to 4.00 pm (closes 5.00 pm March to November)
The Queen's Gallery 10.00 am to 5.30 pm (opens 9.30am in the summer)
Changing of the Guard times: every day during the summer (weather permitting). Mondays, Wednesdays, Fridays and Sundays for the rest of the year. Starts at 10:45 am with the actual of change of guard occurring at 11.00 am
Admission:
The State Rooms £24,
The Royal Mews £11, included in London Pass
The Queen's Gallery £12, included in London Pass
All three £42.30
After visiting the palace, you can walk down The Mall, the famous tree-lined street that leads up to the palace gates. Walking through the historic Admiralty Arch takes you straight towards another important London landmark, Trafalgar Square.
Here you will find the 52-metre high Nelson's Column, guarded by four lions. Along with the other statues in Trafalgar Square, be sure to check out the "Fourth Plinth" which has traditionally stood empty, but is now used for specially commissioned temporary artworks.
Churchill's War Rooms
From Trafalgar Square, take a stroll through St James' Park, or a very short tube ride, to Churchill's War Rooms. Here you will find the underground complex from which prime minister Winston Churchill ran the government during the Second World War. There is also a museum about Churchill, giving you everything you need to know about this important figure in British history.
Admission: £21, included in London Pass
Opening hours: 9.30 am to 6.00 pm
Just a short walk from the Churchill War Rooms is Parliament Square, home to the UNESCO World Heritage site of Westminster Palace (also known as the Houses of Parliament) including the instantly-recognisable Elizabeth Tower which house Big Ben, and Westminster Abbey.
Parliament has been meeting at the site of Westminster Palace since the 13th century, however the current building has been in place since around 1840. Only from seeing it in real life is it possible to really gain a sense for the scale and ornate detail of this truly impressive building.
If you want to go inside you need to book a guided tour, which lasts about 90 minutes. During the tour you will learn about how the parliament works, visit the Commons and Lords Chambers and see the nearly 1,000 year-old Westminster Hall. It is also possible to have afternoon tea in one of the riverside rooms, although you do need to book in advance.
Next to the Houses of Parliament is Westminster Abbey. Founded in AD 960, the current gothic building was constructed in 1245. The abbey has been the coronation church since 1066 and is the final resting place of 17 monarchs. Guided tours are available, and recommended if you want to learn all about the abbey's rich history.
The tour lasts around 90 minutes, during which you will see Poets Corner, the Lady Chapel, the nave, the royal tombs and the gardens which are said to have been cultivated for over 900 years.
The guided tour also includes a visit to Edward the Confessor's tomb, one of the last Anglo Saxon kings of England, which is not accessibletovisitors who wish to look around on their own.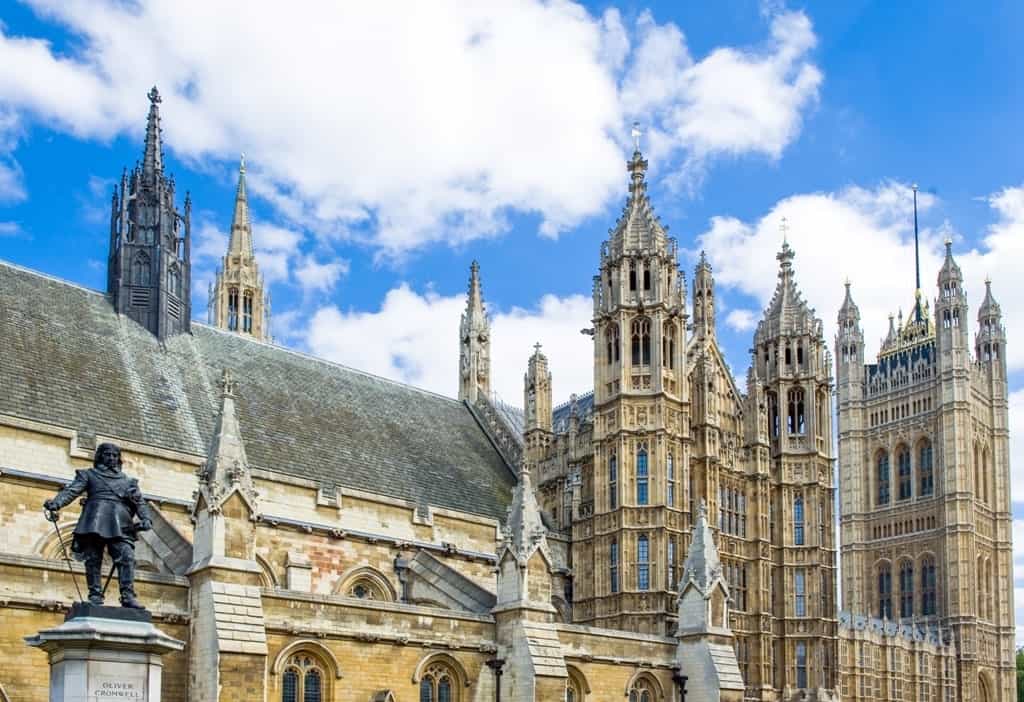 Houses of Parliament
Admission: £28 (cheaper if booked in advance)
Afternoon tea: £29
Westminster Abbey
Admission: £22, included in London Pass, tour costs an additional £5
Opening hours: depends on the day. Visit website for details.
Click here to book your Westminster Abbey fast track tickets. 
Cruise in River Thames
With the River Thames winding its way through the centre of the capital, there is no better way of seeing the city than by getting on a boat that traverses the waterway. With views of Big Ben, the Tower of London, the London Eye and Shakespeare's Globe Theatre, you'll be in for a real treat!
Seeing London's sights by night while enjoying hours of entertainment is an amazing way to spend an evening while in London. The music events by City Cruises allow you to dance the night away, listening to sounds of the 80s, 90s, 00s and today. Hosted by top DJs, the events each have a fun theme, with everything from a Hip Hop Karaoke and Silent Disco to a stylish Champagne Sunday Brunch, so you can choose your style, get your friends together and enjoy an event to remember!
Alternatively, you can stick to a more traditional dinner cruise along the Thames or simply opt for a sight-seeing tour during the day.
7 days in London: Day Three
On day three you can get out of the city centre and head to the London Borough of Richmond upon Thames, where two of London's best attractions can be found. There is a lot to see at both of these places, so if you want to have a thorough look around, and have the time, you can dedicate a whole day to each.
It's easy to reach Hampton Court train station from Waterloo. Building of the palace began in 1515, but it has been extended multiple times over the centuries. Even if you're not usually a fan of royal history, stories of the events at Hampton Court Palace will never bore.
Steeped in scandalous Tudor history, and offering an immersive experience, Hampton Court won't disappoint. Some of the highlights are the 300-year old hedge puzzle maze and Henry VIII's kitchen, where you can learn about the extraordinary Tudor feasts.
There are many different guided tours available, and with all the tales of ghosts, beheadings, adultery and royal births and deaths, you won't want to miss out. There are also daily and seasonal presentations that you can listen to for free.
Admission: £20.90, included in London Pass
Opening hours: 10.00 am to 6.00 pm
Click here to book your Hampton Court Palace tickets.
The Royal Botanical Gardens at Kew have one of the largest and most diverse collections of plants in the world, some of which are rare or threatened. One of the most recognisable features of Kew Gardens is The Palm House. Built in 1844, it was the biggest glasshouse built at that time and was used to house plants that Victorian explorers brought back with them.
Following the success with the Palm House, the Temperate House was built in 1860 and is the largest Victorian glasshouse in the world. The Temperate House is home to an internationally important collection of temperate zone plants.
In the Princess of Wales Conservatory you can find plants from 10 different climate zones, including the titan arum which is often known as "the corpse flower" due to its stench of rotting flesh used to attract insects.
As well as strolling through the greenhouses, you can also experience what it is like to walk through a forest canopy, with the treetop walkway. Set 18 metres above the woodland floor, this 200-metre long walkway transports you through the canopy with its birds, insects, lichens and fungi.
Admission: £17, included in London Pass
Opening hours: opens at 10.00 am, closing times vary dependent on season. Check website for details.
Click here to book your Kew Garden Tickets.
If you only have 3 days in London you might want to check this itinerary for 3 days in London. 
7 days in London: Day Four
There are many great places not far from London than can easily be explored within a day, so why not get out of the city and try one of these day trips?
If you're a Harry Potter fan then a visit to the Warner Brothers Studios is an absolute must during your time in London!
Located on the outskirts of Watford, the studios feature a selection of permanent exhibitions as well as extra special exhibits that change on a regular basis so there's always something new and exciting to see.
Witness the fantastical props from the films, step into the Gryffindor Common Room and walk through Diagon Alley while tasting a sip of sweet butterbeer along the way.
You can even buy some chocolate frogs or a copy of your character's favourite wand from the epic gift shop at the end.
To ensure you have a hassle-free trip, book on to a Studio tour which includes entrance fees and return transfers from central London.
Click here for more information and to book the Harry Potter Warner Bros studio tour. 
Stonehenge
Stonehenge is a prehistoric monument consisting of a ring of standing stones, each standing around four metres high and two metres wide, with no one really sure how, or why it was built. Nonetheless it's a very impressive sight, incredibly intriguing, and one of the UK's most famous landmarks. The site and its surrounding is a UNESCO World Heritage site.
The stone circle itself is a masterpiece of engineering for its time and it is incredible to think how much work would have been involved to build it, and therefore how important it must have been.
Walking around the stone circle (albeit from a short distance) is the highlight of a visit to Stonehenge and will leave you wanting to know more about its construction and possible purpose, however there is also much more to see and do.
The visitor centre offers a lot of context and insight into the stones and their history. Outside the visitors centre some Neolithic houses have been constructed, enabling you to see how the people of Salisbury would have lived 4,500 years ago, when Stonehenge was built. Volunteers are on hand to answer questions and demonstrate activities that would have been daily parts of life at that time.
At te Stonehenge exhibition you can see many of the artefacts that have been found during archaeological digs in the area, ranging from jewellery, pottery and tools to human remains. You can also find out about the diet and lifestyle of the people who built Stonehenge, as well as the science behind how these have been discovered.
There is a visitor shuttle between the visitor centre and the stone circle, however you can also walk if you want to get a feel for the landscape and enjoy Salisbury Plain.
Stonehenge is located in Salisbury, which is around one and a half hours away from central London by train. Take the train from London Waterloo to Salisbury and then jump onboard the dedicated tour bus to Stonehenge. You can also take a day-trip bus from London, which takes around two and a half hours.
Tickets are required to see Stonehenge, for which you will be given a set arrival time, it is therefore advised to book in advance.
Admission: £17.50 when booking in advance
Opening hours: 9.30 am to 7.00 pm
Book a day trip from London to Stonehedge with a visit to Bath here.
Bath
Situated in picturesque south-west England, the ancient city of Bath has it all, famed for its history, culture, literature, art and UNESCO World Heritage status. The city was founded in first century by the Romans, who used the natural hot springs as a spa and built the baths around them.
The baths have remained at the heart of the city's development ever since, and are considered to be some of the best preserved Roman remains in the world. However, it's not just its Roman past that makes Bath historically important. The 18th century was when the town really developed, with elegant Georgian architecture characterising the city andmaking it one of the most beautiful in Europe.
A visit to the Roman Baths is obviously a must. With so much to see, it is recommended you spare at least two hours for your visit. From the Great Bath itself, to the changing rooms, saunas, plunge pools and the Sacred Spring. Admission to the baths includes an audioguide, a public guided tour and the opportunity to try the natural spa water from the spa water fountain.
Bath is the only place in Britain where you can bathe in natural hot springs and while its not possible to bathe in the old Roman Baths, you can head over to Thermae Bath Spa for a more modern alternative, including a roof-top pool with panoramic views of the city.
To experience Bath in its full glory, you should climb the Bath Abbey Tower, which offers breathtaking views of the city. On the way up the tower you visit the ringing chamber and bell chamber, and can even go behind the clock face. Once up the top you will get unrivalled views of Bath. You will need to buy ticket to go up the tower, with the whole tour lasting around 45 minutes.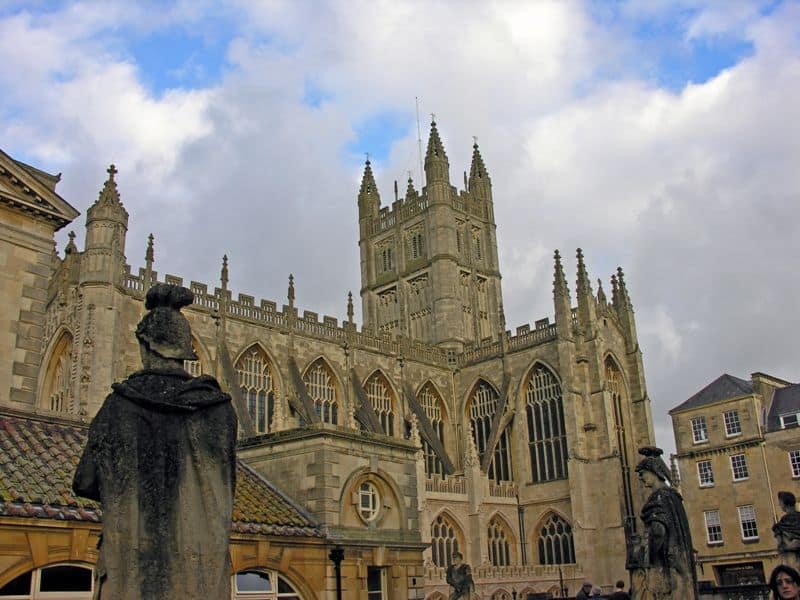 Another excellent way to enjoy Bath is the Skyline Walk. The six-mile long footpath takes you through woodlands and valleys and up to some stunning viewpoints over the city. You will also find several sites of archaeological interest along the way, such as the Iron Age fort and Roman settlements. If you're more interested in learning about the history and architecture of Bath, there are many guided walks you can take through the city, dependent on your interests.
Bath is easy to reach from London, with a direct train from London Paddington to Bath Spa, which takes around one hour and 40 minutes.
Click here to book a a day trip from London to Stonehedge and Bath.
You might be interested in: Things to do in Bath
7 days in London: Day Five
Kensington Palace has historically been a fashionable home for young royals, with Queen Victoria spending most of her childhood at Kensington. This tradition has continued in modern times, as Prince Charles and Princess Diana brought up their young family, William and Harry, at the palace, and it is now home to the Duke and Duchess of Cambridge (William and Kate) and their children.
The Queen's State Apartments and the King's State Apartments are mostly unchanged since their construction in 1690, and the opulent decor is worth the visit. At the palace you will also find a collection of royal ceremonial dress and an exhibition of Princess Diana's most famous outfits. Kensington Palace is also a fantastic place to enjoy an afternoon tea, surrounded by the stunning formal gardens and giving you that real royal feeling.
Admission: £19.50, included in London Pass
Opening hours: 10.00 am to 6.00 pm (closes at 4.00 pm November to January)
Click here to book your tickets to Kensington Palace.
Kensington Gardens and Hyde Park
Kensington Gardens was once the grounds of the palace, but is now a Royal Park. The park itself is lovely to walk through and has several points of interest for you to stumble across on your way round. The Albert Memorial (one of many memorials Queen Victoria dedicated to her husband who died in 1861), is one of London's most ornate memorials. If you want to get up close you can take a tour for £8 (they run daily and there is no need to book).
The Serpentine Galleries were built in 1934 as a tea room, but has been a gallery since 1970 and is free to go inside, with new exhibitions every season. The Italian Garden is a 150-year old water garden featuring four fountains and a number of classical sculptures.
There is also a Princess Diana memorial playground, featuring a large pirate ship. As the "Peoples' Princess" there are several memorials to Princess Diana in the area, including the Diana Memorial Fountain in neighbouring Hyde Park. For real fans of Diana, there is a seven-mile memorial walk, following 90 plaques set in the ground that take you within sight of famous building where Diana spent her time.
National History, V&A and Science museums
Kensington is awash with world-renowned museums, so once you've got your royal palace fix for the day, you can walk through the parks and head over to one, or all, of these tourist favourites.
National History Museum
Famous for its dinosaur exhibition, including several dinosaur skeletons, the National History Museum tells you everything you need to know about the planet's and humans' evolution and all about the diverse life on Earth.
Admission: free
Opening hours: 10.00 am to 5.50 pm
V&A Museum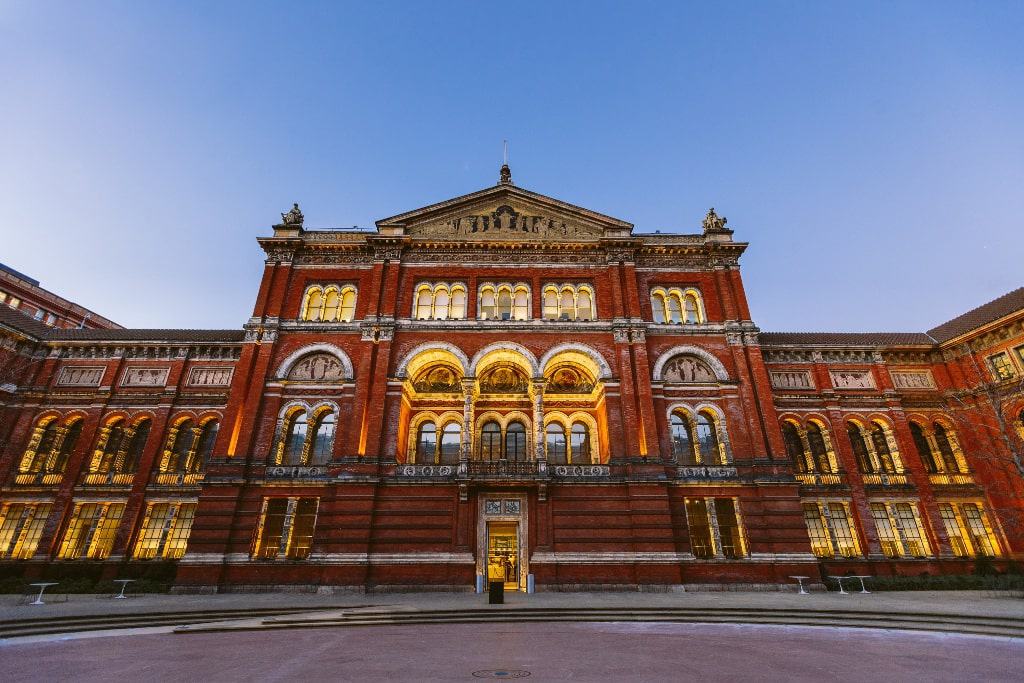 The Victoria and Albert Museum, most often known simply as the V&A, is the world's largest museum of decorative arts and design. It holds everything you can think of from ceramics, textiles, and glass to the world's largest collection of post-classical sculptures, spanning all times and geographies.
Admission: free
Opening hours: 10.00 am to 5.45 pm
Science Museum
The Science Museum is one of London's most popular tourist attractions and includes items such as the oldest surviving steam locomotive and the first jet engine. With many interactive exhibits, you'll know everything there is to know about medical history, space, technology and much more, in no time.
Admission: free
Opening hours: 10.00 am to 6.00 pm
7 days in London: Day Six
St. Paul's Cathedral sits at the highest part of the City of London and was designed in the 17th century in the English baroque style by one of the most highly acclaimed architects in English history, Sr Christopher Wren. The cathedral was part of major rebuilding work that happened after The Great Fire of London in 1666, with the site of the original church dating back to AD 604.
Once inside, make sure you try out the Whispering Gallery which, due to its architecture, means you can whisper on one side of the large dome and be heard on the other. The other two galleries, the Stone and Golden galleries, offer fantastic views over London. There is also an exhibition on Sir Christopher Wren and the challenges he faced with his unique design.
Admission: £18 includes a guided tour, included in London Pass
Opening hours: 8:30 am to 4:30 pm
Click here to book your fast track tickets to St. Pauls Cathedral.
Founded towards the end of 1066, the Tower of London is primarily known for its history as a prison, although that was never intended to be its main purpose. The area is a UNESCO World Heritage sight and makes a slightly strange sight, this series of ancient buildings nestled in a thoroughly modern area of London.
The Tower has played a very prominent role in English history, acting as a fortress and protecting the City of London. The Yeoman wardens, commonly knowns as "Beefeaters" are one of the most famous symbols of London and Great Britain. You can hear their stories on a one-hour guided tour. Be sure to be mindful of the ravens on your way around, as it is said that if the ravens all leave the Tower then it will fall and Britain with it.
You can also see the Crown Jewels in the Jewel House. These are still used today in royal ceremonies and are kept under armed guard. In The White Tower you will find the Royal Armouries and in the Bloody Tower, you will see the famous prison.
The Lower Wakefield Tower offers an exhibition on the methods used for torture in the tower, along with some replica instruments. An execution site memorial can be seen at Tower Green, within the grounds, although it was usually only high-profile people who were executed at the Tower of London. You can see where executions were more commonly held at nearby Tower Hill, where an original part of the 3rd century city wall also still stands.
Admission: £26.80, included in London Pass
Opening hours: 10.00 am to 5.30 pm
Click here to book your tickets to the Tower of London.
Tower Bridge is yet another classic London landmark, built between 1886 and 1894. It's fun to just walk over this bridge and take in the views, however you can also have a look at the Tower Bridge exhibition, making your way across a glass walkway 44 metres above the Thames, as well as access to the bridge's old engine rooms, complete with original steam engines, used to raise the bridge.
Admission: £9.80, included in London Pass
Opening hours: 10.00 am to 5.30 pm
Click here to book your tickets to the Tower Bridge. 
This 95-story sky scraper stands 309.7 metres high, and at the top there are two viewing platforms; one indoors on the 69th floor, and a second partially outdoors on the 72nd floor. If you just want to enjoy the view you can buy a ticket to go up to the viewing platform, however The Shard is also the perfect place to luxuriate with an afternoon tea and spectacular view, and you have a choice. Aqua, on the 31st floor serves innovative, contemporary British cuisine, including a traditional afternoon tea.
Or if you prefer a little more altitude and a little less tradition, you can opt for Shangri-La's restaurant Ting on the 35th floor, serving British cuisine with an Asian twist and an afternoon tea with theatrical elegance. Both restaurants have also been known to do quirky, themed afternoon teas for special occasions.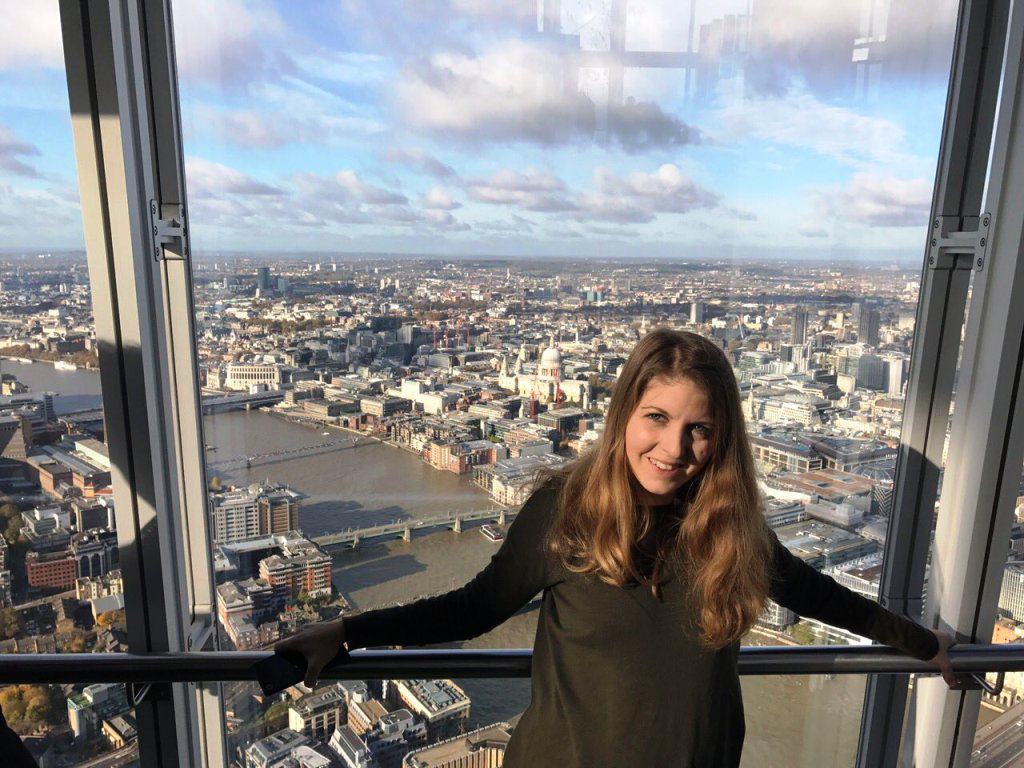 Admission for The View from the Shard: £30, included in London Pass
Opening hours: 10 am to 10 pm Thursday to Saturday, 10 am to 7 pm Sunday to Wednesday
Click here to book your tickets to The Shard. 
Check my Shard experience here.
The Southbank, Tate Modern and the London Eye
Walk off your sandwiches and scones with a stroll down the South Bank, which is the best way to soak up some famous London sights. Along the walk you'll come across the buzzing Borough Market, Shakespeare's Globe theatre (a reconstruction near to the site of the original which was demolished in 1644), and the Tate Modern (one of the largest galleries of modern and contemporary art in the world, housed in an old power station).
Finally you'll reach the London Eye, so if you haven't had enough of city aerial views, then jump in one of the pods and marvel at the glory of Westminster from above.
Click here to book your tickets to the London Eye. 
Check my London Eye experience here.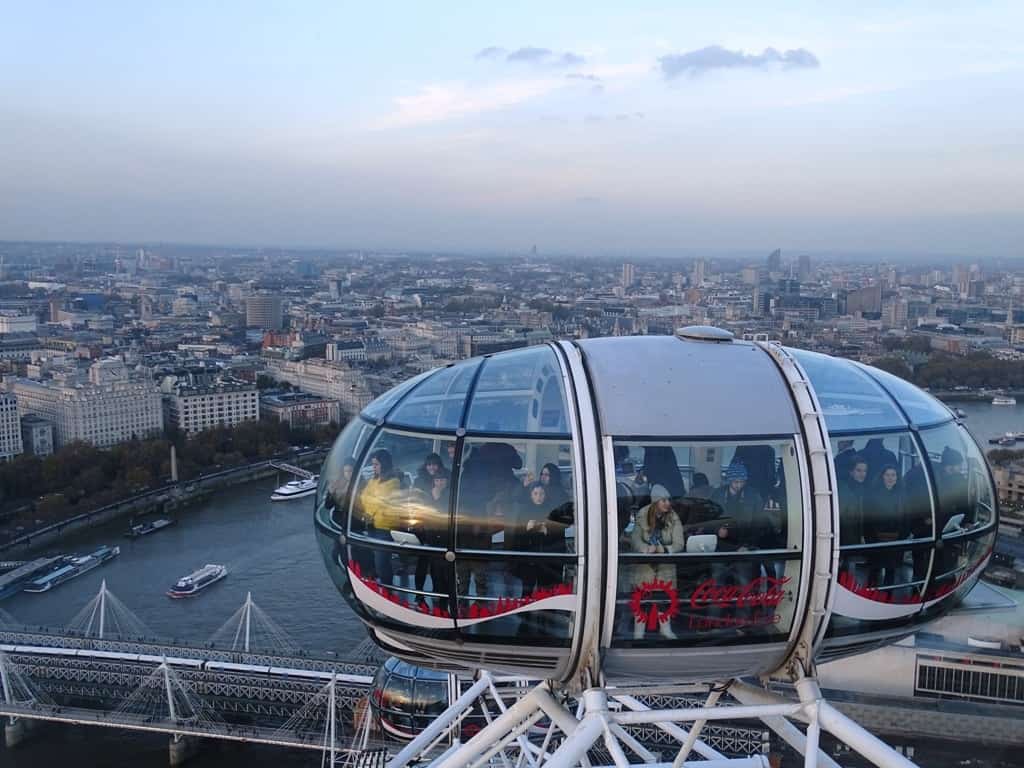 Tate Modern
Admission: free
Opening hours: 10.00 am to 6.00 pm (closes at 10 pm on Friday and Saturday)
The London Eye
Admission: £27
Opening hours: dependent on the season, check online for details
7 days in London: Day Seven
The final day can be a day of catching up on anything you might have missed in this vast city, however a trip to Greenwich allows you to cram in more history, culture and great views before you leave. You can even take a Thames Clipper boat trip to Greenwich, giving you a scenic tour of London down the world-famous river.
It takes around 35 minutes from the London Eye Pier and you can pay using your Oyster card. You can buy a Greenwich day explorer ticket which covers all the below attractions, except the planetarium, for £24.25.
Greenwich Royal Observatory and the Planetarium
The Royal Observatory at Greenwich has played a major role in the history of astronomy and navigation. It is here you can stand in the centre of the world, where east meets west, at the Greenwich Meridian.
You can also visit the Peter Harrison Planetarium, which offers range of shows for children and adults, such as experiencing the night sky with expert commentary from an astronomer, or shows which delve into the depths of space.
Royal Observatory
Admission: £15, included in London Pass
Opening hours: 10.00 am to 5.30 pm
Planetarium
Admission: ticket price depends on the show. Information can be found online.
Opening hours: 10.00 am to 5.00 pm
Cutty Sark
One of the one remaining ships of her kind in the world, the Cutty Sark is a clipper ship constructed in 1869 and built for speed to challenge the other ships on the tea trade. As well as going on board and learning about the history of the ship and life at sea, you can enjoy an afternoon tea in a very unique setting underneath the ship.
The Cutty Sark afternoon tea offers a very traditional spread of finger sandwiches, cakes and scones with jam and clotted cream. It is, however, necessary to pre-book at least 72 hours in advance.
Admission: £13.50, included in London Pass. Afternoon tea £27 per person, includes admission to the ship.
Opening hours: 10.00 am to 5.00 pm daily
Old Royal Naval College
While in Greenwich make sure to stop by the Old Royal Naval College, another of architect Sir Christopher Wren's masterpieces. This impressive waterside building and its surroundings are a UNESCO World Heritage site, symbolising English artistic and scientific endeavours in the 17th and 18th centuries.
It's free to wander around the historic grounds, but you can also take a tour to explore the magnificent painted ceiling. The Neoclassical chapel, featuring notable craftsmanship in the chapel design and decor, is also worth a look.
Admission: free
Opening hours: 10.00 am to 5.00 pm, historic grounds 8.00 am to 11.00 pm
Greenwich Market
Dating back to 1737, Greenwich market is known for its distinctive arts and crafts. Here, in the quaint cobbled streets, you will find all manner of items that cannot be bought in high street shops, making it the perfect place to buy some souvenirs. There is also a wide range of food stalls to choose from if you want to grab some lunch.
Admission: free
Opening hours: 10.00 am to 5.30 pm, daily
National Maritime Museum
The National Maritime Museum is as beautiful on the outside as it is interesting on the inside, documenting Britain's strong naval history. The museum is home to a large collection of maritime-related artwork, including many portraits You can also learn about the history of the British navy, including an exhibition on Lord Nelson, often considered one of Britain's most heroic figures, and his legacy which still has influences today. You can also find out all about the tumultuous history of the East India Company, which shaped trade between Britain and Asia for 250 years.
Admission: free
Opening hours: 10.00 am to 5.00 pm
Greenwich Park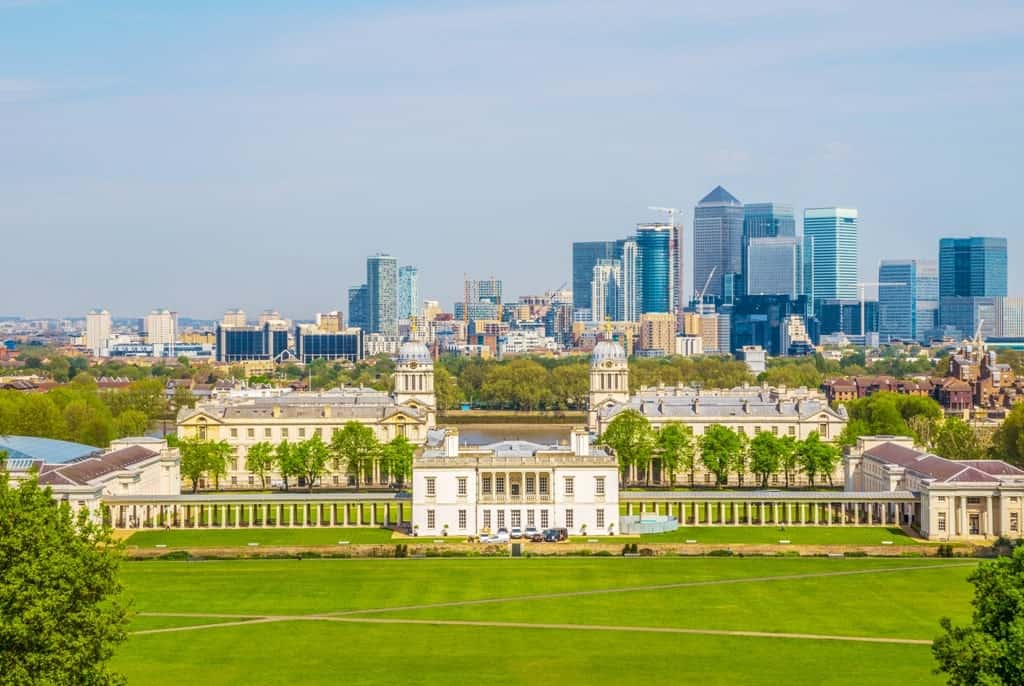 When you're tired from exploring all Greenwich has to offer, take some time to relax in Greenwich Park, which has some truly stunning views across London. The park has a long history, with remains from the Anglo Saxons and Romans having been found.
There are also several beautiful gardens within the park, such as the Queen's Orchard, a walled garden with several varieties of fruit trees dating back to the 1500s, the Flower Garden, first laid out in the 1890s, and the longest herbaceous border in London, which dates back to 1925. The Pavilion Cafe at the top of the hill near the Royal Observatory is the perfect place to relax with a cup of tea.
Where to stay in London
There are many accommodation options to choose from, from traditional B&B to quirky London hotels and posh apartments. Find here a selection of places I have stayed over the years.
The Park Plaza County Hall is located in a prime position on London's South Bank, with wonderful views of the London Eye and the River Thames. Guests not only have great on-site facilities such as a fitness centre and restaurant but they are within walking distance of a number of top attractions and transport links. Rooms are spacious and comfortable throughout and staff are especially friendly!
Click here for the latest prices and to book this hotel.
This superb hotel in the Kensington and Chelsea borough of London is chic and cosmopolitan and is ideal for those visiting the museums around South Kensington. Both the rooms and the facilities of the hotel are sophisticated and stylish, with quirky décor and a fantastic restaurant adding to the experience.
Click here for more information and to book your stay. 
The Novatel at Canary Wharf offers everything you expect of a smart chain hotel: contemporary design, comfortable rooms and a 24h front desk for added convenience. This property also boasts a stunning rooftop bar with 360-degree views of the city which makes it well worth a visit!
Click here for more information and to book your stay. 
This five-star property is stunning both inside and out with sleek interiors and state-of-the-art facilities. Andaz is well situated in the hipster area of Shoreditch with loads of cool bars, restaurants and shops nearby. Plus, Liverpool Street Station is right next door so you have easy access to both underground tubes and National Rail links.
Click here for more information and to book your stay. 
The Z is a simple but mordern hotel that offers everything you need for a busy stay in London. The rooms are quite compact but perfectly comfortable and an optional hearty breakfast with unlimited coffee is a great way to start the day! Old Street station is close by so you can hop on and off the tube to reach the city's top spots.
Click here for more information and to book your stay. 
The Chilworth Hotel near London Paddington is perfectly located for exploring the capital with Buckingham Palace, Hyde Park and Oxford Street all within 20 minutes. The décor is modern throughout and some rooms feature both a double bed and sofa bed which is great for families or groups of friends looking to save while travelling.
Click here for more information and to book your stay. 
Getting to Central London from the airport
Heathrow airport
Heathrow is the most centrally located of all the airports and is also the largest. Pay close attention to which terminal your flights arrive and leave from, as travel between the terminals takes time and requires the use of a shuttle.
Heathrow Express train
The Heathrow Express train is the fastest way to get into central London. The train goes directly from terminals 2 & 3 and 5. If travelling to or from terminal 4 you will need to take the free transfer train. These run every 15 minutes and the journey takes about 4 minutes.
The Heathrow Express trains are every 15 minutes, running from the airport to London Paddington. The journey to Paddington takes around 15 minutes. If you are planning to use the Heathrow Express both to and from the airport it is cheapest to get a return ticket, costing £39 when bought before boarding the train.
Tickets can be purchased at the train station, at ticket machines, online or via the app. It is possible to buy tickets onboard the train but these are more expensive. Note that it is not possible to use an Oyster or travel card on the Heathrow Express.
National Rail trains
It is also possible to take the regular National Rail train service to Paddington. While this journey takes longer than the Heathrow Express (around 30-50minutes), tickets are cheaper and you can use an Oyster or travel card. Trains leave every 30 minutes and stop at stations across west London.
Underground train
The Piccadilly line runs directly from central London and is the most cost efficient way to get into the city centre. There are stations at terminals 2 & 3, 4 and 5 and you can use your Oyster or travel card for the journey. The journey takes around 50 minutes.
Gatwick airport
Gatwick Express and National Rail trains
The best way to get into central London from Gatwick airport is by train, with services running four times an hour. You can either take the Gatwick Express or use the National Rail service. The Gatwick Express goes to Victoria and takes around 30 minutes at a cost of £19 one way. However the National Rail service is cheaper and only marginally slower (taking around 35 minutes to Victoria and Clapham Junction). You can also take the National Rail train to London Bridge, Blackfriars, Farringdon and St Pancras, in around 30/45 minutes. Travel cards are not valid on trains to Gatwick airport. You can use Pay As You Go Oyster credit, although it may be cheaper to buy a regular rail ticket instead.
Coach
Travelling by coach can be a cheaper alternative to the train, particularly if booked well in advance. National Express run a service from Gatwick to Victoria coach station, which takes between one and a half to two hours depending on the time of day and costs from £10. While easyBus runs a service to West London from as little as £2 one way. The journey takes around an hour.
Luton airport
Coach
The easiest way to travel into the city centre from Luton airport is by coach. National Express coaches run 24/7, with up to four departures every hour during the day. There are two different routes: A1 runs to Victoria coach station, while A2 goes to Paddington. Both routes have several stops along the way and tickets cost from £5. The coach journey to central London takes around 50 minutes.
Train
It is also possible to take the train from Luton, however there is a 10 minute shuttle bus service to get to the train station. The train journey itself takes around 40 minutes. Trains run every 10 minutes during peak times, with services to various central stations including St Pancras. It is not possible to use Oyster or travel cards on these services.
Stansted airport

Stansted Express and National Rail trains
The Stansted Express is the fastest way to get into central London from Stansted. The service runs to Liverpool Street and takes about 47 minutes. Trains depart every 15 minutes. Prices vary and can be found online. It is also possible to use the National Rail services, however you cannot use an Oyster or travel card for these journeys.
Coach
National Express coach services run 24 hours a day and stop at 15 different locations in central London. The journey can costfrom as little as £6 one way and takes around 50 minutes.
Taxis from all London airports
A taxi from any of the airports into central London is not particularly recommended unless you really don't want to use public transport. Taxis are usually expensive (it can cost around £100) and can take longer than public transport due to the heavy traffic in central London. If you have a lot of luggage, it is usually possible to get a luggage transfer from the airport directly to your hotel.
If you do decide to take a taxi from the airport then either take a black cab (metered prices) from the taxi rank outside the airport or book a minicab (fixed prices), either by booking in advance online or by phone, or via the kiosk once you arrive at the airport. More information about getting a taxi safely in London is found below.
Getting around London
Navigate your way around on public transport using TFL's journey planner. Oyster and travel cards are valid on the underground and buses throughout the city.
Underground train
The easiest way to get around London is by the underground, known as "the tube". Thanks to the award-winning map design, navigating the tube is easy, and really opens up your options for visiting every part of the city. Keep a map close to hand or download one of the many tube map apps to make it even simpler.
Bus
Another great way to get around and to see the sights is by bus. London buses are iconic and it's easy to just hop on and off using an Oyster or travel card.
Taxi
There are two types of taxi in London. The traditional black cab and pre-booked minicabs. Black cabs can be hailed from the street, picked up from taxi ranks or booked in advance. The prices are metered and there is a minimum fare of just below £3. Minicabs, however, are booked in advance and offer a fixed fare for your journey. Remember that only black cabs may be hailed from the street. If you decide to take a minicab (i.e. not a black cab) you must call and book it in advance from a licensed minicab service. Taking a minicab from the street is illegal and unsafe. More information about the safest way to get a taxi can be found on the Visit London webpage.
Where to eat and drink in London
The highest 24-hour restaurant in London offers the most stunning views night and day. Located on the 40th floor of 110 Bishopsgate, the quirky British cuisine with European influences is designed for sharing and will certainly give you and your dinner companions plenty to talk about. If you're finding it impossible to choose from the menu, the waiters will happily advice you, just make sure you save room for the signature dish of duck and waffle. This unique dining experience is in demand, so book well in advance and be aware of the more formal dress code.
Gordon's Wine Bar in Charing Cross is thought to be the oldest wine bar in London, having been established in 1890. The original decor has been maintained, creating an atmosphere as if time has stood still. Although it can become cramped, that's just part of its charm, with its cost candle-lit tables in the cellar and historical newspaper cutting and memorabilia on the walls. Along with its award-winning wine list, Gordon's serves food in real-sized portions, including home-made pies.
Christopher's Grill and Martini Bar
Located in Covent Garden and perfect for drinks, lunch or dinner. If you want drinks or a lunch head into the American Deco martini bar, billed as a theatrical and atmospheric drinking parlour. Here you can get burgers, wraps, clubs and salads as well as American tapas for sharing. Seating can be booked but walk in places are always available. Alternatively you can make your way to the grill, an American restaurant set in an elegant dining room that blends the contemporary with the classic. At the weekends you can get a superfood brunch, or if you fancy something less healthy opt for the build-your-own pancake menu, with a wide range of toppings available.
Slightly outside of central London, in Chiswick, you will find modern British restaurant La Trompette. The restaurant is known for having some of the best food in London without the associated high prices or formality. The lunch menu is particularly good, but choosing the tasting menu means you're sure not to miss out on a thing.
Located in fashionable Soho, HIX offers indulgence and comfort in the heart of the West End. HIX specialises in fish and shellfish, although there is also a vegetarian menu. In fact there is a menu for every occasion: a la carte, lunch, brunch or a theatre menu, popular in many of the restaurants in the West End and catering for those going to see shows in the evening. Below the restaurant you will find Mark's Bar, known as one of the best bars in London, offering classic luxury with its chesterfields and cocktails.
Not trip to London would be complete without going to an Indian restaurant. Indian food has long been an important part of British cuisine, with Anglo-Indian cuisine taking on a life of its own. Cinnamon Club is set in a historic building, which was previously the Westminster library, giving it an air of sophistication before you've even set foot in the door. This fine-dining restaurant has redefined modern Indian cuisine in London, using exclusive ingredients in its contemporary menu. Don't forget to dip into the gin trolly, which includes a specially curated selection of gins sourced from iconic brands and small-batch producers across the UK.
Offering New York food with a hint of Parisian influence, this brasserie, bar and grill is open seven days a week and perfect for breakfast, lunch, dinner or anything in between. With several locations, including one in Bank and one in Soho, it's hard to find an excuse not to go to this relaxed, yet stylish eatery.
Easy to miss, nestled in amongst the trees in St James' Park, but worth seeking out, is Inn the Park. Perfect for a breakfast or lunch, you can get some delicious British classics and it's always hard to choose just one thing from the menu. The calm atmosphere and beautiful surrounding nature makes it the perfect place to relax away from the frenzy of central London.
Social Eating House positions itself as a place where people can enjoy key elements of the current London dining scene, but in a social and informal setting (while still being endlessly fashionable). The Michelin-star awarded food is designed to be simple and uses locally sourced and seasonal ingredients. Hidden above the restaurant is the award-winning cocktail bar The Blind Pig. The bar, as the name suggests, has a speakeasy vibe and mirrored ceiling, while the cocktail list is inspired by children's literature.