Southern Italy is full of history, cultural heritage and stunning natural landscapes. If you only have 10 days for your visit, you can try this itinerary through the main cities to get a general overview of this area and come back in the future to further explore your favorite destinations.
Best time to visit Southern Italy
Spring. The weather is warm (without being hot, like during summer months) and there are fewer tourists around, so that you can enjoy both the cities and the natural landscapes at their best. In May, you can also enjoy some "beach life" and have a swim!
Southern Italy itinerary overview
This Southern Italy itinerary includes the following places of interest:
Naples
Pompei
Sorrento
Amalfi Coast (Positano, Praiano, Amalfi and Ravello)
Matera
Bari
Alberobello
Taranto
Disclaimer: This post contains affiliate links. This means that should you click on certain links, and then subsequently purchase a product, I will receive a small commission.
Where to sleep in Southern Italy
Where to stay in Naples
Here are two great hotel recommndations for your stay in Naples.
Renaissance Naples Hotel Mediterraneo
This 4-star hotel, a member of the Marriott Group, is located centrally close to the main attractions of Naples and the ferry terminal. Rooms are comfortable and modern while the rooftop where breakfast is served has lovely views of the Bay, Castel Nuovo, and Mount Vesuvius.
Click here for more information and to check the latest prices.
Grand Hotel Europa – Sea Hotels Group
Located near the main station, this hotel is an excellent choice for those thinking about visiting Pompeii or the Amalfi Coast. It provides excellent 3-star value with comfortable rooms including Wi-Fi, satellite TV, air-con and safe.
Click here for more information and to book the Grand Hotel Europa.
For more hotel recommendations check out my post where to stay in Naples here.
Where to stay in Matera:
You shall definitely seize the opportunity to sleep in Sassi district (or even in a real Sasso!) to enjoy this beautiful scenery, both day and night. On my visit to Matera I stayed at the :
Sextantio Le Grotte Della Civita
Located in the Sassi area of Matera, this luxury hotel offers rooms with stone floors and antique furnishing. Room Amenities include Wi-Fi and air-conditioning, The hotel also offers a terrace with panoramic views of the Murgia National Park. This was one of the most unique and beautiful hotels I have stayed.
Click here for more information and to book your room.
Another great option for your stay in Matera is the Hotel Sassi.
Where to stay in Bari
The best districts to stay are Murat if you want to enjoy the local nightlife and some shopping. and the Old Town if you want a picturesque location.
A great hotel option in the Murat area is the Bari Oriente and in the Old Town the Palace Hotel.
Where to stay in Taranto
If you are traveling by car and you are happy to stay outside of Taranto, I recommend the Masseria Amastuola Wines and Resort.
It is located in Crispiano 17 km away from Taranto and 40 km away from Alberobello the Masseria dates back to the 15th century. It is surrounded by 170 hectares of olive trees and vineyards and its rooms feature hand painted tiles against a dark wood background or simple white tiled backsplash. Each room has its own private bathroom and seating area with comfy chairs. Luxurious toiletries, wifi, and exceptional service are included in the room rate.
Click here for more information and to book a room.
If you are looking to stay inside Taranto a great option is Viale Virgilio, that is the main waterfront walk.
In Viale Virgilio a great option is the Mercure Delfino Hotel.
A 10 day Southern Italy itinerary
Southern Italy itinerary: Day 1 Arrive in Naples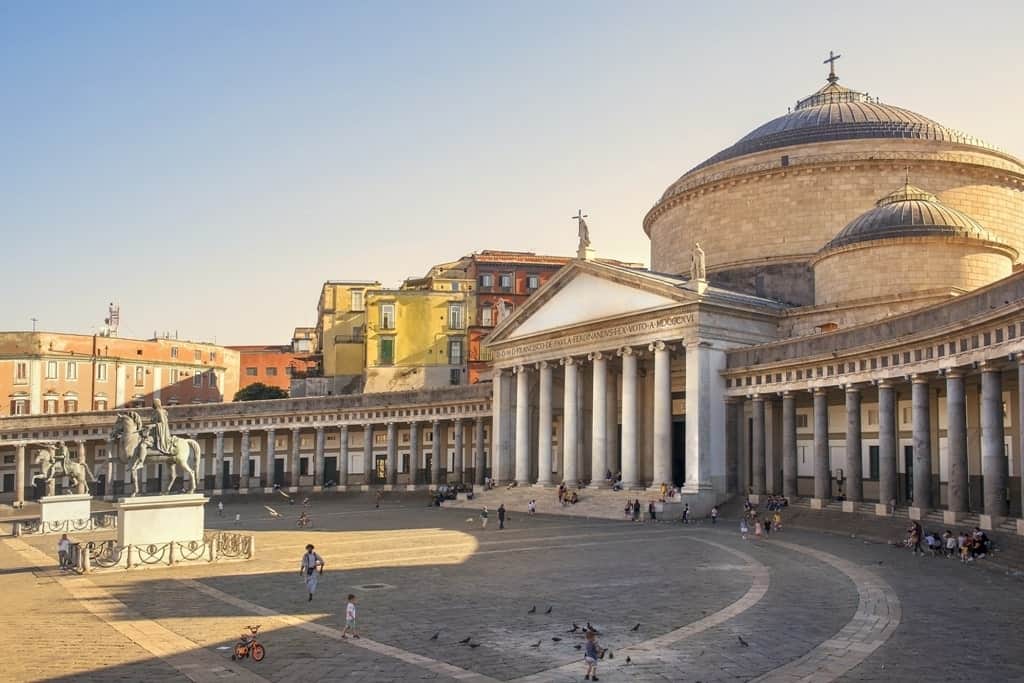 Your 10-days itinerary starts in Naples.
How to get there? The best solution is a flight arriving at Capodichino Airport. From there, you can reach the city center either by car or by bus (it will only take about 20 minutes). For more information about airport shuttles visit here. Naples is also very well connected to the main Italian cities by train in case you arrive from somewhere else.
In the afternoon, you can start your visit from San Carlo Theater. It is the oldest Opera House in Europe which is still active today and it represents one of the most important cultural institution in Italy. Enjoy a guided tour in English to discover its neoclassical decorations and its history.
You can now head to Piazza del Plebiscito, one of the largest historical squares in Italy and visit the Royal Palace. Don't miss its roof garden with their beautiful view of the city and the sea;
Day 2: Explore Naples
Start you day with a visit to Maschio Angioino Castle (also named Castel Nuovo), which is one of the most iconic monuments of the city.
Have a walk in via Calabritto, which is the ultimate shopping destination in Naples, and reach Vittoria Square. This is one of the most important places in town, which celebrates the victory of the Christians over the Turkish during Lepanto battle (1571 A.C.). In front of the sea, you can notice the so-called "broken column", a monument dedicated to the people who died at sea;
In the afternoon, you can have a tour of the underground city: it is a guided tour lasting 1 hour and taking you to hidden places like narrow alleys, reservoirs, archeological remains and other places located about 40 meters underground. You can find a Roman theater from Nerone's Age, but also the shelters people used during World War II. For more information and to book a tour click here.
To breathe some fresh air, have a walk along Spaccanapoli, that is the main street going through the whole ancient city center;
You might also like my 3-day Naples itinerary.
Day 3: Day Trip to Pompeii and Sorento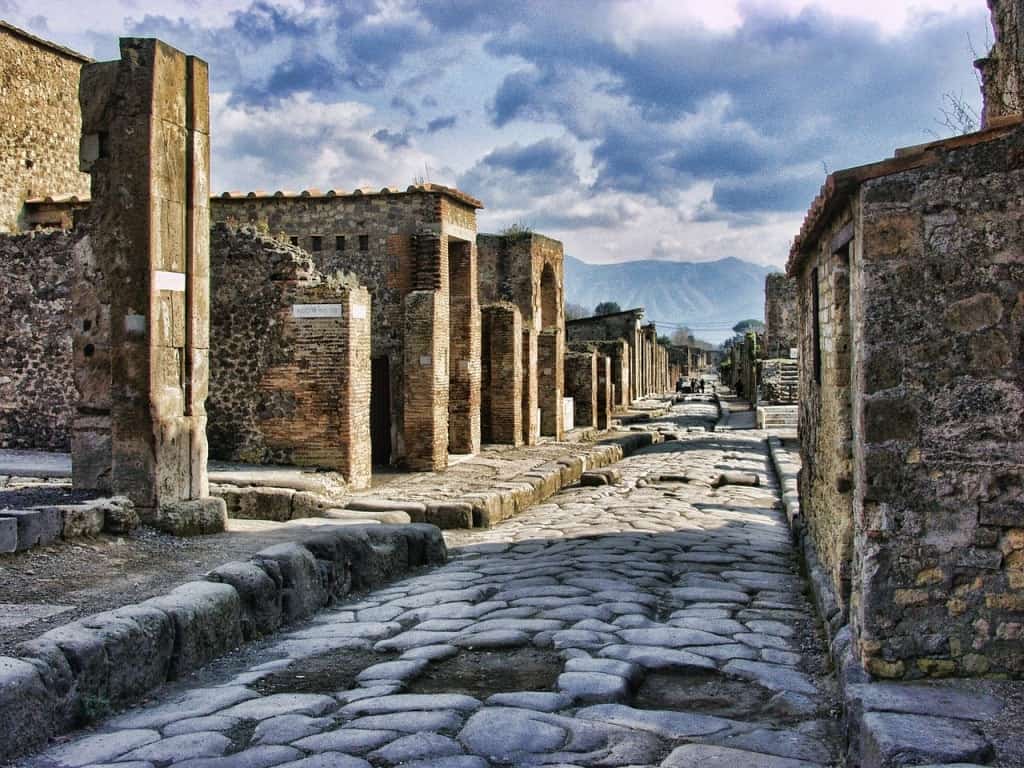 Today, head to Pompei. How to get there? It takes 35 minutes by train and 30 minutes by car, so it's really close to Naples city center. Pompei would require at least a whole day of visit to be fully explored, but if you only have 3 or 4 hours don't miss the Foro, the Teatro Grande, The Terme Stabiane and Casa del Fauno.
Tip: There will be queues in Pompeii so booking in advance allows you to get in quickly and not waste your time otherwise be there as soon as the archaeological site opens.
Here are a few options that I recommend:
You can spend the afternoon in Sorrento. It requires a 45 minutes' drive from Pompei, but you can also reach it by train in 30 minutes. What you cannot miss: Tasso Square, Corso Italia, San Francesco Cloister, Villa Comunale, the Cathedral and, if you have enough time, the mills' gorge. Late in the afternoon, you can go back to Naples.
Day 4: Day Trip to the Amalfi Coast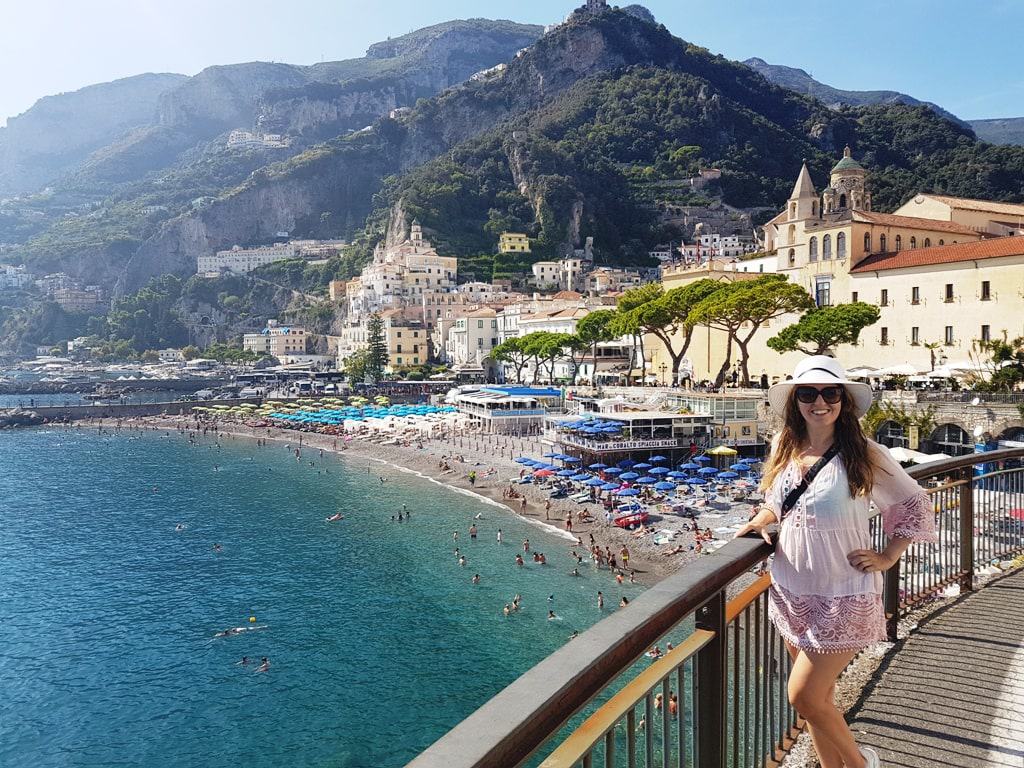 Day trip to Amalfi Coast. The best solution is driving all day with a rented car and go from village to village or take a guided tour doing the same thing by bus. Amalfi coast has plenty of picturesque villages, beautiful beaches and landscapes and you cannot choose one single destination. Moreover, driving there it's an amazing experience as well, because of the panoramic road giving you the chance to take wonderful pictures. You can choose to stop at 2 locations in the morning and 2 locations in the afternoon, to make the best of your day.
Some suggestions:
Positano: you need about 1h15 to get there from Naples, but you cannot miss Spiaggia Grande (Large Beach), because it's one of the most popular locations of the entire coast and it has one of the most typical views you can think of. If you go there in summer, it's best to skip it, because it will be too crowded!
Praiano: a picturesque village with the beautiful San Gennaro Church decorated with a traditional majolica floor;
Amalfi: it is a real town and not just a village and it is the main location of the coast. It was once one of the Italian Maritime Republics together with Pisa, Genova and Venice. Amalfi has plenty of works of art and pieces of heritage and it would require an entire day of sightseeing. Anyway, make sure you visit the Cathedral and the Paradise Cloister;
Ravello: one of the most iconic places in Ravello is Villa Rufolo, which is located in the center of the village and offers a beautiful and relaxing garden;
In the evening, you can choose to go back to Naples or to stop at a typical restaurant along the way to experience a traditional dinner watching the sunset on the sea.
You might be interested in:The best towns to visit in the Amalfi coast
and my Amalfi Coast itinerary.
Southern Italy Itinerary Day 5: Head to Matera
Head to Matera, in Basilicata. How to get there? It takes 4 hours by train and 3 hours by car;
Start your visit from Casa Noha. It is an ancient mansion where you can see digital videos and multimedia materials explaining the story of the city. It is the best starting point of a sightseeing tour and it offers all the general information you may need;
Late in the afternoon, you can still have a look at the Maria Santissima della Bruna Cathedral, which has been recently restored and it's definitely worth a visit for its many works of art.
Day 6: Explore Matera
Today it's time to explore Sassi, that is the ancient historical districts of the city, entirely built of local stone inside the rocks themselves. The two districts are named Sasso Caveoso and Sasso Barisano and they are located on two slopes creating a sort of natural amphitheater.
You can either visit them alone and wander through their narrow alleys admiring the buildings or take a guided tour. There are many local guides and tour operators offering daily tours, so that you can have a look on the internet and message them before your arrival;
Later in the afternoon, you should also visit the Museum of Peasant Civilization, to better understand local culture and the way people used to live here.
You might be interested in this 2-hour walking tour of the Sassi.
Day 7: Bari or Murgia Materana Natural Park
Option 1: travel to Bari, in Puglia. How to get there? You can take a bus and arrive in Bari in just 1 hour. Flixbus Company has really cheap tickets and frequent rides (https://global.flixbus.com/). Once you get there, make sure to visit San Sabino Cathedral, that is one of the most important examples of Romanic style in Southern Italy. Visit also its underground archeological remains. In the afternoon, you can either stroll along the waterfront and enjoy the beautiful scenery or relax on the beach!
Option 2: if you prefer to continue exploring Basilicata Region, have a trip to Murgia Materana Natural Park. It is only 20 minutes away from Matera and you can also enjoy a guided tour letting you discover its natural landscapes at sunset or dawn. This area is a natural-historic-cultural site hosting some ancient rocky churches and a wide range of local flora and fauna.
Day 8: Explore further Puglia
Depending on your interests you can choose one of the below options. One of my favorite things to do in the area is a visit to the UNESCO World Heritage Site of Alberobello.
Option 1: day trip to Alberobello. You can reach this village by train from Bari (1h30) or by car (1 hour). Its main attraction consists of its typical stone houses named "Trulli". This is a World Heritage site and you can spend the whole day here, since there are many examples of buildings, churches and shops to explore;
Option 2: head to Bari and spend your day visiting the city. Ideal sightseeing for 1 day: San Sabino Cathedral, Aqueduct Building, Petruzzelli Theater, Old Port, Norman Castle and waterfront;
Option 3: one day on the beach in of the best beaches in the area: Lido San Francesco all'Arena, Pane & Pomodoro Beach or Lido Sun Beach;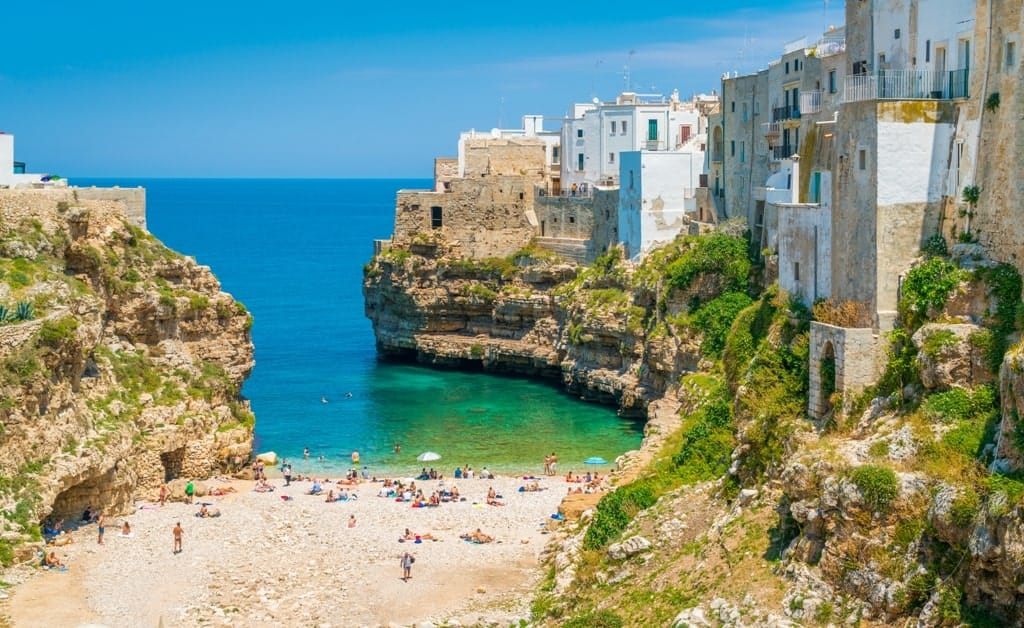 Option 4: one day on the beach in Polignano a Mare, a seaside resort near Bari. You can reach it by train (about 35 minutes) and enjoy a relaxing day on its most popular beach named Cala Monachile. Its beautiful scenery and its transparent water make it the favorite location for both locals and tourists. Visit also the picturesque city center.
Day 9: Explore Taranto
Head to Taranto, another important city in Puglia. You can easily reach it by train from Bari (about 1 hour);
The most popular attraction is Aragonese Castle (also called Sant'Angelo Castle), which is an ancient fort built on the coastline to protect the city during the XVth century
Don't miss the swing bridge nearby: it is an iron bridge connecting the New Town with Old Town Island;
If you still have a couple of hours, visit the National Archeological Museum to better understand the history of the city and the whole Magna Grecia territory (Southern Italy in general).
Day 10 Taranto
Spend you last day in Taranto on a 5-hours cruise to see dolphins and listen to a dedicated biologist explaining the local biodiversity. You can participate in the program "Researcher for a Day" at the Jonian Dolphin Conservation Center; That was one of my absolutely favorite activities in the area.
To come back home, you can either catch a flight at Salento Airport in Brindisi (1-hour drive from Taranto) or leave by train from the main railway station. Either way, you'll have direct connections with all the main Italian cities.
What to taste during this Southern Italy Itinerary
Naples: pizza, of course! If you are there during the Easter month, taste also "pastiera", a typical tart made with ricotta and orange flower water.
Sorrento: for a typical lunch, taste "gnocchi alla sorrentina". It's a simple dish made of gnocchi, tomato sauce, mozzarella and basil.
Amalfi Coast: have a romantic dinner in front of the sea tasting "scialatielli allo scoglio", that is the local pasta shape with a seafood sauce. After dinner, don't forget to ask for a glass of Limoncello, that is the famous liqueur produced with local lemons.
Matera: local bread is one of most prized Italian gastronomic products and it's also the perfect ingredient for local "bruschetta". They can be tasted as a snack, a quick lunch or an appetizer before dinner.
Bari: the main local dish is pasta with turnip greens and anchovies. If you feel like a quick snack, search for the next bakery and ask for some "taralli" (savory crackers).
Taranto: for street food lovers there's a perfect lunch consisting in "panzerotto tarantino", that is a small fried "calzone" stuffed with mozzarella and tomato sauce.
Have you decided to stay longer in Southern Italy? You might be interested in: